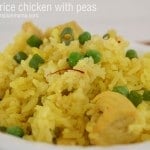 Yellow rice chicken with peas - mom's recipe
Print Recipe
2

cups

rice- I've used jasmine.

1.5

c

of frozen peas.

1

lb

of boneless

skinless chicken breast or thighs, cubed.

1

medium yellow onion

chopped.

2

Tbs

unsalted butter.

2

Tbs

of olive oil.

1/4

tsp

turmeric.

1/4

tsp

of ground cardamoms.

1

cinnamon stick.

Pinch salt.

A generous pinch of saffron.

Water or chicken broth to cook the rice.
Allow saffron to brew in 2 Tbl of hot water while making the rest of the recipe.

Heat a large deep skillet or non-stick pot over medium high heat, add the oil and butter until butter melts.

Add turmeric and give it a good stir until it is fragrant, takes from one to two minutes.

Add ground cardamoms and stir for another 30 seconds.

Add chopped onions and stir until translucent. Throw in the cubed chicken and stir until lightly browned.

Add frozen peas and a half cup of water, when it boils, reduce heat, cover and let it cook for 10 minutes.

Then add rice, brewed saffron, cinnamon stick and enough water or chicken broth to cook the rice according to your package, I've added 3 cups.*

Adjust the salt and bring to a hard boil.

Reduce heat and cover, let it cook until done, takes about 25 minutes.

Fluff and serve as a one dish meal, just have some green salad to go with.

Enjoy.
Sign up and learn more about Mediterranean flavors