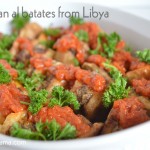 Print Recipe
Mbattan al batata wal lahm
An easy yummy Libyan recipe.
2

lb

potato.

1/2

lb

minced lamb meat with fat- I've used beef.

1

medium yellow onion- minced.

1/2

fresh parsley- finely chopped.

Salt and freshly ground black pepper.

1/4

c

bread crumbs.

2

eggs.

1/2

tsp

paprika.

Flour for coating.

Oil for frying.
Mix the meat, parsley, breadcrumbs, onion, salt and pepper in a bowel.

Cut the potato as if you are going to make a think slice but do not go all the way to the end.

Cut another thin slice, but this time cut all the way through.

Now you will have a potato slice that opens like a sandwich.

Stuff each pocket with the meat mixture.

Beat the eggs with paprika and a pinch of salt.

Sip the potato in the eggs then cover with flour.

Fry in oil.

Take it out when it is golden brown and make sure the potato and the meat are done.

You enjoy it as is or prepare some tomato sauce and pour on top.