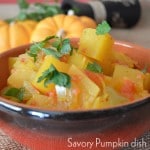 Print Recipe
Savory pumpkin dish
A savory pumpkin side dish with a hint of sweetness that cooks in less than 30 minutes.
2

c

diced pumpkin.

1

medium onion

diced.

1

large bell pepper any color

diced.

2

medium tomatoes

diced.

2

Tbs

olive oil.

Salt and pepper.

1/2

tsp

ground cardamom- optional.

Parsley for garnishing.
In a non stick pan,add the oil, swirl to coat.

Saute onions for 4 minutes or until translucent.

Add the bell pepper and stir for another 4 minutes or until fragrant.

Add the tomato, stir for a couple of minutes then add the pumpkin cubes.

Season with salt,pepper and ground cardamom.

If the juices are not enough, you may want to add a 1/4 cup of water to help the pumpkin cook.

When it boils, reduce the hear and keep an eye on it until it is done.

Check the pumpkin with a fork for doneness.

Garnish with parsley and enjoy.