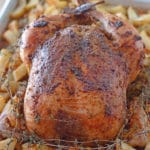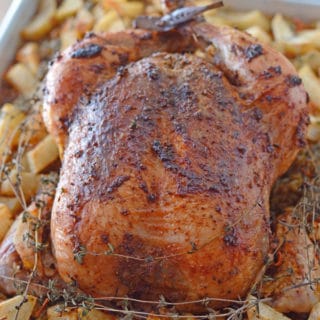 Perfect Roasted Freakeh Stuffed Chicken.
An authentic Middle Eastern chicken recipe. Nutty, slightly smoked freekeh inside a perfectly spiced chicken.
Print Recipe
For the Freekeh:
1/4

cup

oil.

1

large onion

chopped about 1 cup.

2

cups

Freekeh

thoroughly washed and rinsed.

1 1/2

teaspoon

freshly ground black pepper.

Salt to taste.

Half the amount of liquid required to cook the freekeh*.
For the chicken rub:
1

Tablespoon

kosher salt.

1/2

Tablespoon

paprika.

1/4

teaspoon

ground cardamom.

1/2

teaspoon

dried basil.

1/2

teaspoon

sage.

1 1/2

teaspoon

ground black pepper.

1

Tablespoon

onion powder.

3

Tablespoon

unsalted butter or oil.
Vegetables to roast along the chicken:
In a deep skillet over medium heat, heat oil then saute onions for 2 minutes.

Add the Freakeh, salt and pepper then stir well to combine.

Add the water/soup, bring to a boil then reduce heat until the liquids is absorbed.

Preheat the oven to 400F.

Rinse the chicken inside and out. Remove any excess fat and feathers.

In a small bowl combine the rubbing ingredients well.

Brush your baking dish with some oil or butter. Place chicken in the center of the pan and rub the chicken inside out.

Stuff the chicken cavity with freakeh 3/4 full. Tie the legs together with kitchen twine and tuck the wing tips under the body of the chicken.

Place the remaining freaked around the chicken evenly.

Toss vegetables with any remaining rub or just salt and pepper and place in the pan.

Roast the chicken for 1/2 hour then reduce heat and cover with aluminum foil for another 1 1/2 hour or until the juices run clear between a leg and thigh.

Remove the foil in the last 15 minutes or so to get it crispier.

Slice the chicken and serve.

Enjoy.
Sign up and learn more about Mediterranean flavors