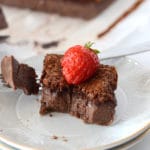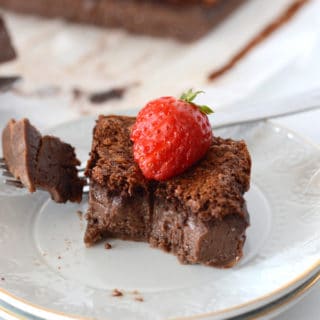 A very thin batter that when baked transforms into a 3 layer custard filled cake.
4

large eggs

separate the whites from the yolks.

1

Tablespoon

water.

1

teaspoon

vinegar.

3/4

cup

sugar.

1

stick

half cup melted butter.

1/4

teaspoon

vanilla powder or 1 teaspoon vanilla extract.

2

cups

warm milk.

6

Tablespoons

cocoa powder*.

6

Tablespoons

A.P. flour.
Preheat oven to 325F then line an 8x8 inch baking dish with parchment paper.

In a large bowl, beat egg yolks, water, sugar and vanilla until it turns pale yellow.

Add melted butter and mix until butter is well incorporated in the mixture.

Add cocoa powder and flour then mix well.

Beat in milk until it is thoroughly mixed with the rest of the ingredients.**

Now with a clean whisks, beat the egg whites with the vinegar until a stiff peak is formed.

Fold about a cup of the egg white mixture to the cocoa mixture using a spatula. When it is mixed well repeat the process until you are done with the whole egg whites.

Pour into the prepared baking dish and bake for 45 minutes. Turn off the heat and keep it there for another 60 minutes to set.***

Let it cool down and refrigerate for at least 3 hours before serving.

Serve with fresh fruits or dust with confectioners' sugar.

Enjoy!
*For a dark chocolate taste use dutch process or else use sweetened cocoa powder of your choice. ** You better use a large bowl as the mixture will be too thin and it might splatter onto your kitchen counter. ***Make sure not to open the oven door before the 45 minutes has passed. Some people reported in done at 40 minutes some went all the way to 60 minutes, so cooking time varies a lot depending on your oven. There is obviously no clear way to check for doneness of this cake, so I've found that leaving it in the oven for 15 minutes while turning the oven off, helps much in making sure that everything is cooked thoroughly and helps with the sinking problem may people had.