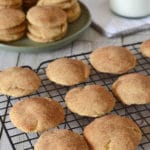 Delicious and soft sugar cookies rolled in cinnamon sugar. Thick, chewy and bursting with cinnamon.
Coating:
1/4

cup

granulated sugar.

2

teaspoon

ground cinnamon.
In a saucepan over medium heat, melt butter then turn off heat and let it cool down to room temperature.

In a large bowl, mix flour, baking soda, baking powder, salt and cream of tartar until everything is well combined.

In your food processor, add melted and cooled butter, eggs, vanilla extract and all sugars. Pulse until well combined.

Add the dry ingredients and pulse again until you have a consistent dough, be sure to scrape sides and bottom.

Work the dough with your hands a bit until you are sure the dough is consistent.

Wrap the dough with plastic wrap and refrigerate for a couple of hours.

Preheat oven to 350F.

Line two large baking sheet with parchment paper or silicone baking mats.

Combine coating mixture in a small bowl and set aside.

Take 1 1/2 tablespoon of cookie dough and form into a ball. Roll into the cinnamon sugar mixture.

Place balls on the baking sheet and bake until lightly browned on the edges.Cookies will look as if they are not done yet at the center and be extremely soft.***

Remove from oven and let it cool for a couple of minutes on the baking sheet. Transfer to a cooling rack to cool completely.
* You can make the cookies with all granulated sugar if you cannot find brown sugar, but really brown sugar gives these cookies a desirable taste.
** If you cannot find cream of tartar you can substitute 2 teaspoon of baking powder in place of cream of tartar and baking soda. Which means adding 3 teaspoons of baking powder to the whole batch.
*** Cooking time and temperature is a key to the success of these cookies. Leaving it too long will result in a more flat cookies as shown above. The taste will still be amazing but it will not puff up, so here is what I have done. I've waited for my cookies until it started cracking ( this was at 8 minutes mark), then left them for another minute and took them off the oven. Let them cool for another couple of minutes on the baking sheet then transferred them to cool completely on the cooling rack. My oven also had spots, near the rear wall, that is hotter than near the door, so I made sure to rotate my baking pan halfway through baking time.