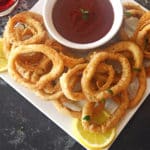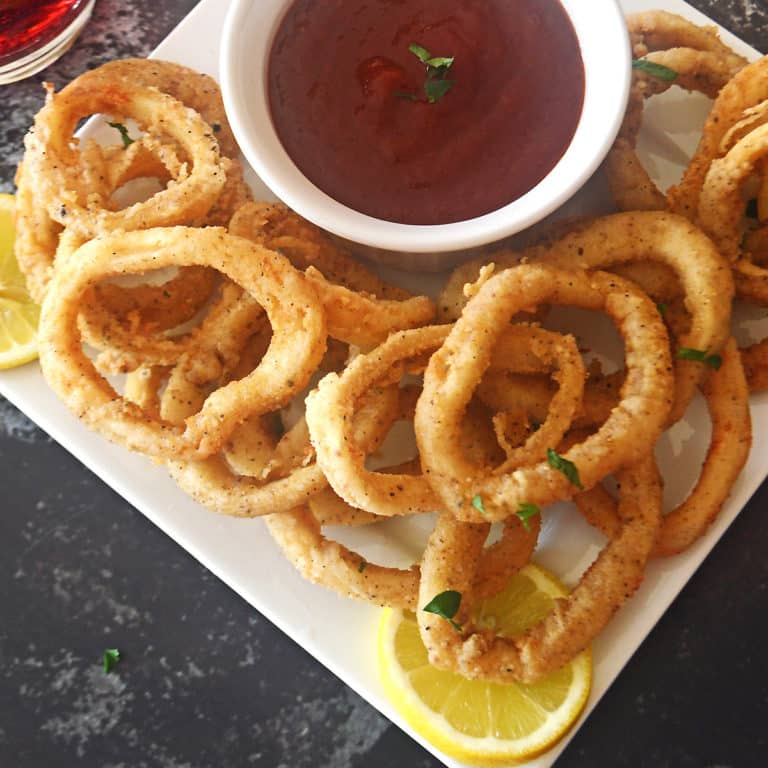 Print Recipe
Crispy Fried Calamari
Lightly flavored crispy fried calamari with light coating. A must try Mediterranean calamari recipe.
1

pound

Calamari rings.

2

Tablespoon

white vinegar.

For the marinade:

1

Tablespoon

lemon juice.

1

large garlic clove.

1/2

teaspoon

salt

or to taste.

1/2

teaspoon

black pepper.

1

teaspoon

cumin powder.

1

Tablespoon

olive oil.

Coating mix:

1/2

cup

flour

3/4

teaspoon

garlic powder.

1/2

teaspoon

salt.

1/2

teaspoon

black pepper.

Oil for frying
In a deep bowl add calamari rings , vinegar and mix well. Set aside for 20-30 minutes. Then rinse with cold water and pat dry. Note1

Add the marinade ingredients to the calamari and toss well. Let it marinate for 30 minutes to 1 hour in the fridge.

In a deep frying pot, heat your frying oil.

While the oil is heating up, add the coating ingredients in a deep bowl and mix well.

Add the calamari one by one and toss to cover with the flour mixture.
Soaking calamari rings in vinegar helps tenderize them which makes them less chewy. Also it gets rid of any unpleasant smell.
After this I like to marinade the calamari in a special spice mix with olive oil. I use garlic, lemon juice, salt, black pepper and cumin. This combination pairs very well with calamari and it will still taste like calamari, nothing overpowering here.
Making a thick batter, the one that is like pancakes, is not something my mom used to make. I'm more used to a simple dusting with lightly seasoned flour and that's it.
Some people add semolina or cornflour for a more crispy coating.
Squid rings are slightly chewy when quickly fried at about 130F. When they reach 140F the connective tissues shrink making the calamari tough.
Please check the nutrition disclaimer policy.
Calories:
163.7
kcal
|
Carbohydrates:
11.9
g
|
Protein:
16.7
g
|
Fat:
5.9
g
|
Saturated Fat:
2
g
|
Polyunsaturated Fat:
0.3
g
|
Monounsaturated Fat:
2.5
g
|
Cholesterol:
215
mg
|
Sodium:
202.2
mg
|
Potassium:
34.4
mg
|
Fiber:
0.7
g
|
Vitamin A:
4
IU
|
Vitamin C:
1.6
mg
|
Calcium:
2.3
mg
|
Iron:
5
mg