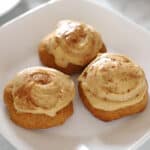 Print Recipe
Sweet potato cookies
Fragrant, mildly sweet and soft sweet potato cookies perfect for breakfast, snack or a treat. Easy to make with only a bowl and a spatula.
Optional spices for more flavor:
1

teaspoon

ground cinnamon

1/4-1/2

teaspoon

ground cloves
Microwave on high for 20 seconds, if the sweet potato is cold add more time.

Add butter and mix in with the sweet potato until melted.

Add sugar, semolina and baking powder then mix.

Crack an egg, add egg yolk and vanilla

Add flour and cinnamon if desired

Mix with a wooden spoon or a spatula until a sticky dough forms.
Shape and Bake:
Preheat oven to 350F.

Take 1 tablespoon of cookie batter shape into about 1.5 inch circle.

Place cookies on a cookie sheet lined with parchment paper and bake in the middle for 11-13 minutes.

Let it cool down on the baking sheet for 5 minutes then transfer to a cooling rack to cool completely.
You can use sweet potato puree in the same amount as well.
Cookie dough will be sticky, if it is too sticky for you to handle, refrigerate for 30 minutes before shaping.
Cookies will rise in the center and this is normal. If you want to a flat cookie you might want to try making a small dent in the middle.
You can roll cookie balls into cinnamon sugar for more sweetness and flavor.
I used to brush the cookies prior to baking with the egg white from the second egg to give it an extra shine. I find this is particularly helpful if you want to stick some nuts at the top.
You can add chocolate chips, mixed nuts to the cookie dough for a bit of crunch and sweetness.
Make it more festive and sweet by adding some cream cheese frosting, caramel syrup or maple syrup frosting.
Storage:

These cookies tend to get softer by time so it is better to store them in an airtight container in your fridge separated by a sheet of kitchen paper towel.
I could get away with loosely covering them on my counter but this is because it is really dry here in Colorado. They should keep well in the fridge for up to a week or frozen for a couple of months.

Please check the nutrition disclaimer policy.
Calories:
63
kcal
|
Carbohydrates:
9
g
|
Protein:
1
g
|
Fat:
3
g
|
Saturated Fat:
1
g
|
Polyunsaturated Fat:
1
g
|
Monounsaturated Fat:
1
g
|
Trans Fat:
1
g
|
Cholesterol:
22
mg
|
Sodium:
64
mg
|
Potassium:
47
mg
|
Fiber:
1
g
|
Sugar:
2
g
|
Vitamin A:
1399
IU
|
Vitamin C:
1
mg
|
Calcium:
40
mg
|
Iron:
1
mg