When you hear the word Halloween what comes first to your mind? I bet candies and costumes and you probably think why would anybody ever not celebrate this fun day?!!! well I don't.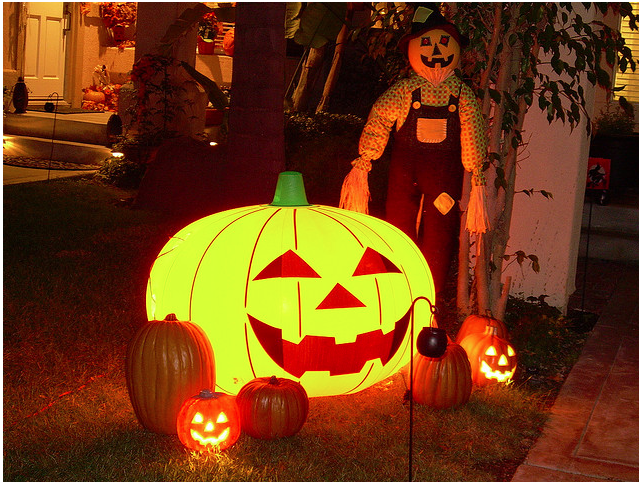 First: I want to clarify that I am not an extremist nor anti-social person and when I say "WE" I mean me and my small family, that is hubby and kiddos.
Now come the question WHY? well I do not like it ….. It is full of scary and frightening stuff and I do not like that. A couple of days ago I was driving in the neighborhood and almost got a heart attack 🙂 one of our neighbors had put a figure of half a human covered in blood and hiding in the bushes !!! you might find this funny or silly but I do not. My 7 years old kid cannot sleep these days because he is having bad dreams even when he is awake- he told me that 🙂 – and why is that because all the work sheets at school have the Halloween theme, all stores have tones of creepy figures and almost all of our neighbors are hanging scary things on trees and on their door steps. My version of celebrations is having fun not having nightmares.
Halloween is rooted in pagan traditions which I do not approve and contradicts with my beliefs. I know that most people are not celebrating it from a religious point of view and do not perform special rituals but still there are people who are and according to my religion celebrating with them means I approve what they are doing which obviously I don't.
Another VERY strong reason is that I do not like my kids to go trick- or -treat … I do not approve them going out talking to strangers and even worse getting candy from strangers even if I was with them. I always have this image of some mean stranger tempting them with candy or anything else to come with them and this frightens me.
I feel uncomfortable with the whole spirit of Halloween so I do not like to participate or let my family participate in it. Yet I know some Muslim families who celebrate and let their kids trick or treat. I've also heard that conservative Jews families and some Christians do not celebrate it. The point is Halloween is an issue that people have different feelings about some chose to celebrate , some only do trick- or – treat, some let their kids dress up without trick or treat …. and so on. I am not trying to tell you what to do, I am only stating why and what I feel about this holiday.
Do you celebrate Halloween or not? Can you tell us why?