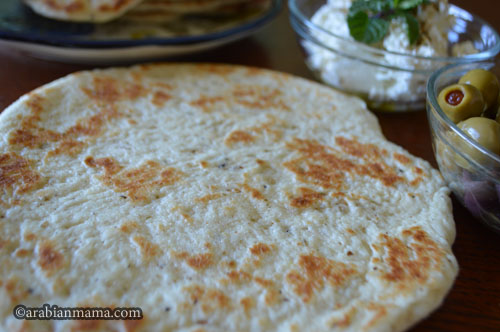 This bread is beyond delicious. This is not Palestinian Manaqeesh -which I am planning to do- nop this is a different kind of bread. This bread is supposed to be made with fresh, green thym and any kind of crumbled cheese. But according to what I had I've made it with dried thym – Za'taar- and sort of salted cream cheese which we call it white cheese not a crumbled kind, and although I've made these dramatically changes it turned out great.
You'll need:
3 c all purpose flour

1 Tbsp dry yeast.

1 Tbsp white sugar

1 tsp salt.

2 Tbsp dried thym.

1 c lukewarm water.

1/4 c olive oil.

1 c crumbled cheese.

We'll start by combining all the dry ingredients together and mix well then add the oil and mix very well.
Gradually add the water until you get a nice soft dough. Lightly mix in the cheese- it will become sticky if you use creamy cheese like I did so do not add more flour keep it that way. Let it rise for almost an hour.


Take a small piece – a little bigger than golf ball – and roll into a circle, it does not have to be perfect.
You can bake it in a 350F oven or do as I did on the stove top. Just heat a skillet- medium- and cook on each side for a couple of minutes.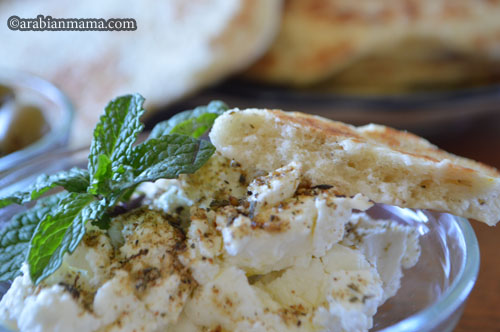 Enjoy with even more cheese and za'taar, dip it in hummus, baba ghanooj, olive oil, or simply as is.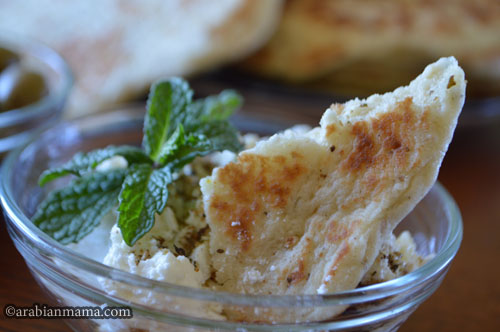 With a cup of hot tea with mint, heavenly taste :).
Need more bread recipes?