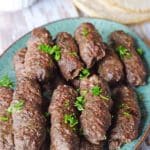 The is the Arabic version of grilled meatballs, tender and juicy.
Cuisine:
Mediterranean, Middle East
Keyword:
juicy, soft meatballs
Soak the bun in water until soft.

Mix all other ingredients together.

Squeeze water out of the bun and add to the meat mixture.

Mix everything until well incorporated.

If you are making meatballs, roll into little balls or else wrap the meat around skewers.*

Cover the kofta with aluminum foil and cook in a 350F oven for 10-15 minutes.

While the kofta are in the oven, fire up your grill on high and grease the racks well.

Place the kofta fingers on the grill for 5 minutes or less to take the grilling marks and be browned.

Enjoy with your choice of side dishes and dips like toomeya, taktouka and tahini sauce.
* Personally I use a wooden spoon and wrap a handful of the meat mixture around and shape it into fingers.