Kofta, you can call it meatballs or meat fingers or whatever, you get the idea?. My most asked for recipe when we meet with friends and many times they ask about what do I do to make it so juicy?!! I swear, I do not do anything more than stated here, yet they are not convinced :).
I like to use baharat that I bring with me from Egypt, follow the instructions on the back of the package and add more of what I've stated below. But, this is not always the case, as for sure eventually, I run out of these spices so I head to the International market and buy any Baharat kofta I find. Or sometimes I just search for Arabic Baharat spice recipe and follow it. It is not a rocket science.
Last time though, I did not have time to put my kofta on the grill and it turned out even better!! Again friends asking me what have I done?, seriously guys!. I've received two emails asking about making it without a grill and here is my tip for oven cooking.
Preheat oven to 350, place the kofta on the middle rack for 15 minutes, then move up to the upper rack for 10 minutes but do not turn the broiler on. Of course, every oven is different so just use your cooking senses or meat should reach 160 degrees F on an instant meat thermometer.
I make this recipe 3-4 times a month.. yes probably this goes on the menu each week just because my kids love kofta so much.
This is an old post but, I've some updated pictures for you. I hope you'll like it.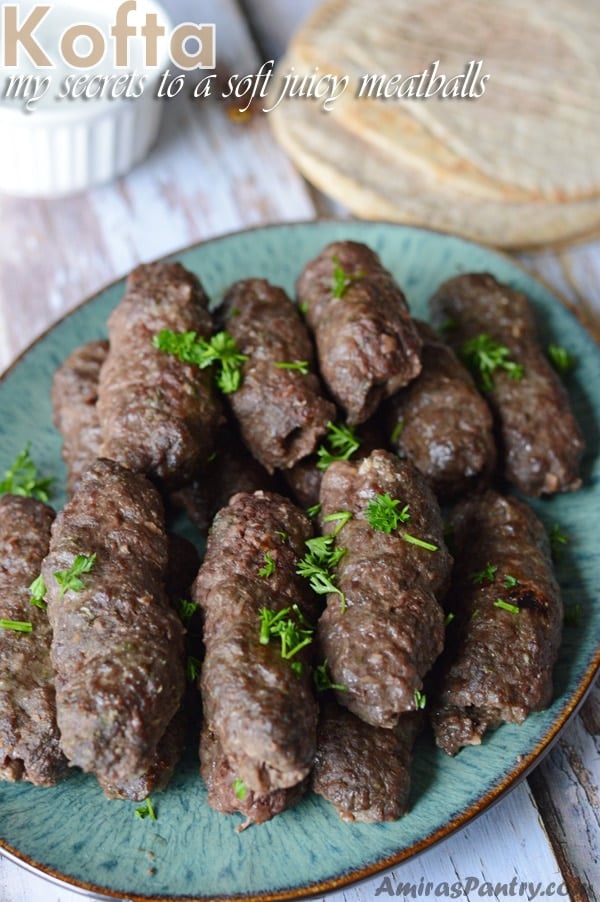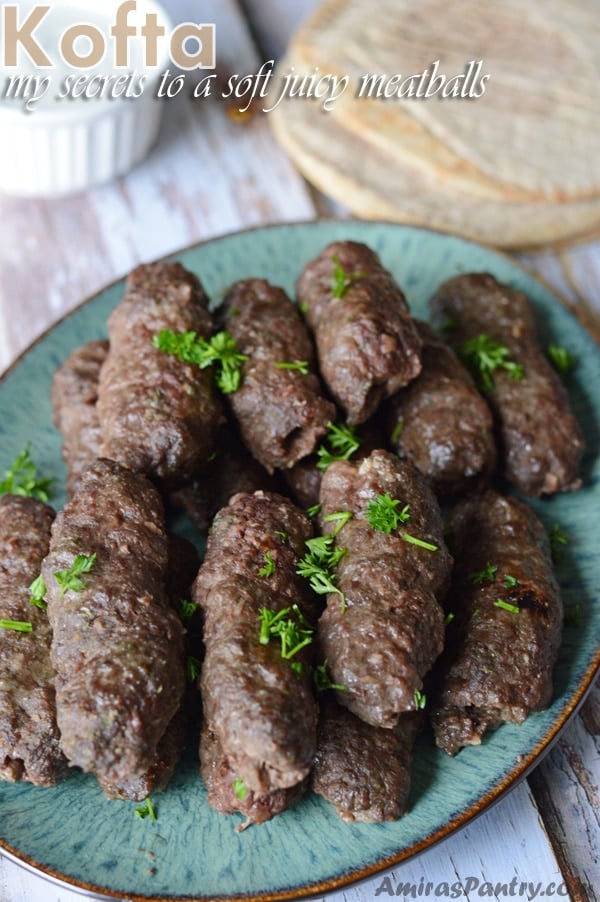 ————–Original post was published Jun 21, 2016 ————————
Kofta is the Arabic word for meatballs, there are many types of kofta in the region, like Dawood pasha or Hassan Pasha kofta, but nothing can beat the most common kofta type, kofta kebabs or kofta mashweya, which is kebab made with ground meat rather than meat chunks.
This is not just another meatball recipe, I will share with you my family's secrets to a tender and juicy kofta, that everyone of my friends has been asking me about.
Are you ready? Let's dive in.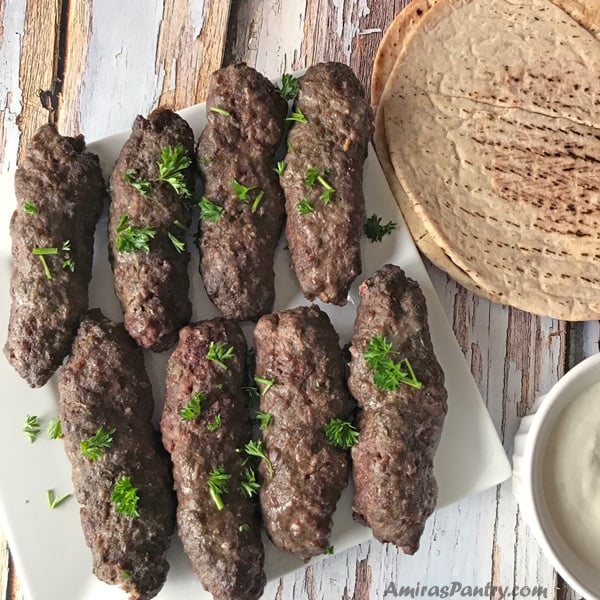 Tip#1 : Use a bun
Yes, a bun you read it right, my mom, grandma and even great grandma used to soak a piece of bread in water until it softens then squeeze the water out and mix it with the ground meat and do not worry it will not appear as chunks in your meatballs.
Tip#2: Add a little flour
This I've found to be a very good tip as it helps in shaping the kofta and maintaining its shape.
Tip#3: Cook in the oven first
I like cooking mine in the oven for 10-15 minutes before grilling them for another 5. Covering the pan with foil and letting them cook in the oven helps kofta to stay tender and juicy and not to dry so fast also it helps them not sticking to the grill racks. Then you just put them on the grill to get those grilling marks and to brown a little more.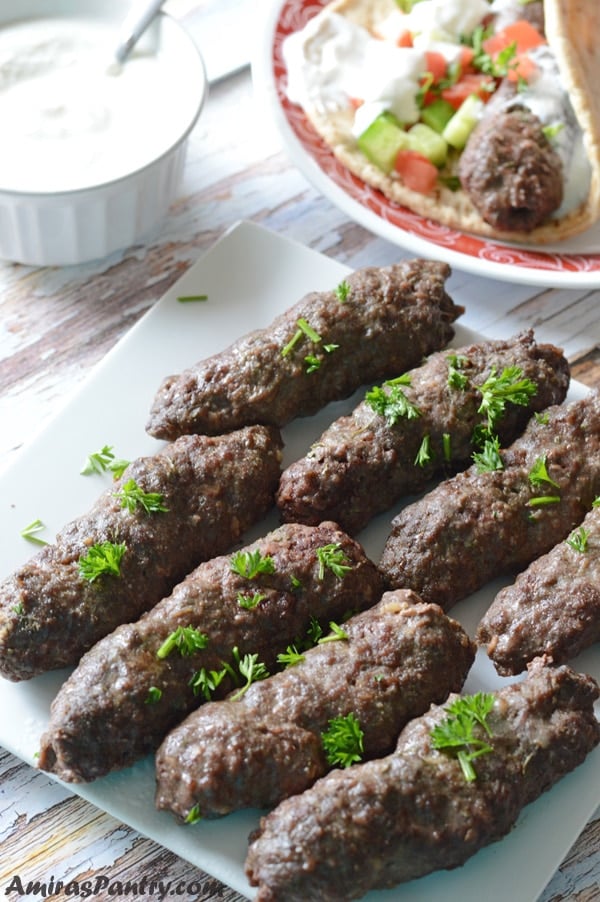 Tip#4: Use lamb/beef combination
My late brother in law said that kofta has to have lamb fat, so you should use half beef and half lamb or use 85% ground beef and 15% pure lamb fat. If you've been following this blog long enough, you probably know by now that we cannot tolerate lamb so unfortunately I haven't tested this tip yet.
Optional:
You may want to add some soaked bulgur too– simply soak bulgur for 30 minutes then squeeze the water out-, this tip came from my mother in law a few weeks ago which got me rave reviews on our latest Ramadan iftar, and everybody kept asking what is the secret to such tender kofta, but in this case I only used half a bun for the bun tip.
Use a good quality baharat, or if you can reach out to the international market in your area try to search for kofta baharat, but if you did not find any do not beat yourself up, you will still get the tender and juicy kofta you wanted. You can also make your own baharat there are so many recipes out there, the combination I personally like always has Coriander, Cumin, Cinnamon and mint.
After chopping onion, if you can squeeze the water out, then mix in the onion. Do not throw the onion juice, use it to soak the bread, and use it even more while shaping your kofta. Some even brush the kofta with the onion juice. My mom loves to chop a small bunch of fresh parsley and mix it in with the meat, it gives it a desirable taste and enhances the flavors, but I did not have any this time.

So, these are my tips and tricks for making a perfect – at least for me and my friends- kofta kebab. That's all I've been doing as I've been asked a lot about it, I hope I did not forget anything.
One last thing, I apologize for disappearing last week as there was a vicious attack ⁽͑ ˚̀ ˙̭ ˚́ ⁾̉on my computer that left the poor thing unable to communicate, now I guess I've learned my lesson, that no operating system is immune and I need my antivirus always up and running.
I do hope you like today's recipe and give it a try…. Enjoy!!
Do not forget to check my recipe for shish kabob here.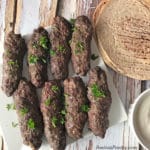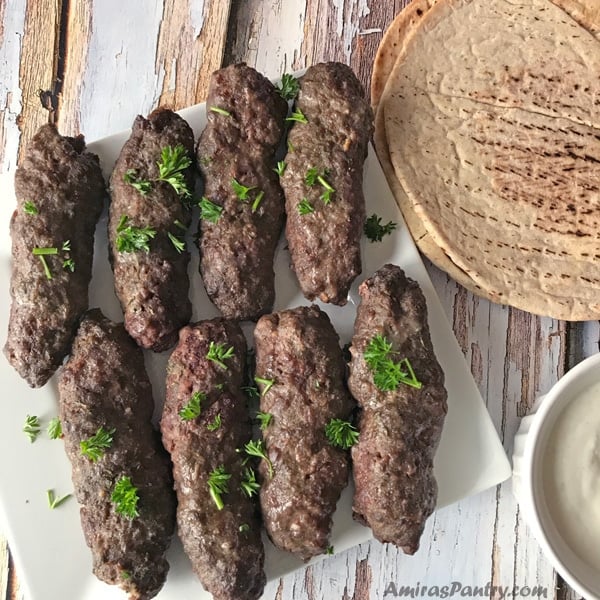 Kofta mashweya
The is the Arabic version of grilled meatballs, tender and juicy.
Ingredients
2

lbs

ground beef

2

lbs

ground lamb

1-2

medium onion finely grated.

1 1/2

teaspoon

salt.

1/2

teaspoon

ground black pepper.

1

Tablespoon

baharat.

1

hotdog bun.
Instructions
Soak the bun in water until soft.

Mix all other ingredients together.

Squeeze water out of the bun and add to the meat mixture.

Mix everything until well incorporated.

If you are making meatballs, roll into little balls or else wrap the meat around skewers.*

Cover the kofta with aluminum foil and cook in a 350F oven for 10-15 minutes.

While the kofta are in the oven, fire up your grill on high and grease the racks well.

Place the kofta fingers on the grill for 5 minutes or less to take the grilling marks and be browned.

Enjoy with your choice of side dishes and dips like toomeya, taktouka and tahini sauce.
Recipe Notes
* Personally I use a wooden spoon and wrap a handful of the meat mixture around and shape it into fingers.
Can be enjoyed with….