Yellow rice was never a thing that my kids liked nor was it the normal rice side dish in Egypt. But let me tell you one thing, this amazingly yellow and pretty darn tasty rice has turned my kids into yellow rice lovers.
[mv_video key="rzngl84a8gjabv5xizjh" title="YELLOW RICE" thumbnail="https://mediavine-res.cloudinary.com/v1573271321/uz7iavx6q9z0fln1qphn.jpg" volume="70" doNotOptimizePlacement="true" doNotAutoplayNorOptimizePlacement="false" ratio=""]
Yellow rice
A lovely glowing rice dish, full of great flavors and beautiful color, and it would look great alongside anything you'd care to serve with it. This is also a fantastic way to use up any leftovers especially in holidays. Think turkey, steak, chicken or may be even green beans and brussel sprouts. Use oil/avocado or coconut oil instead of ghee for a complete vegan side dish.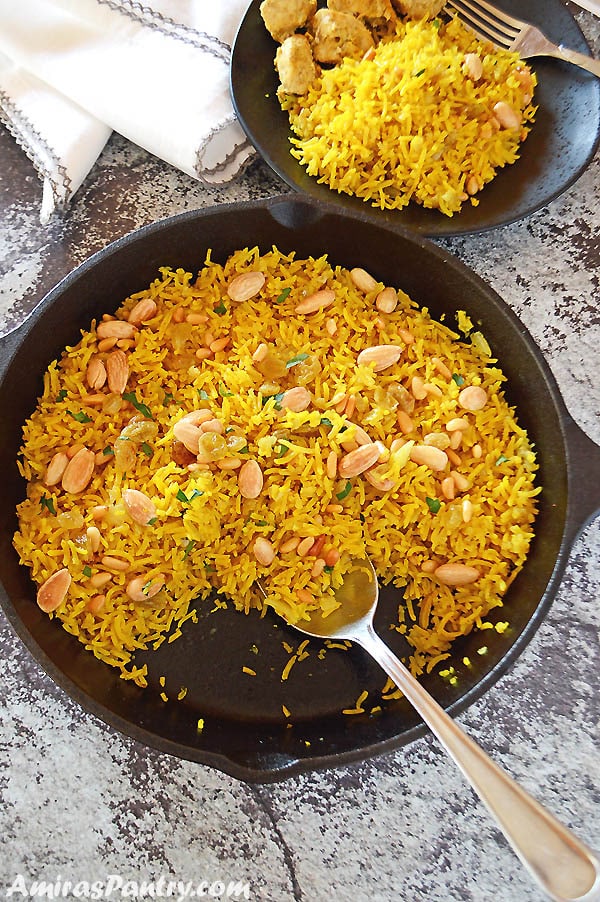 I have to admit, I actually grew up to the everyday Lebanese style white rice. My mom came to know flavored rice dishes like Kabsa when dad worked in Saudi Arabia. We met friends from all over the planet there and we were exposed to other cultures and dishes that we so much appreciated.
Yellow rice on the other hand was a recipe we knew from some Syrian friends there. My mom perfected the recipe and she has always made it with chicken and peas.
Until a couple of years ago, my kids only liked the Lebanese style rice. Whenever I made other rice types, they would not touch it especially my oldest.
We've discovered a Syrian restaurant near my mom in Egypt who made the most delicious Shawarma dish I've ever had with of course yellow rice. So starting from there I added yellow rice little by little to our dinners until they are now very happy to see it. I have to say that my kids do not like to bite into cooked onions although they are crazy about raw onions!!. So they key for them to accept this type of rice is to finely dice the onion so it will not show up and blend with the rice completely.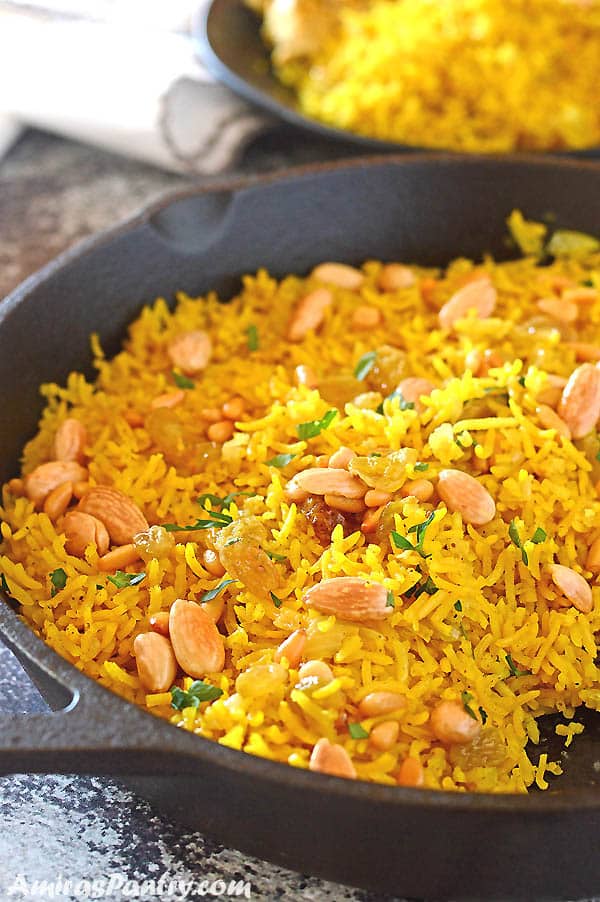 Yellow rice ingredients: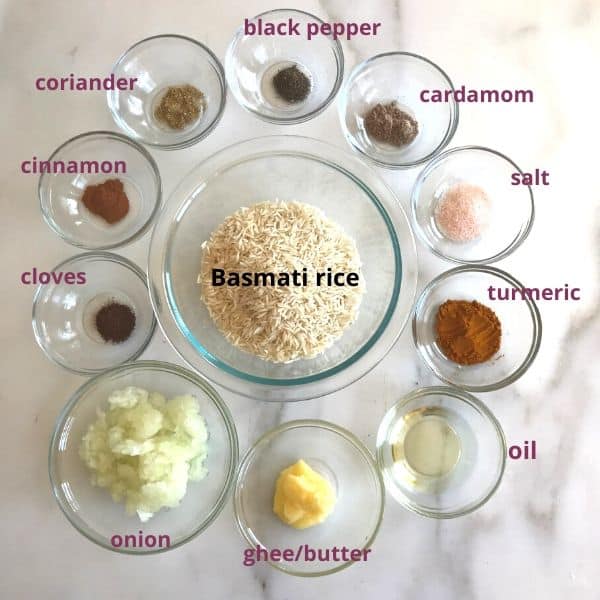 Rice: Basmati rice is the best for this recipe but of course you can use other varieties as well. Jasmine, long grain, medium grain are all good to use. Short grain will work as well but might be a little sticky.
Fat: I use oil for the boiling stage of this recipe then I like to use ghee for the rest of the recipe as it lends a very desirable and authentic flavor. You can choose to use oil instead especially for a vegan recipe.
Onion: some people use garlic as well. This works as abase for the flavors that we are going to build upon.
Turmeric: basic ingredient for color and it lends a nice flavor as well. Some people use saffron as well but I chose not to here because I know it is a very expensive ingredients and it can be left out.
Yellow rice seasoning: we use turmeric, black pepper and salt as the main flavor and color ingredients. But I have to say, adding the other spices is pretty much a must for me at least try to add the cardamom. I use a mixture of cinnamon, cloves, coriander and cardamom. Some people take it the extra mile and use cumin, fennel and sometimes oregano.
Water or broth: this rice is cooked in two stages. First the rice is cooked in rapidly boiling water on high then water is drained. Second stage is simmering the rice with cooked onion and a little bit of extra water. If you like broth more, I suggest replacing the water in the second stage with the broth you like and watch out for salt.
Salt: just a note that I am trying to replace white salt with pink one in my home so I've added a teaspoon of the pink salt. Adjust to your liking and to the kind of salt you are using at your home.
How to make yellow rice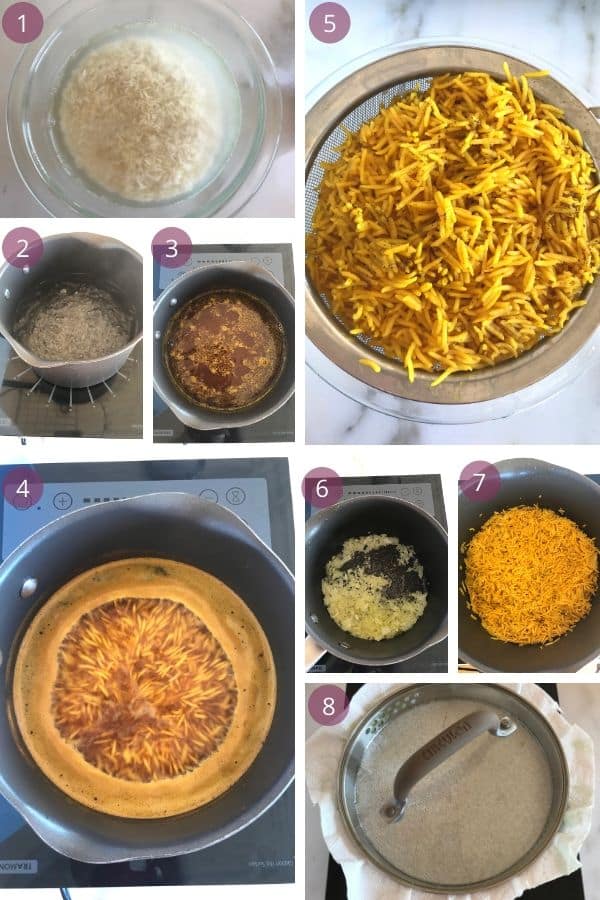 Soak Basmati rice according to your package with just enough tap water and a pinch of salt. Drain and set aside.
In a deep pot bring one and a half liter (about 6 cups of water) to a rapid boil.
Add oil, turmeric along with all the spices that you are using except for the salt.
Add rice and let it go back up and boil again until it is almost done. This takes about 5-6 minutes total.
Drain rice and do not leave it there too much until it loses its moistness.
In the same pot add ghee or the fat you are using and saute onion for a couple of minutes until it gets pale yellow.
Add rice back with the 1/4 cup of boiled water and salt, lightly mix.
Now be very cautious with this step please: cover your pot with a paper kitchen towel, then put the lid on. Now to decrease any fire hazard, either left the corners of the towel up or do as I did by cutting the corners with a scissor. Yet, do not leave the pot unattended. You can also use a clean kitchen towel and tie its ends up over the lid. Leave it to finish cooking for 15 minutes, then fluff and serve.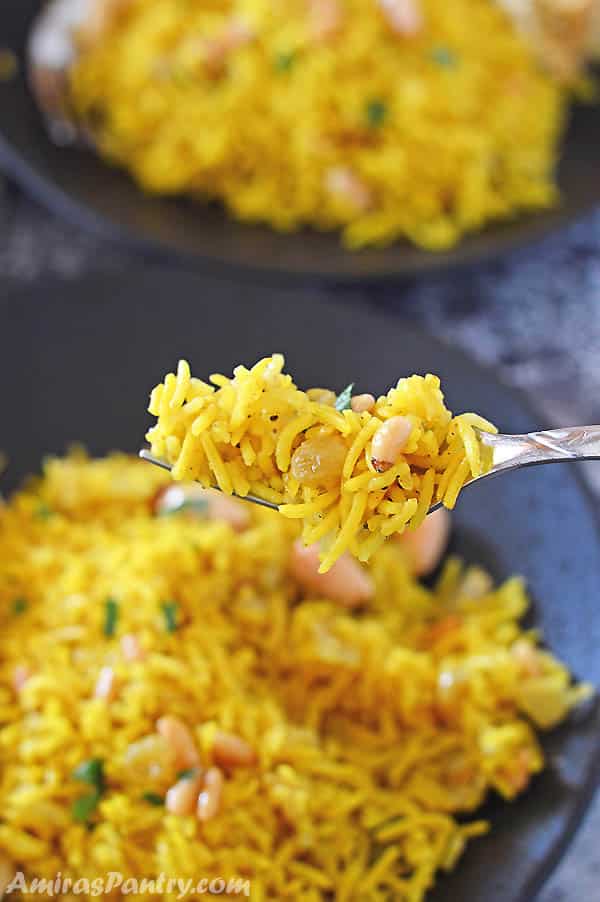 How to serve yellow rice
This is a very versatile recipe that is compatible with meat, fish or poultry dishes. Think yellow rice with chicken, or maybe yellow rice and shrimp for an easy and quick weeknight dinner. For a vegan meal try adding peas or make yellow rice and beans meal. You can also add fresh cilantro, parsley or chives after cooking.
Instant pot instructions: Sauté about onion until soft, added the rice and spices right at the end and sauté for 1-2 min. Then added the water accordingly, cook on rice setting. Use natural release for 10 min. You can also saute cubed chicken breast with the onion first to make a whole meal.
You might need
The following are affiliate links. We are a participant in the Amazon Services LLC Associates Program, an affiliate advertising program designed to provide a means for us to earn fees by linking to Amazon.com and affiliated sites.

You can also make this yellow rice in a rice cooker. I highly recommend this Aroma rice cooker for any rice recipe. It is affordable, highly rated and reliable.
Yellow rice recipe
If you like this recipe do not forget to give it a ⭐⭐⭐⭐⭐ star rating and attach a photo of your finished dish. It is always a pleasure of mine to see your photos and check your own take of the recipe. Thank you.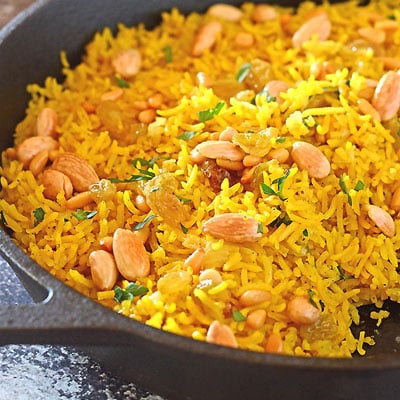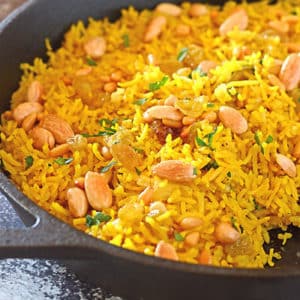 Yellow rice
A fragrant, flavorful yellow rice for your holiday feasting table or for a Middle Eastern kick to your everyday dinner table.
Print
Pin
Rate
Ingredients
1

cup

(185g) Basmati rice

soaked in enough cold water with a pinch of salt for 15 minutes. Note1

1 1/2

liter

of tap water.

1

Tablespoon

oil.

1

teaspoon

ground turmeric.

1/4

teaspoon

ground black pepper.

1

Tablespoon

ghee or butter. Note2

1

(90g) small onion.

1

teaspoon

salt or to taste.

1/4

cup

hot boiling water.
Spices: Use any combination available (Note3)
1/2

teaspoon

ground cardamom.

1/4

teaspoon

ground cloves.

1/4

teaspoon

ground cinnamon.
Garnish with:
Roasted nuts and fresh parsley
Instructions
Drain rice and set aside.

In a pot, pour the tap water and bring to a rapid boil.

Add turmeric, oil, spices you are using then rice.

let it cook for another 6-7 minutes then drain rice.

In the same pot add ghee then sauté onion for 2 minutes until it turns light yellow.

Add rice back, salt and the boiling water.

Reduce heat to minimum, cover the pot with a paper kitchen towel then put the lid on. Note4

Keep on cooking for another 10-15 minutes until the rice is cooked.
Notes
Note1: Soaking time differs between brands so read the label first.
Note2: For a vegan dish you may want to use olive oil.
Note3: Use any or a combination or all of the spices above it all adds up to an authentic flavorful rice but if you do not have any of the spice you will still have a tasty fragrant rice. Other spices used may contain cumin, oreganoو a couple strands of saffron and fennel seeds.
Note4: Please watch out and be very careful using this technique as the paper towel might catch fire if not properly watched.
Sodium nutrition is based on 1 teaspoon pink salt.
Please check the nutrition disclaimer policy.
Sources: Seasoning is something I created. I got the idea of cooking basmati rice in two stages from Manal Al Alem. A very reputable Arabian chef.
Nutrition
Calories:
179.5
kcal
|
Carbohydrates:
30.1
g
|
Protein:
2.7
g
|
Fat:
5.6
g
|
Cholesterol:
6
mg
|
Sodium:
58.4
mg
|
Potassium:
43.4
mg
|
Sugar:
0.8
g
|
Vitamin A:
0.8
IU
|
Vitamin C:
2.4
mg
|
Calcium:
0.7
mg
|
Iron:
1.7
mg
Sign up and learn more about Mediterranean flavors