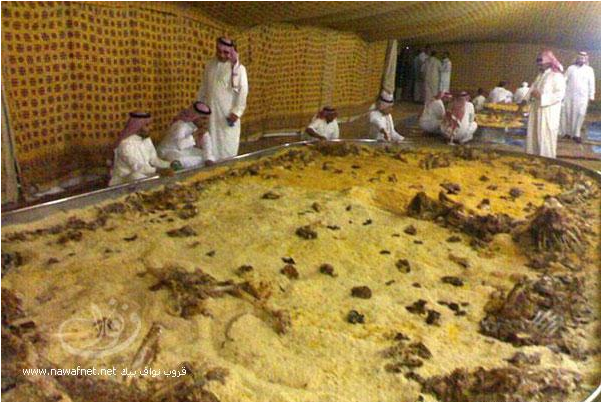 Kabsa is a traditional Saudi dish – and some people say it was originated from Yemen- that consists mainly of rice and meat. It is usually made with lamb meat but you can use beef/chicken as well. I've seen Kabsa for the first time in my life when I was in Saudi Arabia and it was made at a wedding banquet. It is usually served in large plates with a big chunk of meat on top of rice. Kabsa is better be eaten- according to Saudi traditions- in large group of people while sitting on the floor and usually with no spoons as they prefer to eat it with right hands. The picture above shows the largest Kabsa in the whole world according to this site.
Today I'm going to make Chicken Kabsa. It is one of our family's fav. dishes of all time. This dish can be made with bone-in or boneless chicken so feel free to use whatever best for your family, although I feel it is tastier with the first way. Here I used boneless chicken so my little ones won't nag me about it.
You will need:
4 boneless, skinless chicken breasts cubed.

3 cubs of basmati rice.

4-5 Tbs of butter.

1 large onion, finely chopped.

1 can 16 oz tomato sauce.

4 cups hot  water.

1 pinch of both ground cumin, coriander and nutmeg.

1/2 tsp dried limes or you can just drop one whole and take it our later.

1/2 tsp of saffron.

1 cinnamon stick- I've cut it in 3 pieces.

2-3 cardamom seeds.

8-10 whole cloves.

Salt and pepper to taste.

Nuts and raisins – optional.
Let's start:
If you are using the raisins, I feel it is better to soak them in hot water or even boil them for 5 minutes to reduce sweetness a little and also you will want to roast the nuts in the oven or stove top.
In a large stock pot, melt butter then add onions, saute until tender and then add chicken, stir occasionally until chicken is whitened all over. Add the tomato sauce and two cups of hot water. Add cumin, coriander,nutmeg and saffron to the sauce.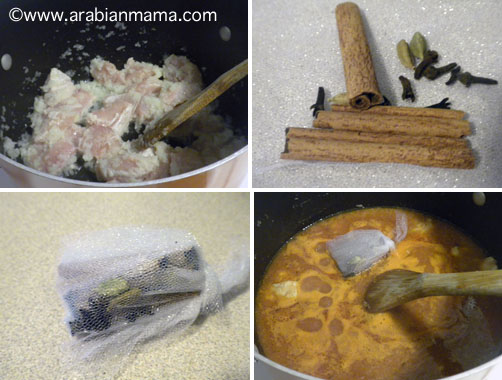 Make a pouch of cardamom,cinnamon stick and cloves then drop it in the sauce. Bring to a boil then reduce heat and cover for about 30 minutes or until the chicken is done.
Add the rice to the pot then add the remaining hot water, cover  and continue to cook. Before the rice is completely done – like 5 or 10 minutes before- strain the raisins and stir it in the rice mixture.
Complete cooking then serve by placing the rice in a large serving dish topped with the chicken and garnished with the nuts. It is better be eaten with green salad to the side. We like it so much with Tabbouleh.