Maamoul are date filled cookies very that is so popular in the Middle East. Here is an authentic recipe with different fillings to choose from.
Maamoul cookies are known as the Arabic cookies with dates. Ma'amoul is very famous in the Middle East during religious holidays for both Muslims and Christians. Along with other middle eastern cookies like Kahk, these cookies are made in huge quantities during festive days to celebrate and share with neighbors and guests.
Mamoul cookie can be made with semolina, farina, plain flour or a combination. It can be filled with dates or nuts, but the most famous filling is the dates. In this tutorial I will show you how to make authentic maamoul, various traditional fillings and which flour to use.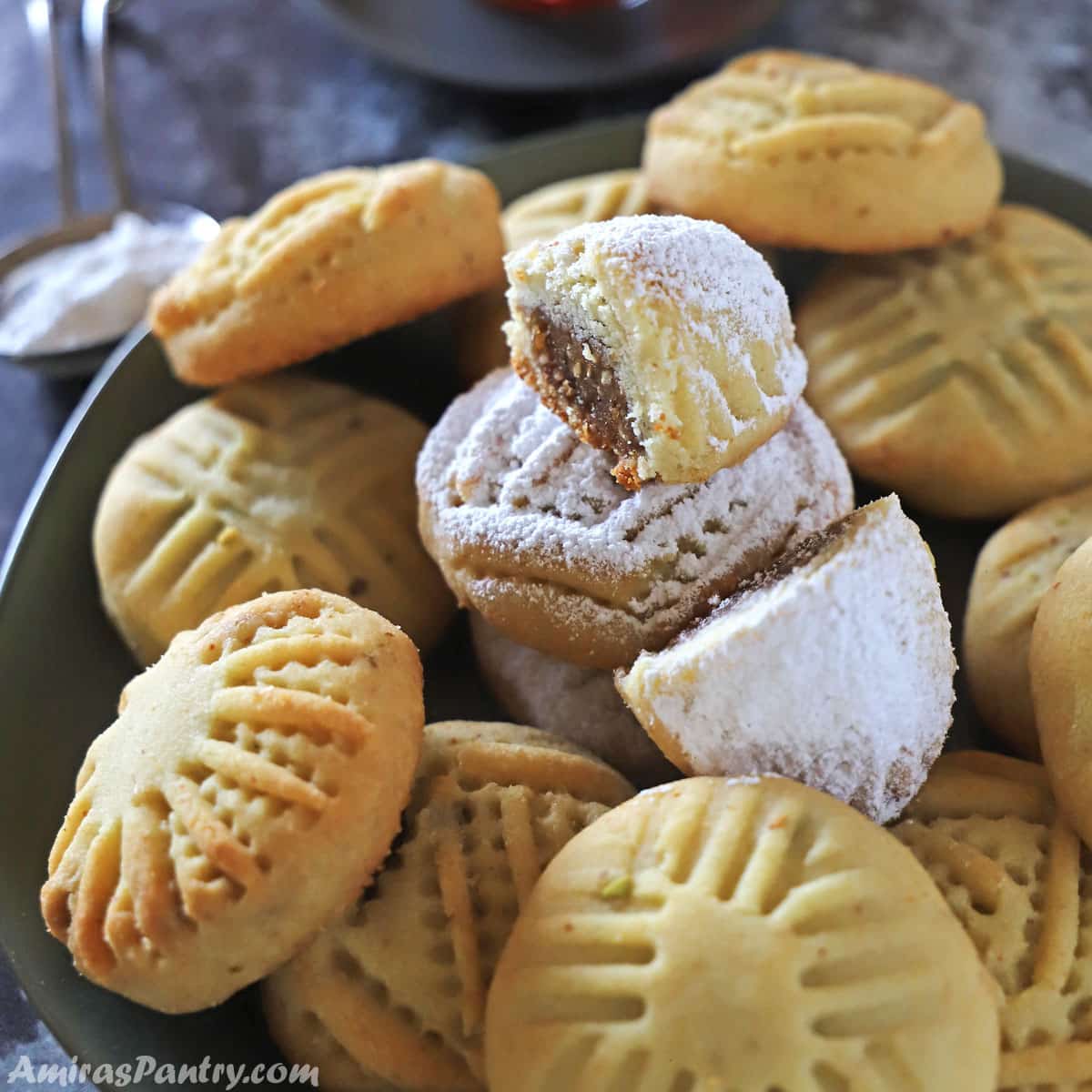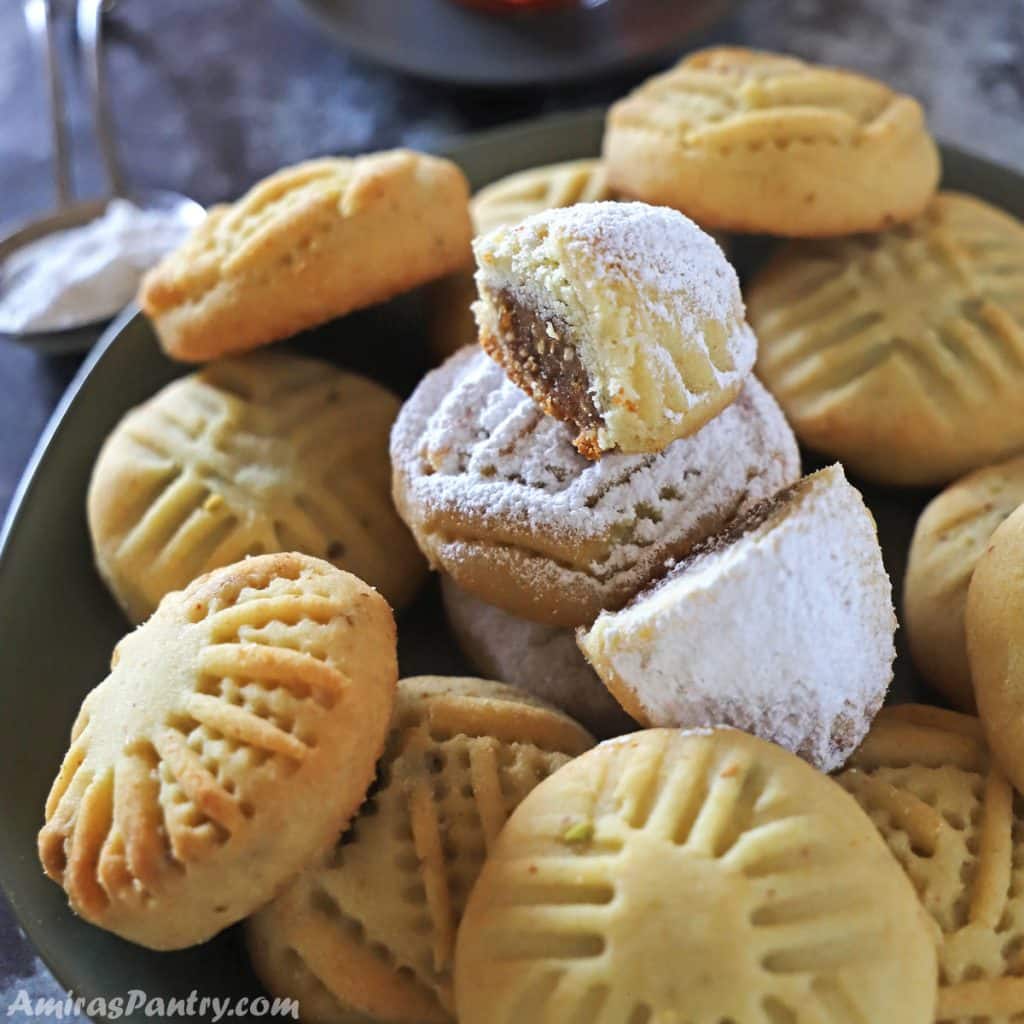 Ingredients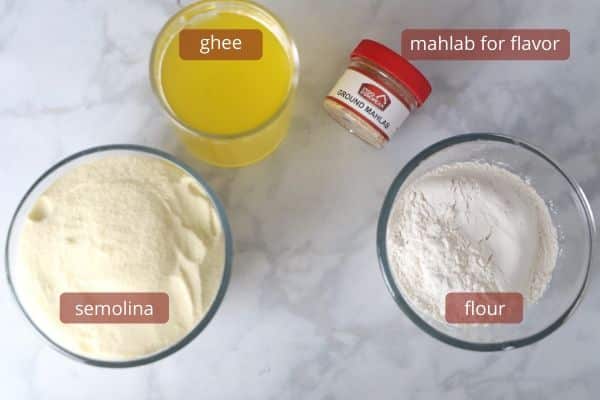 Ma'amoul is done in two stages separated by 8 hours or up to 3 days. In the first stage you'll need semolina, flour, ghee, a dash of salt (not pictured above), and mahlab powder for flavoring. I will get into the differences between flours, where to find mahlab powder, and substitutions for mahlab at the tips section of the post.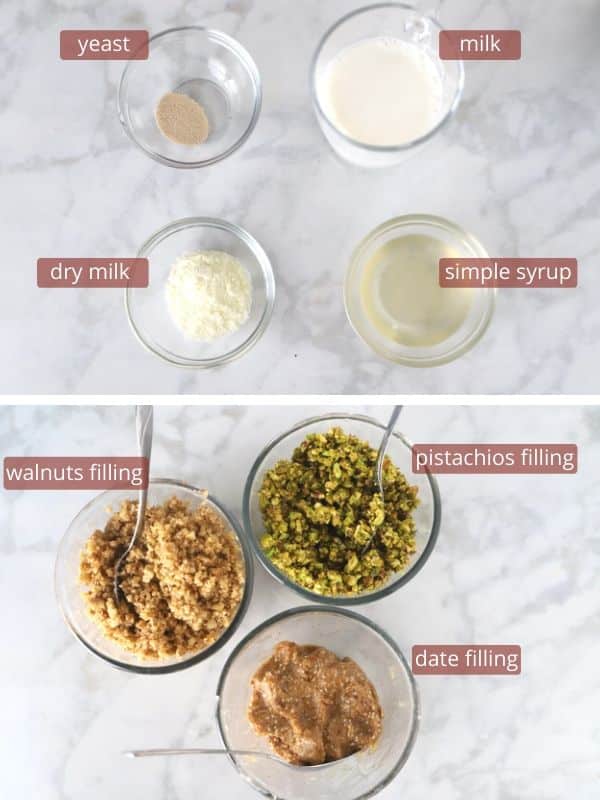 In the second stage you'll need milk, yeast, dry milk, and simple syrup. You can make maamoul without yeast but it is recommended to use it. For the filling, it is more common to use date filling and it is the tastier in my opinion but I am giving you the other options as well using pistachios and walnuts.
How to make maamoul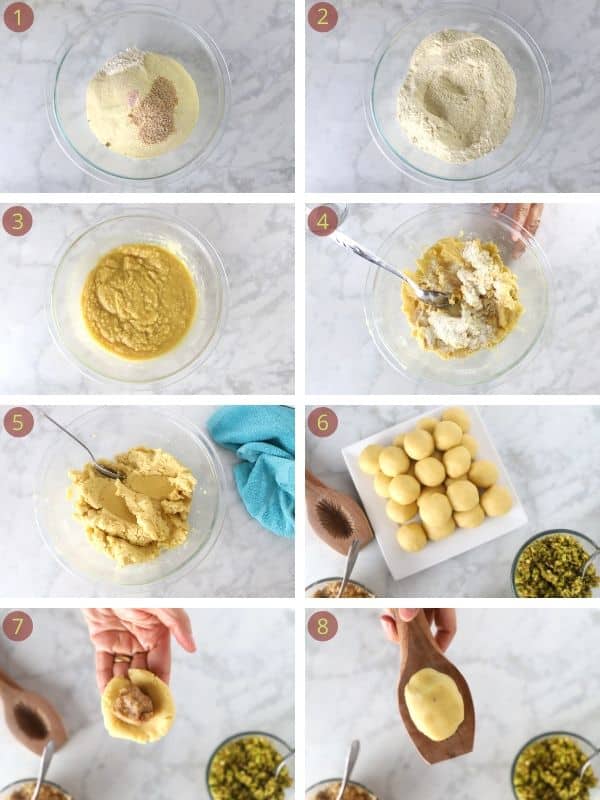 In a deep bowl add flour, semolina, mahlab, and a dash of salt.
Mix everything well together.
Add the melted ghee over and mix with a spoon.
Then mix with the palms of your hands for a couple of minutes to ensure that semolina grains are covered with ghee. Cover and refrigerate overnight or up to 3 days.
Mix in the dry milk and yeast. Pour the sugar syrup and mix well.
Add the milk little by little and lightly mix until you get a soft dough. Take a ball of the dough, roll in your hands to check if it forms nicely and softly without cracks. If you feel it is dry add little more milk. Cover and let it rest for one hour.
Make the filling(s) that you are using by mixing the ingredients together until you are able to shape it into balls. Divide the maamoul into equal balls.
Take each maamoul balls, flatten a but and wrap it around a ball of filling.
Press it against a maamoul tool if you have it or simply make some decorations on the top using a fork. Bake as directed below.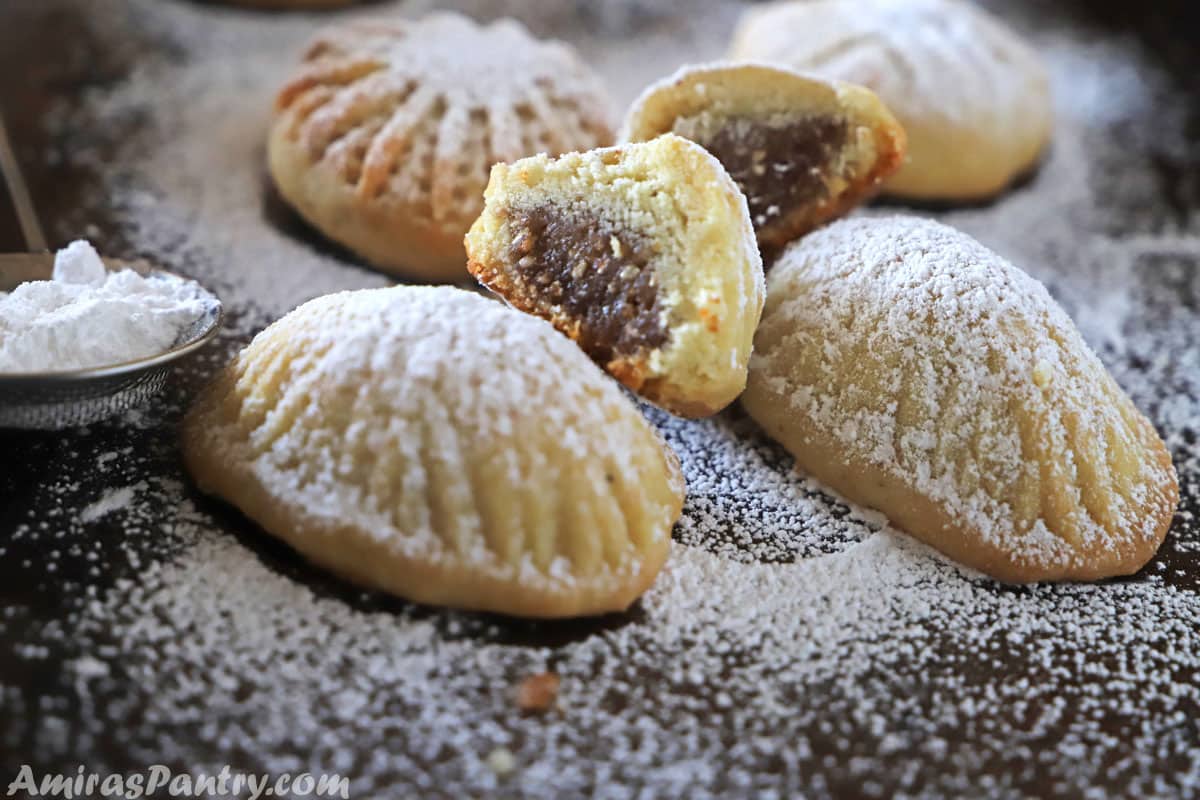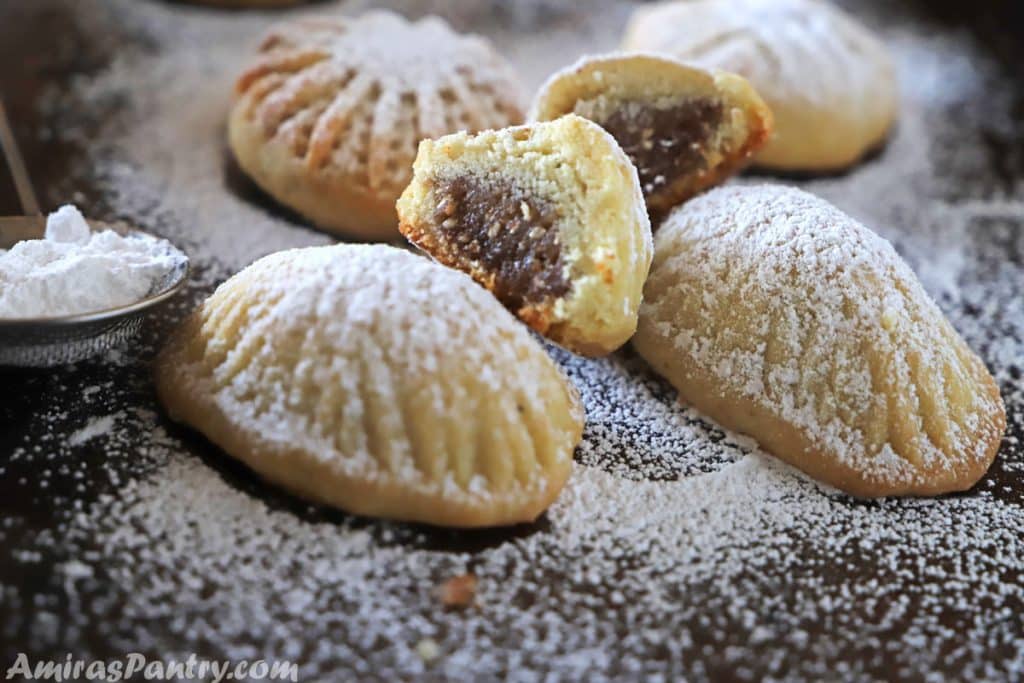 Tips
What flour to use semolina, farina or all-purpose flour? Using farina made maamoul too crumbly for my taste, the same thing happened when I used all semolina. So I've decided part semolina, part flour is what goes best with my taste. Making the whole thing with just flour resulted in cookies that were more like kahk and IMHO did not stand out as a maamoul. The all flour version is known as flour maamoul while this recipe makes what is known as semolina maamoul.
Where to get mahlab and what to substitute? I've found mahlab in the Asian store!! which was a real surprise for me. It should be there in your Middle East store if you have one nearby, but mine was out of mahlab. Make sure to get the ground one as it is sold as a whole as well. If you do not have mahlab, you can crush some mastic with a teaspoon of sugar and use it. Use rose water, orange blossom water, vanilla extract, almond extract, cinnamon, or leave it out. It is not a big deal.
Ghee or butter in maamoul? You can use either and you can use a mix. Some make it with oil but I prefer the intense nutty flavor of ghee.
Some people make a huge batch like 15 pounds of maamoul dough (first stage) and keep it in the fridge for months. I do not recommend this as the first stage really isn't that hard for you to make ahead and keep for months. I prefer it fresh.
As a rule of thumb for making maamoul, the ratio of flour: ghee: filling is 1: ½: 1. Meaning if you use 1 pound of (semolina+A.P.flour) you'll need to use ½ pound of ghee and you'll need 1 pound of filling.
Sugar syrup used for this recipe is 1 cup of sugar + 1 cup of water with ½ teaspon of lime juice. Add any flavors you like to the syrup.
Some people use water instead of milk in maamoul, I haven't tried that.
Also I've seen people adding sugar to the maamoul dough starting from a couple of tablespoons and up to ½ cup. I love my maamoul light in sugar and you can always dust with powdered sugar to sweeten it more.
This recipe makes 24 maamoul. If you are using a maamoul wooden tool, you might want to increase/decrease the size depending on the size of your tool.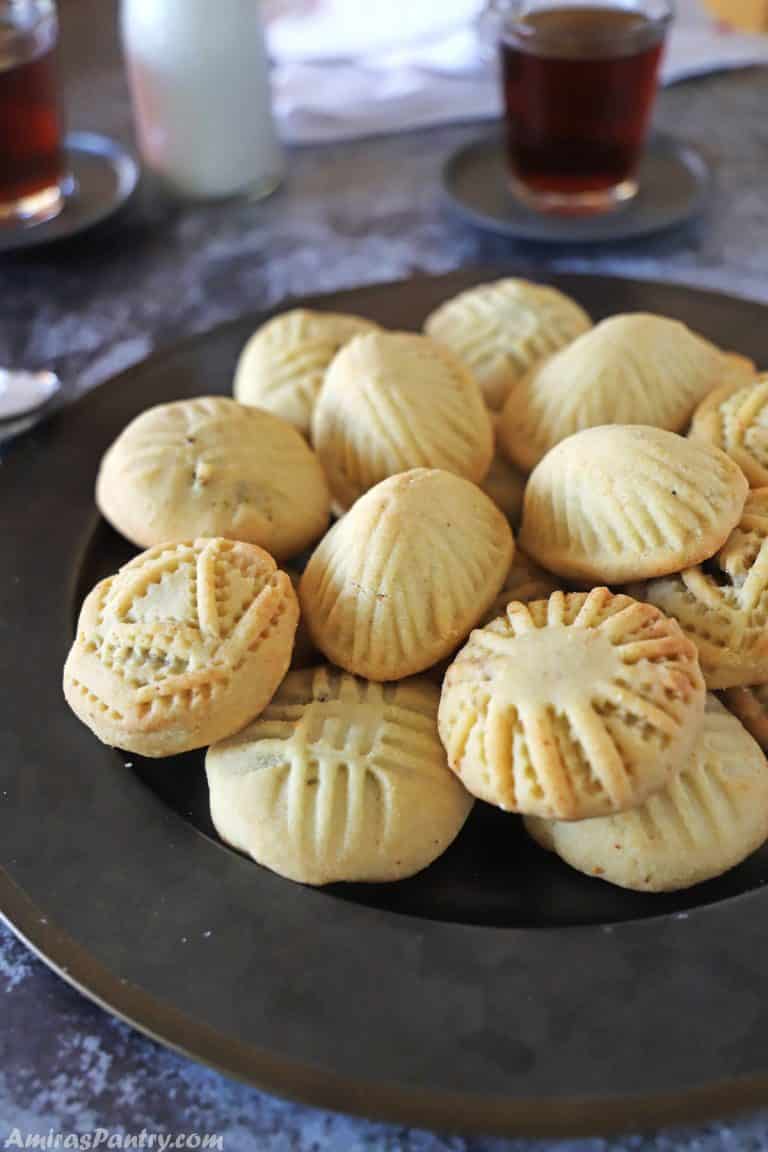 Lightly sweet, buttery with a little semolina crunch, these are my type of maamoul. My husband liked the nut filling more while I like it more with dates, the authentic way or at least this is how I was introduced to maamoul back in the 90s.
If you like this recipe do not forget to give it a ⭐⭐⭐⭐⭐ star rating and attach a photo of your finished dish. It is always a pleasure of mine to see your photos and check your own take of the recipe. Thank you.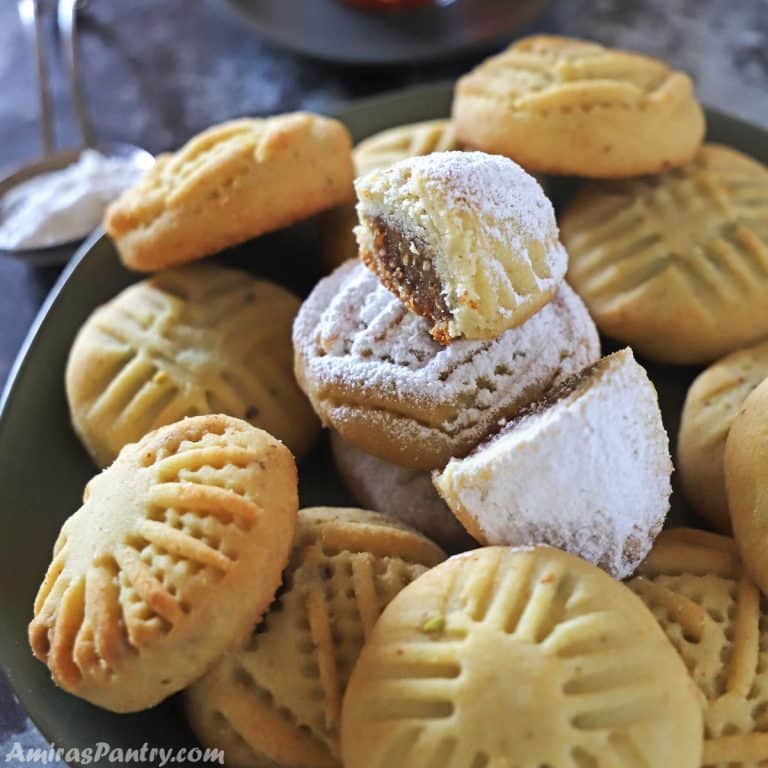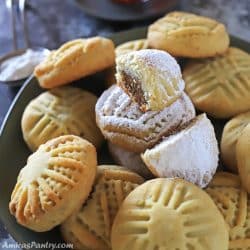 Maamoul
Maamoul are date filled cookies very that is so popular in the Middle East. Here is an authentic recipe with different fillings to choose from.
Print
Pin
Rate
Ingredients
For the first stage:
2

cups

(350g) semolina.

1

cup

(125g) all purpose flour.

½

Tablespoon

ground mahleb.

Note1

A dash of salt.

1

cup

(250g) ghee.

Note2
For the second stage:
1

Tablespoon

dry milk.

¼

teaspoon

active dry yeast.

3

Tablespoon

simple syrup.

Note3

¼-1/3

cup

warm milk.
Date filling:
1

cup

(150g) dates.

1

teaspoon

ghee.

1

Tablespoons

cinnamon or rose water or orange blossom water.

1

Tablespoon

roasted sesame seeds.
Pistachio filling:
1 ¼

cup

(150g) pistachios.

½

Tablespoon

powder sugar.

2

Tablespoons

simple syrup.

½

teaspoon

ghee.
Walnut filling:
1 ½

cup

(150g) walnuts.

½

Tablespoon

powder sugar.

½

teaspoon

cinnamon.

2

Tablespoons

simple syrup.

½

teaspoon

ghee.
Instructions
First stage
Melt ghee in microwave or stovetop but do not let it get too hot or boiling.

In a deep semolina, flour mahleb, salt and mix.

Pour in the melted ghee and mix well.

Use the palms of your hands and rub the semolina mixture for a couple of minutes.

Cover and refrigerate overnight or up to 3 days.
Second stage:
Take the dough out of the fridge and allow it to come to room temperature to soften as it might harden in the refrigerator.

Add dry milk, yeast and mix well.

Mix in the syrup then add the milk little by little until you feel the dough is soft and rolls nicely into a ball.

Cover and let it rest for 1 hour.

Divide the dough into 24 balls.
Make the fillings:
In your food processor combine the ingredients of each filling and process to desired texture. Note4

Divide the filling(s) into 24 balls.
Shape and bake maamoul:
With your thumb make a dent in each dough and fill with any of the stuffing suggested.

Close and roll into a ball. Press into a maamoul mold or flatten a bit and make some marks with a fork in a decorative way.

Bake on the middle rack for 10. Minutes then move up for another 7-10 minutes until top is lightly golden.

Let it cool down on the baking sheet for 3-4 minutes then transfer to a wire rack to cool completely.

Dust with powdered sugar and serve.
Notes
Note1: Mahleb powder is used to flavor the maamoul. It is a tradition to use it, but you can use crushed mastic, cinnamon or skip it.
Note2: You can use ghee, butter, oil or a combination.
Note3: Simple syrup is made by boiling 1 cup sugar + 1 cup water and ½ teaspoon of lime/lemon juice, then reduce heat and simmer for 10 minutes. Add vanilla, rose water, orange blossom water for flavor if desired. Let it cool completely before using in maamoul.
Note4: for pistachio and walnut filling some people like to finely process ¾ of the nuts leaving the rest roughly chopped for a chunkier filling. You can make the whole batch with any of the fillings above by tripling the amount of the desired filling.
Nutrition facts are calculated for the date filled maamoul.
Please check the nutrition disclaimer policy.
Nutrition
Calories:
249.5
kcal
|
Carbohydrates:
32.3
g
|
Protein:
3.2
g
|
Fat:
12
g
|
Saturated Fat:
7.3
g
|
Polyunsaturated Fat:
0.3
g
|
Monounsaturated Fat:
0.2
g
|
Cholesterol:
24
mg
|
Sodium:
2.6
mg
|
Potassium:
167.3
mg
|
Fiber:
2.4
g
|
Sugar:
16.8
g
Sign up and learn more about Mediterranean flavors