Homemade ghee is much cheaper than store bought ones and it is very simple and forgiving to make. Enjoy the nutty flavor of ghee with almost any recipe you have.
How to make ghee from butter at home quickly and easily. This is a step by step guide for quickly clarifying butter to get this heavenly golden liquid.
Ghee is a key ingredient in many dishes in the Middle East, especially desserts. Take for example this basbousa recipe, yes you can make it with butter but ghee takes it to a whole new level.
Learn how to make ghee from butter quickly unlike the traditional way which required hours of simmering over a very low flame.
Jump to:
❤️ Why You'll Love It
Making ghee from butter is a skill that has been in families for generations. I love ghee. In the Middle east almost every little girl has seen her mom making ghee many many times.
It is an essential ingredient in many authentic Middle eastern desserts. It adds its own touch to dishes regarding smell and taste. In Egypt we usually make ghee out of white butter not yellow one, but I love it either ways.
The idea behind making ghee is clarifying the butter, taking away the dairy solids in it to end up with pure butterfat.

The traditional method of making ghee is by melting butter then reducing heat as low as possible keeping the butter simmering until it is completely clarified and the solids sink to the bottom turning a little brownish.
This process usually took around 3-4 hours depending on how much you are making. Today, though I am going to show you a way that will only take 30 minutes of your time and the result is a delicious, nutty flavored and buttery each time.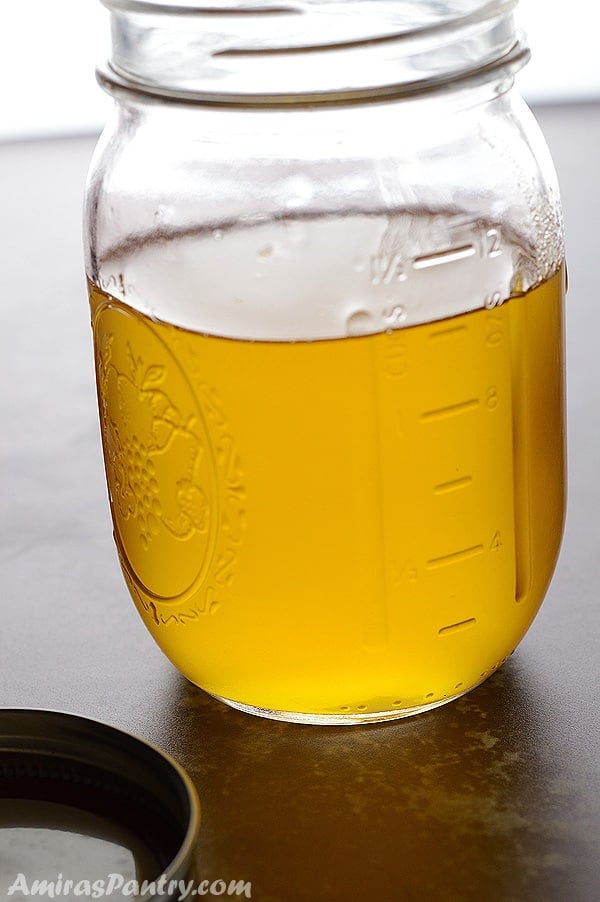 🥄 Instructions
Note: This is an overview of the instructions. The detailed instructions are in the recipe card below.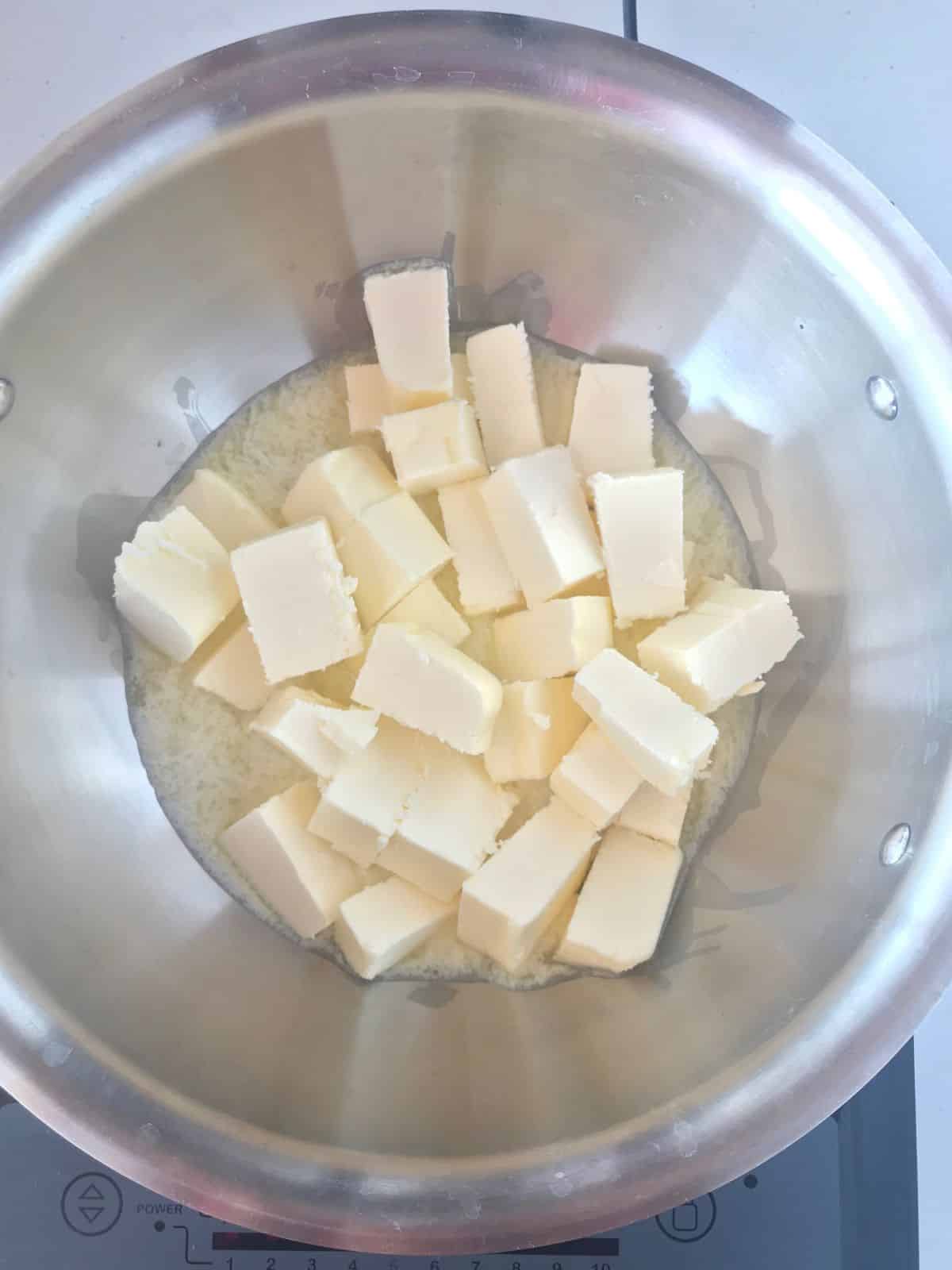 Add cubed butter to a heavy bottomed pot over medium low heat.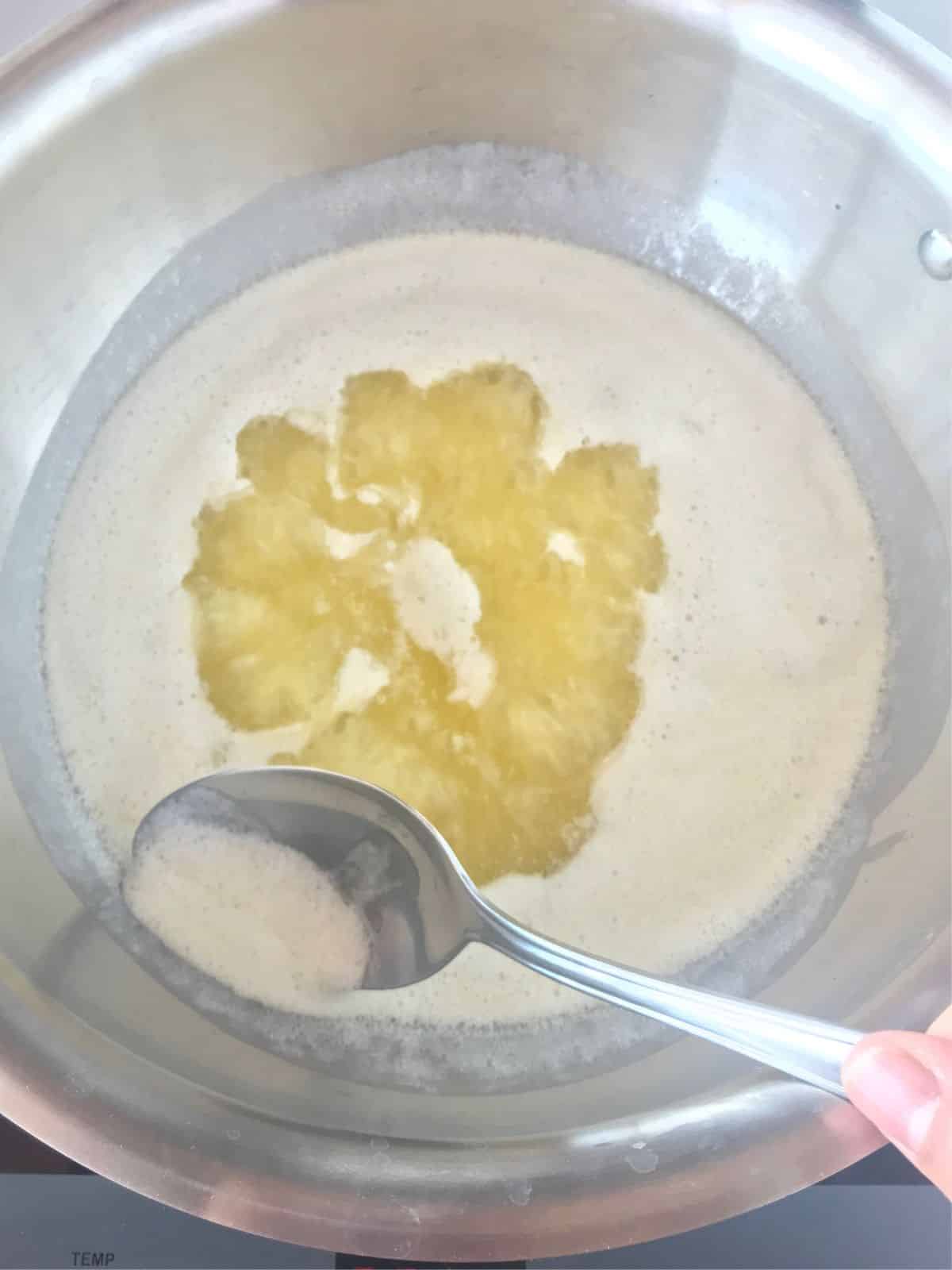 After about 5-8 minutes you'll notice that the butter is melted and it started foaming. This foam is the milk proteins separating from the fat and water and rising to the surface of the pot. Using a spoon remove some foam from the surface of the melted butter.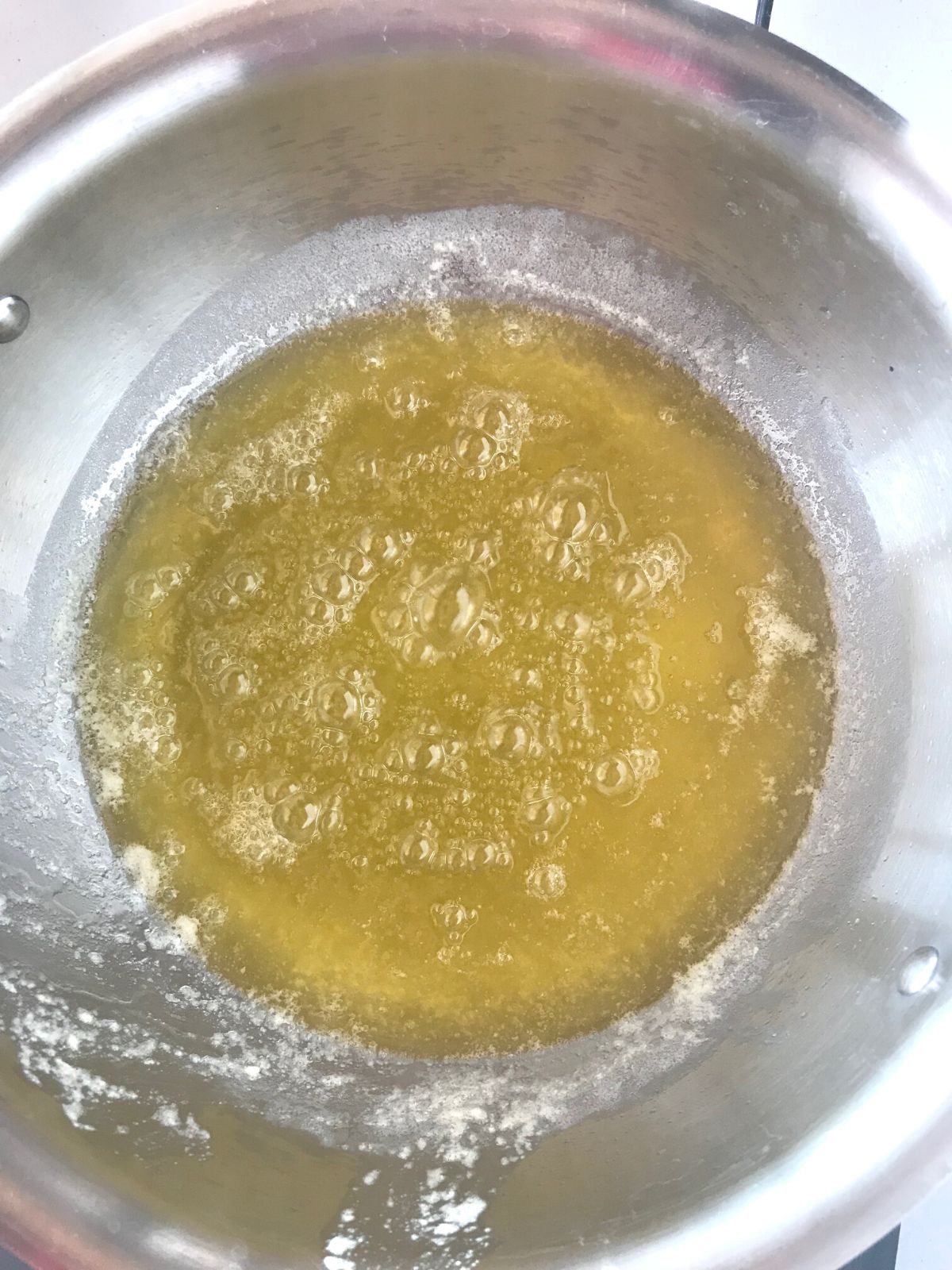 Wait a minute or two and at this stage you've got yourself clarified butter.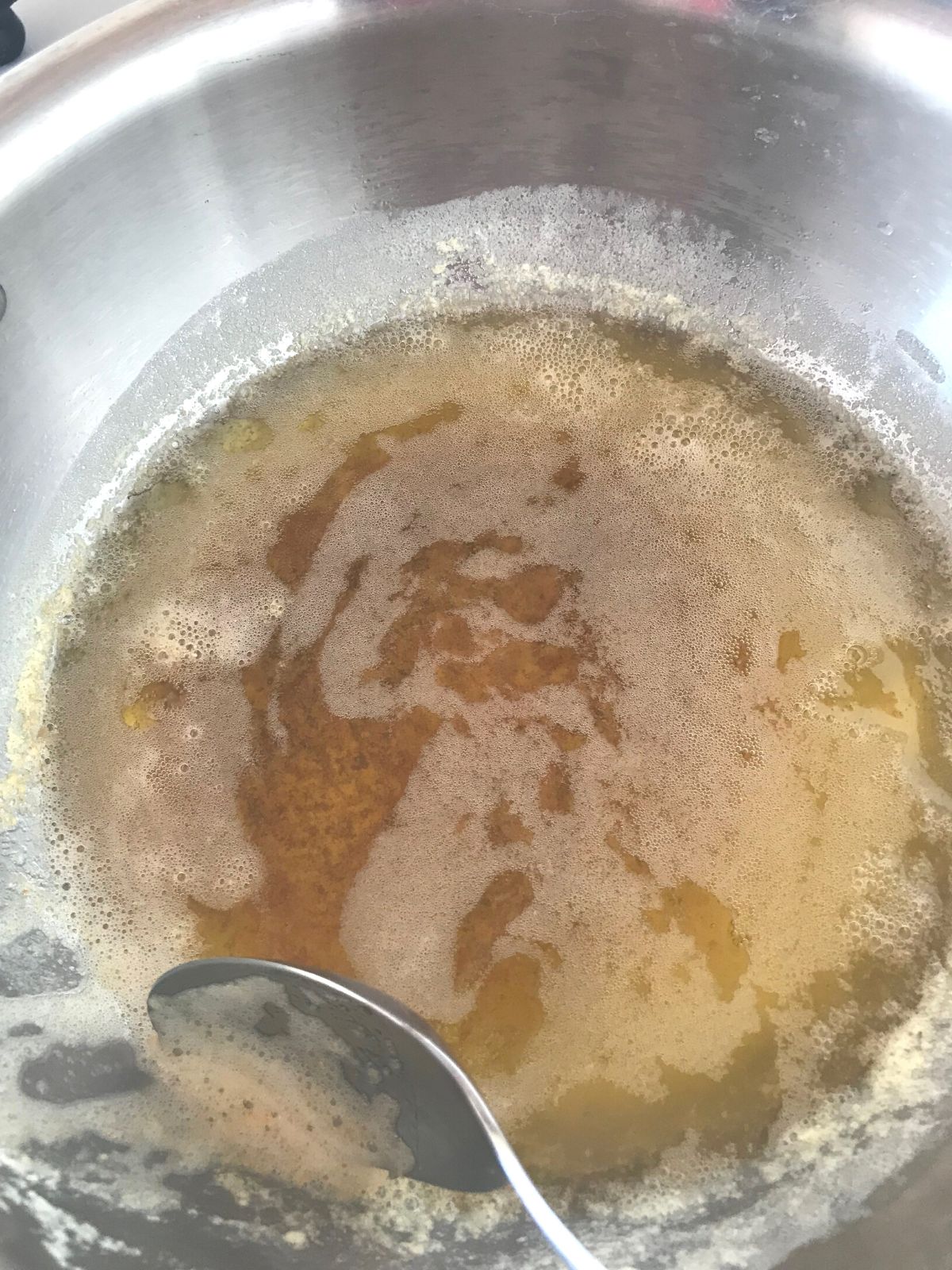 You'll notice some milk solids sinking at the bottom of the pot. To achieve that nice butterscotch flavor, we will raise the temperature a bit to probably medium and watch the pan like a hawk. We want to slightly brown the milk solids at the bottom of the pan. Watch the pan carefully as it can burn easily. Skim any bubbles at the surface so you can see clearly.
Let the ghee cool down until you are able to handle then strain carefully through a fine mesh strainer lined with cheese cloth. Pour ghee into clean glass jars. Let it cool completely before putting the lid on. The ghee will solidify at room temperature.
💡 Tips
For the best ghee use high-quality butter.
Before you start melting butter, it is always easier and quicker to cut butter into small cubes to shorten melting time.
Keep moving the foam from the top gently using a spoon also without reaching the bottom of the pot. Do this every now and then so you can see the melted butter underneath to make sure you are not burning it.
When making ghee, it is better to use light colored pot like stainless steel or dutch so you can see the bottom of the pot clearly.
Ghee will have a strong butterscotch note to it. It might seem very strong in the beginning but it will fade slightly as it ages for 2-3 days. It will eventually come to a balanced rounded nutty flavor.
Now for the browned solids at the bottom of the pan. Here is what my mom and grandma did. They took these solids and use it as a spread for crusty bread, they might add a little extra dash of salt to it but seriously guys they taste heavenly. This is called "Morta".
Another tip I got from a friend is, you know the foam that we skimmed on step 3 above? Do not discard, instead brown them a bit in a pan and use it as a "Morta" spread.
Another way to use the browned solids is to add them to some flour and honey and make a sort of fudge.
🧺 How to store ghee?
Ghee can be stored in an airtight container or jar in a dark cool place, like the back of your pantry for 1 year. Opened jars stay at room temperature (away from sun and heat) for about 5-6 months and refrigerated for longer.
❄️ Can you freeze ghee?
Of course you can keep ghee jars in the freezer and it stays good forever. The maximum I personally tried is 2 years.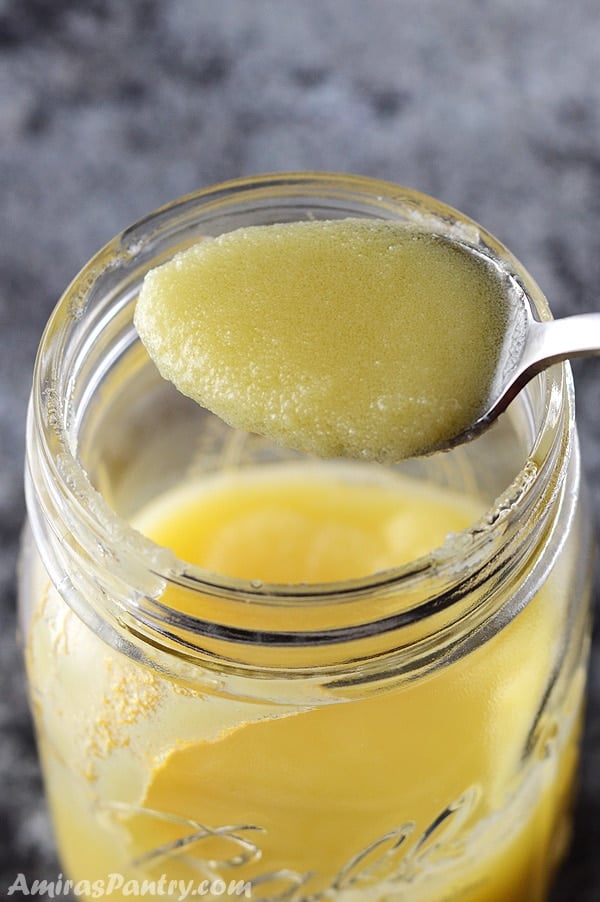 💬 FAQs
What is ghee?
Ghee is simply nutty clarified butter with all the milk solids and proteins removed. It has an incredible butterscotch flavor which blends beautifully in mostly any dish you make. Ghee is a staple ingredients in the Indian cuisine as it is in many of the Middle Eastern dishes. Ghee has a high smoking point which makes it a great candidate fat for stir frying and roasting recipes.
Salted butter or unsalted butter for ghee?
I prefer using unsalted butter when making ghee. May be because this is how I saw my family do it. For the brands, I use any good quality butter, but it does not have to be a premium quality.
So, can you clarify salted butter?
Yes and No. Ghee from salted butter will be salty and you will not be able to use it in desserts. Although I've seen my mom and grandma adding just a dash of salt to the butter while making ghee, and I will tell you why by the end of the post, this dash did not make the ghee salty. The difference between clarified butter and ghee is that the former you just skim all the foam when butter melts and wait for like a minute then turn heat off and use, while in ghee you'll wait until the milk solids brown which gives the ghee its distinguished smell and taste.
How to know that ghee is done?
Ghee is very forgiving, so do not worry if you cook it less or too much the most important thing is that you do not burn it to the point it gets too dark. There are two signs that ghee is cooked. First all the milk solids will sink at the bottom and started to brown and second is that the popping sound resulting from water evaporation will disappear.
How much ghee do you get from a pound of butter?
It depends on the butter but on average a 1 pound of butter = 2 cups = 4 sticks usually yields 1.5 cups of ghee.
How long does homemade ghee last?
How about FOREVER!!. Guys I've seen my grandmother melting around 20 kilograms of butter all at once, pouring them into these giant glass containers and just storing them in the back of her pantry... she did not refrigerate!!. It is recommended though, that ghee can be stored for up to 1 year refrigerated and 3 months on the shelf.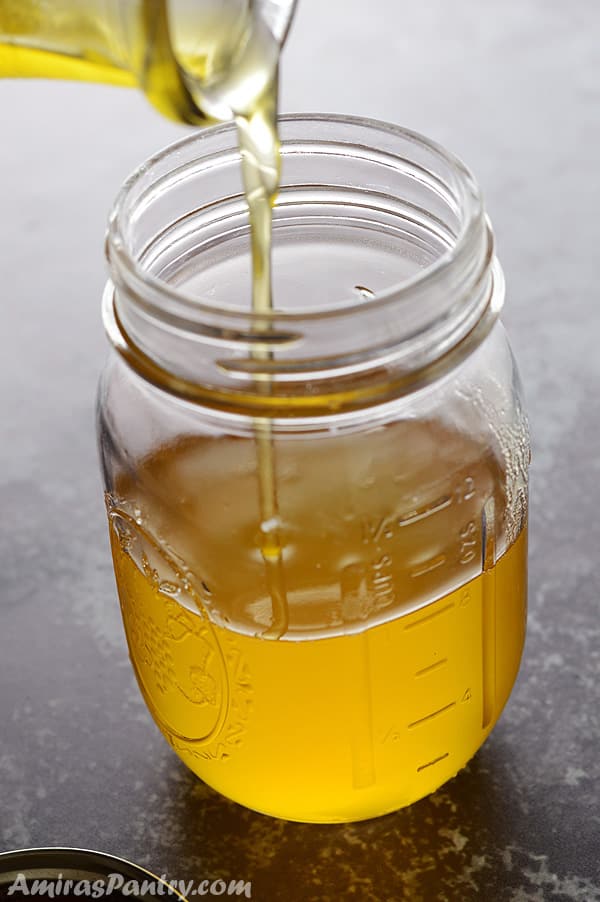 How to use ghee?
You can use ghee pretty much as you would use butter in everyday cooking. Here are some of the recipes that uses ghee here: Mediterranean rice, Molokhia, Basbousa, Kunafa, Egyptian Cookies, Egyptian rice, Stuffed grape leaves and flour halva. Many of the most popular Egyptian desserts use ghee as well.
🥣 Equipment
The following are affiliate links. We are a participant in the Amazon Services LLC Associates Program, an affiliate advertising program designed to provide a means for us to earn fees by linking to Amazon.com and affiliated sites.
You'll need glass jars with tight lids to store the ghee.
What's new? Check out Amira's Pantry Store on Amazon where you'll find all kinds of nostalgic goodness! Thanks so much for being a part of Amira's Pantry!
If you like this recipe do not forget to give it a ⭐⭐⭐⭐⭐ star rating and attach a photo of your finished dish. It is always a pleasure of mine to see your photos and check your own take of the recipe. Thank you.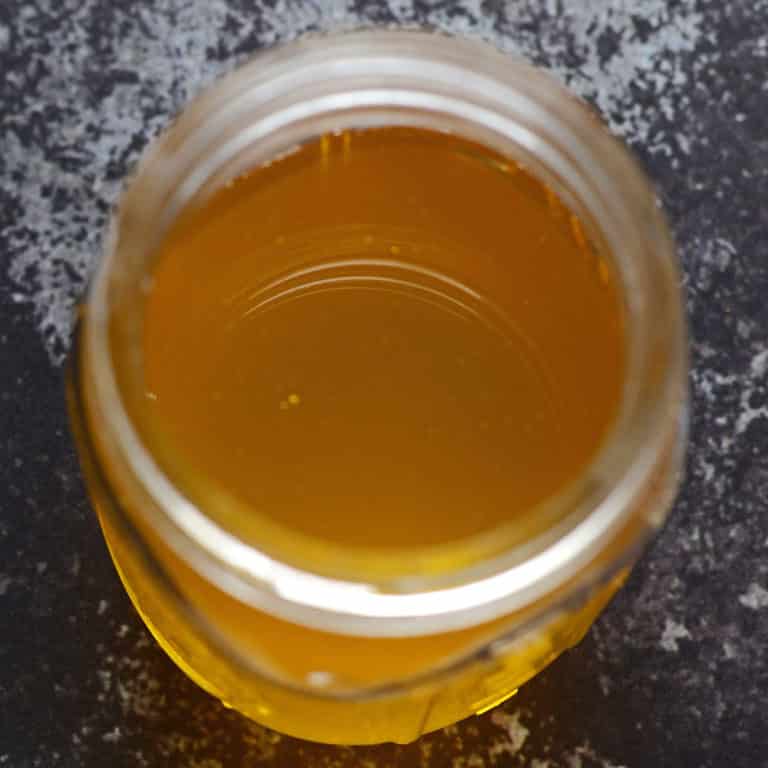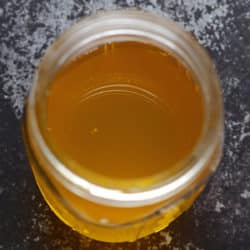 How to make Ghee from butter
Homemade ghee is much cheaper than store bought ones and it is very simple and forgiving to make. Enjoy the nutty flavor of ghee with almost any recipe you have.
Print
Pin
Rate
Ingredients
1

pound

(453 gm)/ 2 cups unsalted butter, cut into half inch pieces.
Instructions
In a heavy bottomed skillet or dutch oven, add butter cubes and melt the butter over low heat 210F-250F.

You'll notice that the butter will melt after about 8 minutes and starts to foam.

Use a spoon to remove some of the white foam that will rise to the surface. Or you can gently stir the surface just to have a look at the butter underneath.

The butter will clarify and some of the milk solids will sink to the bottom. Keep the butter boiling into a gentle simmer and not rolling boil.

When it turns golden and clear, raise temperature to 250F -280F and wait until the solids at the bottom of the pan turn golden brown. Keep an eye on the pan as this will probably take anywhere from 3-5 minutes.

Remove pan from heat and strain ghee through a fine mesh lined with cheese cloth or coffee filter. Pour into clean mason jars and store.
Notes
Use a light colored pan like stainless steel as it makes easier to notice the butter as it burns easily.
Please be extremely careful as the ghee will be very hot and can burn.
For more tips, how to store ghee and ways to use ghee check the post above.
Please check the nutrition disclaimer policy.
Nutrition
Serving:
1
Tablespoon
|
Calories:
136
kcal
|
Carbohydrates:
0.01
g
|
Protein:
0.2
g
|
Fat:
15
g
|
Saturated Fat:
10
g
|
Polyunsaturated Fat:
1
g
|
Monounsaturated Fat:
4
g
|
Trans Fat:
1
g
|
Cholesterol:
41
mg
|
Sodium:
122
mg
|
Potassium:
5
mg
|
Sugar:
0.01
g
|
Vitamin A:
472
IU
|
Calcium:
5
mg
|
Iron:
0.004
mg
Sign up and learn more about Mediterranean flavors
First published December 2012. . Last updated November 14, 2022 with important tips, clear step by step instructions and readability.