Hello my friends, today's repost, is a post that I'm very proud of. This shows up in the first page on google when you search for the word "Kahk". Of course you need to know what Kahk is to be searching for it from the first place :). For me learning rocket science was easier than making Kahk, but after making it the first time, fear walls was destroyed and I experimented with all sorts of filling. Kahk is a very special type of cookies for Egyptians both Muslims and Christians as it holds very dear and happy memories for most of us. Specially for those born in the 70s and the 80s, as we watched our mamas and grandmothers make it at home. I've done a revisit for this old post here with refined photos, but this good old post is still dear to my heart.
I hope you'll like this authentic Egyptian recipe. Enjoy!!
------------------------- Originally published on Dec 30th 2012 ------
Egyptian Eid Cookies or Kahk pronounced Ka-hk is a special dessert that is associated with happy occasions in the Egyptian traditions. These mouth watering cookies appear on the Egyptian Muslims' table yearly in Eid-el fitr that comes after Ramadan and bi-yealry on the Egyptian Christians' table in Christmas and Easter day. Also when a girl is married, her family packs the newly-wed pantry with this kind of cookies. It is said that these cookies have ancient origin as there are drawings in some of the Pharaonic temples illustrating the making of kahk. Images of the sun goddess were carved on the cookies , and we still do carve the top of these cookies. The word " kahk" means cookies or biscuit in Arabic language. This ritual extended to other Middle eastern countries but often made with semolina like " Ma'amoul" and stuffed with dates. Kahk is usually filled with Agameya (special honey filling) , walnuts, pistachios,lokoums, or simply left plain and covered with powdered sugar.
Check out the updated Kahk post with video here.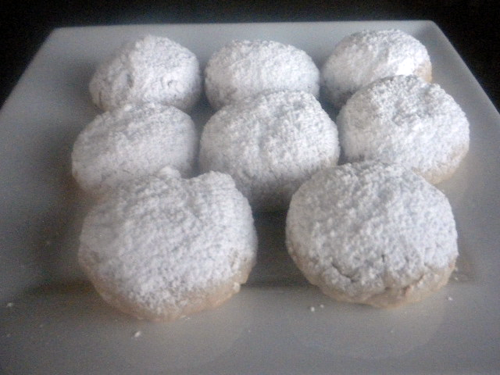 What you will need:
3 cups of all purpose flour.
1 ¼ cup of ghee.
⅓ cup of milk.
1 tablespoon of dry yeast.
1 tablespoon of granulated sugar.
½ teaspoon cinnamon.
2 tablespoon sesame seeds. -optional.
For the Agameya filling :
2 Tbs of flour.
3 Tbs of ghee or butter.
1 cup of honey.
2 teaspoon of sesame seeds.
1 cup of coarse walnut.
To make the kahk: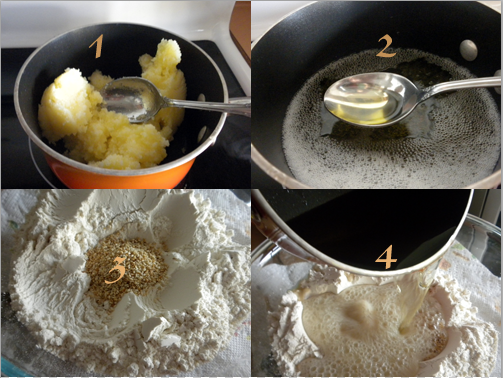 First melt the ghee until it starts to bubble and be very hot- keep an eye on it we do not want it to burn. In a deep dish - that can take the heat - put the flour and cinnamon mix well then make a well in which you put the sesame seeds then

very carefully pour the hot ghee

over little by little stirring with a wooden spoon.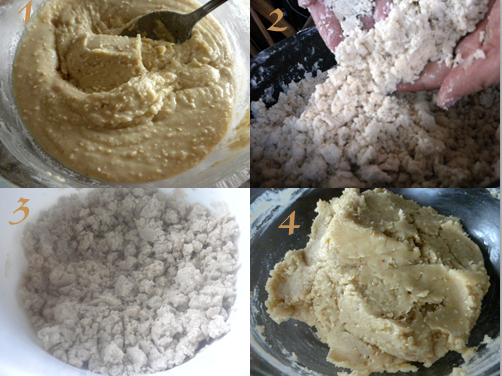 The mixture will be watery at first but keep stirring and leave it to cool down a little from 10 to 15 minutes. Meanwhile dissolve the sugar and dry yeast in the warm milk.
When the flour mixture has cooled down, crumble it with your hands to make sure that the ghee and flour are totally in harmony. Add the milk and mix well with hands until it forms a nice dough. Leave it for an hour.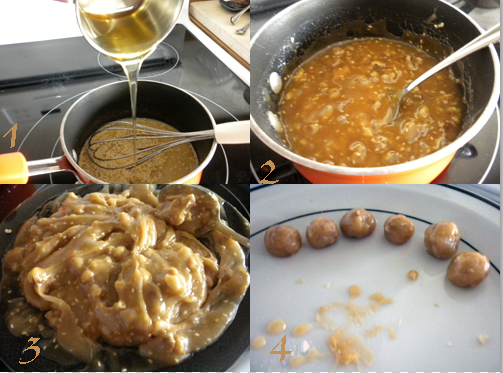 In this hour we will make the filling - agameya:

Melt the butter or ghee in a pan then add the flour whisk vigorously until the mixture is golden. Take it away from the heat then add the sesame seeds and the honey and the walnuts. Return to a low heat and keep stirring until the mixture thickens well as above. Let it cool and form into small balls - hazelnut size.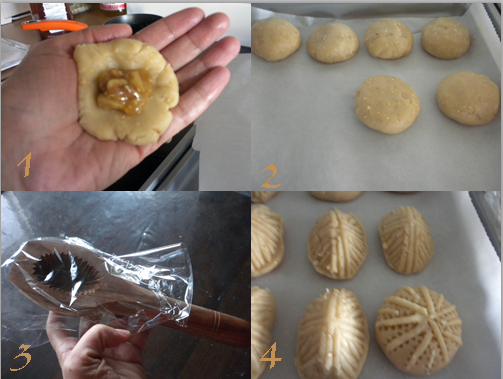 Take a piece of the dough, put the agameya ball in the middle and then roll it to form a ball then put it in a backing sheet and press slightly to flatten. You can buy the above wooden mold from any Middle eastern market and press the dough against to make this beautiful carving on the surface. I usually put a piece of film inside the mold to easily pop the dough out. If you can not find it rest assured you can just carve it by a fork or let it without carvings it will still taste yummy.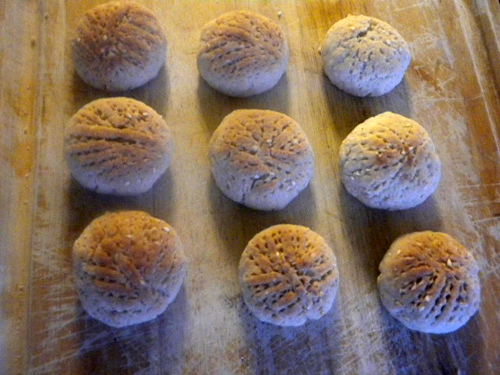 Bake in a pre heated oven 350F for 15 minutes and broil until golden. Let it cool and keep in an air tight container.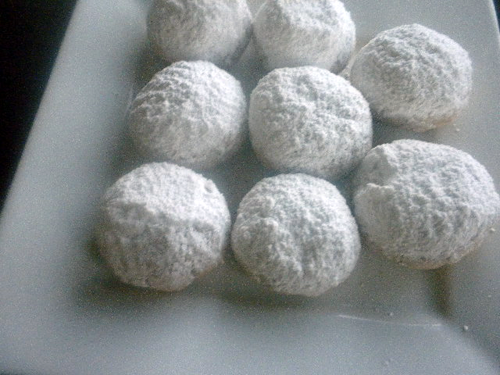 Coat with powdered sugar and serve with coffee or black tea.