Tender sauteed breaded chicken cutlets, dressed with a delicious lemony buttery sauce. Chicken francese with no wine is a favorite, kid friendly chicken recipe that everyone will enjoy.
Care for more lemon and chicken recipe? Try this foolproof chicken, lemon and artichoke casserole.
First Published: March 2017 Last Updated: June 2019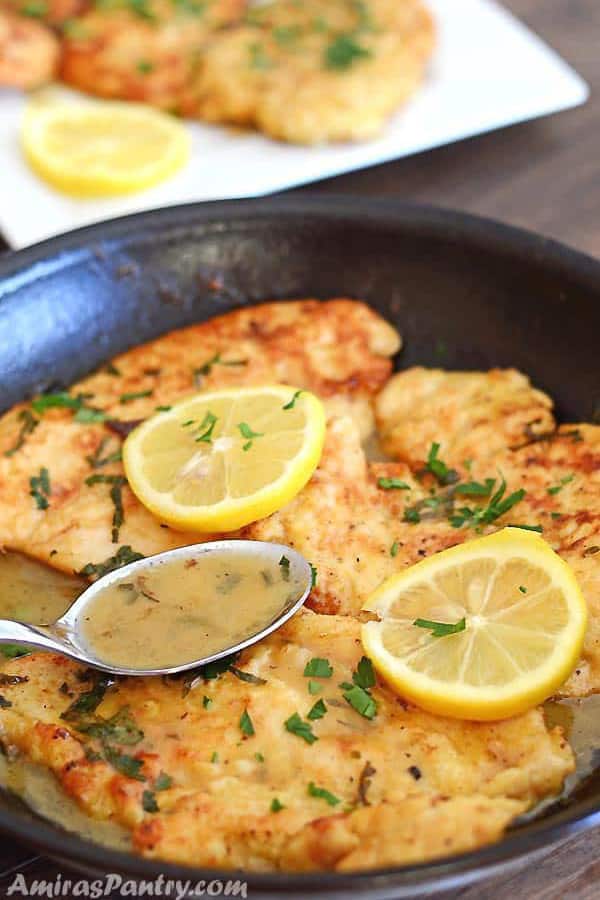 This is a simple, easy, rustic and bright lemon chicken recipe that is for those of us who really like it tart and buttery and lemony. This chicken recipe is hands-down-best staple on our table. This dish is very easy to make and will keep you going for more.
I like this recipe for so many reasons, it is easy, frugal, hubby ate it, kids ate it, I ate it and we were all happy and above that it looks and sounds fancy as well. This was my adaptation for the Tyler Florence one.
But hay, there is another story behind this recipe. This is not a story about chicken recipe, this is a story about overcoming your fears. Yep, overcoming butchering fears. My fears of hammering chicken breasts!!!.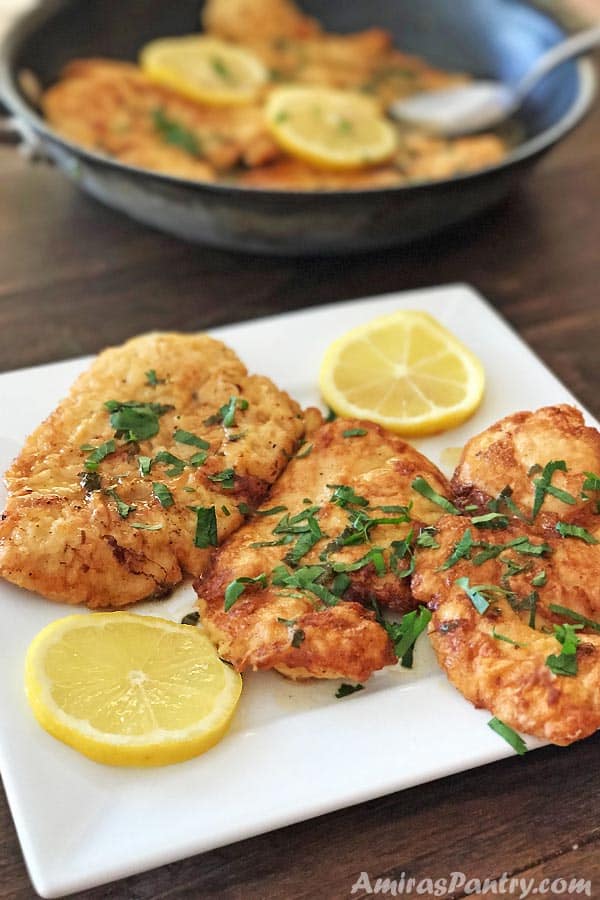 I need to admit that I hated hammering those innocent chicken breasts and I was about to ask my butcher for chicken scallopini for this recipe. Instead, I took a deep breath and decided to do it myself. I have no issues in slicing, cutting or eating chicken but I do not know why pounding is another thing.
When I put chicken breasts between two plastic wraps and getting them ready to be flattened, I HAD TO cover them with anything else that is not transparent so I cannot see them!!. I wonder why is that? , may be something happened in my past life or may be in my childhood? I gotta ask mom about that. But there is always a first time and here is my first.
So this is a story of overcoming kitchen fear and a new family favorite chicken recipe. With just a handful of ingredients, that you'll probably have around, in under an hour, you'll get a fancy looking and delicious chicken recipe. It is a win win that I'm thinking of making it in our next gathering and I am pretty sure everyone will love it.
What is Francese sauce?
Francese or French means that this dish has been cooked French way. Which means, it has been dredged in flour and dipped in eggs. Then these chicken is fried and dressed up in lemon sauce and in this case lemon and butter sauce. Usually there is wine in the recipe but ours here is wine free chicken francese.
What is the difference between Chicken Francaise (Francese) and Chicken Piccata?
Not really much. From what I've read, Francaise or Francese are coated with flour then dipped in egg wash then pan fried. Piccata, on the other hand, and only coated with flour then pan friend. Also capers are added to the piccata sauce.
How do you make Chicken Francese?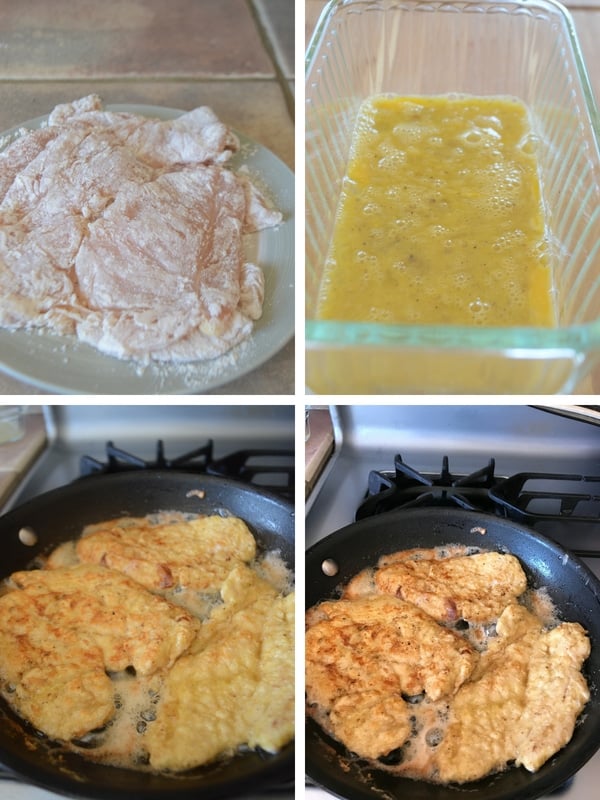 First we'll need to dredge, those amazingly and proudly and fearlessly pounded, chicken breasts into seasoned flour.
Then dip them into egg and milk mixture. Here is when others like to add Parmesan cheese as well.
Cook them on both sides, they will smell heavenly.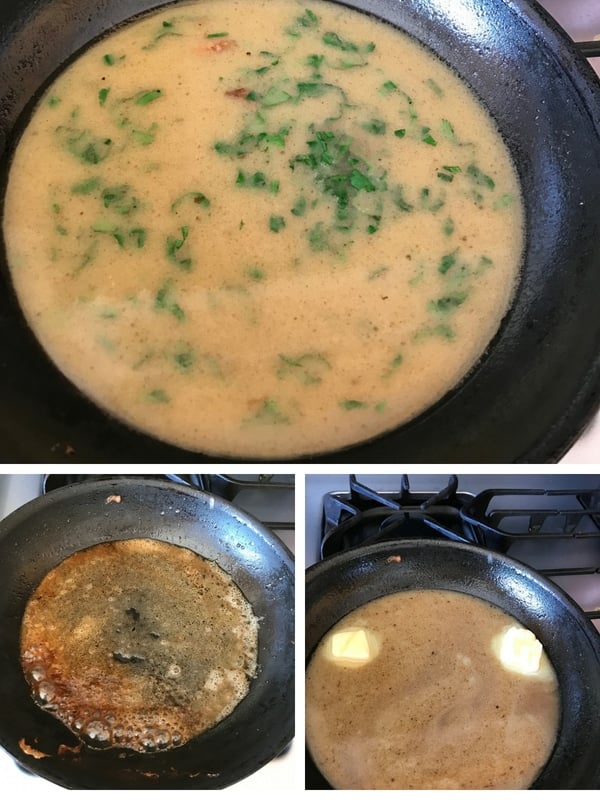 Now deglaze the pan with some lemon juice, all recipes uses wine for this step but of course because we do not consume alcohol I just skipped this ingredient.
Add the stock to the pan, boil then turn off the heat and complete the sauce as directed below by adding butter and swirling the pan.
Absolutely delicious and very tender. Now I've included the standard amount of lemon juice in the recipe below, but for us I've almost doubled the amount. So before scooping the sauce, taste it for yourself and see if you want more lemon flavor or this is the just right for you.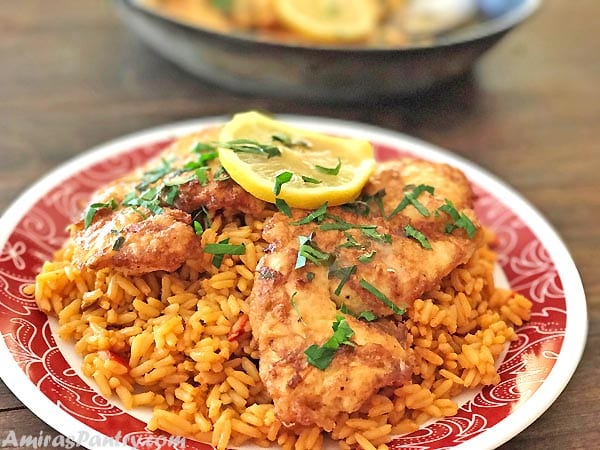 I hope you'll like this recipe and please if you make this recipe, snap a pic and hashtag it #amiraspantry — I love to see your creations on Instagram, Facebook, Twitter!
Don't want to miss a recipe? Sign up for the FREE Amira's Pantry newsletter delivered to your inbox with lots of tips and surprises! And stay in touch with me on Facebook, Twitter, Pinterest, and Instagram for all the latest updates.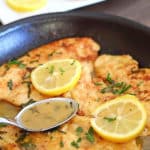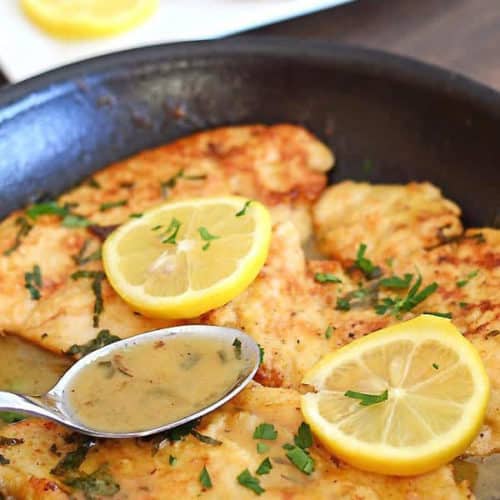 Chicken Francese without wine
Tender sauteed breaded chicken cutlets, dressed with a delicious lemony buttery sauce. Chicken francese with no wine is a favorite, kid friendly chicken recipe that everyone will enjoy.
Cuisine:
Italian / American
Keyword:
Chicken francese, no wine chicken francese
Ingredients
3/4

cup

flour.

1 1/2

teaspoon

salt.

1/2

teaspoon

black pepper.

1 1/2

lb

boneless

skinless chicken breast, thinly sliced.

2

extra large eggs.

3

Tablespoon

milk.

1

Tablespoon

unsalted butter.

1

Tablespoon

olive oil.
For the sauce:
1/3

cup

lemon juice.

1

cup

chicken stock

3

Tablespoon

cold butter.

3

Tablespoon

fresh parsley

chopped.

salt and pepper to taste.
Instructions
In a bowl, combine flour salt and pepper. In another bowl, combine eggs and milk.


Coat chicken breasts with the flour mixture then dip in egg mixture.


In a skillet over medium heat heat olive oil and butter. Cook on the skillet for about 2 minutes each side. We need the chicken to brown a little. Set aside.

In the same skillet increase heat to medium high, add lemon juice and deglaze the pan.

Add the stock to the pan and bring to a boil.

Turn off the heat and add the cold butter, keep stirring until the butter is melted and totally incorporated in the sauce. Add parsley and stir.

Season with salt and pepper.

ladle sauce over chicken and serve with pasta or rice.
Recipe Video
Recipe Notes
Nutrition Facts
Chicken Francese without wine
Amount Per Serving
Calories 278.9
Calories from Fat 121
% Daily Value*
Total Fat 13.4g 21%
Cholesterol 148.8mg 50%
Total Carbohydrates 7.6g 3%
Protein 30.2g 60%
* Percent Daily Values are based on a 2000 calorie diet.