Bell peppers are one of this life's pleasures, and roasting it makes it even more delicious. This traditional Moroccan side dish pairs very well with any type of grilled meat or burgers.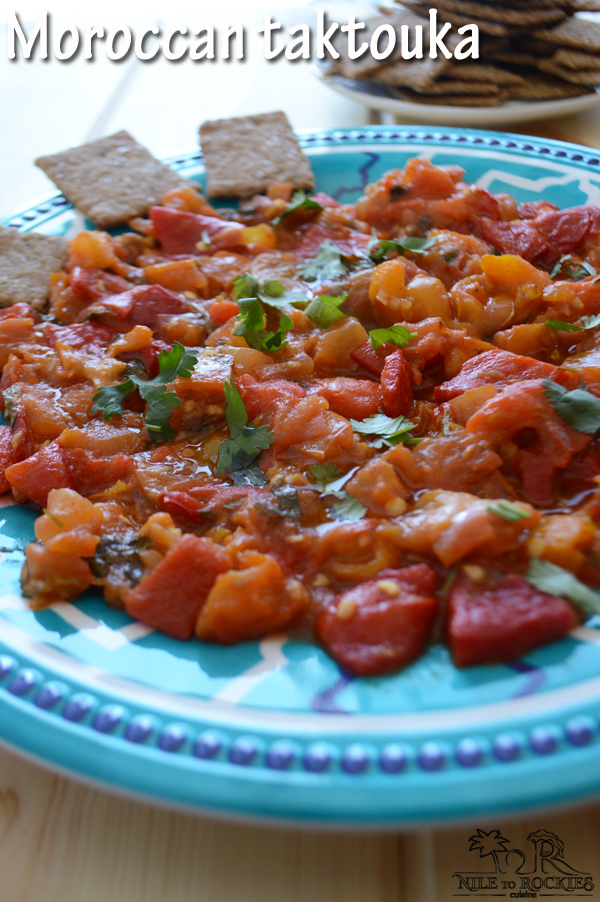 I consider Moroccan cuisine to be one of the finest cuisines around the world, it is aromatic and flavorful. If you are not familiar with the Moroccan cuisine, and would like an easy side dish to start exploring the wonderful world of this cuisine, then this recipe is for you. Taktouka is a side dish that is easy to make yet so delicious, can be served warm or cold in hot summer days with some grilled meat and may be … ocean breeze 🌊. Sometimes it's called "Flifla" in eastern parts of Morocco.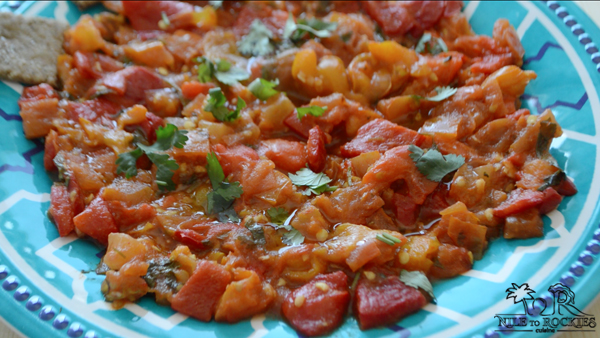 Morocco, Tunisia and Algeria , I wish I've visited that part of north Africa, it is really a shame that I've lived over 30 years in Egypt without visiting these neighboring countries. I had – and still have – a dream since I was a kid, and I still did not fulfill that dream yet. My dream is to roam the world and visit every corner, see the people, how do they live, what do they eat, listening to the languages from around the world, the music …. my dream is getting to know the world I am living in.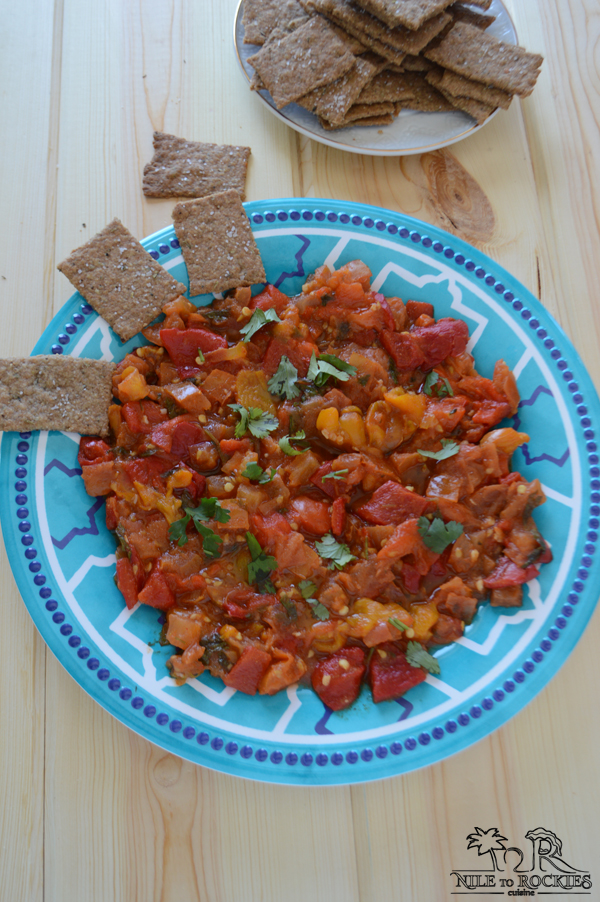 I get so fascinated when I hear people talk around me in different language, I try to listen, not that I will understand, but really I like hearing different languages and I often catch myself smiling when I hear people talk is different languages, Spanish, Korean, Russian, Japanese, French ….. and this was my second dream, which is learning every language I can… how cool is that 😎.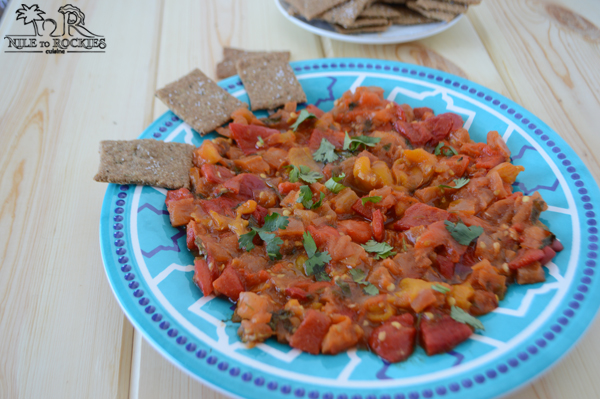 Seems that I still have mush learning and traveling to do, so until then, I will simply roam the work through my oven and stove top and today I will get to know the Moroccan culture better through this simple and tasty taktouka. It is said that taktouka is somehow a simple twist to the word shakshouka!!, not sure about that. This recipe is common during the holy month of Ramadan and it is served warm or cold, I've tried it both ways, warm and right out of the fridge and I've found it delicious both ways.
We've had it as a side dish in dinner and as a lunch with some homemade whole wheat crackers – recipe will follow soon, you can also serve with boiled eggs for added protein … it is really delicious. I hope you'll have some bell peppers to try your hands on this easy Moroccan dish.
Enjoy your weekend.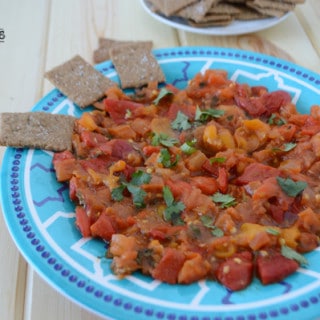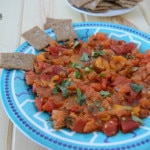 Moroccan taktouka
A delicious authentic roasted bell pepper side dish from Morocco
Print Recipe
Ingredients
3

bell peppers

red, yellow and orange

2

Tablespoons

olive oil.

3

garlic cloves

crushed.

3

medium tomatoes

diced almost 1.5 cup.

3

Tablespoons

cilantro

chopped.

salt to taste.

1/2

teaspoon

cumin powder.

1

teaspoon

paprika.

optional: 1/2 teaspoon cayenne pepper.
Instructions
Wash the bell peppers and roast - either in the oven, stove top or in your grill. I roasted mine for 40 minutes in 400F oven until blackened and blistered. Let it cool down, then peel and dice.

In a non stick skillet, add the oil then the garlic and saute for a minute.

Add diced tomatoes and cook for another 3-4 minutes.

Add the roasted peppers and all the spices.

Finally add the cilantro, mix well then reduce heat and simmer for 10 more minutes.

Serve immediately or chill in the fridge then serve.

Enjoy!!
Need more side dishes?