My family went wild over this simple Moroccan dessert. Sweet and chewy so say goodbye to your self control!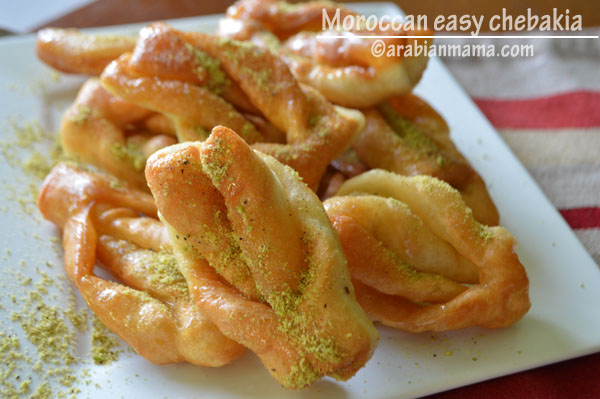 Chebakia is a very popular Moroccan sweet, served mainly in Ramadan - although I would not mind eating it any time of the year- and I am making it as part of Lail's virtual Iftar event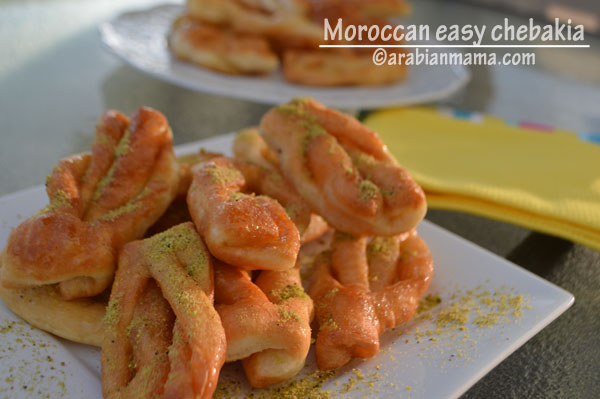 Lail wanted us to talk a little to you about Ramadan. I know most of you know what Ramadan is and completely aware that Muslims around the world are waiting eagerly each year for this holy month where we fast - no eating or drinking - from dawn to dusk. Yes, it is hard specially in the first couple of days as you try to get rid of caffeine, but you know what? almost all Muslims think the days of Ramadan flies really quick and here we are on the 13th day and I cannot believe it.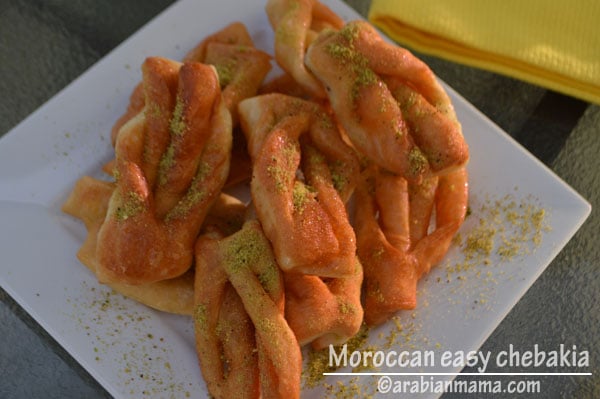 I have lots of memories about Ramadan specially when I was a kid. Kids should start training by fasting till noon and then stretch it to full day as they get older. Kids always wanna fast as to prove that they are mature and can do what adults do 🙂
The true spirit of Ramadan is joy, love, sharing, caring, giving, praying and self control, it is the time of the year when Muslims should stop the hectic life and take good care of their souls. Think of Ramadan as a 30 days of Christmas. Muslims are promised many heavenly rewards in this holy month, when they behave within the spirit of Ramadan.
So back to our recipe of today, Moroccan people like to eat Chebakia in Ramadan with Harrira. The real recipe includes ground sesame seeds and sometime saffron also shaped a little differently. Today I will show you how to make a simpler version of Chebakia.
You will need:
2 cups of flour.
1/2 cup of warm water.
1 egg.
2 tsp of dry yeast.
a pinch of salt
We will also need simple syrup: 1 cup of sugar + 1 cup of water + 1 tsp of lime juice.
In a mixing bowl, combine flour, salt and yeast and mix well.
Crack the egg and mix with the flour mixture then add water mix.
Transfer your mixture to your working surface and knead by hand for 5 minutes until you get a smooth dough.
Roll out your dough and form a rectangle. With a sharp knife cut the dough into several smaller rectangles.
Take each rectangle and make three vertical lines with a sharp knife but do not cut through to the ends.
You will have a rectangle with three openings which yields 4 strips. Flip strip 1 and 4 inward so strips 2 and 3 will go outwards - sorry guys no pictures it is all in the video.
Deep fry the Chebakia then dunk in cold syrup while hot.
Here is a short video on how to make Chebakia on my youtube channel.
I hope you liked our recipe for today and may be got a better understanding of Ramadan. Enjoy the rest of the weekend.