Yo guys! how are you doing? Because it is spring (hooray), everything seems brighter and blooming. It is  the season of love,hope and new beginnings. Speaking of flowers and blossoms , I could not find a more convenient recipe that goes well with this season than the Tunisian Deblah to re-share it with you.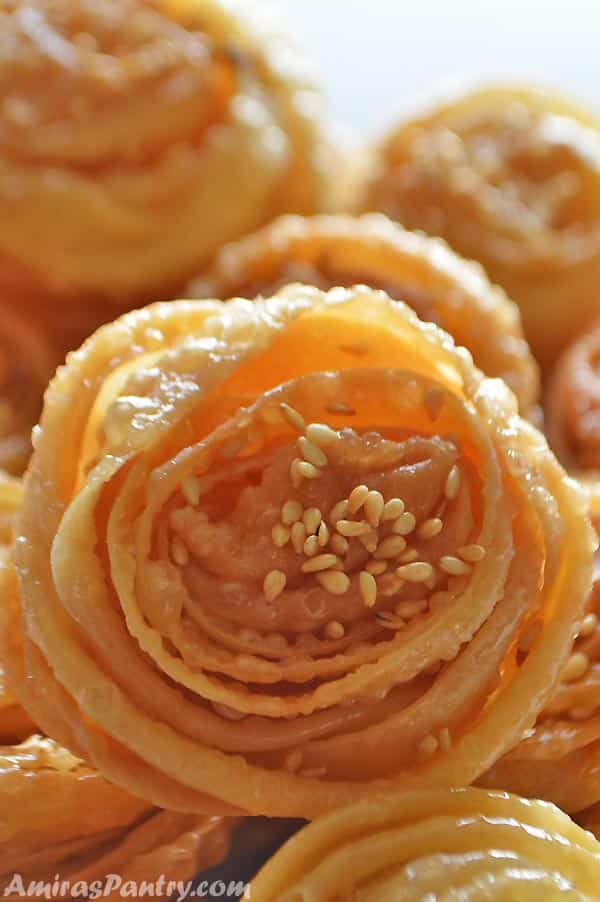 A charming dessert that really brings smiles to everyone's face. Do not be deceived by its complicated look, these are very simple to make and shape, not that hard at all. I've made it both with and without pasta machine and it turned out great both ways. I hope you'll like this recipe and enjoy making it. Happy spring to you all.
----------------------------Here is the original post was published on April 15th 2014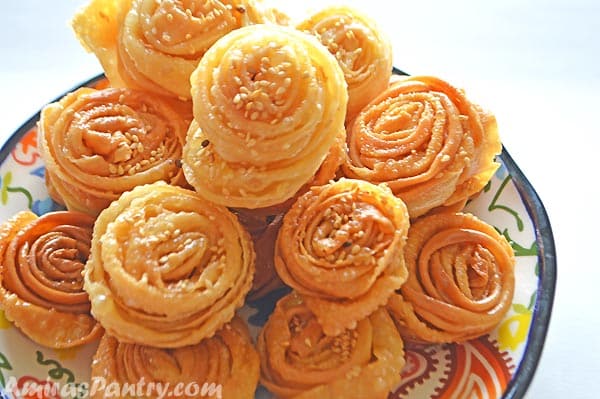 I probably have to stay for the rest of my life on a treadmill. Every time I decide "ok this is enough, no more sweets no more desserts" , then I find a recipe that is calling me to make and after making it, calling me to eat :). But this time I outsmarted the recipe and took one or two then wrapped them all and gave to hubby to get them on a trip out of the house and into his work to get feedback and to share the calories and IT WAS HARD LETTING THEM GO 🙂.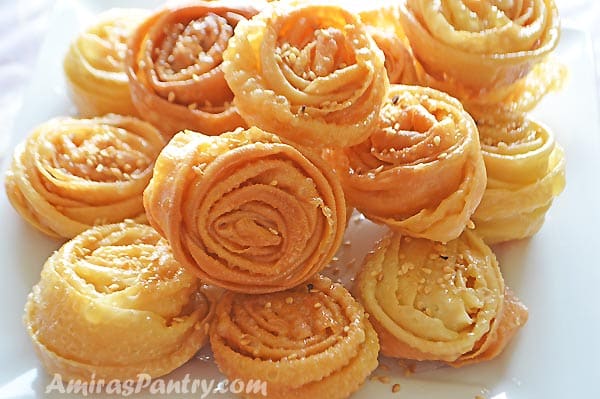 I've got a very encouraging feedback although one of my favorite critics was not there and those babes were gone in a jiffy. Deblah in Arabic is the ring or precisely the engagement ring, although I do not see any rings here I can see them as cute little flowers. This type of dessert is very common in Libya and Tunisia and served in the holly month of Ramadan and I can serve them year round with no problem at all :).

They require a little work specially if you do not have a pasta machine, but the result sure worth it. They are crunchy, sweet, bite sized and very appealing to the eye and mouth.
You will need:
1 Egg white.
2 c all purpose flour.
2 Tbs soft unsalted butter.
¼ teaspoon of active dry yeast.
¼ teaspoon of baking powder.
⅔ c of rose water or tap water.
a dash of vanilla.
Oil for frying.
Sesame seeds for garnishing - optional.
For the simple syrup- we will need a thick one:
2 c of granulated white sugar.
1 c of water.
1 teaspoon of lemon juice.
⅛ teaspoon of liquid vanilla or a dash of the powdered one.
Mix the flour, B.P. and yeast together in the mixing bowl. Add the butter in little chunks and mix well.
Mix the egg white and the vanilla together then add to the flour mixture, mix well. Then start adding the water little by little until you get a firm soft but not sticky dough. Wrap and refrigerate for a minimum of 30 min.
Divide the dough into 6 equal sized balls and dust lightly with a little corn starch or flour. Flatten each ball in the pasta machine from the thickest slot until you reach the thinnest one - you can use your rolling pin, it will be a little harder but doable.
Cut each one into 4 long strips. Heat the oil for frying and start by rolling each strip around a fork in the oil until you finish - see video for a detailed description.Fry until they are golden brown then dunk in the syrup, sprinkle with some sesame seeds or any nuts or leave plain.
Serve those cute flowers with hot coffee or tea. Bon Appétit.