Bread rolls, soft, sweet, fluffy and are astonishingly easy. These Egyptian sweet bread rolls are a childhood favorite with a warm cup of milk.
Sweet rolls sprinkled with sugar are totally addicting. It is very airy from inside, sweet and golden from the outside. Shoreek is sold in every pastry shop in Egypt.

This post has been updated from the original January 2014. Last updated March 2019.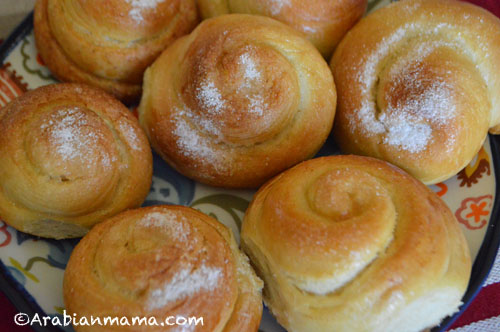 Bread Rolls
Shoreek is a sweet Egyptian bread rolls that will BLOW YOUR MIND!! especially if you have sweet memories with these rolls ❤️.
I remember eating them with a warm cup of milk during winter as a night snack or for breakfast, it gave me energy and helped me stay awake doing loads of – unjustified- home works back then. So whenever I see Shoreek, I remember those hard school days.

If you are a bread roll fan, this recipe is for you. You can do a lot with these rolls to take it to the next level. Think cinnamon, raisins, chocolate chips… etc. These bread rolls are very tasty on its own, but with some cinnamon or honey butter.. Oh my can you imagine!!
Sweet bread rolls : step by step guide
Bread rolls tips and tricks
This recipe is really easy, it just needs time, the more time you give it, the better bread rolls you will get.
You can make it with all butter or half butter and half oil. Butter should be melted though. Traditionally only vegetable oil is used.
Milk should be around 110F, I warm my milk in the microwave and use a thermometer or just dip a clean finger in it.
I used to let it rise over the course of 4 hours, punching it every hour then cover and repeat. This time though, I left it to rise for two (2 hours) intervals.
Try as much as you can to divide the dough into equal parts so it will bake evenly. Eyeball the dough or use a scale.
When rolling a ball and shaping it, cover the rest of the balls with plastic wrap.
Egyptian Shoreek/ sweet rolls recipe:
3 cups of all purpose flour.

1/2 cup of oil.

1/2 cup of granulated sugar.

1 large egg.

1 Tbs of yeast.

1/2 – 3/4 cup of warm milk.

Egg wash and some granulated sugar from the top.

Start by mixing the dry ingredients first then add the egg and oil. Add the milk little by little until you achieve a dough that is not sticky and not too hard. Cover and let it rise for an hour.
Punch the dough and let it rise again for another hour. Repeat this process from 3 to 4 times as this is the secret to a fluffy moist shoreek.
Take a small piece – almost the size of a lime – shape it into a rope and then you can shape it like above – the traditional one- or you can braid it.
Cover and let it rise again for 30 minutes. Preheat oven to 350F and when you are ready to place them , brush the rolls with the egg wash and sprinkle some sugar and/or sesame seeds.
Bake for 20 minutes until golden brown.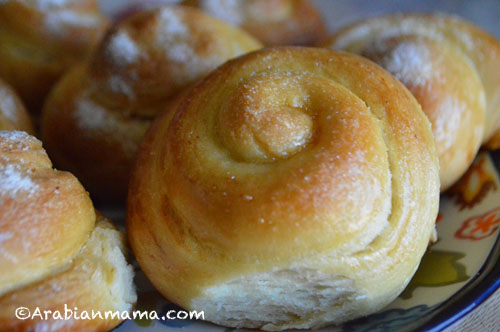 Serve warm with milk/tea or coffee.
See our video on YouTube: