Crispy puff bread with black seed flavor, super thin and delicious with almost anything or on its own.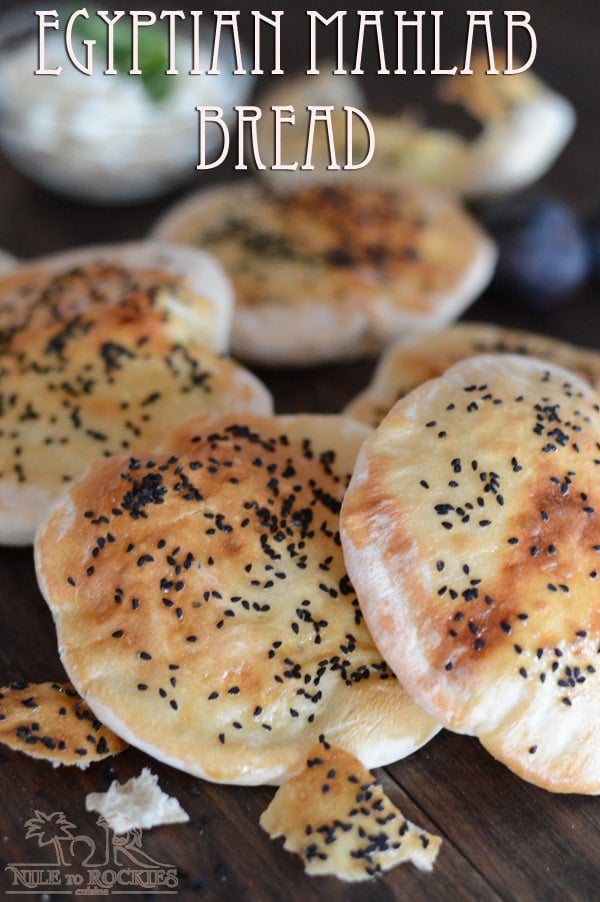 There is nothing that can make me happier - culinary wise- than creating a recipe for something from my childhood. Food that I grew up with almost always brings back happy memories from Egypt.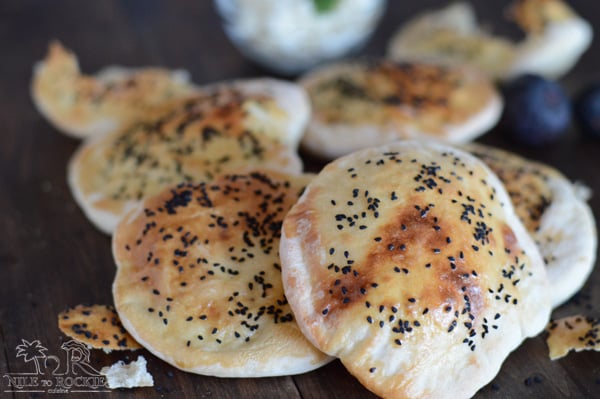 I could not believe that I really made it, and it is just as I remember from my childhood. This crunchy bread that I used to eat with white cheese and sometimes slices of watermelon or figs. I love this bread, not only because of its crispness and flavor, but also for the memories attached to it.
I remember dad coming home with a big sac of this puffy bread every other day just because I loved it so much to the extent that I used to even nibble on it, aren't dad wonderful?, truly they are a blessing, so if yours is still in this world, go show them some love 😘 😘. .
I also remember this very old man wandering the streets in our neighbourhood selling this beautiful little bread. He used to come by around 4:00 PM shouting " Mahlaaaaab" indicating the name of the bread and announcing that he is there so come on buy from me.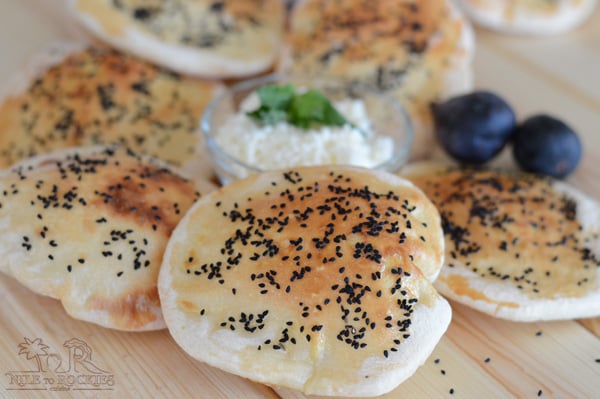 My oldest sister used to come home so exhausted from college and when she tries to get some sleep, he always shows up and shout in this voice that I still remember, then she wakes up cursing and angry that whenever she tries to get some sleep he shows up as if he knew she was trying to get some rest :), very funny.
But my dad is no longer there and so the old man and to my surprise, even this beautiful rounded bread disappeared!!! I cannot find it anywhere for the last 5 years. So imagine my happiness when I recreated this amazingly flavored bread. I really love it.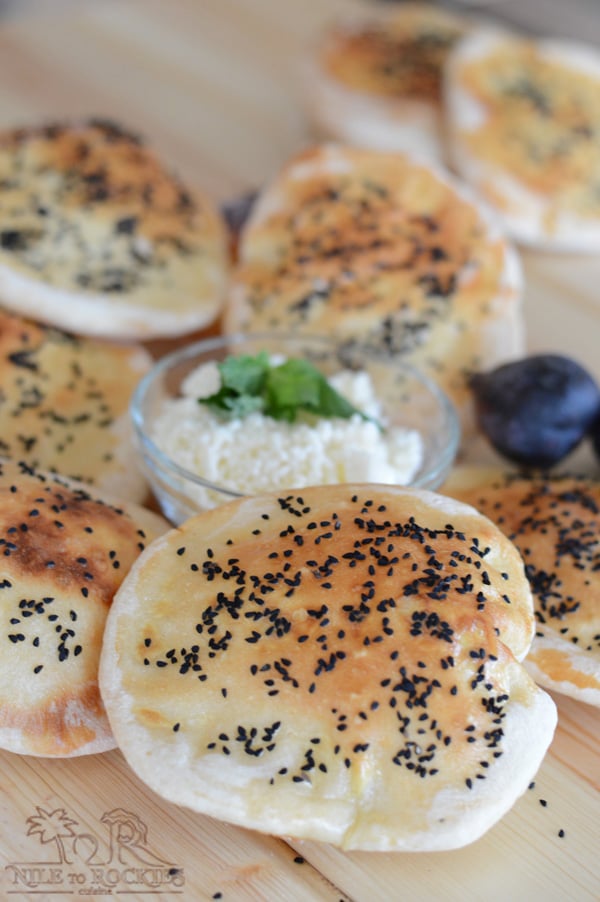 This is one of the easiest recipe to make the Mahlab bread, as it requires a handful of ingredients probably there in your pantry. Flour, salt and yeast then some Nigella seeds to top. This bread should be puffy, thin and crunchy... Try some today and I hope you'll like it as I do.
Enjoy!!!
Related Recipes
Whole wheat pita bread is a nutty soft pita bread made from whole wheat flour mixture. Great for making falafel sandwich, dipping in Hummus or using using to mop up stews and soups.
Poori is an Indian fried bread made with simple everyday ingredients and often enjoyed with potato curry or chana masala.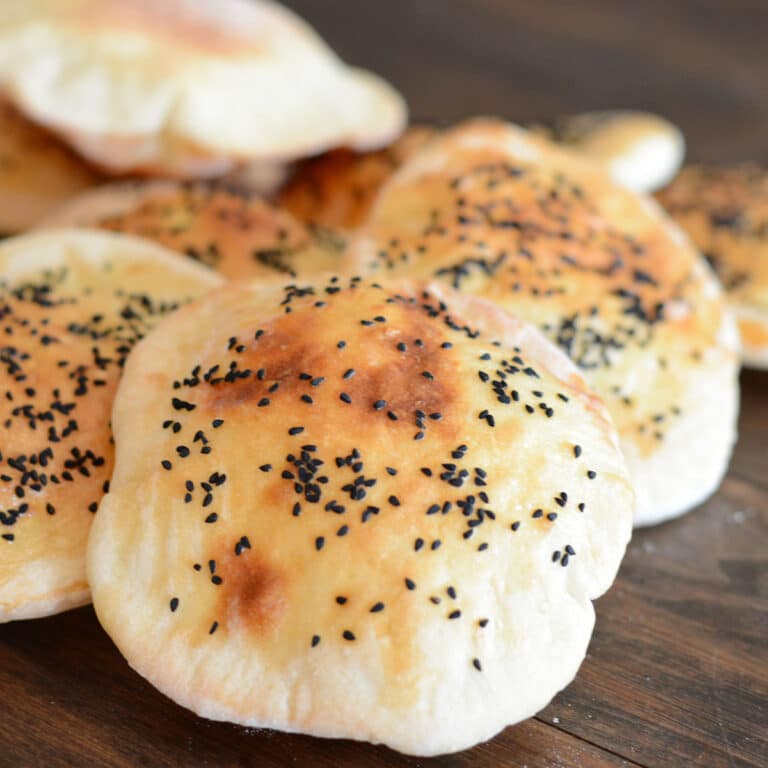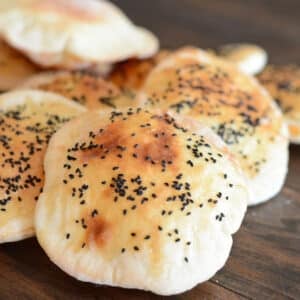 Ingredients
3

cup

flour.

½

teaspoon

salt.

1 ½

teaspoon

dry yeast.

½

teaspoon

sugar - optional

didn't use.

1

cup

warm water

Black seed .

Nigella
For brushing
1

egg mixed with 1 tablespoon milk.
Instructions
In your mixing bowl, mix flour, salt , yeast and sugar if using, until well combined.

Slowly add water until it forms a soft and smooth dough.

Place in an oiled bowl and let it rise for an hour or until doubled in size.

Divide the dough into 16 equal parts - more or less according to the size of the bread you need.

Flatten the balls to a 2mm thickness, brush top with egg and milk mixture and sprinle black seeds on top.

Let it rest for another 10-15 minutes, meanwhile pre-heat your oven to 400F.

Place the bread into the oven and bake for 15 to 20 minutes until the bottom is lightly brown.

If the top of the bread is not golden brown yet, you may want to open the broiler on low for about 2 to 3 minutes and watching carefully.

Take the bread out and let it cool completely to room temerature.

Bread will harden as it cools down.

Enjoy!!
Sign up and learn more about Mediterranean flavors