Taboon is a traditional flatbread from Palestinian that is used for just about anything. Taboon is famous to be the Musakhan bread but it can be enjoyed just as pita bread.
Total time
1
hour
25
minutes
Taboon bread is a very famous Palestinian bread that is known as the Musakhan bread as well. One that is east to make and very close to my heart. It is actually the closest flat bread to the traditional Egyptian aish baladi.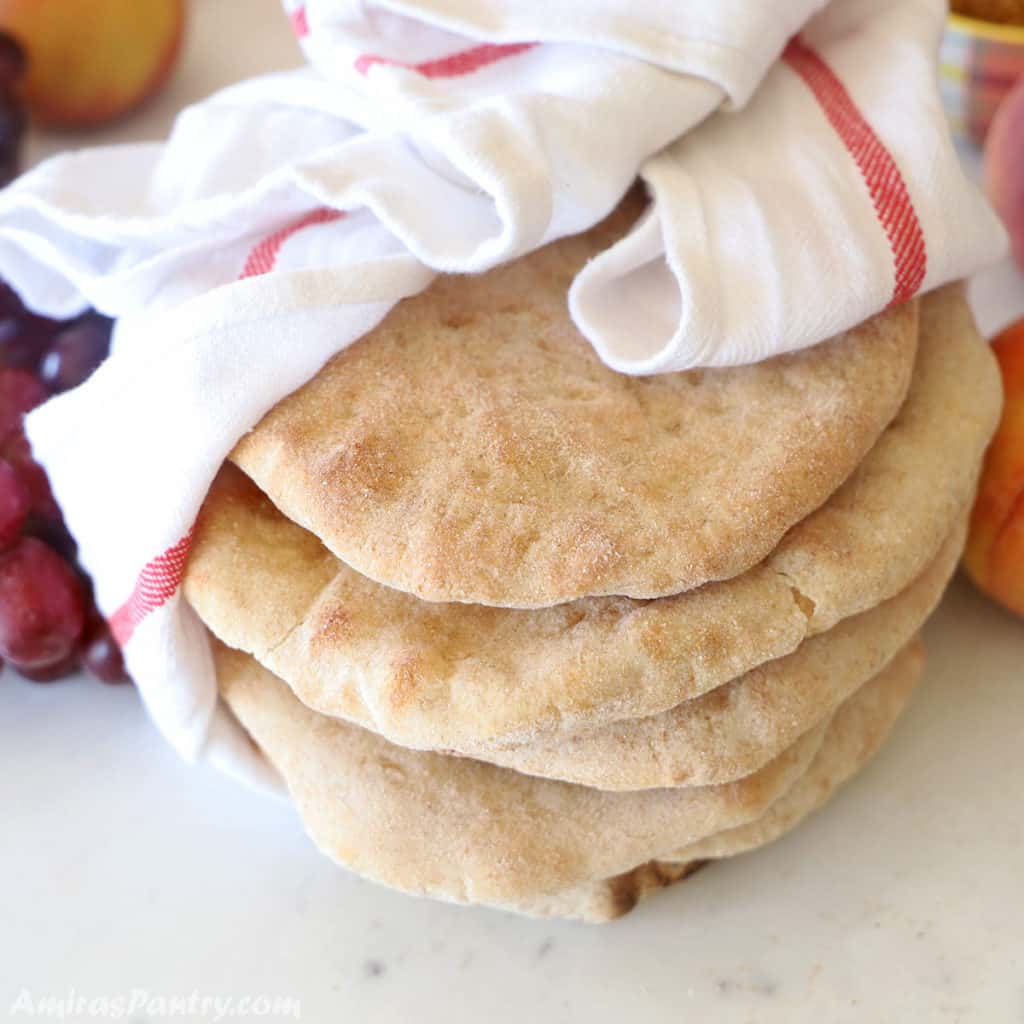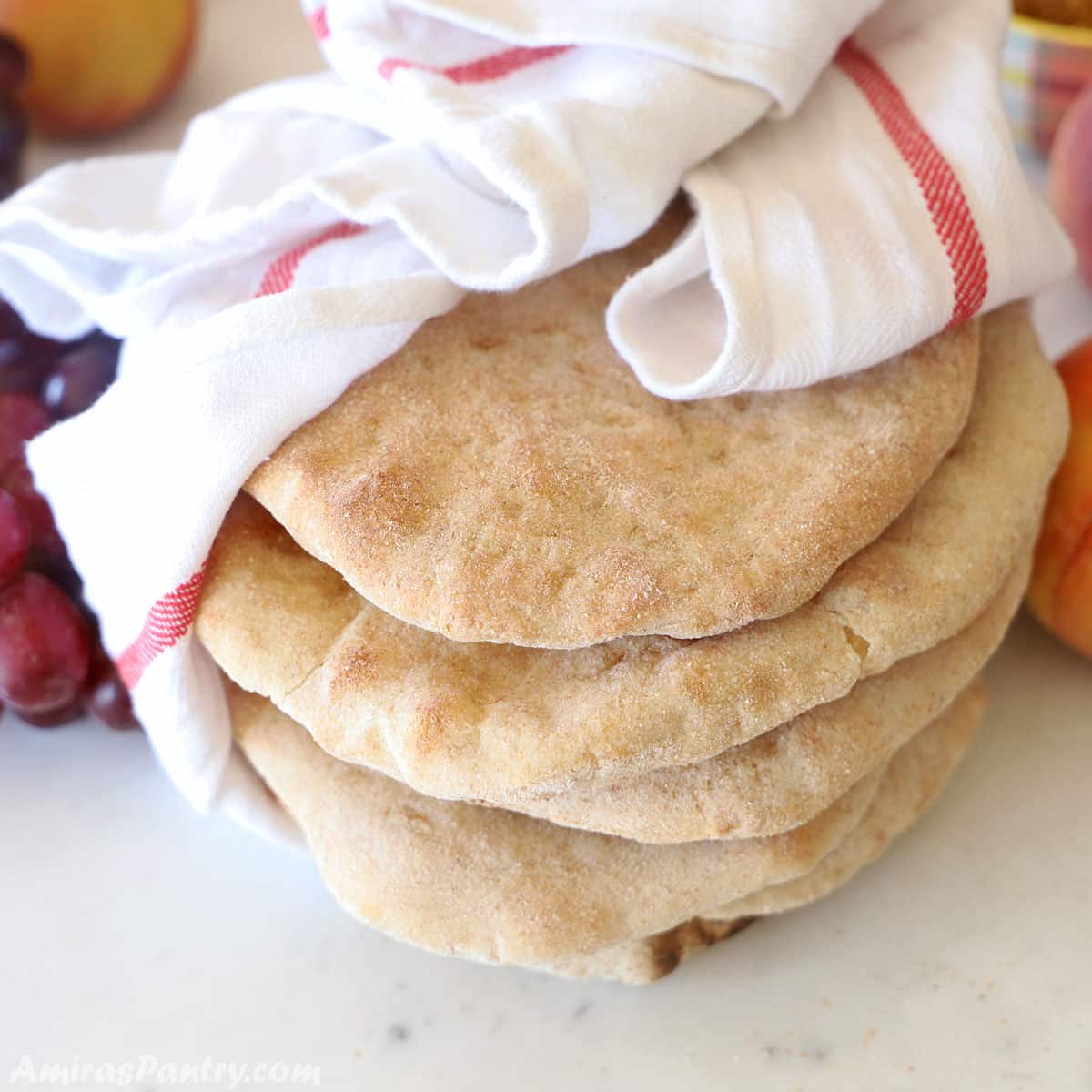 Taboon
I just wish I have a real Taboon oven, imagine cooking in an underground oven made of mud, clay, straw and smooth stones and pebbles. I bet the food and bread will smell totally different and will definitely get this earthy smell that you might get from a traditional clay pot.
Taboon bread is very delicious specially with olive oil and Za'atar. It is also the traditional bread used for making Musakhan.
In modern days, we cannot do this kind of oven in our homes, so instead we try to imitate this beautiful oven using our conventional oven and a baking sheet full of pebbles that you can gather from your backyard. I've got some decorative pebbles - the ones that are used in vase- from the dollar store, washed them with hot water and voila I got my taboon ready for baking.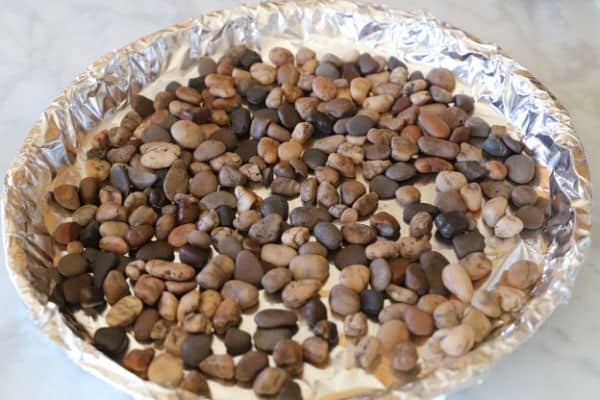 What you'll need?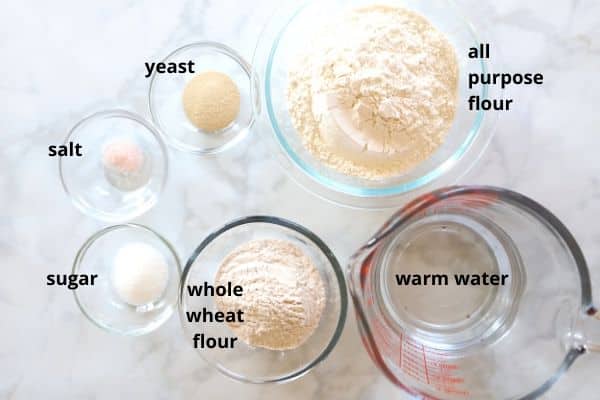 Pretty much what you'll need for any bread. Flour, water, yeast and sugar. Here we've used both all purpose flour and whole wheat flour. You can of course make it with either one alone but just adjust the amount of water as needed. Taboon dough needs to be sticky as you can see from the image or video.. so adjust accordingly as each flour brand is different.
Step by step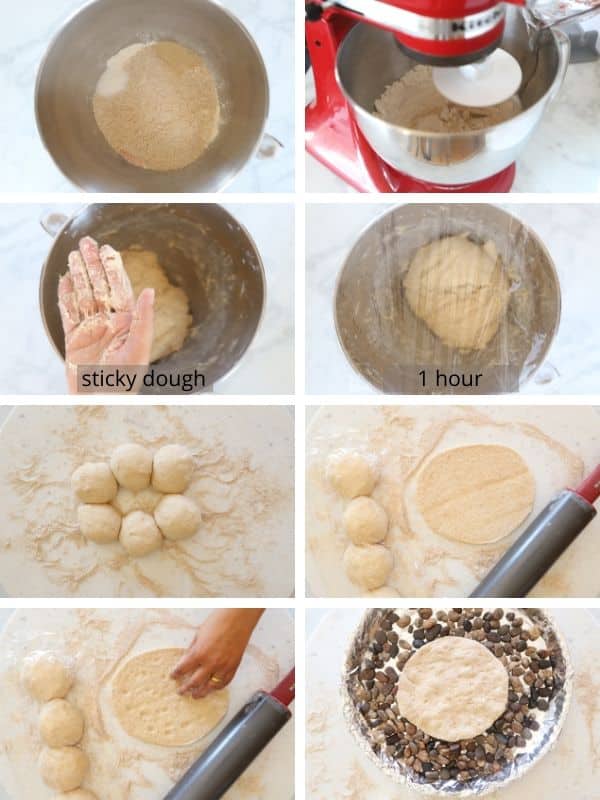 In a mixer bowl, combine all the dry ingredients.
Pour water little by little while kneading the dough until the dough comes together.
You'll need to end up with a sticky dough like the one shown above.
Cover and let it rest and rise for an hour or until double in size.
Divide the dough into 6 balls. I used to divide mine into 3 large balls but this time I needed a smaller size taboons.
Roll dough into a 6 inch circle using more whole wheat flour to aid in rolling.
With your finger tips press or tap lightly into the dough surface.
Place taboon bread directly over the pebbles and bake for about 2-3 minutes.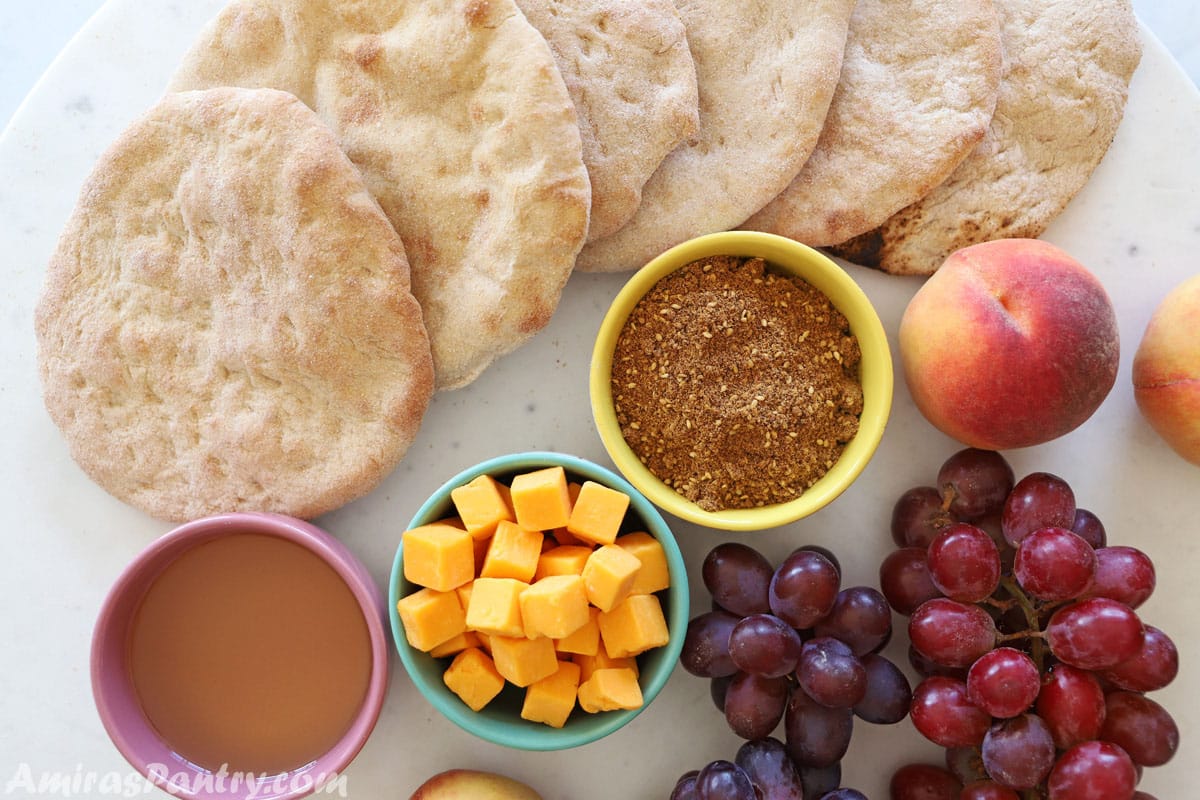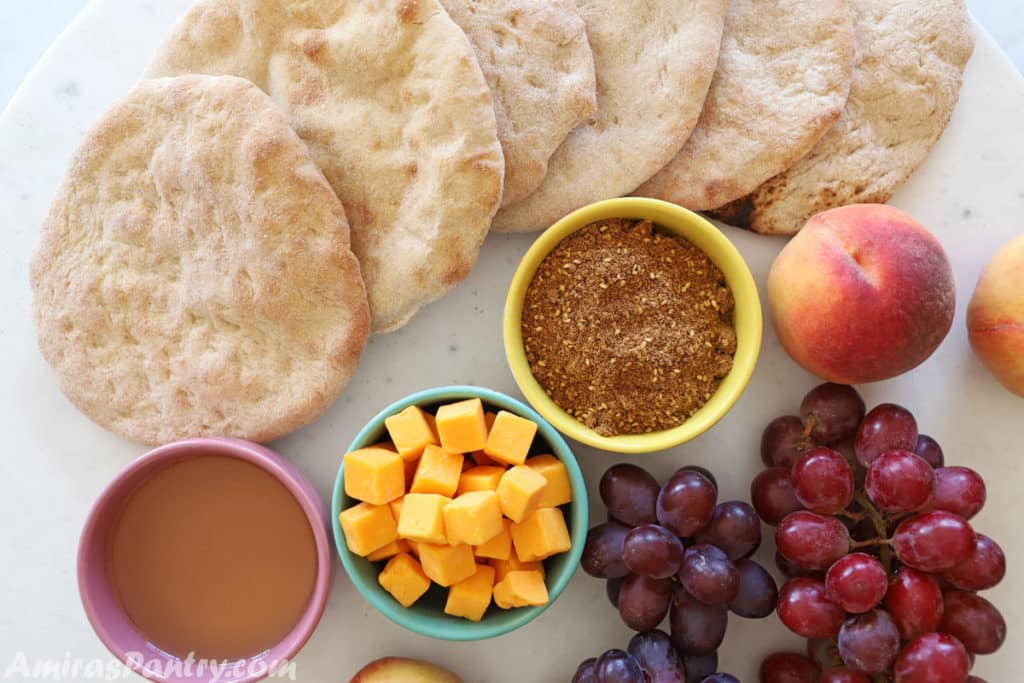 You can serve this bread or stuff it with almost anything. Serve it as you normally serve pitas bread or you can make magnificent falafel sandwiches or shawarma wraps.
Related Recipes
Unleavened bread is easy to make and does not require any special ingredients or equipment. All you need is flour, water, olive oil and salt.
If you like this recipe do not forget to give it a ⭐⭐⭐⭐⭐ star rating and attach a photo of your finished dish. It is always a pleasure of mine to see your photos and check your own take of the recipe. Thank you.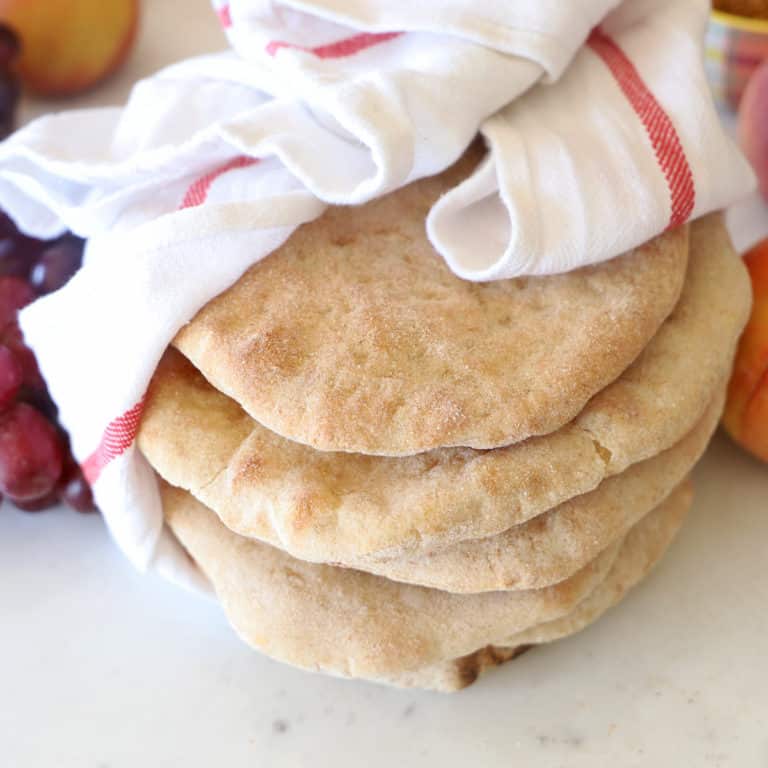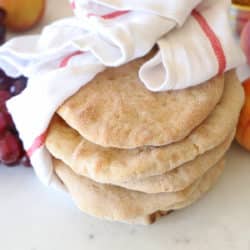 Taboon bread
Taboon is a traditional flatbread from Palestinian that is used for just about anything. Taboon is famous to be the Musakhan bread but it can be enjoyed just as pita bread.
Print
Rate
Ingredients
2

cups

(260g) all purpose white flour.

½

cup

(65g) whole wheat flour, more for dusting.

1

Tablespoon

dry yeast.

½

Tablespoon

granulated sugar

½

teaspoon

salt

, I used pink salt.

½ to ¾

cup

warm water to make it a sticky dough
Instructions
In a large bowl or your mixer bowl, add the first 5 ingredients and mix well.

Start adding water little by little until a sticky dough forms that does not come off the bowl easily.

Cover and let it rise for almost 1hour.

Preheat oven to the max (mine was 550F)

Place baking pebbles on a baking sheet and let it preheat in the middle section of your oven.

Dust a clean working surface with whole wheat flour.

Turn the dough into the surface and divide into 6 equal balls.

Take one ball and cover the rest with a plastic wrap.

Roll the ball into a 6 inch circle.

Take out the baking sheet from oven and carefully place the rolled dough on the pebbles.

Bake for about 2 minutes then turn the broiler on for about 1 ½ minute.

Take the bread out and cover with a clean kitchen towel to keep them soft.
Notes
Some people like using pizza stone or a clay oven if you have it but I prefer the hot stones method.
Please check the nutrition disclaimer policy.
Nutrition
Calories:
197.6
kcal
|
Carbohydrates:
41.7
g
|
Protein:
6.1
g
|
Saturated Fat:
0.1
g
|
Polyunsaturated Fat:
0.2
g
|
Monounsaturated Fat:
0.1
g
|
Sodium:
25.1
mg
|
Potassium:
59.7
mg
|
Fiber:
2.5
g
Sign up and learn more about Mediterranean flavors
This recipe originally published March 2013. Updated for some housekeeping things on April 2020. No change to the recipe – I wouldn't dare, readers love it as it is!