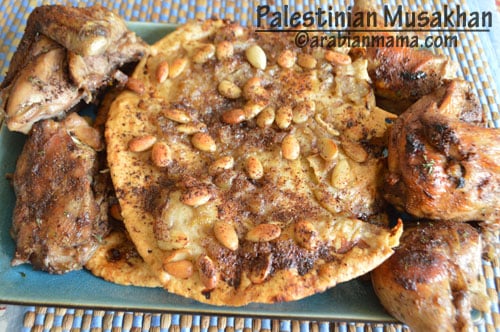 I was really really shocked when my Palestinian friend told me about this dish!!! I kept asking are you sure then she replied yes no doubt about that… that's how we traditionally make it. This recipe calls for a one large diced onion and a half cup of olive oil for each piece of taboon bread you are using. So, if you are having company and made like 12 bread pieces you will need 12 diced onions and 6 cups of olive oil. Turned out that this huge amount of olive oil needed to make the bread crispy and flavorful. I've decided to tweak it a little and made it with half of both – the onions and the olive oil- and it turned out delicious so it is your choice to make it as is or to reduce the amounts like I did. This is a very traditional Palestinian dish known for its delicious taste due to the use of olive oil,nuts and sumac.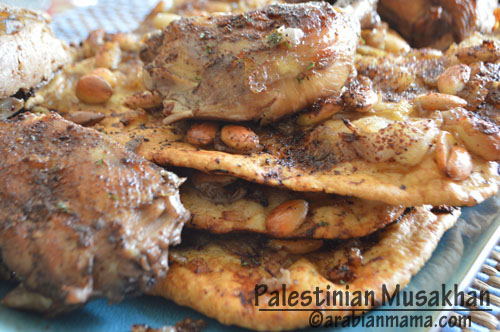 You will need:
A batch or two of Taboon bread or Pita bread – depending on those who will served.
Bone in – skin on chicken cut into quarters – also depends on the number of people.
Olive oil use 1/2 c for each bread piece. – I used 1/4 c .
Onions use one large for each piece – I used 1/2 large onion for each piece.
1 cup of almonds peeled and roasted.
1 Tbs of cumin powder.
2tsp of black pepper.
Salt.
bay leaves and cardamoms- about 3 whole ones.
1 Tbs allspice.
2 Tbs sumac.
2 Tbs olive oil and 1 large finely diced onion – for the chicken.
Heat 2 Tbs of oil in a deep pot then add the finely diced onion stir until the pieces are tender then add the chicken pieces turn the pieces for a couple of minutes then add salt, pepper, bay leaves and cardamoms. Cover with water and let it cook.


In a heavy pan heat the rest of the olive oil and add the rest of the onions, cook until tender then add the cumin,salt, pepper and the allspice, stir to mix well. Then add the roasted almonds – or any nuts you like, turn off the heat and let it cool down. Get a cup of the stock -you've just made with the chicken – add it to the oil mixture.


Dip the cooked chicken in the oil mixture, arrange in a baking dish sprinkle some sumac on top and bake in the oven 350F until golden brown and no more liquids in your baking dish.


Dip the bread – one at a time – at the oil mixture put in an oven safe dish top with some onions and almonds from the oil mixture sprinkle some sumac on top then bake until golden brown and crispy.


Now we are finished with the dish so let's assemble it. Put the bread on top of each other and arrange the chicken pieces around.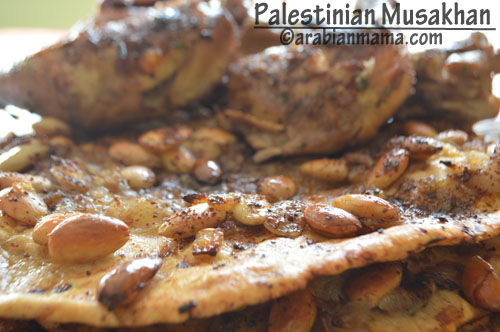 I served this with green salad and yogurt salad , it was fantastic :). Bon Appétit.