An easy healthy baked falafel recipe, crispy and delicious.
Easy recipe for falafel using canned chickpeas and baked in the oven. Healthy baked falafel recipe is a good for you version to the deep fried one.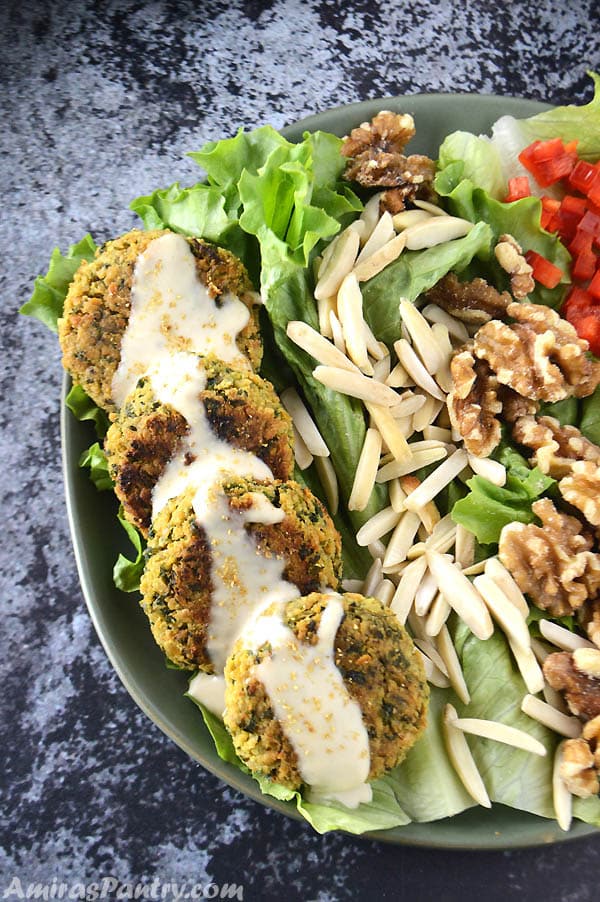 Falafel
Where can I start, falafel for me is like my old buddy, my long time friend especially for breakfast. I think I've enjoyed falafel even before I learn how to walk!! I always get excited to have falafel any time of the day and I am happy that one of my kiddos ( my recipe tester and my saucier) shares with me this excitement.
When I was in Egypt, I've had falafel probably every other day. I've been blessed with a falafel shop right in front of where I lived even after getting married and moving to another apartment😇.
So you see after this long relationship with the Egyptian version of falafel, I did not leran to love other versions and was so falafel fanatic. When I came here to the United States, I was so disappointed that I couldn't find a falafel shop to live beside. Where are the falafel shops in Colorado?!
I had to make my own, for years I've been reluctant to use chickpeas as this is not what I've grown up to. It is so much easier to find chickpeas here than those split beans for the Egyptian falafel. But I did, and I loved it and I have made a stuffed falafel version as well.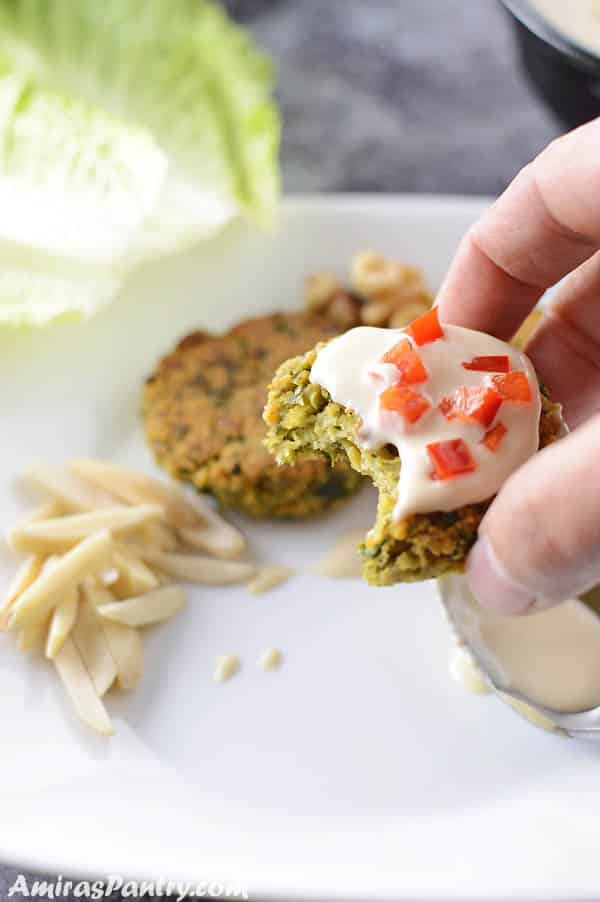 Falafel Recipe Baked
I am super excited even though the title suggests that I have lost my Middle Eastern falafel mind. It seriously felt like betrayal for the falafel, but seriously guys there is always a first for everything right? I wanted to make this an easy recipe for falafel. The easiest possible falafel recipe I can make. So Here is what I've done:
✅ Using canned chickpeas ( I get asked a lot of time how to make falafel using canned chickpeas)
✅ Did not use onions, after a lot of experimenting it is easier to control without onions.
✅ No deep fry: I've also been asked about baking falafel instead of deep frying for health issues. So I shallow fried them to have crispy exterior then finish it off in the oven.
Baked Falafel Recipe: step by step guide
Falafel Ingredients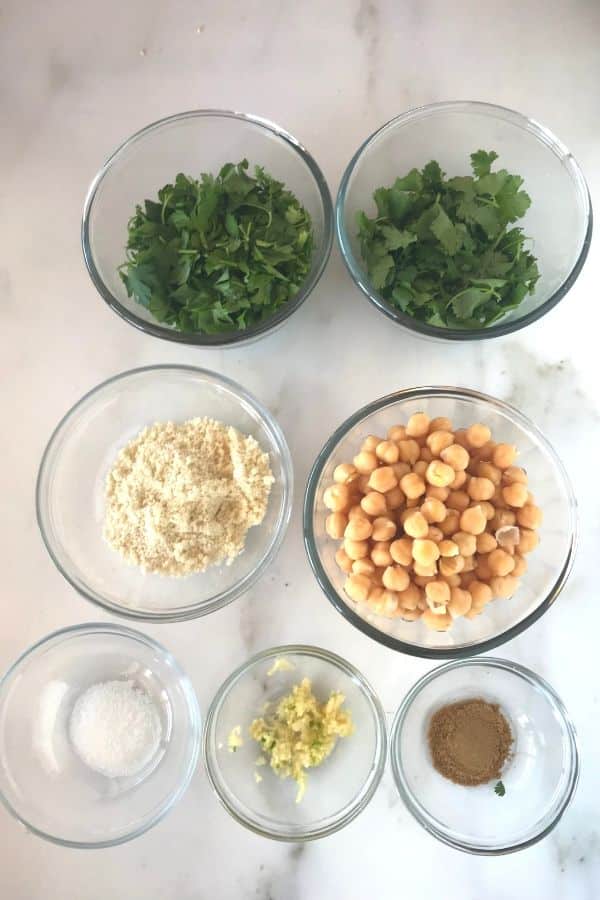 ➡️ Chickpeas: A can of drained chickpeas for convenience or soak dry chickpeas overnight.
➡️ Fresh herbs: Parsley and Cilantro are a must in falafel.
➡️ Garlic: Fresh please.
➡️ Seasonings: Salt and cumin.
➡️ Ground Almond: We'll need some sort of flour to get everything together well so we won't end up with falafel pancakes. You can use regular flour of course.
➡️ An Egg: not pictured above, sorry for that. It gives falafel some fluffiness making it a little bit airy and not bulky and it helps with dryness. Omit for a vegan baked falafel version.
How to bake falafel in the oven?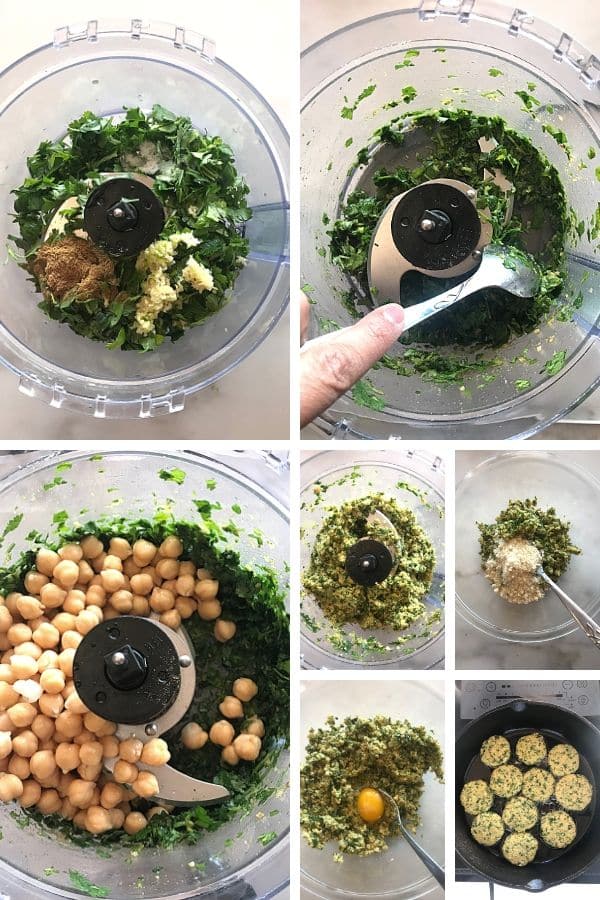 In the food processor add garlic, fresh herbs and spices, mix well scraping the sides.
Add the drained chickpeas and process.
Transfer mixture to a bowl.
Crack an egg and stir it in the mixture.
Add the ground almost and mix well to get easy to handle mixture.
Form into patties and shallow fry in a cast iron or an oven safe skillet.
Pop in the oven to finish cooking.
Serve immediately as it loses its crispness and becomes dry.
You may need
The following are affiliate links. We are a participant in the Amazon Services LLC Associates Program, an affiliate advertising program designed to provide a means for us to earn fees by linking to Amazon.com and affiliated sites.

Lodge cast iron skillet is a skillet that lets you do so many things.You can use it on top of the stove or in the oven. It is very durable, cooks evenly and will last forever!
Related Recipes
Ful medames is a traditional Egyptian dish that is made with cooked fava beans and a variety of spices and toppings. It is a staple on Egyptian breakfast or lunch.
This ricotta cheese recipe is simple, inexpensive, and delicious. Add your favorite herbs to the cheese for extra flavor. Irresistible!
More Falafel Recipes
Egyptian falafel is one of the seriously best falafel you can make at home.
Have you tried stuffed falafel? I like mine stuffed with feta but many like them stuffed with sumac onions.
Popular Middle Eastern street food, falafel pita sandwich, is a must have when you visit Egypt. But you can certainly make them at home with a variety of toppings and condiments.
If you like this recipe do not forget to give it a ⭐⭐⭐⭐⭐ star rating and attach a photo of your finished dish. It is always a pleasure of mine to see your photos and check your own take of the recipe. Thanks you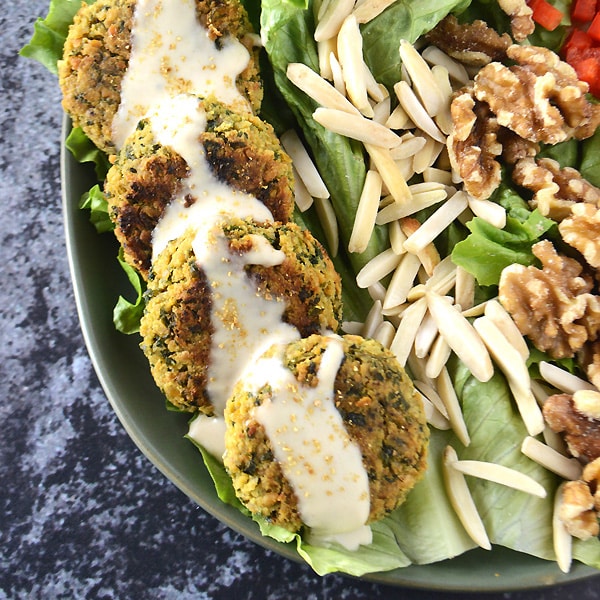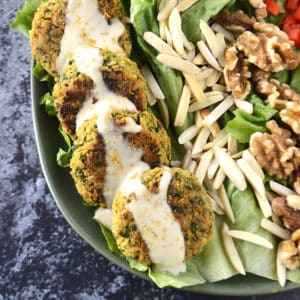 Baked Falafel
An easy healthy baked falafel recipe, crispy and delicious.
Print
Pin
Rate
Ingredients
1 ½

cup

roughly chopped parsley.

½

cup

roughly chopped cilantro.

5

garlic cloves.

1

teaspoon

ground cumin.

1

can (15oz) chickpeas

drained and rinsed. Note1

⅓

cup

ground almond.

¾

teaspoon

salt or to taste.

1

large egg.

Note2

2

Tablespoons

oil

canola, avocado or olive oil
Instructions
In the food processor, add parsley, cilantro , cumin, garlic and salt, process for 30 seconds.

Add the drained chickpeas and process. Transfer mixture to a deep bowl.

Add ground almonds and mix well, check seasonings.

Crack an egg and mix it with the ingredients. (Note1).

Divide mixture into 12 small patties.

Heat oil in a large oven safe skillet add falafel and cook for 3 minutes each side or until it is golden brown.

Transfer pan to a 350F preheat oven and bake for about 20 minutes.

Serve immediately with tahini, hummus or green salad.
Notes
Note1: You are welcome to use dry and soaked chickpeas
Note2: If you need a vegan falafel, skip the egg and just mix the ingredients.
Please check the nutrition disclaimer policy.
Nutrition
Calories:
171.7
kcal
|
Carbohydrates:
25
g
|
Protein:
8.5
g
|
Fat:
6.7
g
|
Cholesterol:
17.6
mg
|
Potassium:
338.3
mg
|
Fiber:
6.5
g
|
Sugar:
0.2
g
|
Vitamin C:
17.3
mg
|
Calcium:
6.6
mg
|
Iron:
15
mg
Sign up and learn more about Mediterranean flavors