Ful medames is Egypt's number one national dish. It is a hearty filling and so versatile dish made with fava bean. Mash it for an unforgettable dip or eat it as is.
We usually make Ful medames totally vegan but you can mix it with so many varieties for a hearty dip or a complete meal. Great for breakfast/lunch or brunch. Feeds a crowd and so frugal that's why it is so popular in Egypt and all over the region. Here is an easy slow cooker ful medames recipe with some tips and tricks for the perfect ful everytime.
First Published: January 2015 Last Updated: August 2019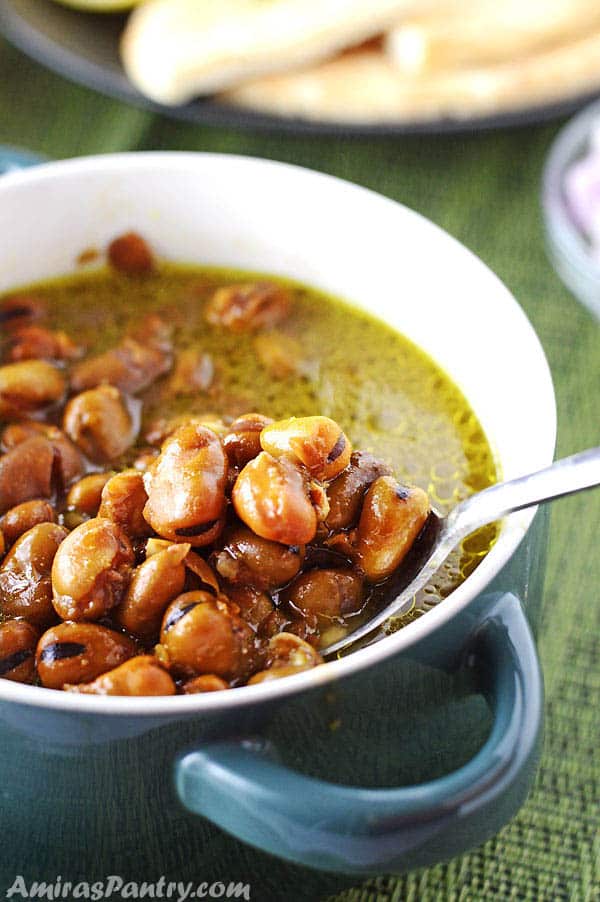 Ful Medames
Ful medames is a staple all over the Middle East but nobody knows for sure when was this dried beans recipe invented, it is possibly as old as Egypt itself!. Egyptians ate ful medames generations and generations ago everyone has his/her own preferable add-ons.
Enjoy foul medames throughout the year and even throughout the day. Especially in weekends, that starts on Thursday nights in the Middle East, and it is almost always there for breakfast on Fridays. I love serving it for my little family as breakfast for dinner or meatless dinner.
Foul or Ful is a also very popular during the holy month of Ramadan, as it is filling and packed full with protein. Street vendors in Egypt sell ful medames everyday, so if you are walking by a closed ful shop at night, you'll smell the beans cooking .
Ful is usually slow cooked in a special pot called "edra".
Commercial ones are much bigger. Most home cooks and moms used to slowly cook the beans overnight so in the morning you'll have the freshly cooked light colored beans of your own. Because we cannot easily find these pots here, you can use a slow cooker instead. Some people make foul in the pressure cooker too. If you do not have either, you can definitely use any non-stick pot over low heat but keep watching for the water level.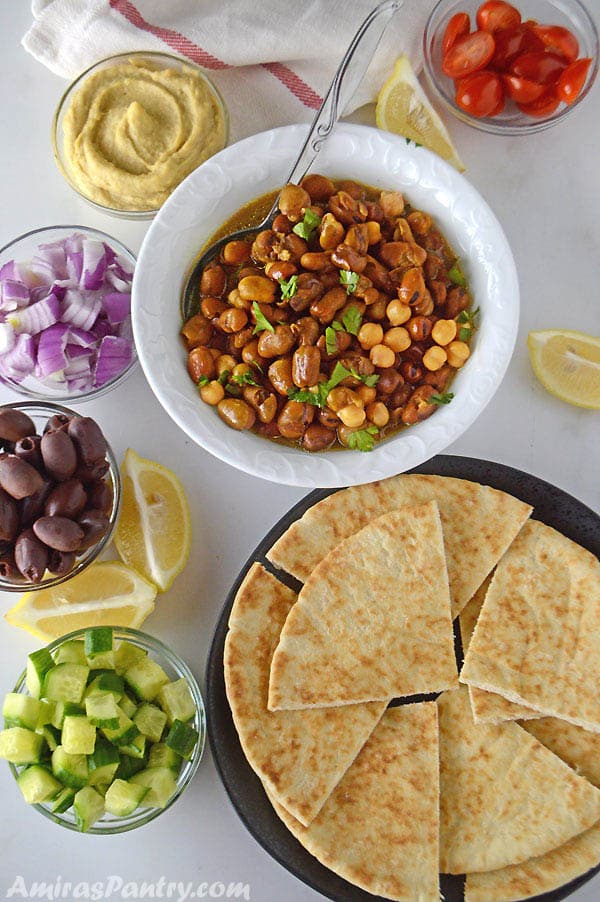 What is Mudammas?
Ful mudammas is sort of slow cooked dry fava beans. It is a real power legume in the Middle East especially Egypt. Ful is the main breakfast dish in Egypt along with falafel.
Is foul good for you?
Personally, I feel it is. It is a protein packed meal, add to it some tomato, garlic and olive oil and it is heavenly good. Experts recommend that you consume up to 3 cups of beans weekly.
What is a typical Egyptian breakfast?
Well, we have a lot on our breakfast table. Ful and falafel are the king and queen of breakfast. Halva fudge, egg casserole(s). date paste with eggs, Belila, lentil stew and much more.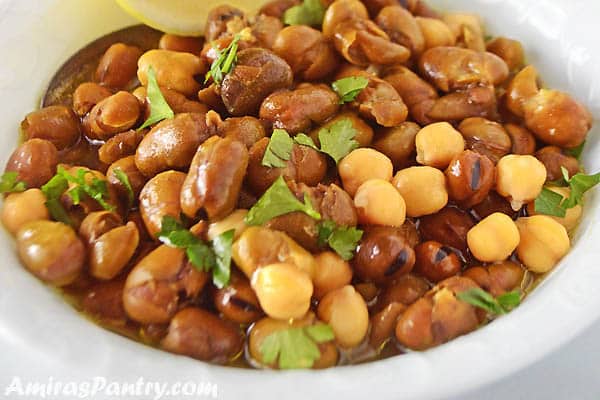 How to make ful medames: step by step guide.
Easier than you think also tastier than it looks. This ful medames is a nutritious, filling dish that can be adapted to various palates.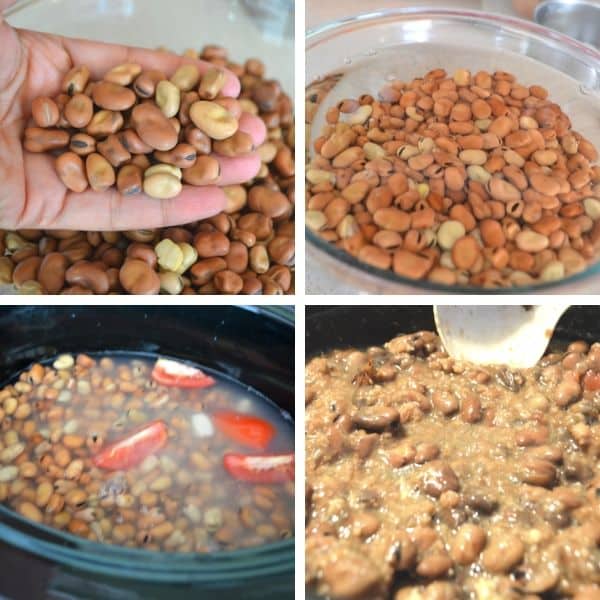 Wash the fava beans thoroughly, pick any debris or deformed ones and throw them away.
soak the beans over night with cold water. You may want to add a teaspoon of baking soda to the soaking water, this is an old grandma tip. It helps with digestion for gassy people and those with heartburn issues. Change the water once or twice if you can.
Rinse and also drain beans then place in the slow cooker. Add the rest of the ingredients, cover with water and set on low for 8 hours. You can check your beans starting 6 hours as beans cooking time if different.
After beans are cooked, prepare multiple dishes they way you want as stated below. Additionally you can portion beans and freeze with its water for up to 4 months so you have breakfast ready in the freezer.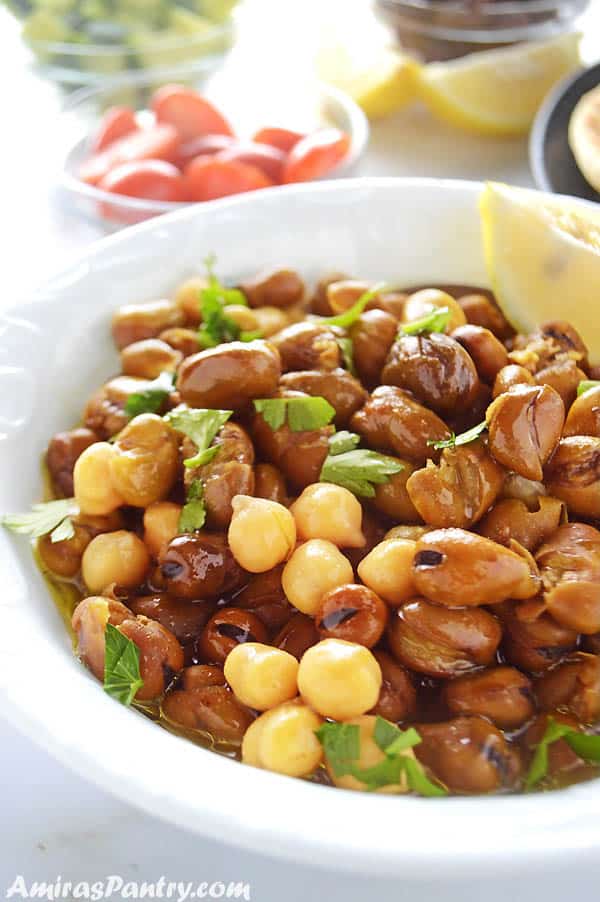 Ful Medames tips:
If you cannot find fava beans you can use pinto beans as it is the closest in taste and size.
After cooking, ful can be served in a variety of ways, the simplest is just to drizzle it with olive oil, salt, cumin and a squeeze of lemon juice. You can add garlic as well for more flavor.
For a more carnivorous meal, serve it with sausages, tomato and onions.
Think Kalamata olives and drizzle with olive oil, a dash of salt and cumin. How about a can of chickpeas, cumin, salt and lemon juice.
Some people love mashing it with ghee or butter as well for an amazing dip idea.
Mashing it with some hard boiled eggs, tomato, and parsley so for you to make another hearty lunch.
You might need
The following are affiliate links. We are a participant in the Amazon Services LLC Associates Program, an affiliate advertising program designed to provide a means for us to earn fees by linking to Amazon.com and affiliated sites.

I love Hamilton Beach Slow Cooker. It has been with me for over 4 years now with no complaints at all.
I hope you'll like this recipe and please if you make this recipe, snap a pic and hashtag it #amiraspantry — I love to see your creations on Instagram, Facebook, Twitter! Don't want to miss a recipe?
Sign up for the FREE Amira's Pantry newsletter delivered to your inbox with lots of tips and surprises! And stay in touch with me on Facebook, Twitter, Pinterest, and Instagram for all the latest updates.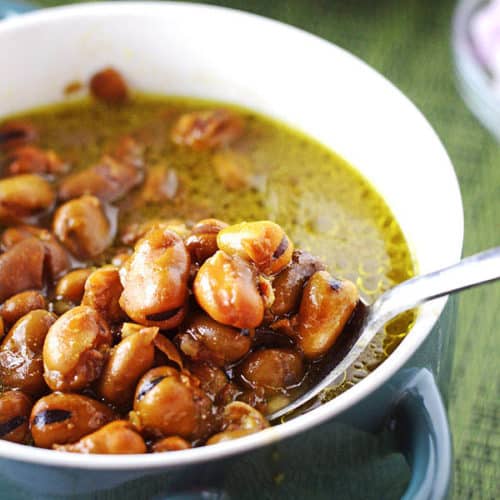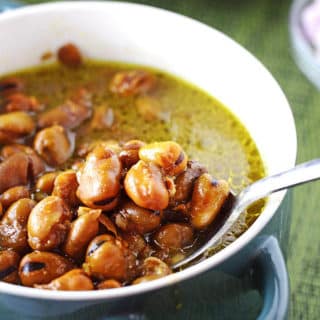 Ful medammes
Ful medames is Egypt's number one national dish. Here is an easy slow cooker ful medames recipe with some serving suggestions.
Print
Pin
Rate
Ingredients
1

-12 oz- (340g) dry fava beans.

3

Tablespoons

(35g) uncooked rice.

3 

Tablespoons 

uncooked red lentils.

1

Roma tomato quartered.

3 

garlic cloves.

Boiled water to cover.
Instructions
Wash and pick up the fave beans. Soak the beans in enough water to cover for 4-6 hours or preferably overnight. Note1

Drain beans and add to your slow cooker.

Add all other ingredients then cover with boiled water.

Let it cook on low for 7-8 hours or high for 3 hours.

Check the beans for doneness and water level every now and then.
Serving suggestions:
Serve hot with a squeeze of lemon juice, cumin, salt and more olive oil. See post above for more ideas
Notes
Note1: You can add a teaspoon of baking soda to the soaking water. This is a tip from the grannies to ease with digestion. Try to change water at least once during the soaking period.


Nutrition Facts

Ful medammes

Amount Per Serving

Calories 395

Calories from Fat 14

% Daily Value*

Fat 1.5g2%

Carbohydrates 69.9g23%

Protein 28.2g56%

Vitamin A 65IU1%

Vitamin C 2.7mg3%

* Percent Daily Values are based on a 2000 calorie diet.
Nutrition
Calories:
395
kcal
|
Carbohydrates:
69.9
g
|
Protein:
28.2
g
|
Fat:
1.5
g
|
Saturated Fat:
0.3
g
|
Fiber:
25.5
g
|
Sugar:
6
g
|
Vitamin A:
65
IU
|
Vitamin C:
2.7
mg
Sign up and learn more about Mediterranean flavors