Ful medames is a slow cooked dried fava beans recipe, a traditional Egyptian breakfast item that can also be enjoyed any time of the day. Learn how to cook dried fava beans and make the best ful medammes easily at home, from scratch and it takes literally 5 minutes active time.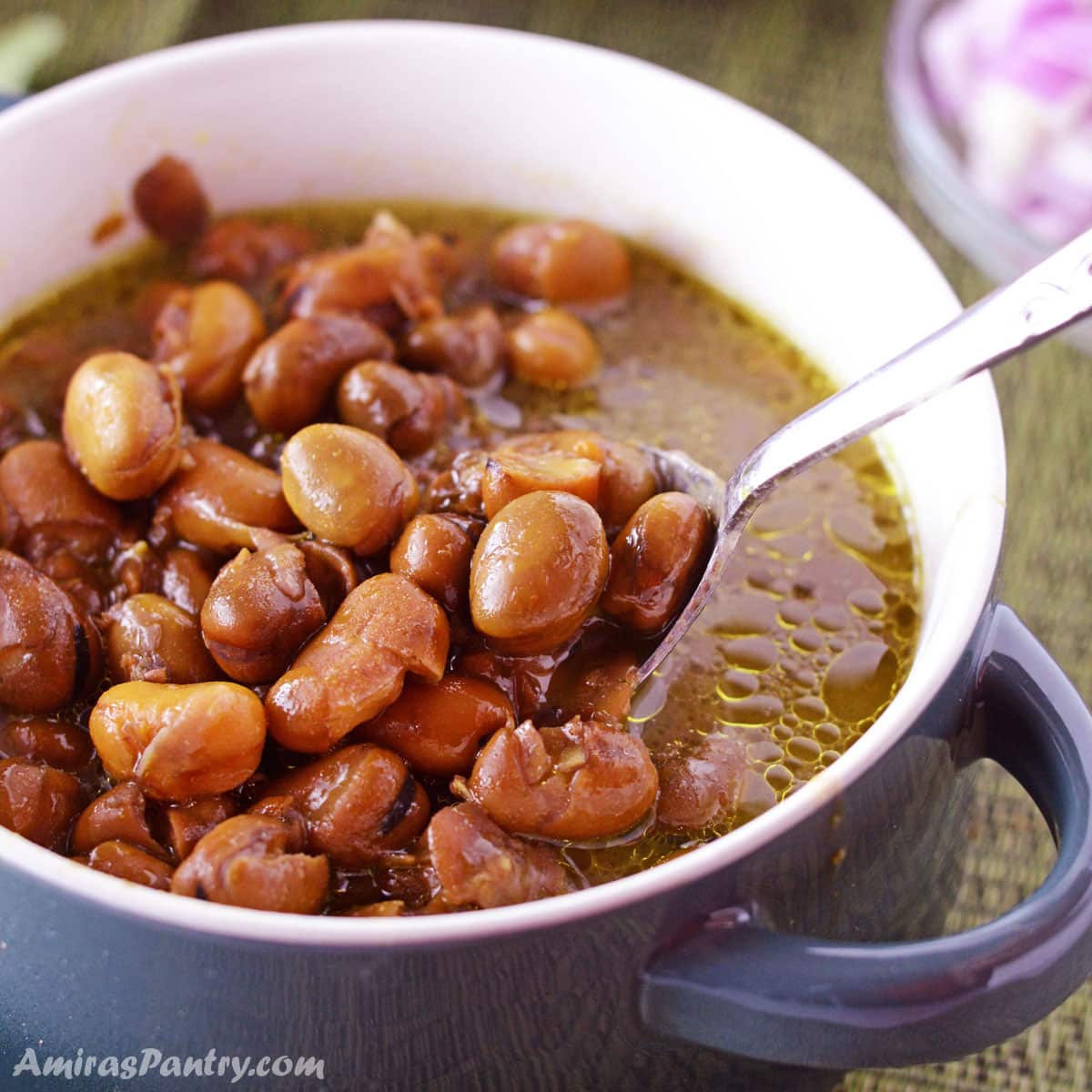 Along with Koshari and Ta'ameya (falafel), ful is considered an Egyptian national dish. Scoop it with some pitas for a hearty breakfast, lunch or dinner. It is so versatile and can be dressed up in a variety of ways. Mash it for an unforgettable dip or eat it as is.
Why This Recipe Works
Many people will tell you to peel the fava beans because the skin is never soft enough. Traditionally ful medammes dishes are enjoyed skin on, you are welcome to peel the beans but peeling is not for me not only for the authenticity of the recipe but time wise too.
There were so many suggestions online for how to soften the skin of fava beans, I've tried them all and came up with my own steps to ensure a soft skin with firm beans that are not mushy.
Recipe Ingredients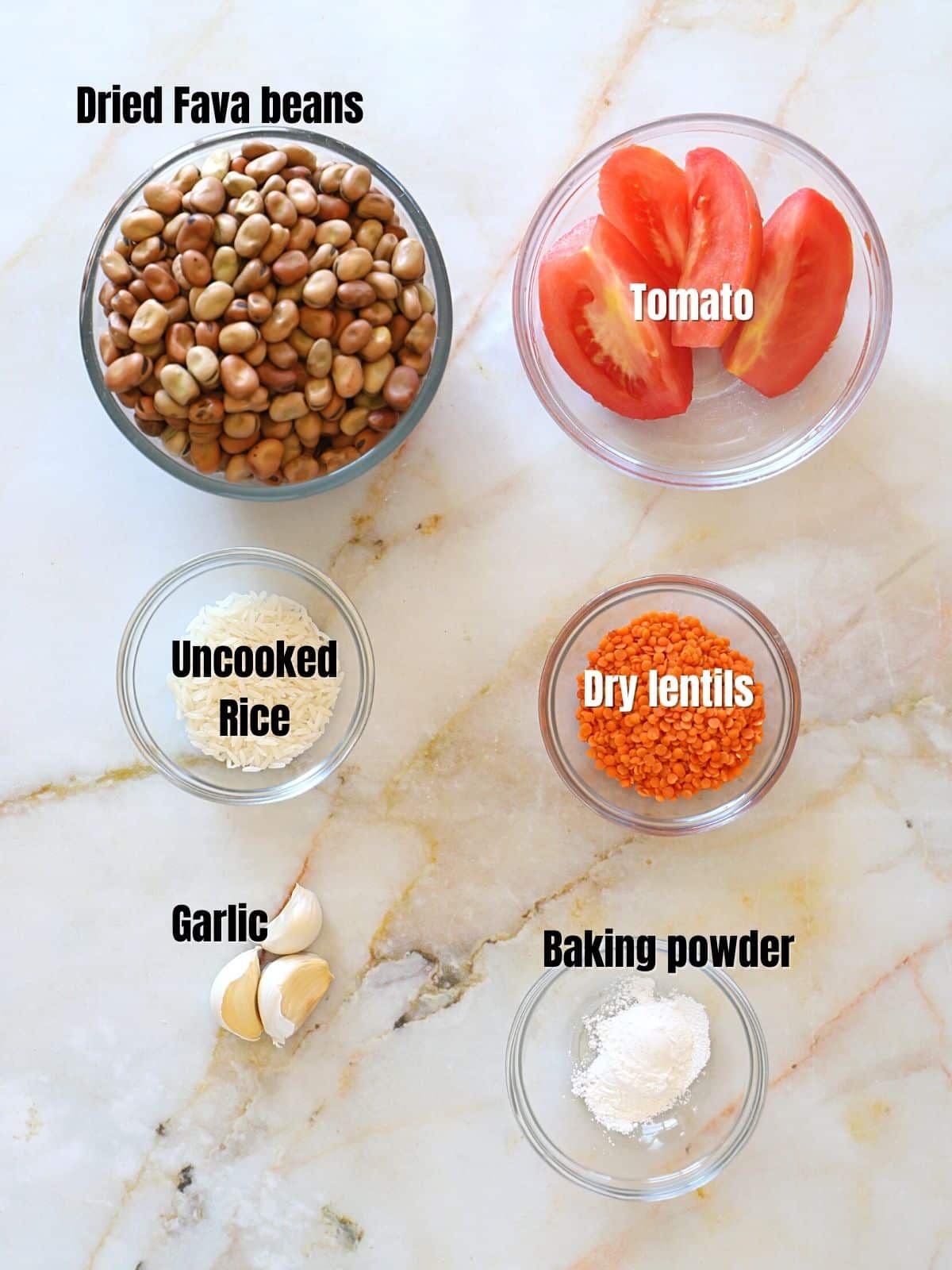 Ingredient Notes
Rice is used to thicken the finished ful medames and give it volume. You can use peeled split fava as well and some people go against that. I use a tiny amount of uncooked rice though.
Dry lentils and tomatoes are usually added to give ful a desired vibrant color.
Some people add garlic and onions or one of them without the other. I liked adding only garlic to give a savory touch.
Baking powder is my secret ingredient here for a softer skin.
Recipe Instructions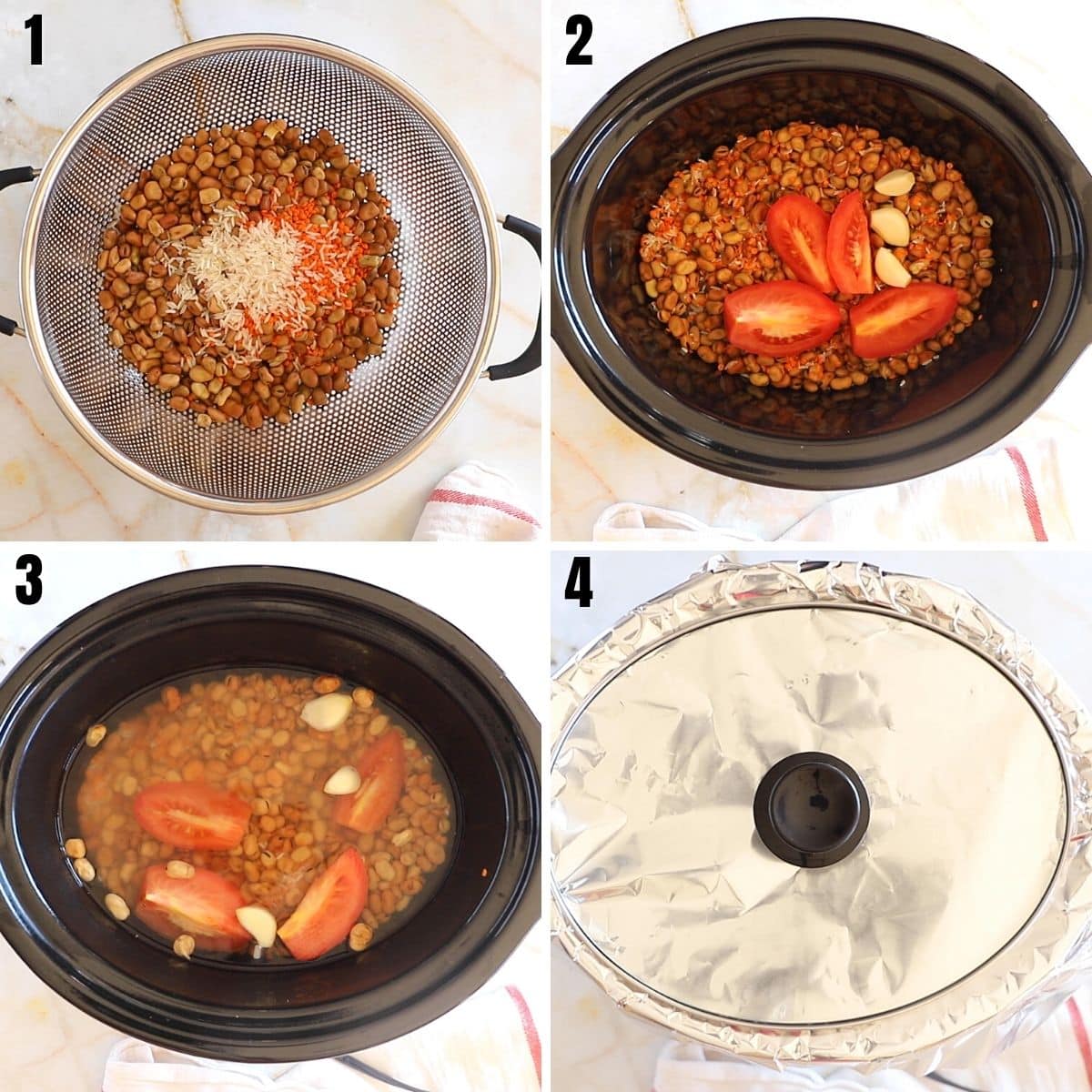 Place beans, rice and lentils in a fine colander and wash.
Place them in your slow cooker with tomato and garlic.
Pour in boiling water making sure the water is 1 inch above the beans level.
Cover with foil then place the lid on. Set to cook on low for 4 hours.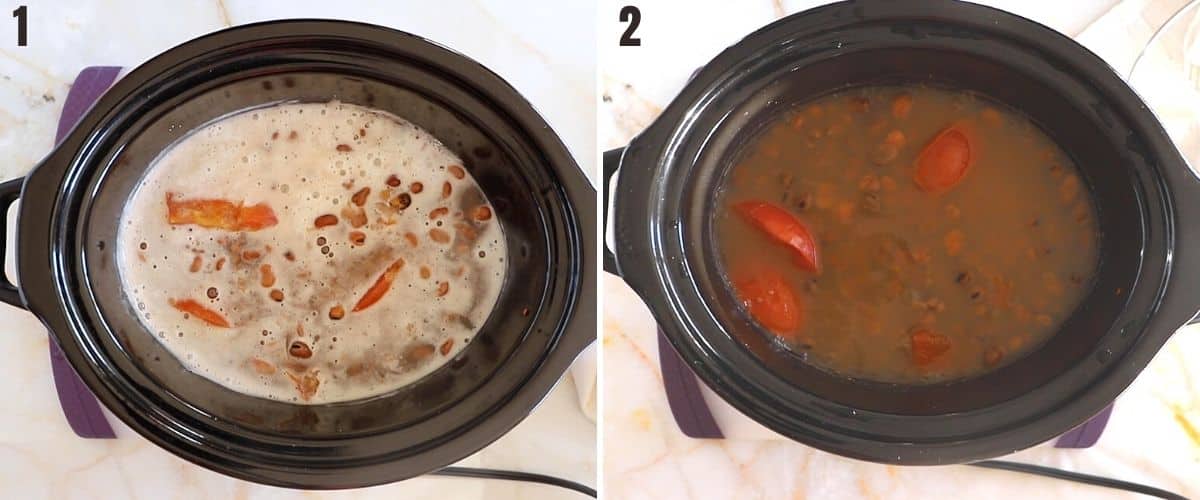 After three hours remove lid and foil then mix in the baking powder. Cover and cook for the remaining hour. Cook for more time if you feel the beans are not done to your liking.
Remove the lid and turn off your slow cooker. Cool completely before placing in the fridge or freezing.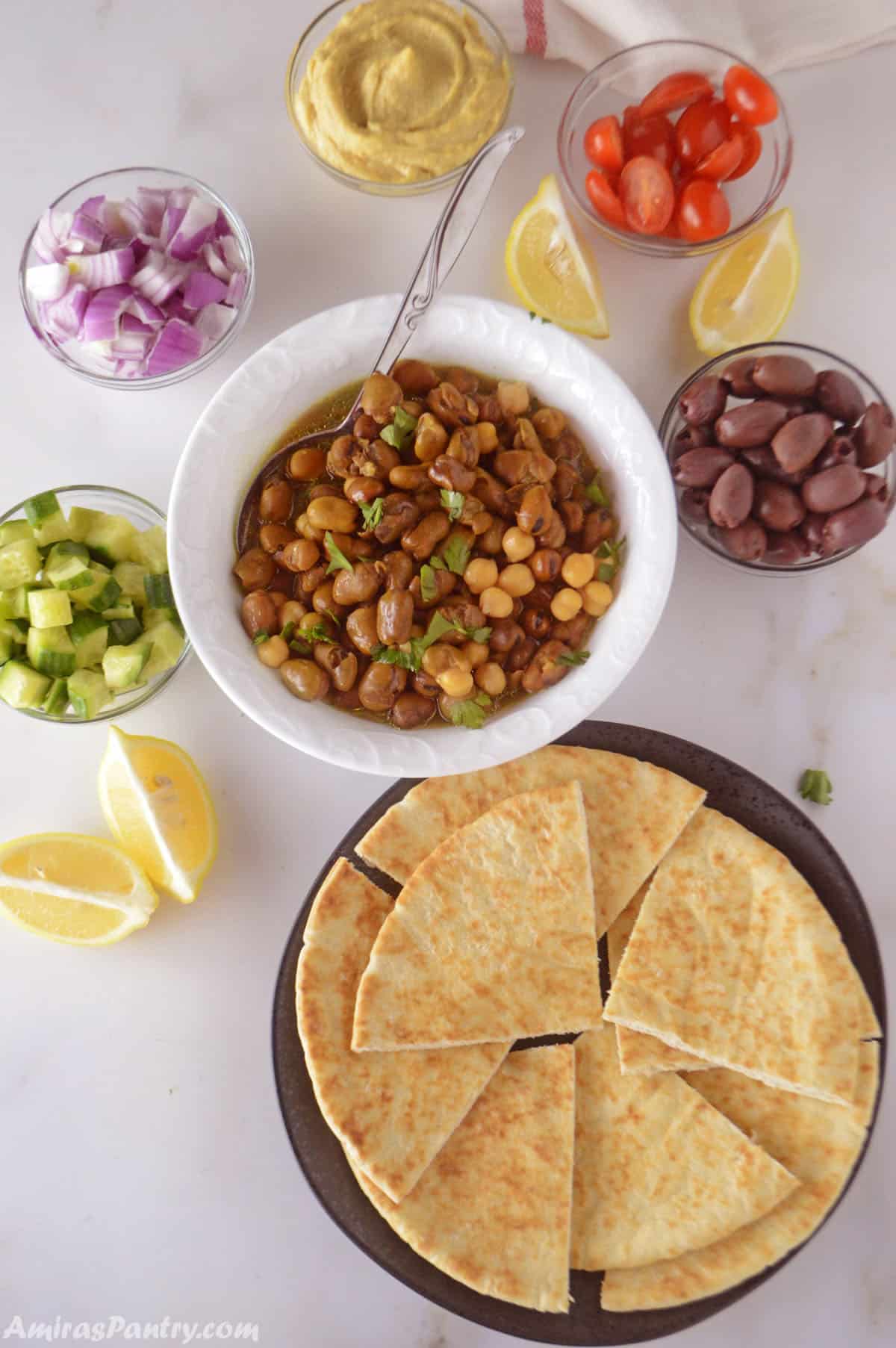 Recipe Expert Tips
If you cannot find fava beans you can use pinto beans as it is the closest in taste and size.
Baking powder is added to soften the outer shell of the beans, this is especially necessary for dry fava beans sold in the US market. You can add the baking powder at the beginning of cooking when using a slow cooker, but this is not the case when using an instant pot.
I have found that soaking the beans overnight as usually and traditionally done, makes it harder to get a soft skin. The beans cook quickly while the skin is still so hard. If you must, then soak it for just a couple of hours but not anymore.
Recipe FAQs
What is Mudammas?
Ful mudammas is sort of slow cooked dry fava beans. It is a real power legume in the Middle East especially Egypt. Ful is the main breakfast dish in Egypt along with falafel.
What type of dry fava beans to use?
There are two sizes of fava beans in the market, small and big. you can use any but the small ones are more traditional and appealing.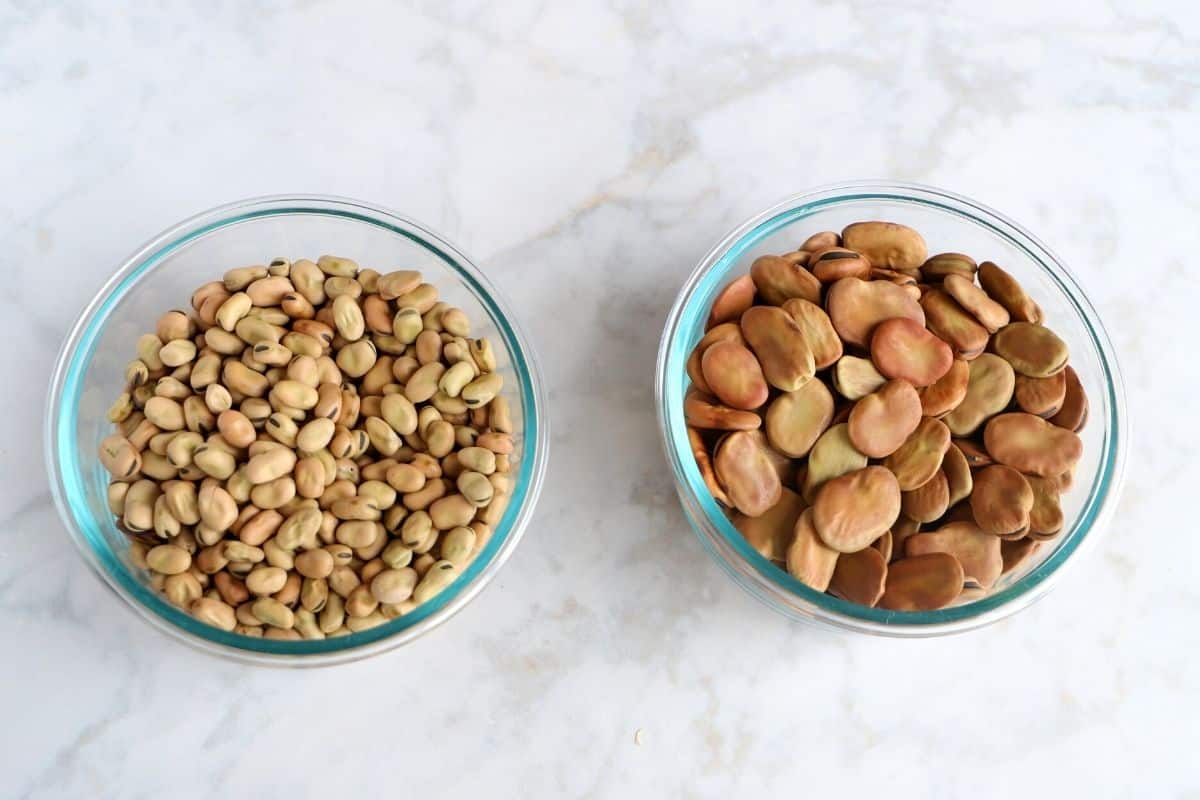 Is foul good for you?
Personally, I feel it is. It is a protein packed meal, add to it some tomato, garlic and olive oil and it is heavenly good. Experts recommend that you consume up to 3 cups of beans weekly.
How To Serve Ful
Let me first start by saying there are a lot of recipes for ful some are vegan and others are not. You can almost dress a plate of ful in endless ways. I am going to give you the most popular ways here and I hop you'll find one that will appeal to you:
The most popular in Egypt is adding a mixture of flax oil and corn oil to the ful after it has been heated thoroughly on stove top. Do not heat the oil mixture on stove top. Spice it up with cumin, ground coriander, salt, cayenne pepper and vinegar or lime juice. This is called ful bel zeet el haar.
Add olive oil with ful, heat them up and add crushed garlic and diced tomatoes. DO not forget to add salt and cumin.
Ful with ghee, in a saucepan melt ghee until hot then add in ful and mix everything well.
Mix with tahini, olive oil, lime juice, and cumin.
Add a can of chickpea, olive oil, chopped parsley, cumin and salt.
Saute garlic and onion in oil then diced jalapeño. Add in diced sujuk/ hot dogs/sausages and cook. Add tomato sauce then ful. Add salt and pepper.
Place ful in an oven dish, season it with salt and pepper and mix in some oil. Crack a couple of eggs on top and bake until eggs are done.
Mashing it with some hard boiled eggs, tomato, and parsley so for you to make another hearty lunch. Do not forget to season and add oil as well.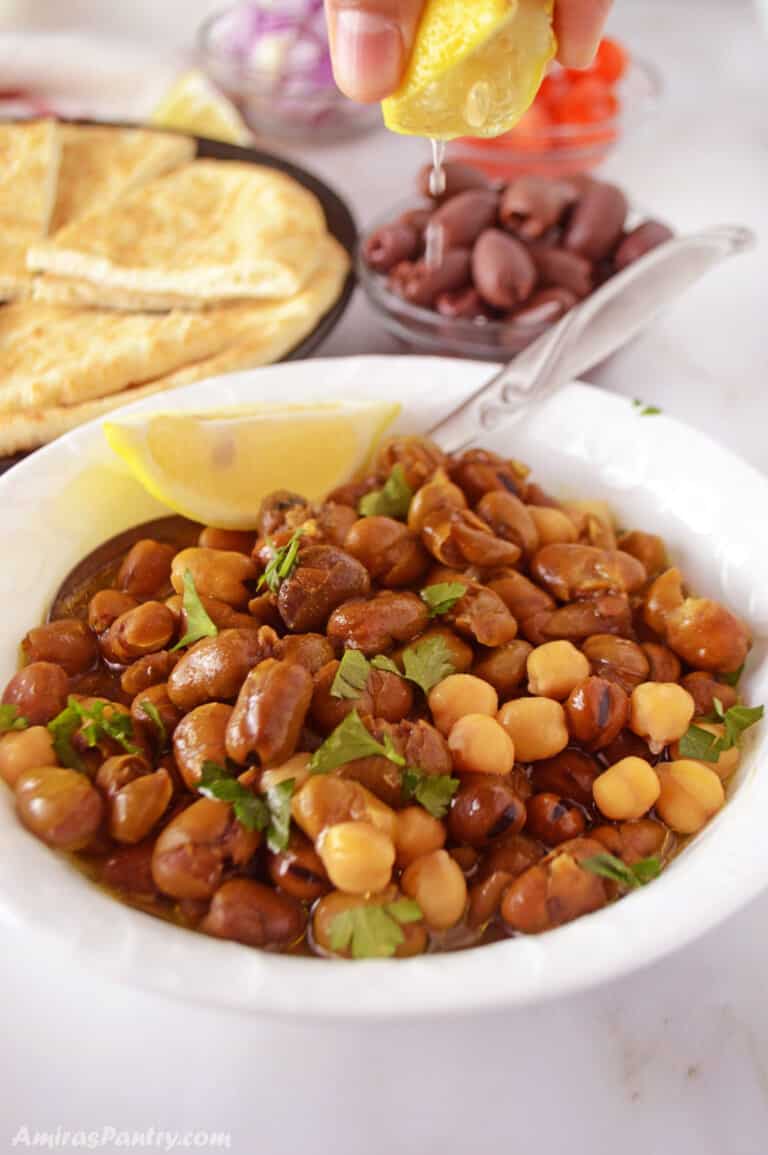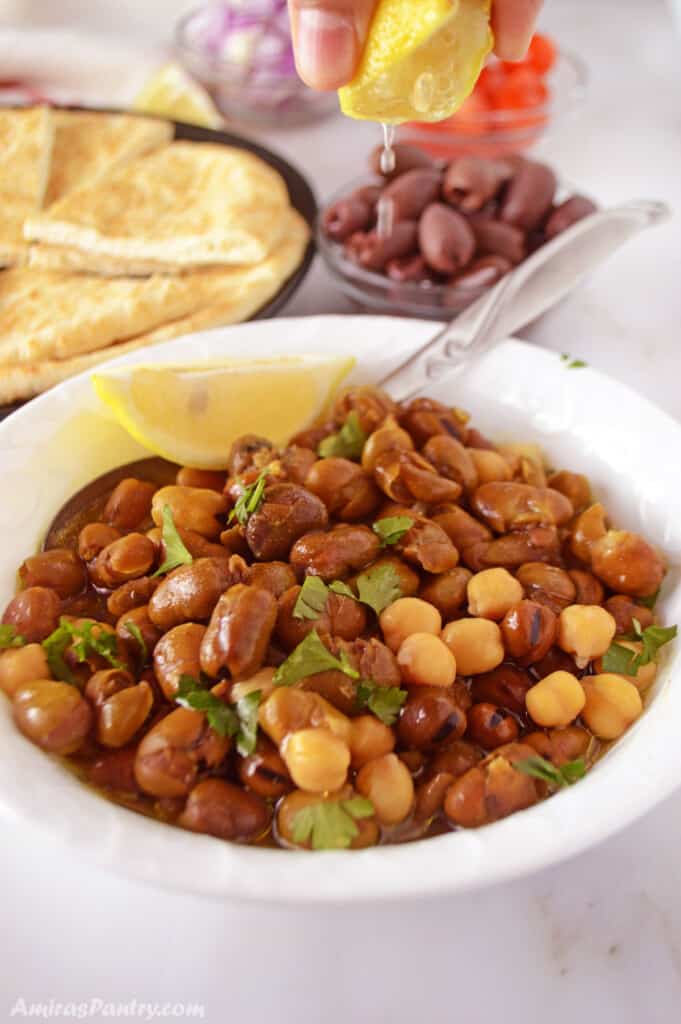 More Recipes From the Blog
You might need
The following are affiliate links. We are a participant in the Amazon Services LLC Associates Program, an affiliate advertising program designed to provide a means for us to earn fees by linking to Amazon.com and affiliated sites.

I love Hamilton Beach Slow Cooker. It has been with me for over 4 years now with no complaints at all.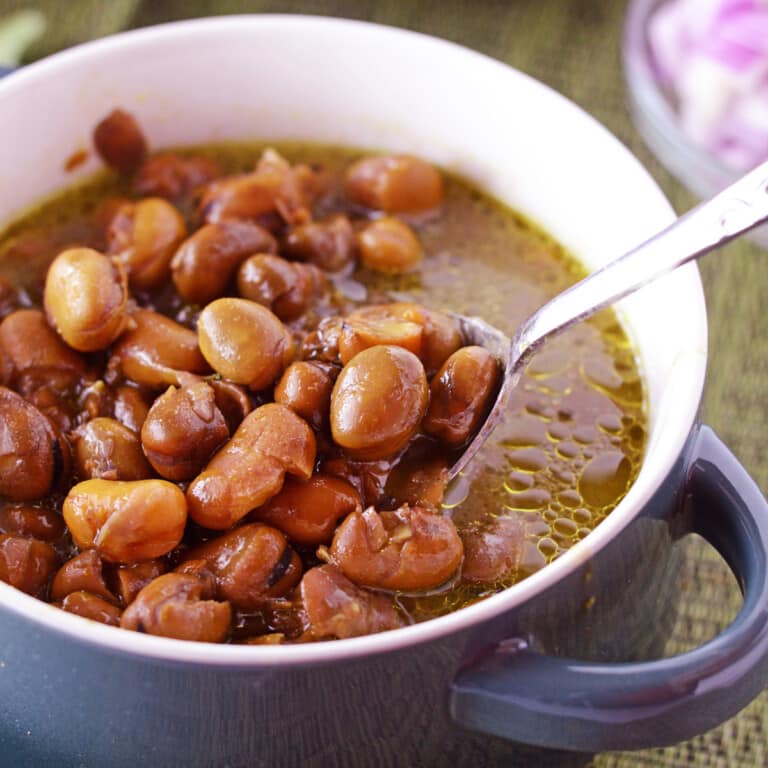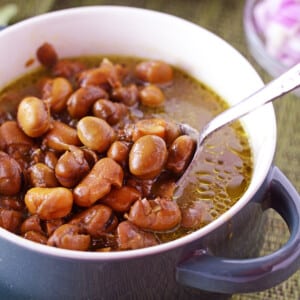 Ful Medammes
A traditional Egyptian breakfast dish that can be prepared in so many different ways. Learn how to make your own Fun Medammes and ditch the cans.
Print
Pin
Rate
Ingredients
2 1/2

cups

dry fava beans

1 pound

1 1/2

Tablespoons

dry rice

any kind and uncooked

2

Tablespoons

dry red lentils

uncooked

1

Roma tomato

quartered

3

large garlic cloves

2

teaspoons

baking powder

1 1/2-2

liter

boiled water
Instructions
Place fave beans, rice and lentils in a fine mesh colander and wash under running water.

Place them in your slow cooker.

Add dice tomatoes and garlic.

Pour boiled water, cover the pot with a piece of aluminum foil then place the lid on.

Set the slow cooker to low for 4-5 hours.

Check after two hours to make sure water level is ok and it is not drying out.

When 3 hours passed take the lid and the aluminum foil off and stir in the baking powder, be aware that the baking powder will bubble and fizz.

Put the lid on again and continue to cook for another hour or tow until it is fully cooked and soft.
Notes
Baking powder is added to soften the outer shell of the beans, this is especially necessary for dry fava beans sold in the US market. You can add the baking powder at the beginning of cooking when using a slow cooker, but this is not the case when using an instant pot.
You can use either big or small fava beans but small is the traditional one to use.
IP directions:

Place the ingredients in your instant pot (washed fava beans, rice, lentils, tomatoes and garlic) and cover with water.
Place the lid on, seal the valve and pressure cook on high for 30 minutes.
Quick release the pressure, mix in baking powder then pressure cook again for another 30 minutes.
Let it naturally release the pressure for 20 minutes then do a quick release.
If you feel the beans are not cooked to your liking or the skin is still not soft enough, mix in another 1/2 teaspoon and some boiling water if needed then press sauté option for 10 more minutes.
Nutrition
Calories:
399
kcal
|
Carbohydrates:
70
g
|
Protein:
29
g
|
Fat:
2
g
|
Saturated Fat:
1
g
|
Sodium:
214
mg
|
Potassium:
110
mg
|
Fiber:
20
g
|
Sugar:
12
g
|
Vitamin A:
132
IU
|
Vitamin C:
3
mg
|
Calcium:
128
mg
|
Iron:
1
mg
Sign up and learn more about Mediterranean flavors
First published January 21, 2015 . Last updated February 26, 2021 with important tips, clear step by step instructions and readability.