Hot, light and healthy slow cooked fava beans. Can be served in an endless ways.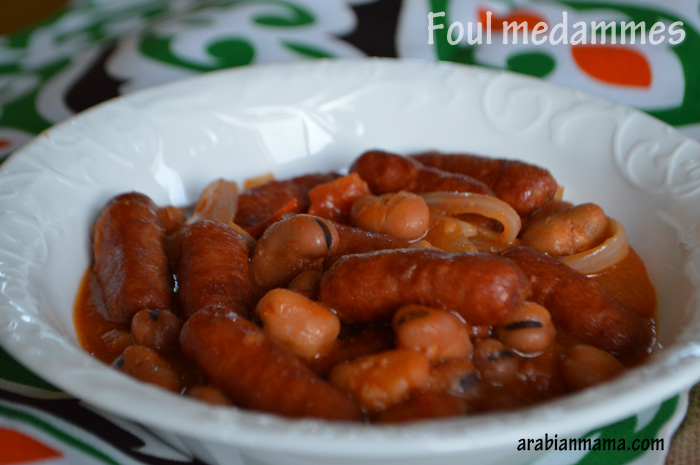 Seems that I am longing for Ramadan these days :), although we are still 5 months apart. Foul or Ful is a very popular dish in the Middle East, specially in Egypt and specially during the holy month of Ramadan. Foul medames is usually sold by street vendors, so if you are walking by a closed shop, you'll smell the beans cooking all night.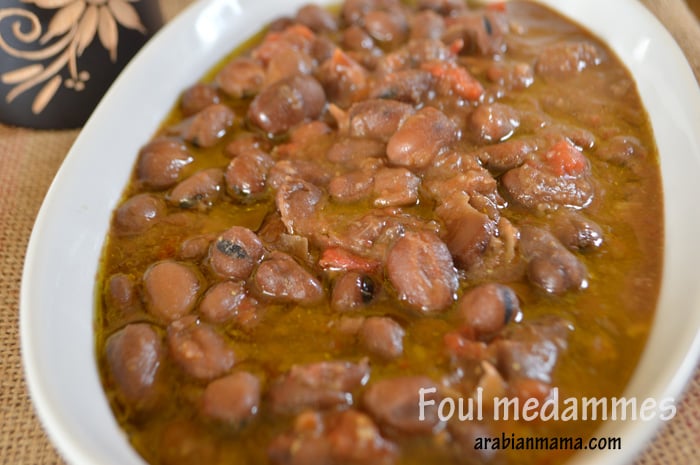 In most Egyptian homes you can find Foul medames and Falafel almost every weekend for breakfast. In Ramadan we usually have it in sohor time but without the hot spices.
In Egypt ful is usually served in breakfast or in a " breakfast for dinner" type of dinner. It is very frugal and filling, it is called " mosmar el batn" which means literally " stomach nail" and by this we mean it is very filling and keeps your tummy fastened and in place like what nails do … strange I know 🙂 .
Ful is usually slow cooked in a special pot called " edra".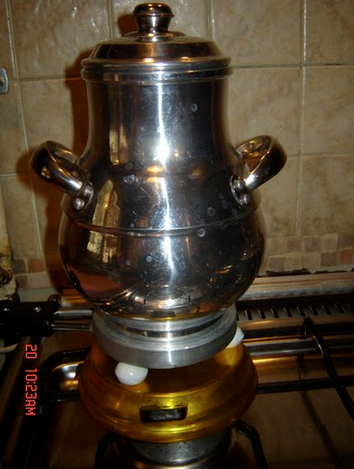 This is the edra used at homes, the commercial ones are much bigger. It is used to slowly cook the beans overnight so in the morning you'll have the freshly cooked light colored beans of your own. Because we cannot easily find edra pot here, you can use a slow cooker instead. Some people make foul in the pressure cooker too.
If you cannot find fava beans you can use pinto beans as it is the closest in the taste to the fave one.
After cooking foul can be served in a variety of ways, the simplest is just to drizzle it with olive oil, salt, cumin and a squeeze of lemon juice. Here I have presented it with sausages, tomato and onions also another dish – which is my favorite- is to serve it with garlic, tomato, olive oil, cumin and salt. One of my favorite variations too is to add Kalamata olives and drizzle with olive oil, a dash of salt and cumin. I've also set my eyes on John's master piece here… a lovely creation that I will make for this Friday's lunch Inshaa Allah.
Here is a short video on how to make foul medames in your slow cooker, I hope you'll find it helpful.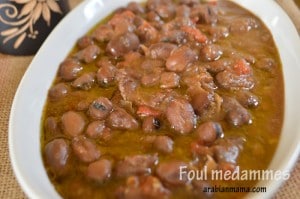 Foul- Ful - medames
2015-01-20 09:27:04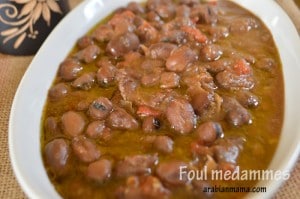 Filling, frugal,healthy and vegan dish from the Middle East. Perfect for breakfast, lunch, dinner or as a side dish. Can be served in a variety of ways.
You'll need
1 lb fave beans.
3 Tbs rice - uncooked.
3 Tbs red lentils.
1 tomato quartered.
3 garlic cloves.
Instructions
Soak the beans with water for at least 4 hours, I've soaked mine over night.
Drain the beans and wash very well, put in your slow cooker.
Wash the rice and lentils, drain and add to the beans along with garlic cloves and tomato.
Add enough water to cover. Let it cook on low for 8 hours.
Suggested meals
Saute onion rings and tomato in olive oil, add some sausages, stir for 5 minutes then add the beans.
Saute crushed garlic in olive oil along with diced tomato then add the beans. Add salt, cumin and a squeeze of lemon juice.
Notes
If you cannot find dry fava beans you can use pinto beans as it is the closest taste we've found.
Cooking time varies depending on the typr of beans so start checking after 6 hours for doneness.
Try to always use olive oil with beans, it is the best.
Amira's Pantry https://amiraspantry.com/
Be sure to use the best olive oil you can find and do not forget about the cumin, it is essential in preparing this dish the Egyptian way. Enjoy the rest of the week.