Halawa is a sweet tahini Middle Eastern dessert, that can be crumbled on breads or used as a fun topping for desserts. Hawala can be even enjoyed straight.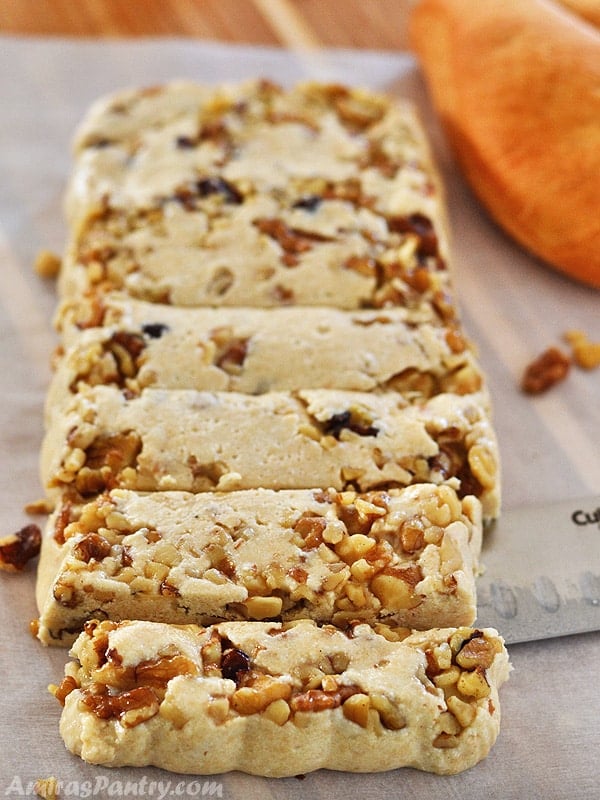 I grew up fed Halawa sandwiches, but fell in love and appreciated it more when I was in college. It was my dad's favorite sandwich as well. My middle kid got that gene early on his life and he became obsessed since he was 5 years old.
I can find Halawa in the Middle East markets here but unfortunately, almost all of the kinds sold here are flavored with orange blossom water which my kid does not approve. Back in the old days, Halawa was not that sweet and was only plain. Nowadays, Halawa comes in all sorts of forms and flavors.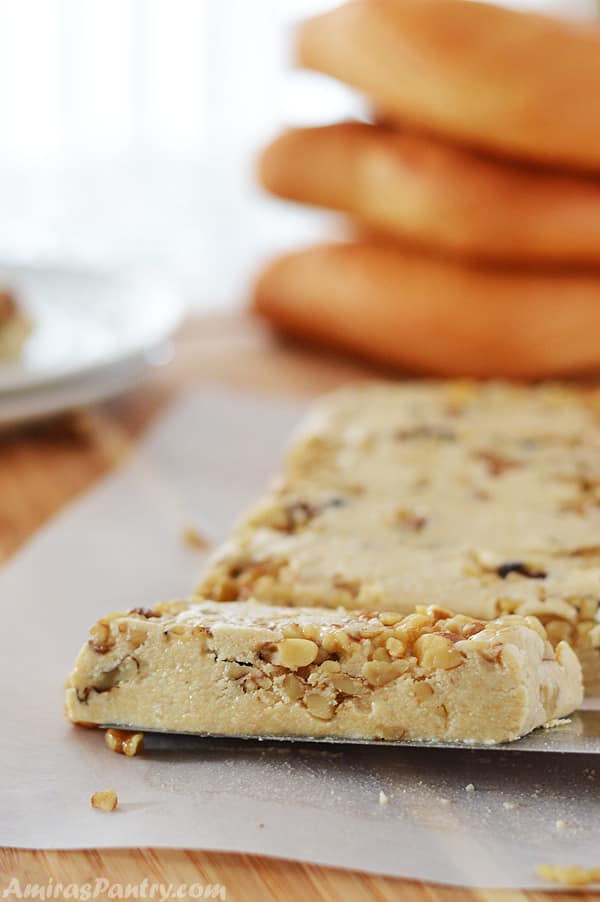 Halva or Halawa is now sold in a small snacking bar forms these were not there when I was young. The most common kinds of Halawa are the plain one and the pistachio one. Now, other nut Halawa can also be found like hazelnut Halawa, almond Halawa and chocolate swirl Halawa.
I still like the plain one the best, but this time I've made one with walnuts. There is also a new variety called Halawa spread that has been in the market for a couple of years and I will try making them soon too.
Now let me show you how to make Halawa.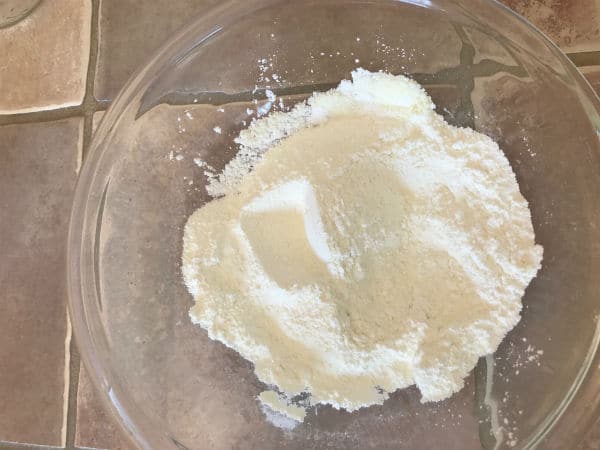 In a bowl, combine sugar and dry milk.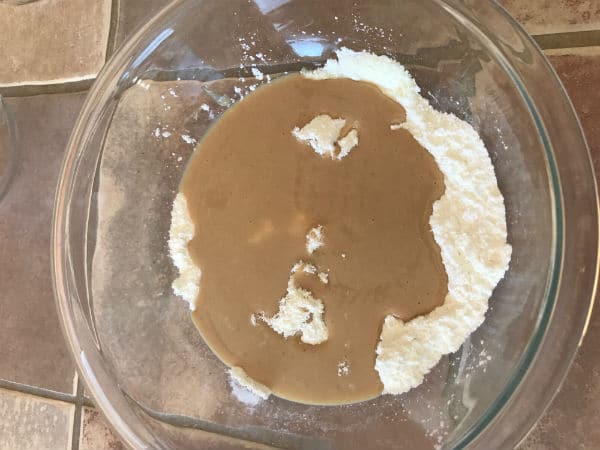 Add tahini paste, I've used my homemade tahini paste.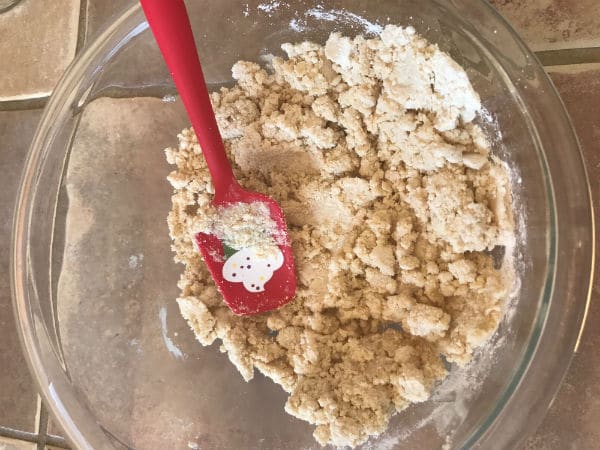 Mix everything will together with a spatula or hands until very well combined. The mixture will look crumbly as shown above. Fold in some nuts if using.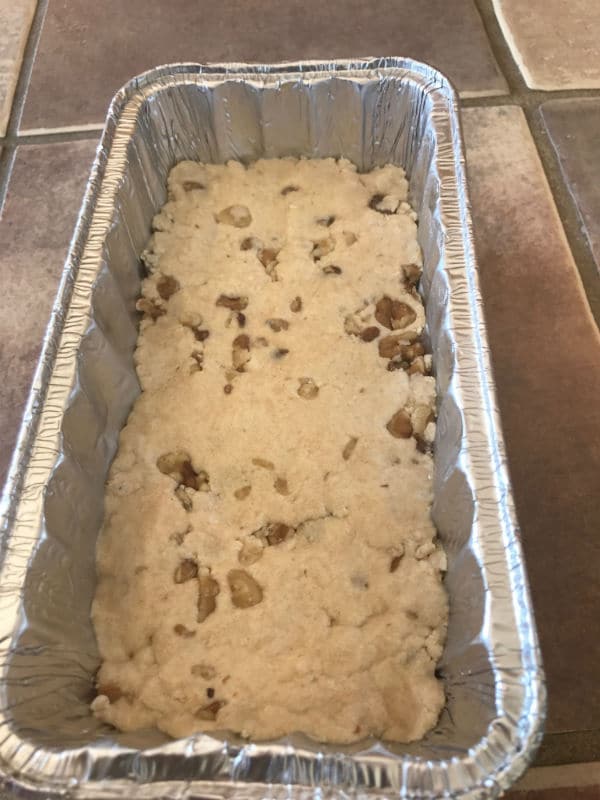 Brush the bottom and sides of your container with a little vegetable oil, scoop the mixture into the container and press with your hands to mold.
Let it set in the fridge or on the counter for 24 hours until firm enough and molded.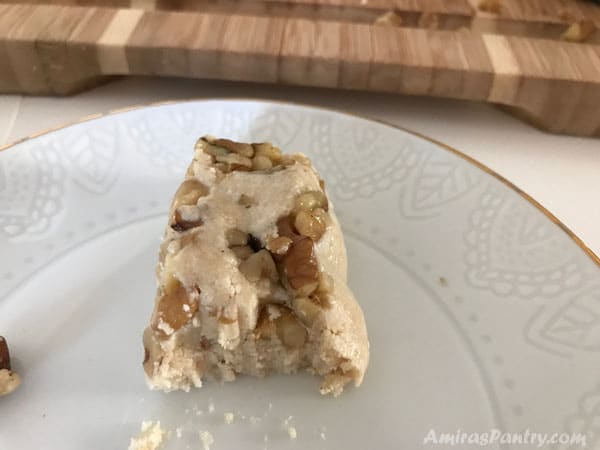 Halawa is usually considered for breakfast or as a snack. When I was a little girl, my school lunch was either a cheese sandwich or a Halawa sandwich. These were the most common two lunches for all kids. We did not have a cafeterias in schools back then , we only had a small kiosk that we used to -and still – call Canteen. In the Canteen you can buy, chips, soda, chocolate or cookies.
Usually I will leave my sandwich beside the school's fence for any roaming dog/cat in the street to eat and when I go home mom asks me her usual question " did you eat your lunch sandwich?", I look at her with honest eyes and explaining that some big kid in the recess was playing and running and I fell consequently the sandwich fell on the ground. Mom smiling " So what did you have instead", I bought cookies from the canteen 😀.
Clearly I did not appreciate food back then, eating was a chore for me and I was super skinny. Now, no one dares to bump into me and make my sandwich falls hehehehe. I hope my kids will not read this confession until they are old enough.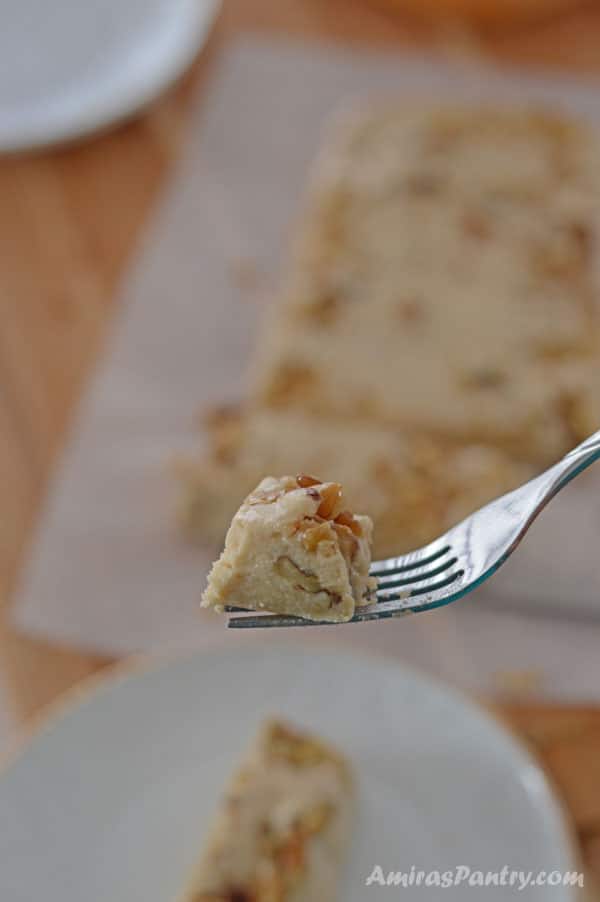 Homemade Halawa is much softer, less sugary and with no preservatives at all. I keep in at room temperature, but we go through this in a almost two months, so I have no idea what is the shelf life for it. If you are not a big fan, then you probably would like to keep it in the refrigerator.
I hope you'll like this recipe and please if you make this recipe, snap a pic and hashtag it #amiraspantry — I love to see your creations on Instagram, Facebook, Twitter! Don't want to miss a recipe?
Sign up for the FREE Amira's Pantry newsletter delivered to your inbox with lots of tips and surprises! And stay in touch with me on Facebook, Twitter, Pinterest, and Instagram for all the latest updates.
If you like this recipe do not forget to give it a ⭐⭐⭐⭐⭐ star rating and attach a photo of your finished dish. It is always a pleasure of mine to see your photos and check your own take of the recipe. Thank you.
Halva
A dense, rich dessert that is nut-based with so many variations. Halva is eaten as a dessert or an energy-boosting breakfast.
Ingredients
1

cup

tahini paste.

1

cup

instant dry milk.

1

cup

confectioners' sugar.

1/8

teaspoon

vanilla powder.

Vegetable oil for brushing.

1/2

cup

walnuts

roughly chopped.
Instructions
In a deep bowl combine tahini, milk, and sugar until well mixed.

Add 1/4 to 1/3 cup of walnuts and fold them in the mixture.

Brush a container lightly with vegetable oil, divide the remaining walnuts into two halves. Sprinkle one half of the walnut on the bottom of the container, add the Halawa mixture and press down until firmly packed into your container.*

Sprinkle the other half of chopped walnuts on top and press into the Halawa.

Cover and refrigerate overnight.

Scoop into sandwiches directly from the container or turn it into a parchment paper and slice to serve the whole amount.
Notes
And container will do depends on how you want your halawa look like. You can make it in a snap ware or pyrex glass containers, plastic containers. I've used a disposable loaf pan.
Sign up and learn more about Mediterranean flavors