Easy Baked Brie in Puff Pastry Recipe. A straightforward appetizer of light and fluffy puff pastry filled with melted oozing cheese and hot fruit preserve. This is how do you make brie in puff pastry, the easiest way.

Are you hosting soon, or may be invited to a party where you want to bring a homemade impressive and stunning dish?. Sinful and great recipe for an easy baked Brie that can be an appetizer or a dessert – either way, for the amount of effort it took, this is gonna be a big, big winner.
First, I place the brie in the freezer only 30 minutes, I do not freeze it, just give it a good chill to set it up for easy slicing. Just place it in the freezer while the puff pastry is thawing, then roll out the puff pastry, put the Brie wheel on top and slice it in half.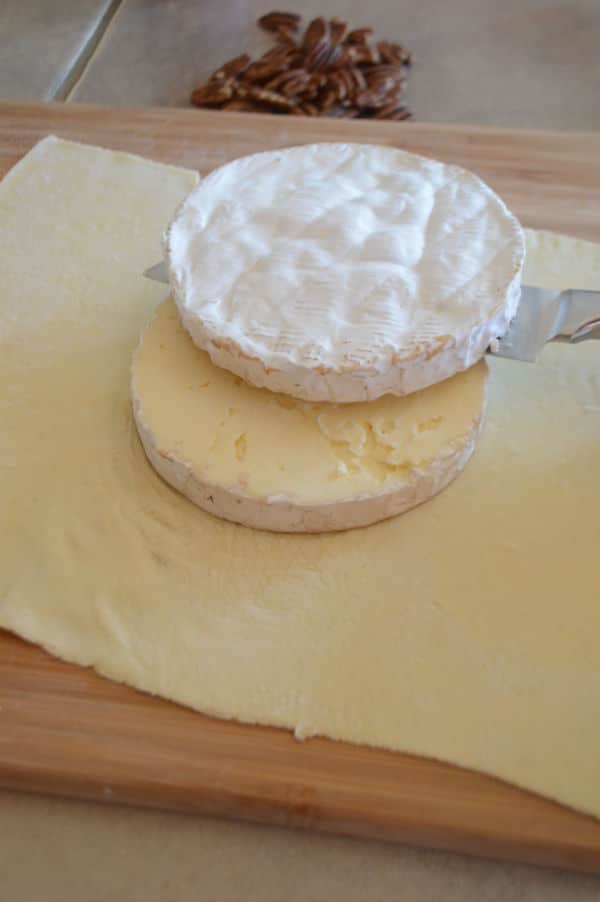 For the PRESERVES – Don't hold back. I've used about half an 18 oz. jar , it tasted SO good although I felt it still needed more.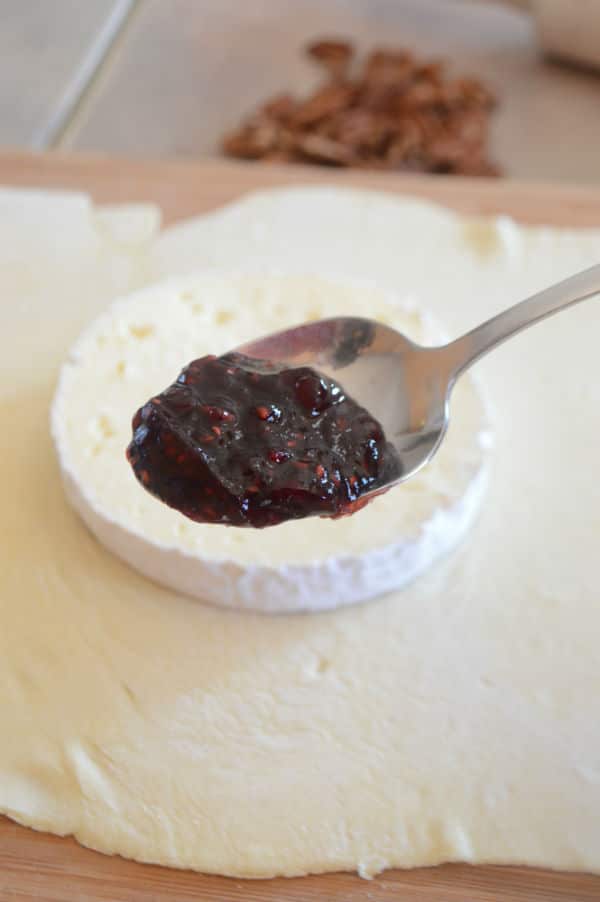 For the nuts – Yes, yes yes! It tastes way better with nuts, anything that you like. I personally like adding shaved almonds or chopped pecan in between the sandwiched halves of brie and preserves. You'll love it!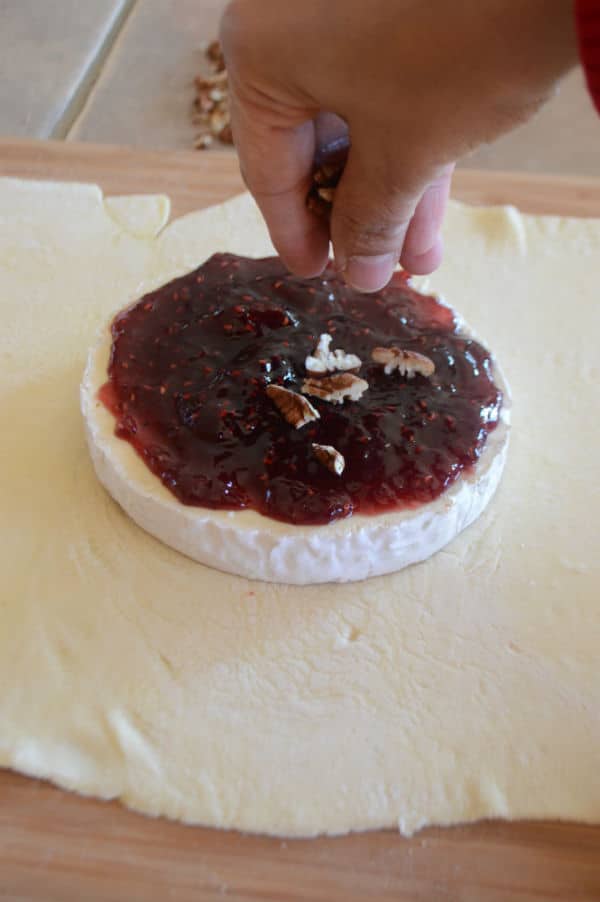 To keep the brie from leaking you need to brush each fold you make with the pastry dough with egg, egg acts as glue for your pastry dough.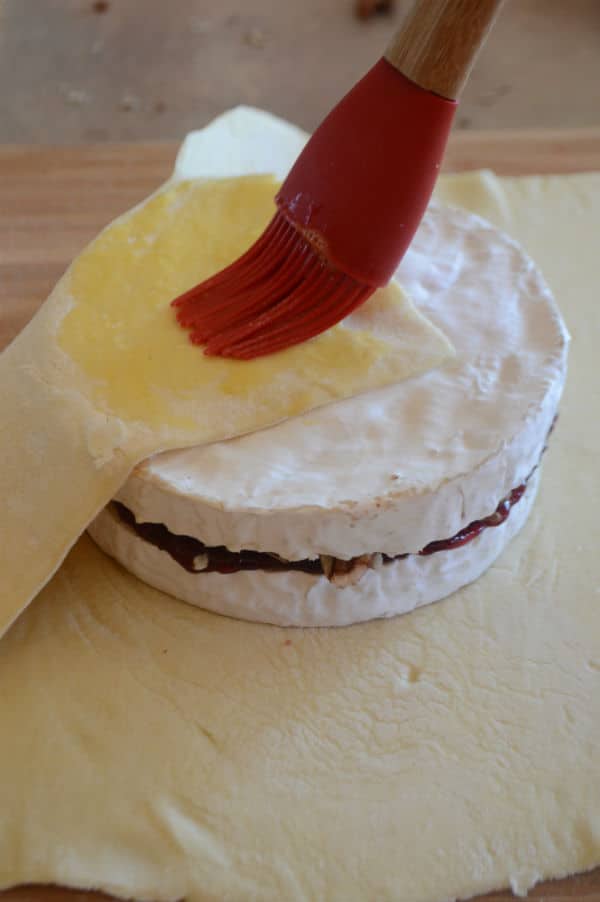 Spraying your pan with oil -and even lining it up with a foil then spraying it with oil- before putting the brie down helps reduce residue on the pan.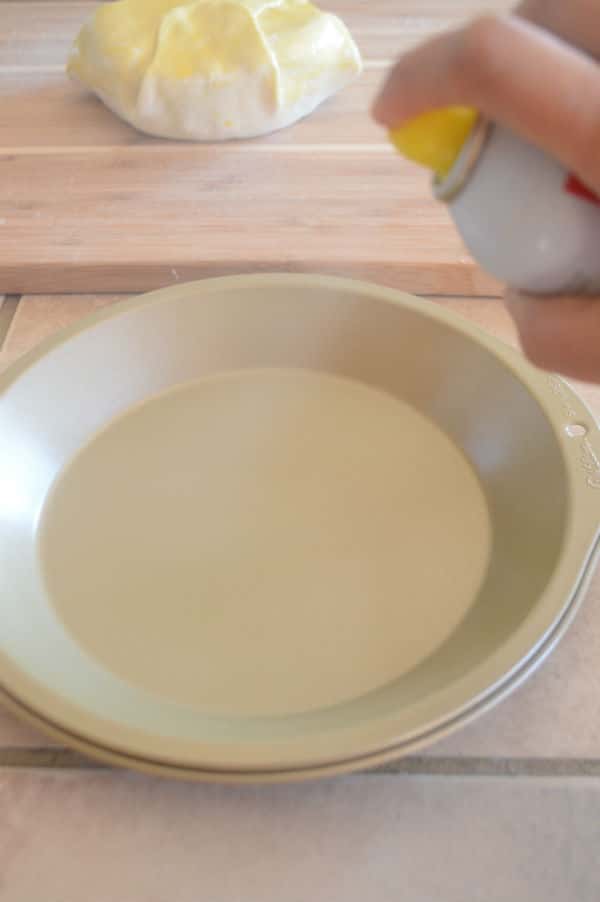 For this recipe pictured here, I've used raspberry preserve, my other recommendations are peach and apricot, they pair very well with brie and almonds as well.
If a sweet wheel is not your thing, try a savory twist. Caramelized onions, jalapeño slices, may be garlic and sundried tomatoes, who knows, this might be your thing. This is a very basic recipe for a baked brie with puff pastry, do not stop here and let your imagination go wild with all the possible flavors you can add.
Accompanied with some crackers, this can be the easiest party favorite appetizer. I hope you'll like making this easy recipe and play with the flavors.
What is your favorite variation for a baked brie wheel?
Baked Brie in puff pastry
Ingredients
1

wheel of Brie cheese.

8oz

1

sheet of puff pastry

1/2 a package.

6-8

oz

raspberry preserve

more or less depending on your liking.

1

cup

chopped pecan.

1

egg.
Instructions
Place the Brie in the freezer while you take out the puff pastry to thaw, takes about 30 minutes.*

Preheat oven to 400 degree.

Roll the puff pastry, Place the cheese on top in the middle of the sheet.

Slice the Brie in half. Spread the raspberry preserve then top with chopped pecan.

Place the other half on top then fold the pastry around to completely cover the cheese.**

Spray an oven safe pan with oil, and place the puff pastry with the brie inside.**

Bake for 30 minutes or until the buff is golden brown.

Serve with some crackers and ... ENjoy. ****
Recipe Notes
* I place the Brie in the freezer just to firm up not to be completely frozen. This way it is easier to slice in half.
** It is extremely important to brush each fold of the puff pastry with egg to seal the cheese inside and prevent it from leaking to your oven pan.
*** You might as well line your pan with foil then spray the foil.
**** I highly advise you to let it cool for a 10 to 15 minutes before serving it. This gives the melted cheese just a little time to firm up — it will still be gooey and scoop-able, but no longer molten lava burning mouths.
Need more Side dishes? Check the Appetizers category here.
Meanwhile here are some of our lastest.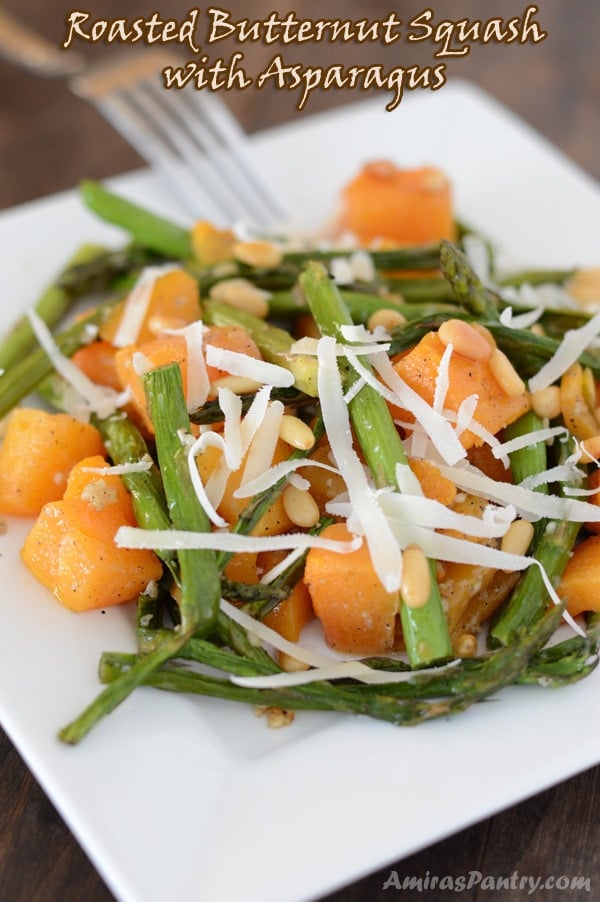 Roasted butternut squash with asparagus.