You can make lots of tasty sweet and savory recipes using phyllo dough. Phyllo dough is very versatile and loved by both kids and adults. Here is an easy recipe for phyllo cups that you can fill with whatever you like.
Phyllo dough is a versatile dough that is widely used in both Greek cooking and Middle Eastern cuisines. You can literally make wonders with this magical phyllo box sitting in your freezer. Desserts, mains, snacks, appetizers or savory dishes you name it.
Here I will be sharing with you, some of my favorite Filo (Phyllo) dough recipes as well as expert tips and tricks for working with phyllo dough.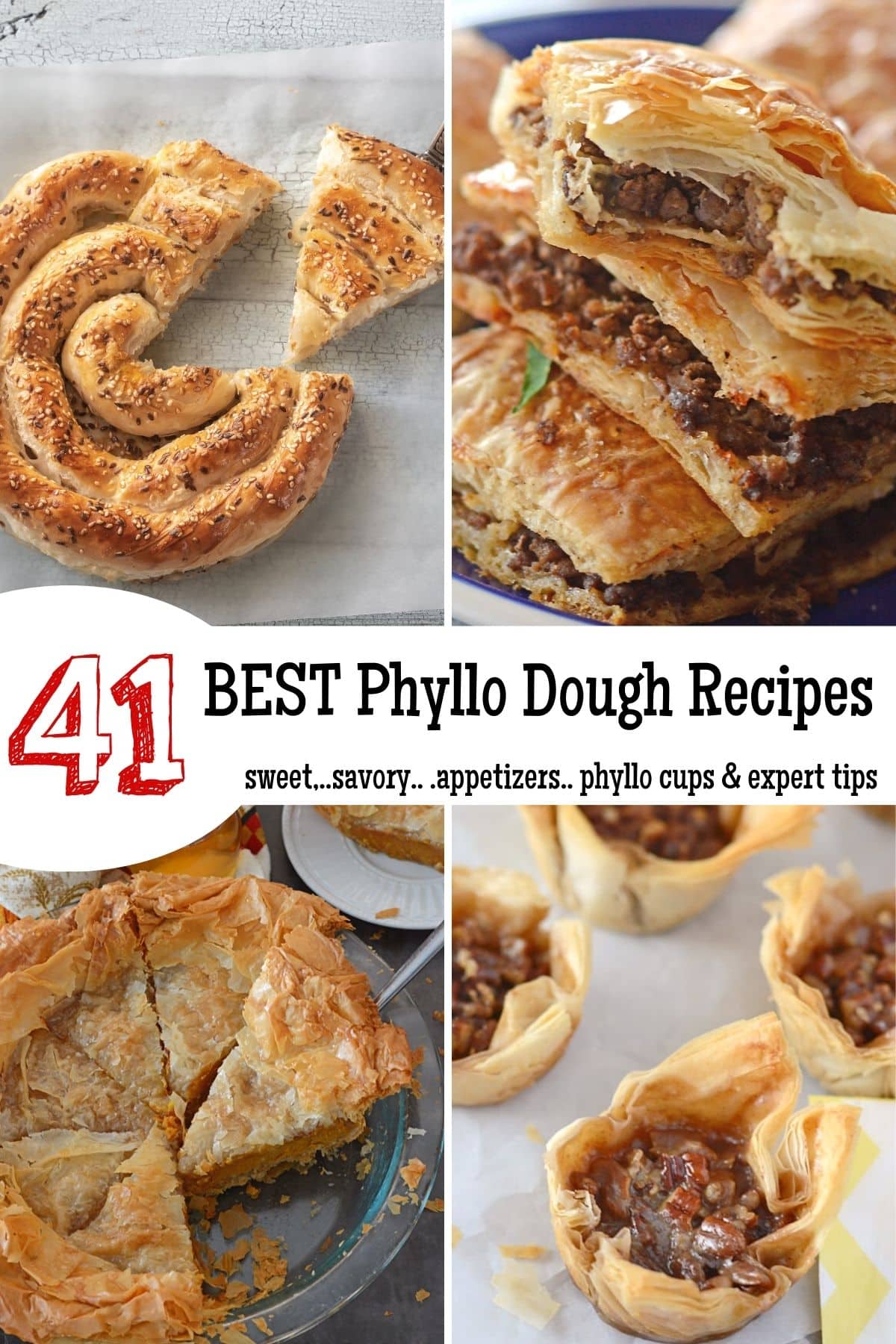 Buttery, flaky phyllo dough is essential in making traditional dessert recipes like Baklava, Galakoboureko or a savory chicken pot pie or how about as pizza dough!
Jump to:
Why You'll Love it
An easy shortcut to creating delicious recipes.
Make show stopping desserts.
Perfect for game day appetizers.
Versatile dough able to make both sweet and savory pies.
Store bought phyllo dough is easy to use.
Phyllo, also known as filo dough are thin delicate sheets of unleavened dough perfect for making pastries, sweets or savory recipes. You can get it in the refrigerator section of your grocery store usually right by puff pastry.
Savory Phyllo Recipes
Phyllo sheets makes the most amazing recipes for your next game day, potluck or party appetizers. Triangle shaped pockets stuffed with feta, a meat pie or how about taco pinwheels? These recipes will be a hit!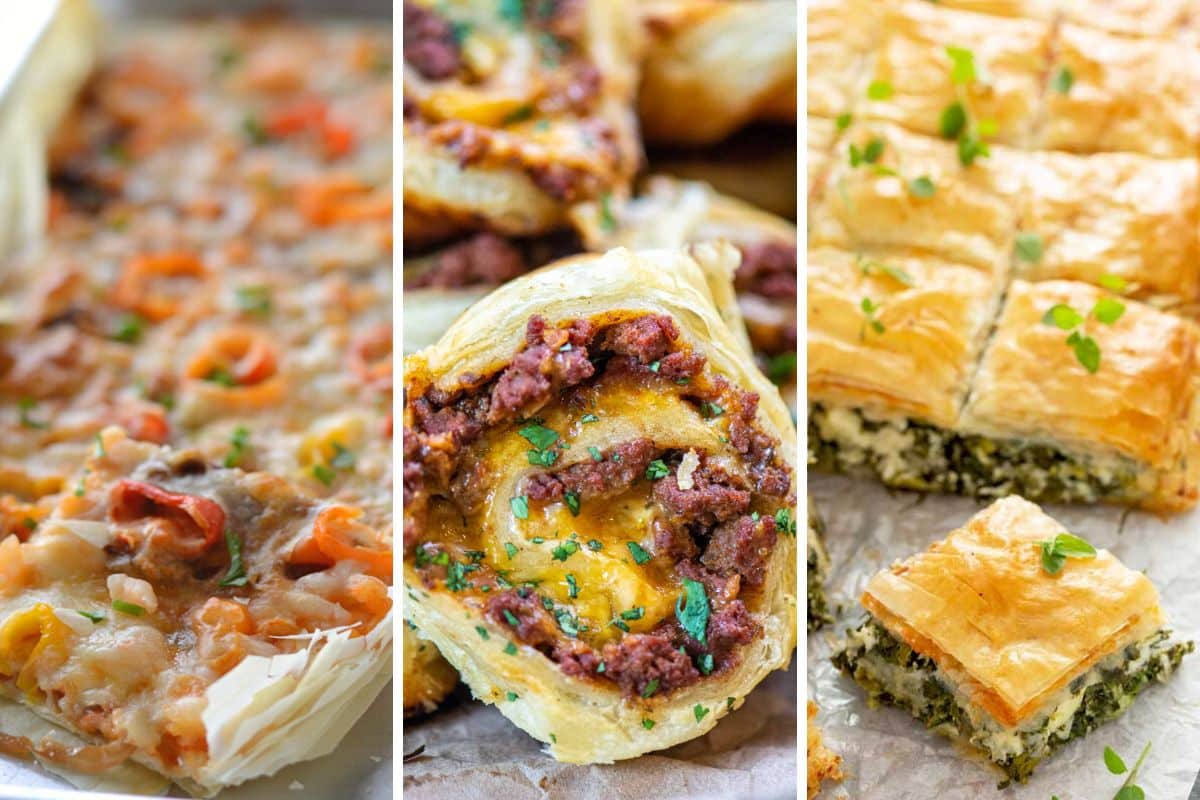 Ground Beef Phyllo pie: A flavorful ground beef mixture wrapped in layers of buttery phyllo dough. Good for your next party.
Spanakopita triangles: This spanakopita recipe is sautéed spinach, feta cheese and seasonings all wrapped up in phyllo dough and bake until golden brown and crisp. A savory and hearty appetizer or main course option that always gets rave reviews.
Feta Pastries (Tiropita): Feta pastries, also known as tiropitas, are traditional Greek pastries made with feta cheese, eggs and filo (phyllo) pastry.
Air Fryer Chicken Pot Pie: Air fryer chicken pot pie hand pies made easy with ready made flaky dough. Use canned or frozen vegetables and precooked meat.
Greek Vegetarian Pizza: This vegetarian filo pizza with Mediterranean flavors and fresh herbs, has butter and cheeses between the phyllo/filo dough layers, making it light and flaky! It's a great appetizer or meal.
Ground Beef and Potato: Here's a fantastic recipe for mixed burek, Bosnian meat, and potato pie. The rich filling is rolled in flaky thin phyllo dough, baked, and topped with milk and butter. It's simply unforgettable!
Greek Spanakopita: This Spanakopita recipe is made with a rich spinach and feta filling layered between buttery crispy sheets of phyllo.
Phyllo Pizza: Pizza easily made with sheets of phyllo dough. This game day easy appetizer can be made with all your favorite toppings.
Pita Sirnica: Have you considered making a delicious phyllo dough cheese pie? Give a try to this Bosnian pita called Sirnica originally. All you will need is to mix a few types of cheeses, roll the phyllo, and sprinkle with a few seeds in the end.
Light & Easy Spanakopita: This rich, savory Greek pastry is layered with spinach, onions, feta, lemon, and herbs, and is perfect served as a light meal, or a hearty side or appetizer.
Cheese and Herb Filo Pie: For an easy meal, try this delicious Cheese and Herb Filo Pie. Simple to prepare and ideal to make in advance, this is a tasty recipe that is great for a main meal with a green salad, or for a picnic.
Goat Cheese Parsels: These pretty goat cheese filo parcels boast a smoky, garlicky courgette filling, topped with crunchy walnuts and tangy goat cheese, wrapped in a crisp filo pastry case.
Grilled Ground Elk Taco Pinwheels: You will love sinking your teeth into these Grilled Ground Elk Taco Pinwheels. Flaky, tender and slightly spicy taco flavored elk rolled up into beautiful pinwheels ready for dipping into salsa verde, sour cream or guacamole.
Spring Rolls: Homemade spring rolls! Make spring rolls at home from scratch with this easy recipe. So good, crispy and absolutely delicious!
Cheese Borek: Turkish cuisine is well known for its countless selection of savory pastries filled with various fillings such as meat, vegetables, or cheese. This crispy & delicious Cheese borek is one of the most popular among the others and is perfect for serving as an appetizer for Christmas or as a light meal for dinner.
Beyti Kebab: Turkey has many different varieties of juicy and scrumptious kebab dishes and Beyti Kebab is definitely one of the most popular ones. It is very easy to make at home as long as you have minced lamb, onions, yogurt, and filo pastries!
Lamb Sambousek: Filling enough for lunch or dinner, these filo pastry-wrapped Lamb Sambousek rolls make a delicious meal when served with a dip and a salad!
Sweet Phyllo Recipes
Phyllo dough may best be known for making Baklava but it can also be used for fruit pies, cheesecakes and chocolate.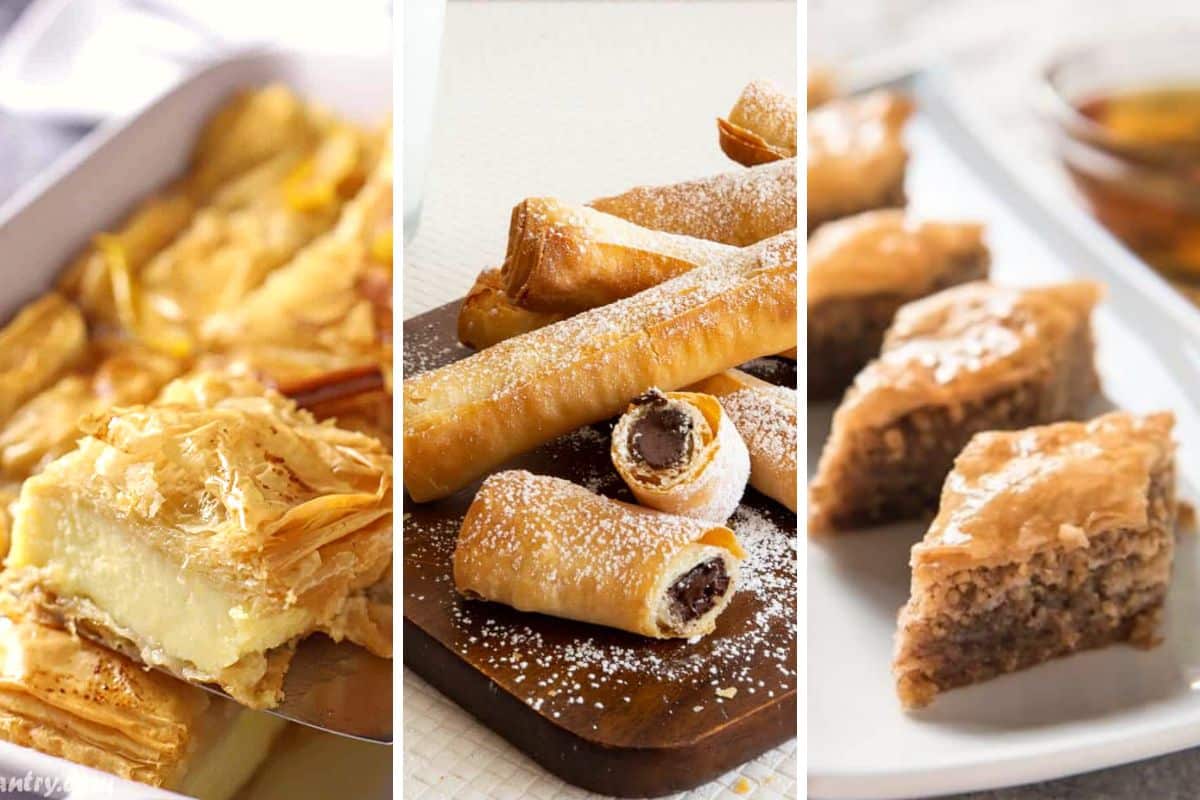 Baklava with Pistachio: The best traditional Baklava recipe using layers of phyllo dough with a walnut, pistachio and cinnamon mix with a honey flavored simple syrup.
Healthy Baklava: For the tastiest baklava, use honey. This recipe not only tastes incredible, but is also a healthier version of this iconic sweet.
Mini Pecan Pies in Phyllo Crust: Make mini pecan pies in muffin tins! Crunchy and flaky phyllo is filled with the best pie filling and no corn syrup. A bite size delight.
Greek Baklava: This delicious homemade baklava recipe has layers of flaky phyllo dough, melted butter, walnuts, and cinnamon. It's baked to rich, crispy perfection and drizzled with syrup for an irresistible dessert!
Phyllo Ashta Fingers: Buttery phyllo dough, wrapped around ashta cream filling and finished off with a fragrant simple syrup.
Phyllo Chocolate Cigars: Flaky, crispy phyllo chocolate cigars are filo pastry filled with chocolate, rolled into a cigar shape, then baked until golden. Simple, elegant treats that are done in less than 15 minutes.
Apple Pie in Phyllo: Easy apple pie made with phyllo dough crust. Buttery, flaky and the center is so gooey and delicious.
Phyllo Roses: One of the Bosnian favorite desserts, roses are tasty, easy to make, and beautiful. Resembling rose buds, this flaky dessert in lemon syrup is sure to delight everyone.
Apple Strudel: Apple strudels are flaky and crispy with rolls of soft phyllo dough stuffed with an apple, brown sugar, raisins, cinnamon, walnuts and oat filling.
Greek Baklava Recipe: My greek Baklava recipe combines spiced walnuts and pistachios layered between delicate crisp phyllo pastry sheets soaked with fragrant honey syrup.
Baklava Rolls: Baklava rolls are crunchy, buttery layers of phyllo dough stuffed with spiced nuts and drizzled with simple syrup.
Black Sesame Chocolate: Crispy ruffled milk pie, with a layer of sweet black sesame chocolate on the bottom. A beautiful looking dessert that's super easy to make and great to bring along to gatherings.
Galaktoboureko: A Greek dessert both creamy and rich. A sweet custard in a buttery crust with a honey and citrus infused syrup. This one is a buffet table show stopper!
Black Sesame Chocolate Ruffled Milk Pie: Crispy ruffled milk pie, with a layer of sweet black sesame chocolate on the bottom. A beautiful looking dessert that's super easy to make and great to bring along to gatherings!
Pumpkin Pie in Phyllo: A twist on a classic pumpkin pie using a buttery flaky phyllo curst. Filled with a creamy silky smooth pumpkin filling and then topped with a simple syrup.
Baklava Cheesecake: Baklava Cheesecake is the dreamiest dessert! It has a delicious combination of creamy, tangy cheesecake & nutty, delicate baklava. A decadent, showstopper of a treat, perfect for any special occasion!
Frangipane Tarts: No egg frangipane tarts are made with phyllo dough wrapped around with an almond and pumpkin sweet filling.
Vegan Baklava: This dairy-free, honey-free baklava is surprisingly easy to make. Filled with walnuts and pistachios, this is sure to be loved by all.
Phyllo Cups
If you are a beginner and do not want to work with sheets of phyllo, start by using ready made phyllo cups or shells. These delicious phyllo dough recipes make simple yet flavorful appetizers or delicious dessert bites.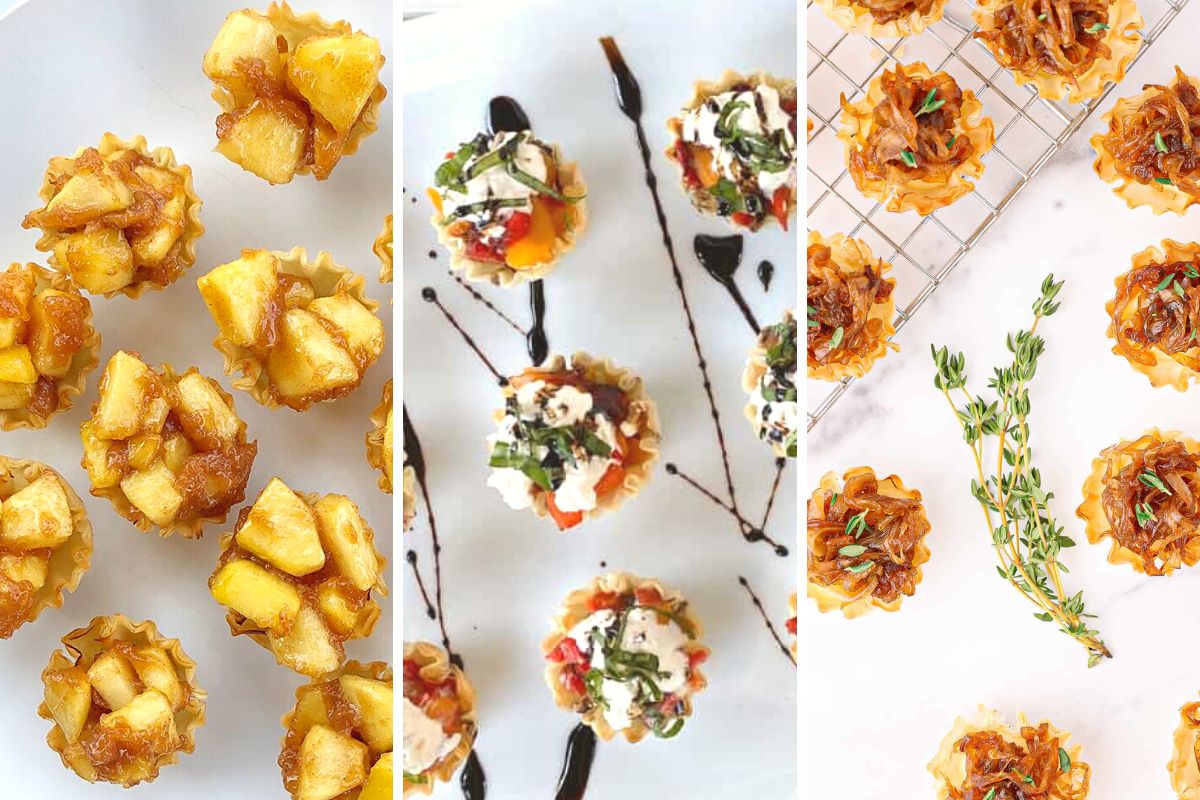 Phyllo cups with Roasted Peppers: A delicious Italian appetizer made with roasted red peppers. Barata cheese and balsamic vinegar. It's an easy delicious finger food perfect for any occasion.
Vegetarian Phyllo Cup Appetizer: Bite sized phyllo cups filled with a tangy feta and veggie dip that is popular in Middle Eastern cuisine.
Caramelized Onion Tartlets: These elegant and delicious bite-sized caramelized onion tartlets with brie are the perfect make-ahead party appetizer. Crispy phyllo cup shells are filled with savory and sweet caramelized onions and melty cheese creating an irresistible treat everyone will want more of.
Cranberry Brie Bites: With this air fryer cranberry brie bites recipe, you can make a delicious bunch of appetizers within 15 minutes. They will activate your taste buds to get ready for more delicious cuisines.
Mini Apple Pie Tarts: These mini apple pie tarts come together in under 30 minutes, with 7 common ingredients! They're vegan and dairy-free.
Blueberry Brie Bites: This 5 ingredient appetizer packs a ton of flavor and texture into one bite and it's so easy to make! Crispy phyllo shells are filled with creamy, melted Brie cheese and sweet, succulent blueberries spiked with a hint of thyme and maple syrup.
💡 Expert Tips
Phyllo dough may seem intimidating to work with as the sheets are paper thin and delicate but with these tips, you will be a pro in no time!
As phyllo dough can dry out quickly, always keep the dough you are not currently working with covered. Options are wax paper or plastic wrap, but I prefer to use a damp paper towel or tea towel.
Be sure the entire roll of phyllo dough is thawed out before you begin working with it to avoid tears.
The best way to thaw out phyllo dough is to thaw the box in the refrigerator overnight. Before using, put on your counter top for 30 minutes up to a couple of hours to bring it to room temperature before using in your phyllo dough recipe.
Always be sure you are using phyllo dough before the expired date. Phyllo dough can easily tear and be difficult to work with if it's old.
Work sheet by sheet spreading ghee or melted butter on each layer to keep each layer of phyllo moist and it adds tremendous flavor.
👩‍🍳 Phyllo dough FAQ
How many layers of phyllo dough are in a package?
Usually store-bought phyllo dough is sold in packages of two rolls, each with about 20 to 24 sheets per roll.
What is the best way to thaw out phyllo dough?
Phyllo dough is best to thaw out in your refrigerator overnight. Before you are going to use it, put on your counter top for up to a couple of hours to bring it to room temperature.
Where can I buy phyllo dough?
Phyllo dough can usually be found in your local grocery store or specialty store in the freezer section.
How do I know if my phyllo dough has expired?
When you unroll the thawed dough, if there are discolorations or tears in the dough, it may be past the date and you may want to discard and purchase new.
That wraps up our list of phyllo dough recipes. Which one do you think you'll try first? Don't forget to pin this post to come back to your favorite recipes later.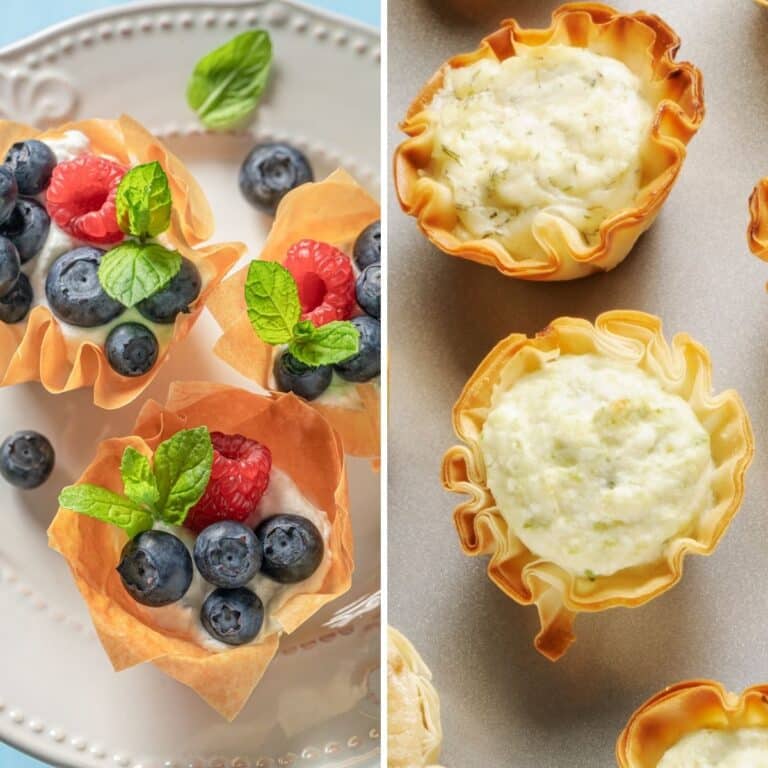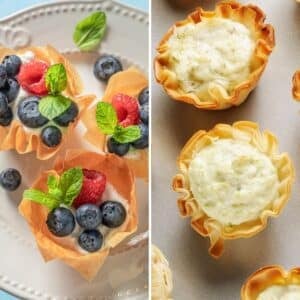 41 Phyllo Dough Recipes (Sweet and Savory)
You can make lots of tasty sweet and savory recipes using phyllo dough. Phyllo dough is very versatile and loved by both kids and adults. Here is an easy recipe for phyllo cups that you can fill with whatever you like.
Print
Pin
Rate
Ingredients
6

Sheets

Phyllo dough

thawed

6

Tablespoons

Unsalted butter
Instructions
Preheat the oven to 350°F.

On a large cutting board, place first sheet of phyllo and brush generously with melted butter. Pay close attention to the edges.

Arrange the second sheet on top of the first one and brush with butter. Repeat this step until you are done with the 6 sheets.

With a sharp knife, cut the phyllo into 12 pieces.

Snug tightly into a lightly greased 12 cupcake tin, pressing gently into the bottom and up the sides of each one.

Bake for 13-15 minutes or until they are golden brown.

Remove from oven and remove cups immediately.
Notes
Storage: these cups will keep in an airtight container in the fridge for a week or freeze for longer.
Nutrition
Calories:
79
kcal
|
Carbohydrates:
5
g
|
Protein:
1
g
|
Fat:
6
g
|
Saturated Fat:
4
g
|
Polyunsaturated Fat:
0.3
g
|
Monounsaturated Fat:
2
g
|
Trans Fat:
0.2
g
|
Cholesterol:
15
mg
|
Sodium:
47
mg
|
Potassium:
9
mg
|
Fiber:
0.2
g
|
Sugar:
0.02
g
|
Vitamin A:
175
IU
|
Calcium:
3
mg
|
Iron:
0.3
mg
Sign up and learn more about Mediterranean flavors