Sweet and soft buttery phyllo dough, wrapped around ashta creamy filling, a delightful Lebanese dessert.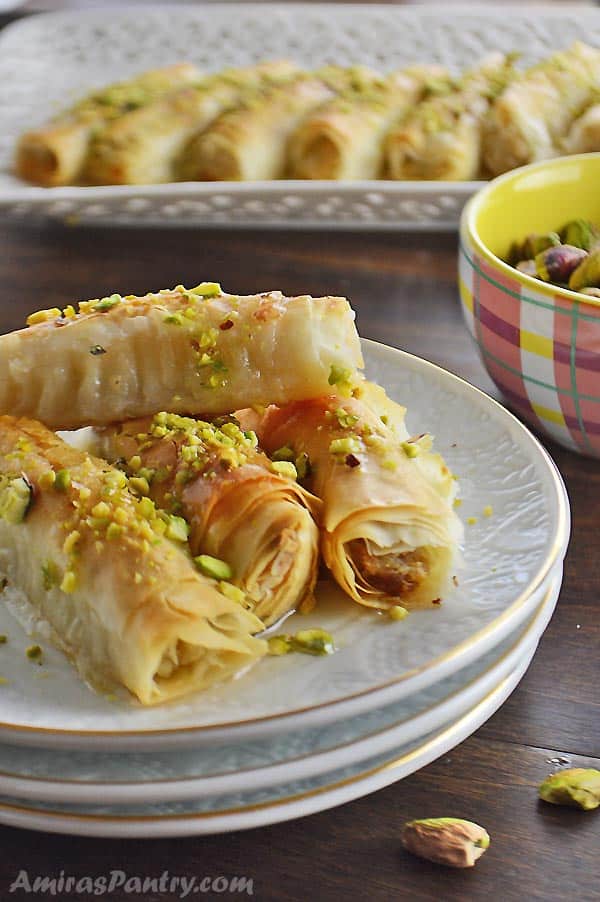 Lebanese Ashta, is a creamy filling for many Lebanese desserts from knefah, Qatayef to these little phyllo dough fingers. It is thick, creamy and not sweetened as it is usually then stuffed inside one of those desserts and dunked or drizzled with simple syrup, so I assure you we have enough sugar in there.
Ashta is made in so many ways, almost every Lebanese lady I've met has her own way, but I've got this recipe from a master in Lebanese desserts and it works fine with me up until now. The trick as my friend said, is to put pieces of toast- without the crust- or the inside of buns in the mixture to make it nice and thick.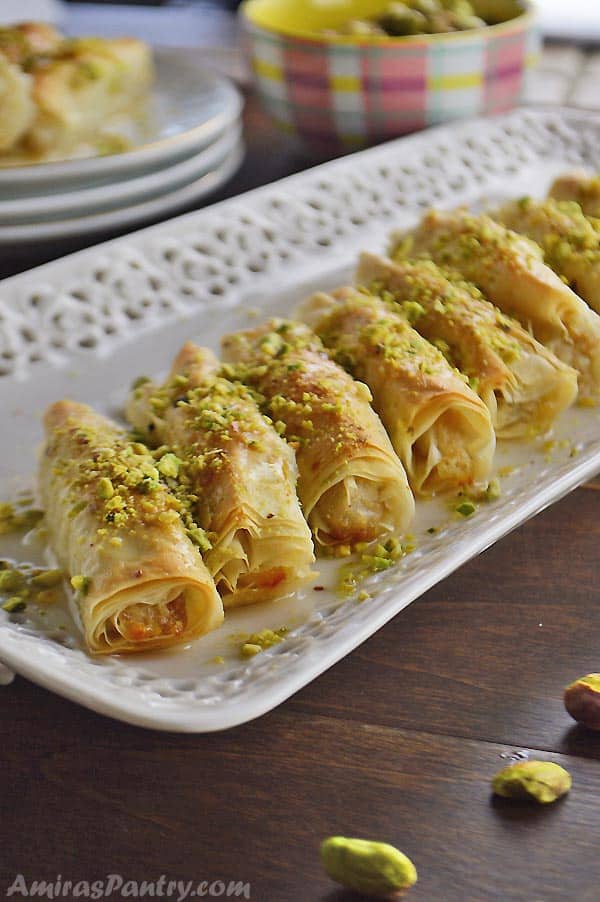 My son, the middle one, got some issues regarding his teeth, and when his dentist saw him more than ea year ago she put a metal crown over a baby tooth, that was suffering greatly. He was so thrilled to get this shiny little thing in his mouth!!!. He said I feel as if I am a wealthy rich guy with this shiny tooth, next morning he went to school so excited to show it to all his friends, he felt so cool and proud😎. It is amazing how kids think of some stuff, if I had this tooth in my mouth I would have tried to take it out myself.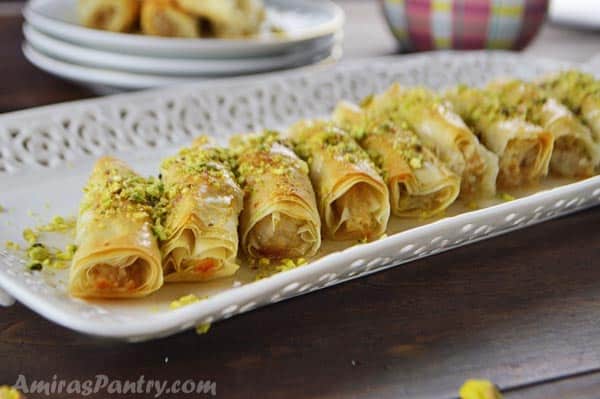 10 days ago he felt that it is loose, and I thought the crown itself is loose. We went to the dentist and before she could touch it, the tooth flew right out of his little mouth with the crown on top of it. It was a moment of grief for him, he is no longer the rich wealthy kid and it took part of his character with it. He felt he is no longer cool😕. We spent the 45 minutes back home discussing the matter and reinforcing self esteem, and how we should be pretty from inside and not just outside… etc.
When we were back from the dentist, I wanted to treat him, and I knew he could not chew on something hard so I've made this goulash or phyllo dough, stuffed with the ashta and did not make it crispy or crunchy all over just a little from the upper side, and he loooooved it and almost ate half of it alone, then totally and magically stopped whining over the shiny metal tooth and I hope this is for good.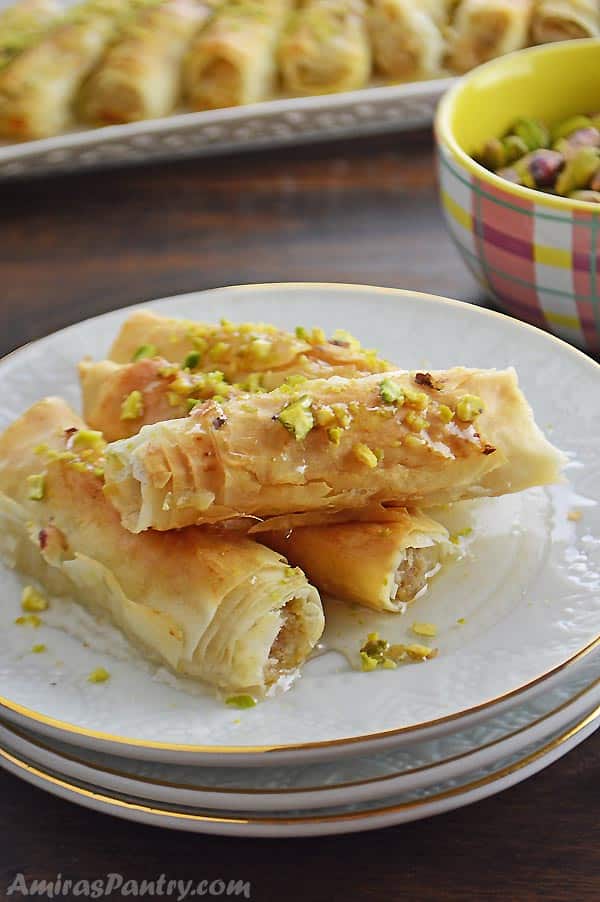 If you would prefer these fingers to be crunchy all over, then space them in the oven dish and turn them half way through the baking time to make sure it is crunchy and golden brown all over. These fingers are so easy to make and even easier to eat, drizzle with simple syrup(traditional) or honey ( healthier), it is your call. I've garnished it with some ground pistachios but this is totally optional.

I hope you'll like this recipe and please if you make this recipe, snap a pic and hashtag it #amiraspantry — I love to see your creations on Instagram, Facebook, Twitter! Don't want to miss a recipe?
Sign up for the FREE Amira's Pantry newsletter delivered to your inbox with lots of tips and surprises! And stay in touch with me on Facebook, Twitter, Pinterest, and Instagram for all the latest updates.
Custard filled phyllo fingers
Phyllo Ashta Fingers
A Lebanese dessert that is creamy and delicious.
Ingredients
1/2

a packet of phyllo dough.

1/4

cup

butter for brushing.

Simple syrup for drizzling.
For the Ashta
1

Tablespoon

semolina.

1.5

Tablespoon

cornstarch.

1

cup

milk.

a dash of vanilla powder.

2

Tablespoon

Mascarpone cheese.

1/2

cup

of diced toast or any white buns- without the crust.
Optional
Ground nuts for garnishing.
Instructions
In a bowl combine semolina, cornstarch and 1/4 cup of the milk and stir very well.

On medium heat, combine the rest of the milk and the cornstarch mixture, keep stirring until thick and bubbly.

Add the Mascarpone cheese and stir well until combined, then add the bread, stirring well and let it cool down.

Cut a third to half of the phyllo dough roll, depending on the desired size of the rolls you want.

Return the rest of the roll to the package and refrigerate. Unroll the part that you've cut, take a sheet and brush with butter.

Take about 2 teaspoons of the mixture, put it on one end of the brushed phyllo sheet and roll.

Repeat until you are done with the whole thing.

Bake in a 350F preheated oven until top is golden brown, will take approximately 20 minutes.

When done, drizzle with cooled simple syrup while hot.

Sprinkle top with ground nuts.

Enjoy!!
Notes
According to an Iraqi reader, this recipe is also known as Zanood el sett.
Sign up and learn more about Mediterranean flavors