Gourmet meatloaf recipe should be moist, simple and topped with a delicious glaze crown. This classic meatloaf recipe comes to you with lots of tips and trick to make it extra tasty, yet easy to make.
Total time
1
hour
25
minutes
How to make a hearty super moist meatloaf recipe with a delicious glaze crown. The best easy meatloaf recipe comes out juicy every time. A classic meatloaf recipe with breadcrumbs comes to you with lots of tips and tricks to make it extra tasty, yet easy to make.
Next time try our Kafta recipe, so easy and delicious.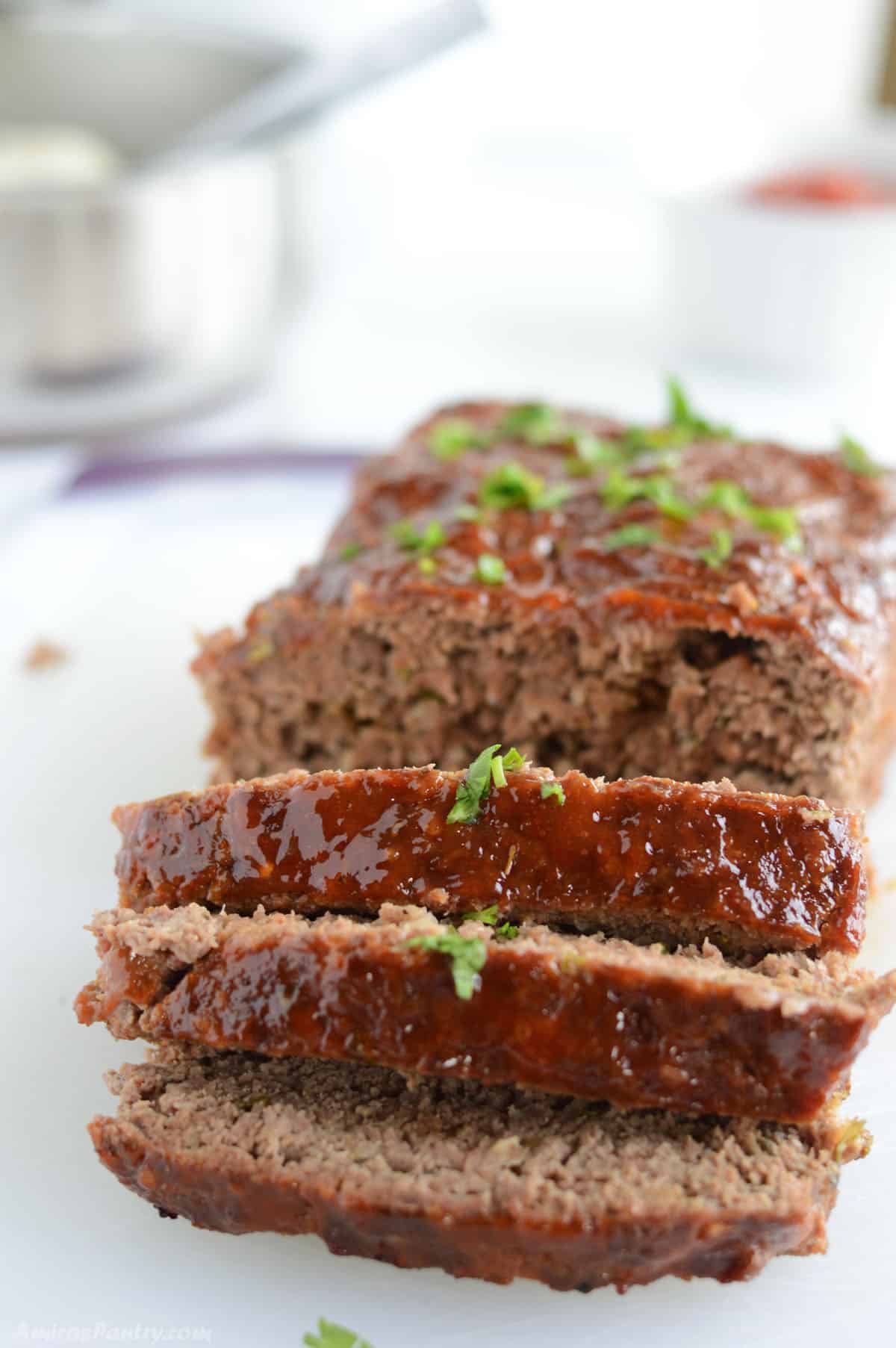 One of the most kid-friendly and family favorite ground beef recipes is meatloaf. You'll enjoy every slice of it and will take any leftovers for lunch the next day.
Some of the tips are also mentioned in my juicy kofta (meatballs).
Jump to:
❓Why This Recipe Works
A classic kid friendly and adults favorite recipe.
So easy to make and freezer friendly which makes it great for meal prep.
Has a sweet and tangy glaze that makes it extra special.
Meatloaves are one of my go to dinner recipes for busy weeknights. It is easy, cheap and kid friendly. Here is our family's recipe that tastes very juicy, tender and delicious. A foolproof recipe with ingredients simple to find and probably there in your pantry.
We have a weakness for incredible moist ground beef, whatever the shape it takes. My kids love ground beef. I find myself many times stuck for what to make for dinner and it always comes to the rescue.
They love meatballs very much and when these particular meatloaf cupcakes show up on the dinner table, it is a feast.
📝 Ingredients
The following are affiliate links. We are a participant in the Amazon Services LLC Associates Program, an affiliate advertising program designed to provide a means for us to earn fees by linking to Amazon.com and affiliated sites.
Onion.
Eggs.
Garlic.
Salt and black pepper.
Parsley.
Beef Bouillon.
Ground Beef.
🥄 Instructions
Note: This is an overview of the instructions. The full printable recipe is down below.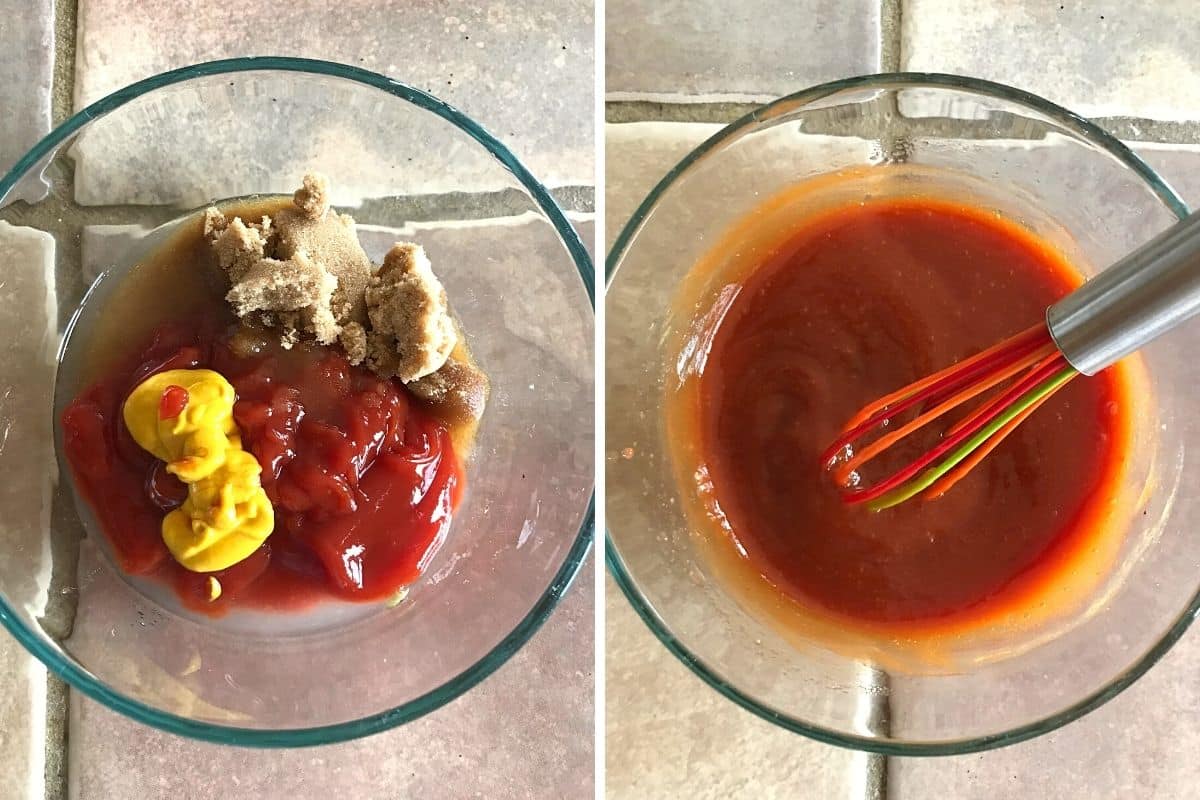 First step we will make the glaze: add all the glaze ingredients together and whisk well.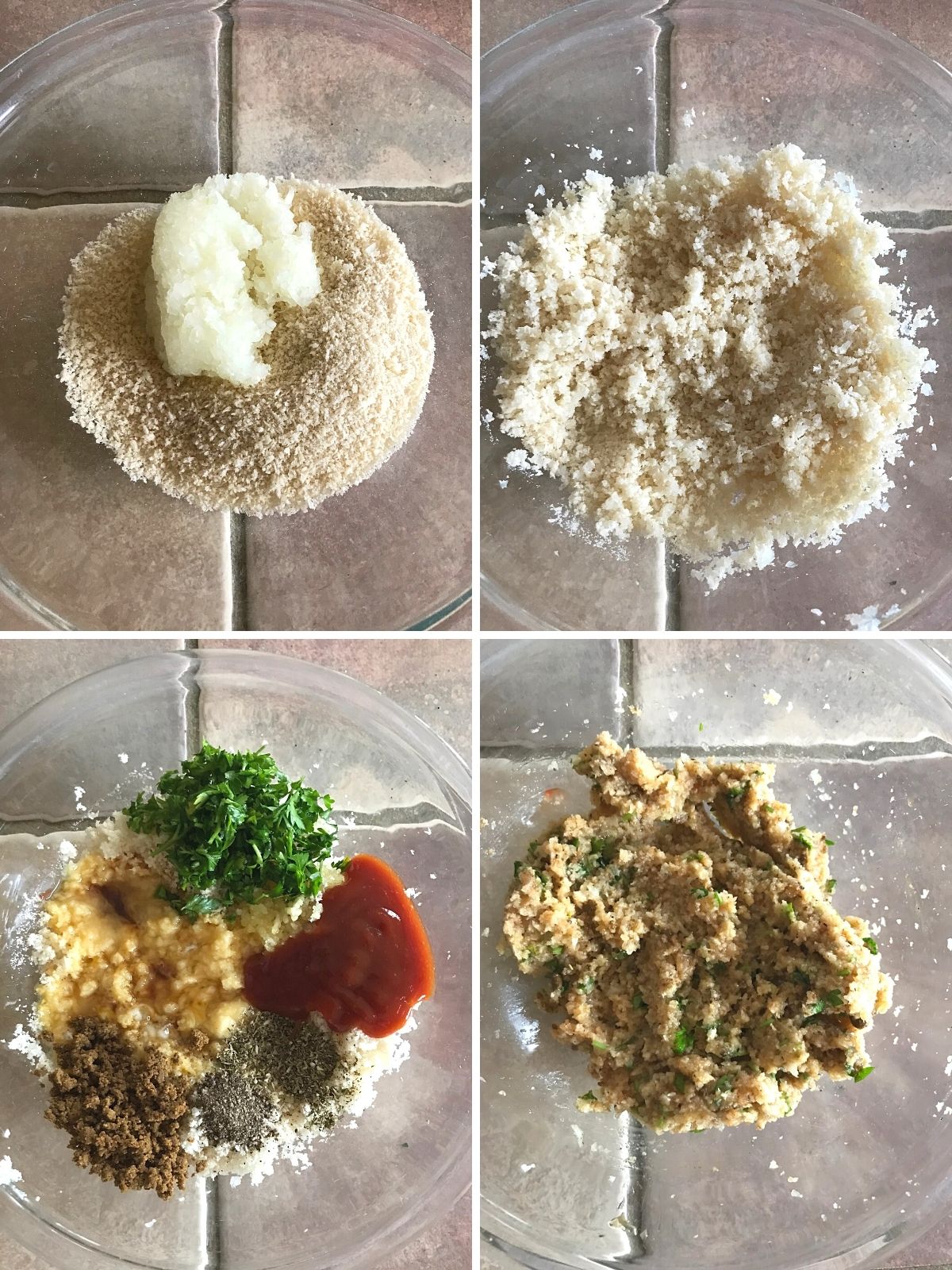 Now we will make the panade which keeps the meatloaf tender and moist. In a large bowl add finely chopped onions with bread crumbs.
Mix them very well to moisten all bread crumbs.
Add the parsley, eggs, spices and about a third cup of the glaze.
Mix until everything is well distributed.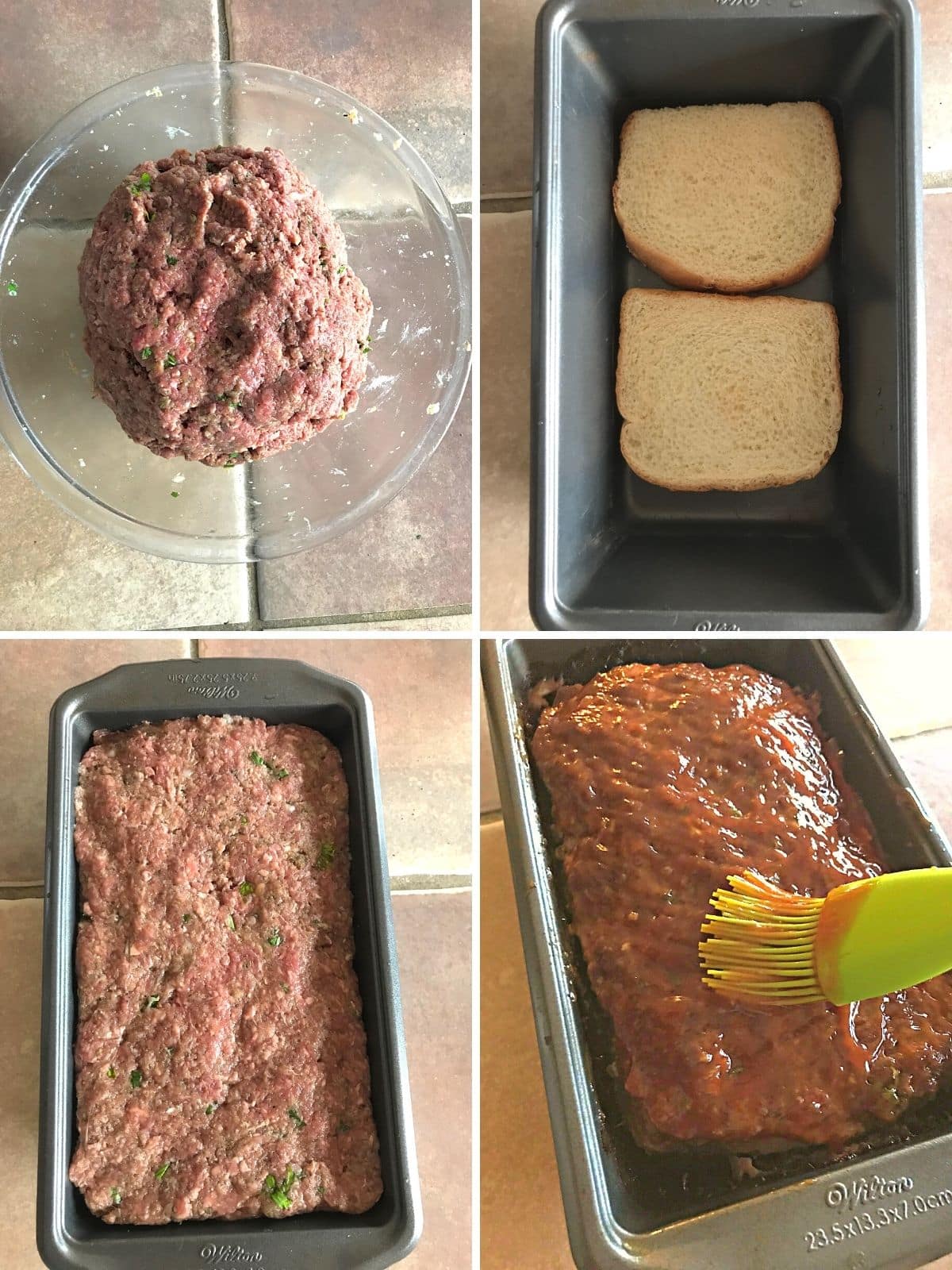 Add the ground beef and mix, do not overmix the meat just until everything is well incorporated.
Place a couple of bread slices at the bottom of your pan as shown above.
Add the meatloaf mixture and bake on 350F for an hour.
Take it out and pour or brush top of the meatloaf with the glaze. Bake for another 10 minutes to caramelize the top.
💡 Tips
Here are some of the tricks I've learned from my mom and over the years of home cooking:
Moisten the breadcrumbs/bread with onion juice. This makes the meatloaf more tasty than using milk or just plain water.
Put a couple of bread slices at the bottom of your pan. This helps in catching the dripping and makes it easier for cleaning as well. It also helps creating crispy edges and not soggy ones.
Use fatty ground beef , lean ground beef makes the meatloaf dry. I usually use 83 or 85%. If you have lean ground beef then try adding some fat, one of the common things to do is adding bacon.
Add some of the glaze to the mixture to give moisture.
Do not overmix as this turns the meatloaf dry. The easiest way to avoid that is to mix all the ingredients together first then use a light touch to combine meat.
Our taste buds are different, so it is better to check the seasoning. My mom and all the other moms I've known in Egypt, just dip their finger in the meat mixture and taste it. I know this sounds gross, and it is unhealthy as well. So instead here is a perfect thing to do, take a small portion like a teaspoon or so and cook it quickly on a pan on your stove top. Taste it and if it feels like it needs more seasoning then add more.
Let it rest for a good 10 minutes before slicing. When I have time, I like making mine in the morning, chilling it and then reheating it on stove top or the grill when we are ready to consume.
🍽️ Serve With
There are so many things to serve with meatloaf. Mashed potato, dinner rolls, roasted vegetables, garlic bread, batata harra and brussels sprouts are all among many dishes that goes well with meatloaves.
🧺 Storage
Store any leftover in an airtight container in your fridge or wrap with plastic wrap then aluminum foil and freeze.Properly stored leftovers can stay in the fridge for 3-4 days.
⌛ Make Ahead
You can mix the meatloaf, shape it and wrap it tightly in plastic wrap then place it in an airtight container. When ready to bake, place in the baking pan and let it thaw in the refrigerator overnight. Bake as directed.
💬 Recipe FAQs
Why would you put milk in meatloaf?
Milk is usually used to moisten breadcrumbs or bread that is used in the meatloaf. Liquids and starch ( bread/ bread crumbs or Panko) makes what is called a "panade." When you mix it into the ground beef, the panade coats some of the protein and sets it into a gel when cooked. So you get a better meatloaf.
Usually I do not use milk, it is either plain water or using onion juice to moisten the bread.
How long do you cook meatloaf in the oven?
It really depends on the size and oven temperature, but usually around an hour. I've baked mine for almost an hour at 350F then for another 10 minutes to caramelize the glaze.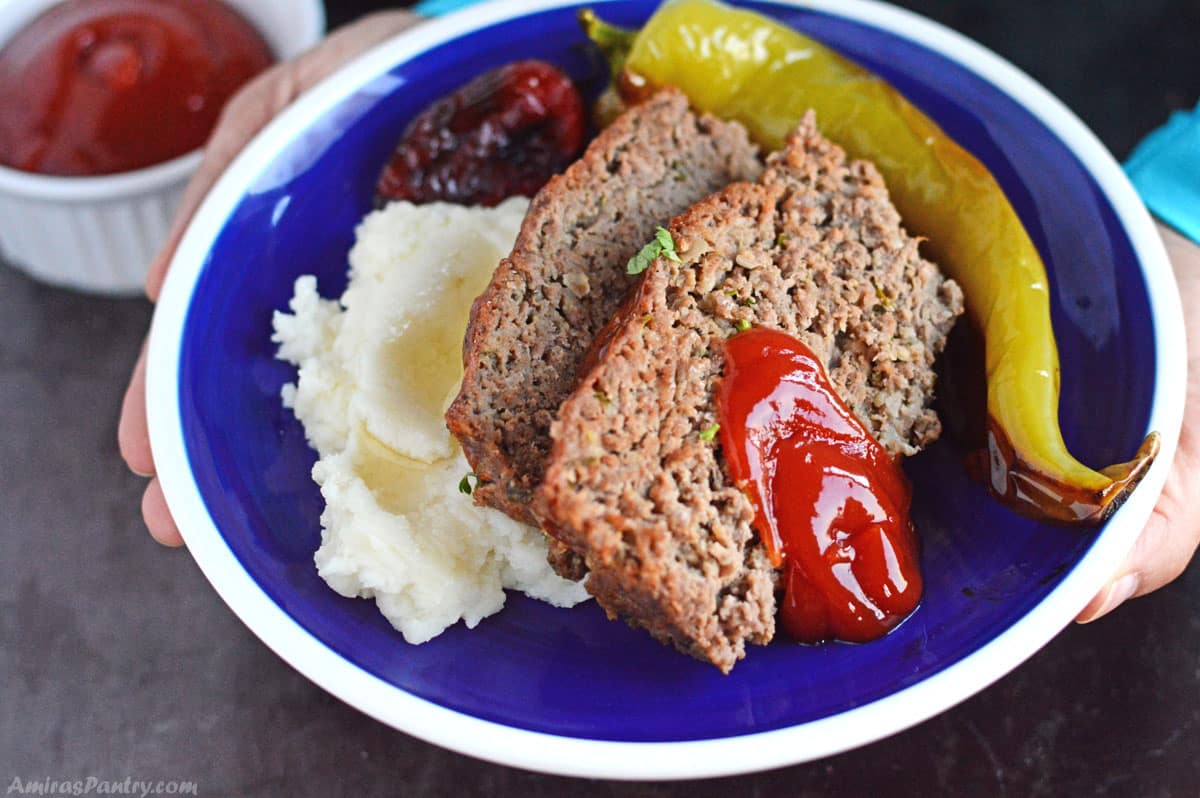 Let it set and cool down a bit before slicing and serving.This easy, moist meatloaf is such a treat! It also refrigerates and reheats really well so leftovers are nice!
📣 Related Recipes
This meatloaf with oatmeal is a great option for a super juicy, delicious and easy family dinner. With its delicious glaze, this meatloaf will make kids run to the dinner table!
These meatloaf cupcakes are very easy and a great kid-friendly dinner idea. They freeze very well too!
Taco Tater Tot Casserole is the perfect weeknight meal when you're looking for something easy, delicious, and family-friendly.

I hope you'll like this recipe and please if you make this recipe, snap a pic and hashtag it #amiraspantry — I love to see your creations on Instagram, Facebook, Twitter!
Don't want to miss a recipe? Sign up for the FREE Amira's Pantry newsletter delivered to your inbox with lots of tips and surprises! And stay in touch with me on Facebook, Twitter, Pinterest, and Instagram for all the latest updates.
If you like this recipe do not forget to give it a ⭐⭐⭐⭐⭐ star rating and attach a photo of your finished dish. It is always a pleasure of mine to see your photos and check your own take of the recipe. Thank you.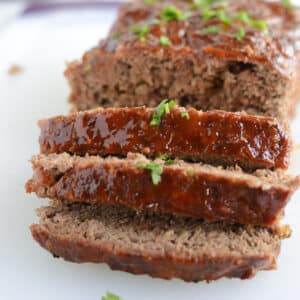 Meatloaf recipe with bread crumbs
Gourmet meatloaf recipe should be moist, simple and topped with a delicious glaze crown. This classic meatloaf recipe comes to you with lots of tips and trick to make it extra tasty, yet easy to make.
Print
Pin
Rate
Ingredients
1

medium onion

finely chopped about ½ cup.

1

cup

panko breadcrumbs.

3

garlic cloves

crushed

2

eggs.

1

teaspoon

Italian seasonings.

½

teaspoon

black pepper.

1

Tablespoon

Worcestershire sauce.

¼

cup

chopped parsley.

2

cubes beef bouillon

crumbled.

2

pounds

ground beef.
For the glaze:
½

cup

ketchup

¼

cup

brown sugar

1

Tablespoon

lemon juice.

2

teaspoon

yellow mustard.
Instructions
Preheat oven to 350 degrees F.

In a bowl, combine the glaze ingredients until smooth, set aside.

In a large bowl, combine panko bread, diced onion and mix well to moisten all the panko.

Add the rest of the meatloaf ingredients and about ⅓ of the glaze mix.

Mix everything well together and form into a loaf.

Add two slices of bread to the bottom of a 9x5 loaf pan.

Place the meatloaf on top of the bread and bake for 1 hour or until internal temperature reached a minimum of 160F when measured by a meat thermometer.

Drain any excess fat, pour the rest of the glaze on top of the loaf and bake for another 10 minutes.

Slice and serve with extra sauce.
Notes
You can use regular plain bread crumbs as well.
Make sure you finely chop the onion so they have enough juice to moisten the bread crumbs.
I highly recommend making this meatloaf sauce but if you feel lazy you can use barbecue sauce.
If you like meatloaf with crispy edges, form meat mixture into loaf shape and bake in a rimmed baking sheet instead.
This meatloaf recipe goes well with green beans on the side.
Storage: leftover meatloaf can be refrigerated for up to 4-5 days
Nutrition
Calories:
304
kcal
|
Carbohydrates:
22.4
g
|
Protein:
25.9
g
|
Fat:
13.7
g
|
Saturated Fat:
4.9
g
|
Polyunsaturated Fat:
0.3
g
|
Monounsaturated Fat:
0.5
g
|
Cholesterol:
116.5
mg
|
Sodium:
624.3
mg
|
Potassium:
73.6
mg
|
Fiber:
0.6
g
|
Sugar:
8
g
|
Vitamin A:
335
IU
|
Vitamin C:
6.5
mg
|
Calcium:
19
mg
|
Iron:
3.3
mg
Sign up and learn more about Mediterranean flavors
👩‍🏫 My Experience
My oldest came home more than 8 years ago demanding a meatloaf like the one he had at school. To tell you the truth, I've never had glazed meatloaf in Egypt, we only eat meatloaf plain with no topping... aren't we missing a lot?!!
I hesitated, ahem for 8 years, to make a glazed meatloaf and was just content on serving my family the traditional plain boring one. Until recently, I decided to venture more and add the glaze... WOW guys it has made a huge different and of course I became the best mom ever and this loaf became the best ever meatloaf... Proud mama here 😎.
My little one gobbled two slices as a starter course hehehe. Although I do not mind eating sweet and salty things, I suspected that I will like the glaze as it has brown sugar which in my food culture does not resonate with beef. But I was wrong, my whole family had an amazing dinner that night and now way I am going back to the no glazed version of this.

This post has been updated from the original August 2017 . Last updated March 2022.