Sumac is one of the underestimated spices in the world. I know people who does not know what to do with it, for me I hardly knew it. Sumac has many health benefits. Keeping that in mind and hoping for a healthier life for all I've decided to include more and more of sumac in my cooking. Here are two of the easiest appetizers that I've learned from a Palestinian friend.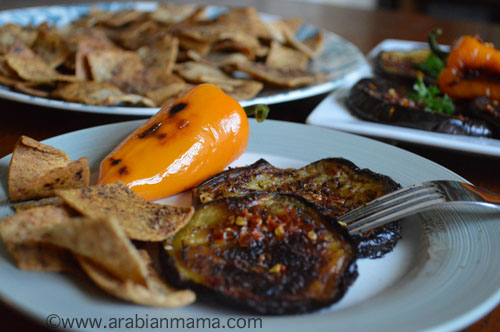 Fried eggplants with sumac:
In this recipe I've tried for the first time in my life not to peel the eggplants also I've tried not to deep fry it and followed Charles advice - fellow blogger from Five Euro food - and was I surprise!! Oh boy there was not bitterness and it turned out great. I always believed that it should be peeled and deep fried, thanks Charles for convincing me ;->
You will need :
1 or more eggplant(s) washed and sliced.

a dash of salt.

Chili peppers.

Olive oil for brushing the veggies.

1 tsp of crushed red pepper - optional.

2 tbs of sumac.

Juice from half a lemon.
Here is what you will do: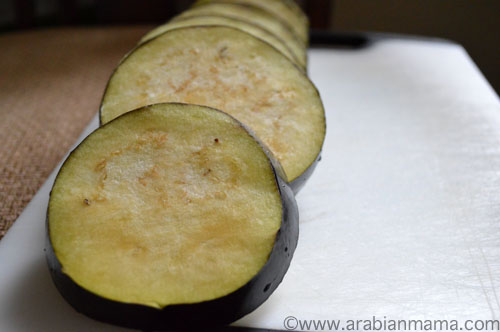 Brush the eggplant slices and heat your skillet - it is way better than placing them in the oven trust me- then place the slices on the heated skillet a minute or so for each side until golden brown. Do the same for the chilies.
In a bowl add the lemon, salt, chili powder and you may mash some for the chillies as well and add them , mix well and spread over the veggies. let it soak for an hour before serving.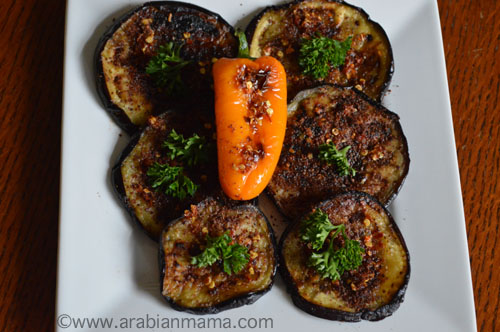 You can eat it as is or wrap them in flat bread they are so so delicious.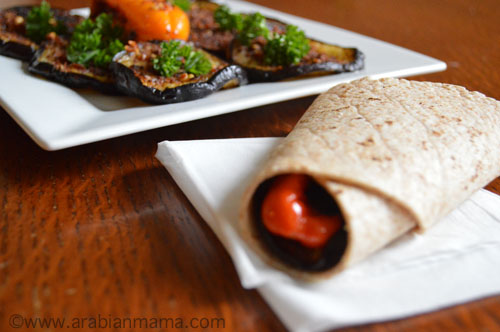 Enjoy.
Now for the second one: Roasted bread with olive oil and sumac
You will need:
2-3 flat bread cut in squares - I used whole wheat tortillas.

2 Tbs of EVOO.

An even mixture of  dried thyme and sumac - or whatever appeals to you, you can increase sumac if you like it more.
Mix the bread pieces with the EVOO trying to cover all the pieces evenly, put in a single layer on a baking sheet and bake in a 400F pre heated oven until the pieces are golden and crispy.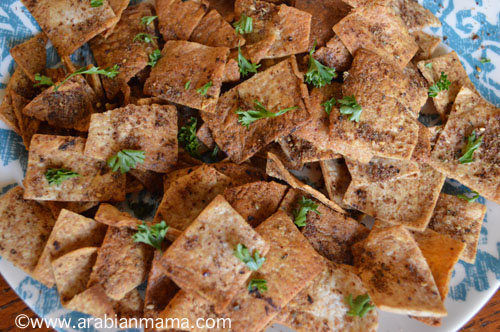 Sprinkle with the spice mixture as soon as they get out of the oven and mix well.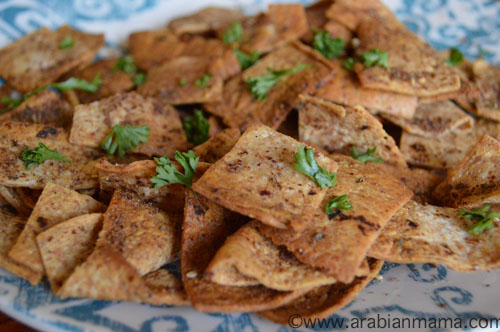 Let it cool down garnish with some parsley or cilantro would be yummy.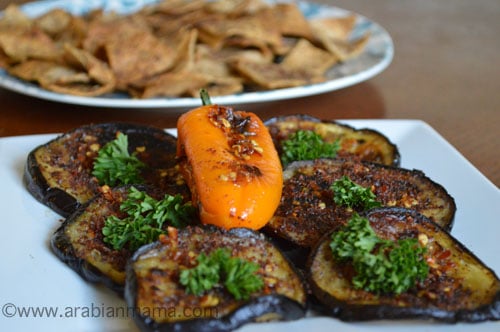 This duet is so awesome specially in gatherings, too easy to make too yummy to resist.