A crunchy tasty side dish for your parties and gatherings with countless variations.
A staple in all of our gatherings, an easy side dish that we all enjoy even the little ones. A classic recipe the never gets old or boring thanks to tons and tons of variations.
Egyptian goulash is sure different than the goulash you know, super flaky, buttery sheets of crunchy phyllo sandwiching a layer of flavored ground beef. This is phyllo dough recipes obsession at its best.
First Published: December 2015 Last Updated: December 2019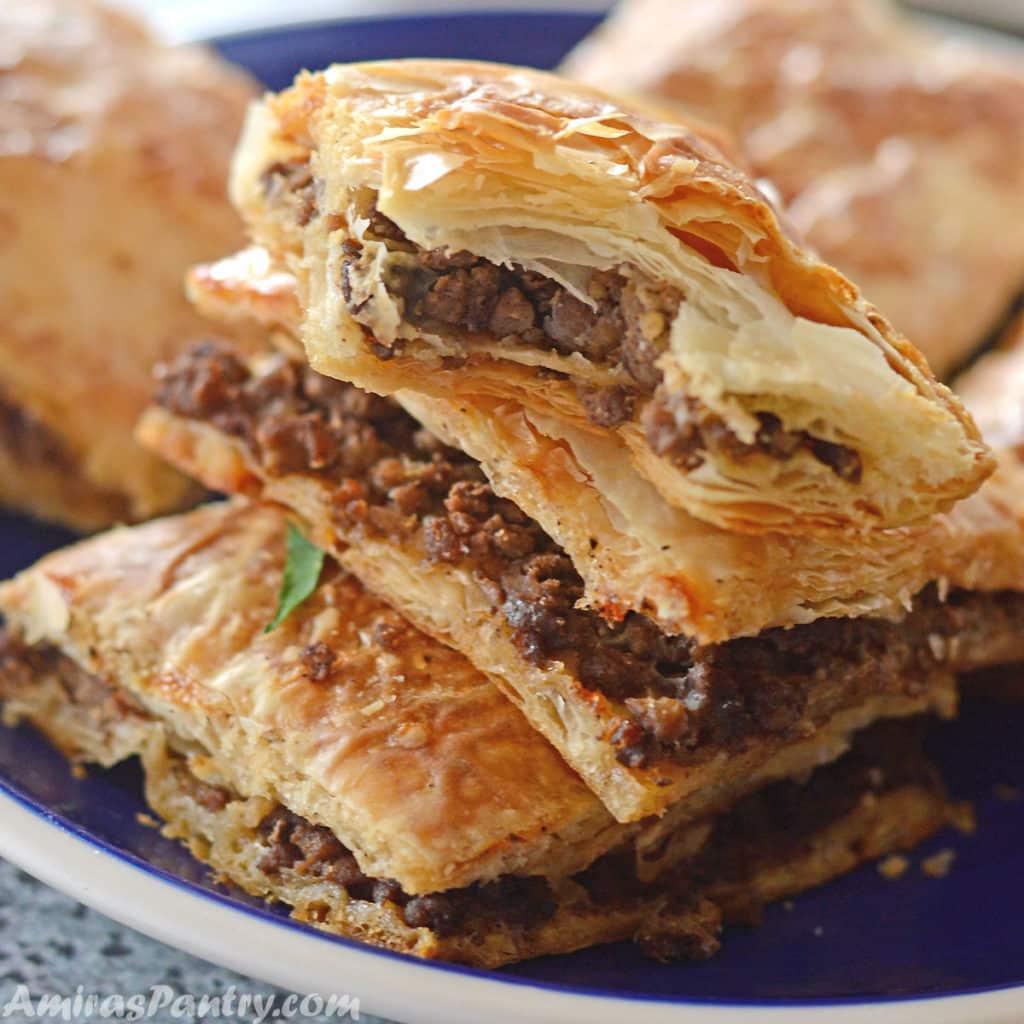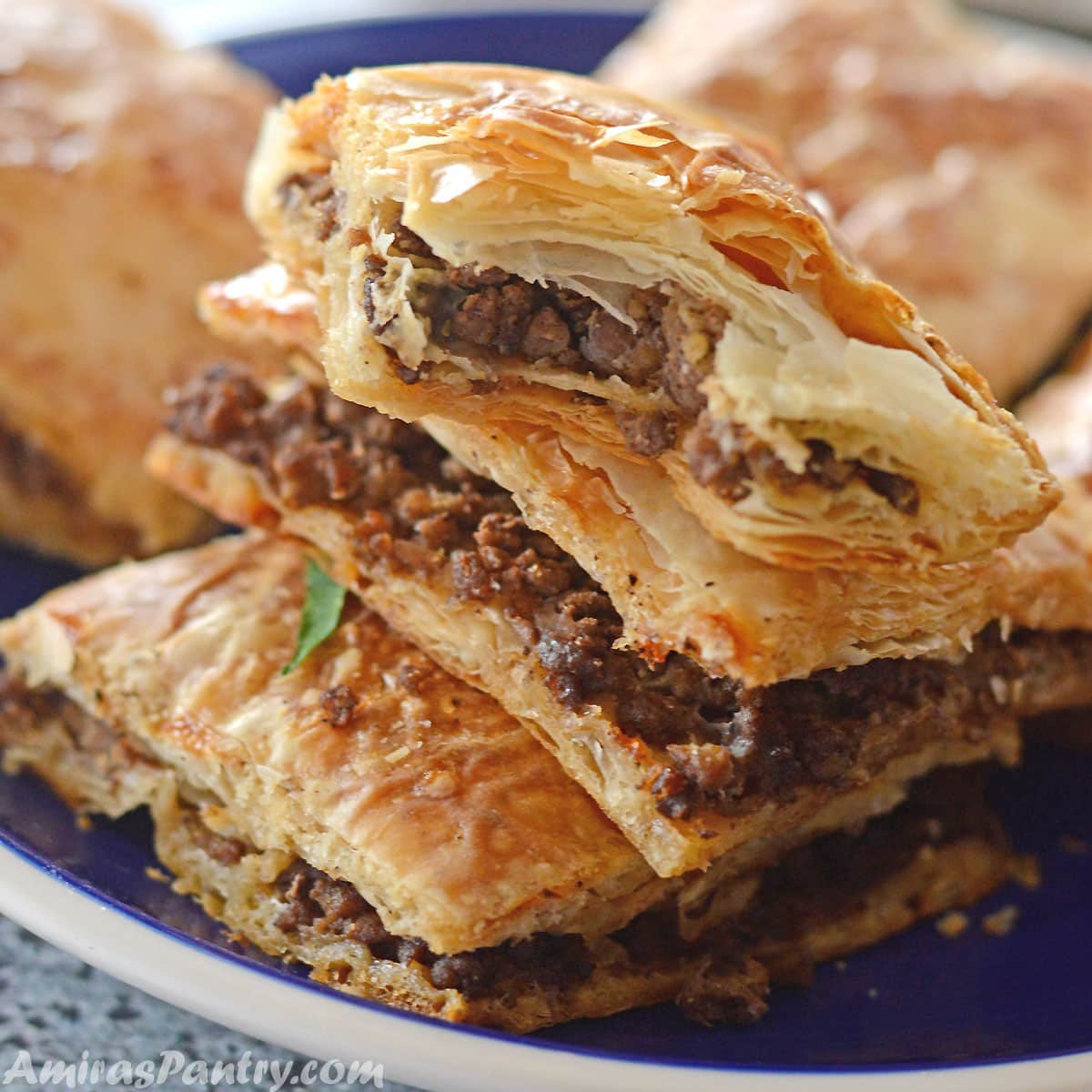 phyllo dough recipes
This is the most famous phyllo dough recipe you can ever find in the Middle East, it is always there as a side dish in almost each and every occasion.
You know well by now that I grew up in the phyllo zone of this world and this is why I so much love creating recipes with phyllo dough. Phyllo appetizers and desserts are on my top list of addicting food.
Working with phyllo seems to be second to nature for me but I know some of you finding it daunting and I am telling you don't. It is really easy and I am going to share some tips and tricks with you hoping that I will convince you.
My kids love it so much, I would be very satisfied if they took a couple of those squares along with some green salad and call it a complete meal.
Sometimes I add veggies along with the ground beef, celery, peas, small diced beans, spinach ...etc, just do not spread the news and they will eat these delicious squares and ask for more.
Egyptian Goulash: Step by step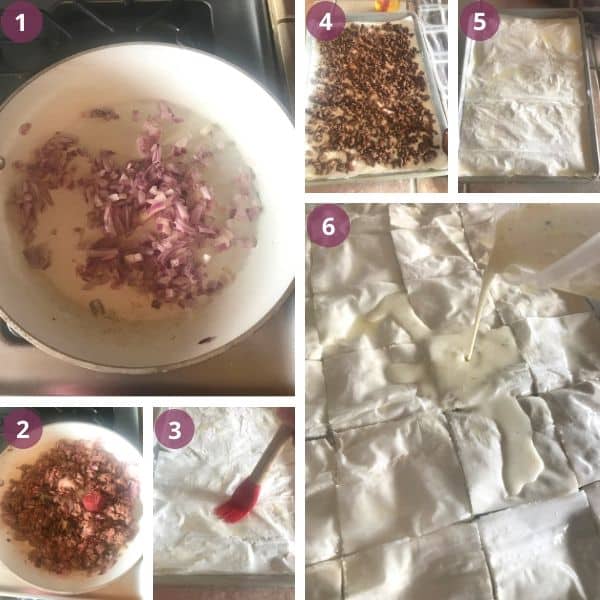 In a non stick pan, saute onions until translucent and fragrant.
Add ground meat, breaking it apart. Add all the spices and mix all well together. Cook until done and set aisde.
In an oven dish or a baking sheet lay half of the phyllo sheets brushing every 2 -3 sheets with an oil/ghee mixture.
Spread the beef mixture evenly to cover the sheets edge to edge.
Now lay the remaining half of the sheets brushing in between sheets as we have done for the first part and brush the outer layer as well.
Cut the sheets into squares, depending on the size of the phyllo you have. In a cup or a measuring up break an egg , add one cup of milk then whisk together. Season with salt and pepper then pour the milk mixture over the phyllo. Tilt the pan in all directions to spread evenly.
Bake in the oven until golden brown. Let it cool down a bit then serve.
Tips and tricks for amazing phyllo dough recipe everytime
Like you, I always forget to take my phyllo out of the freezer the night before. So I simply take it out and thaw on the kitchen counter. Frankly, this is how I saw my mom thaw her phyllo for my entire 40-something years. So do not get afraid of counter thawing.
Cover with a damp clean kitchen towel?. Yes and No. First do not soak the towel, just lightly dampen it. Second, if you place the towel right above your phyllo, the sheets will get wet and stick to each other. So I usually cover with plastic then the damp towel.
Your phyllo sheets tear? So what?! really guys this does not matter at all and no one will even notice it. What I would like to take care of is only the last sheet, the top one. This is the one I would like for it to be one piece and not torn.. that's it.
If the edges got dry, do not fret. Take it from me, it does not matter at all unless you are making phyllo rolls or cigars. Just take the sheets place them on your pan and brush with the fat mixture you have. That's why I usually like to brush the edges nicely and generously more than I do in the center.
There is not a single month that passes by with me making this recipe or that with phyllo. So I came up with this strategy for emergencies, I keep one phyllo frozen and another one in the fridge. Unopened thawed phyllo can stay in the fridge for up to a month. Phyllo dough recipes are always great for emergency dinners at my home.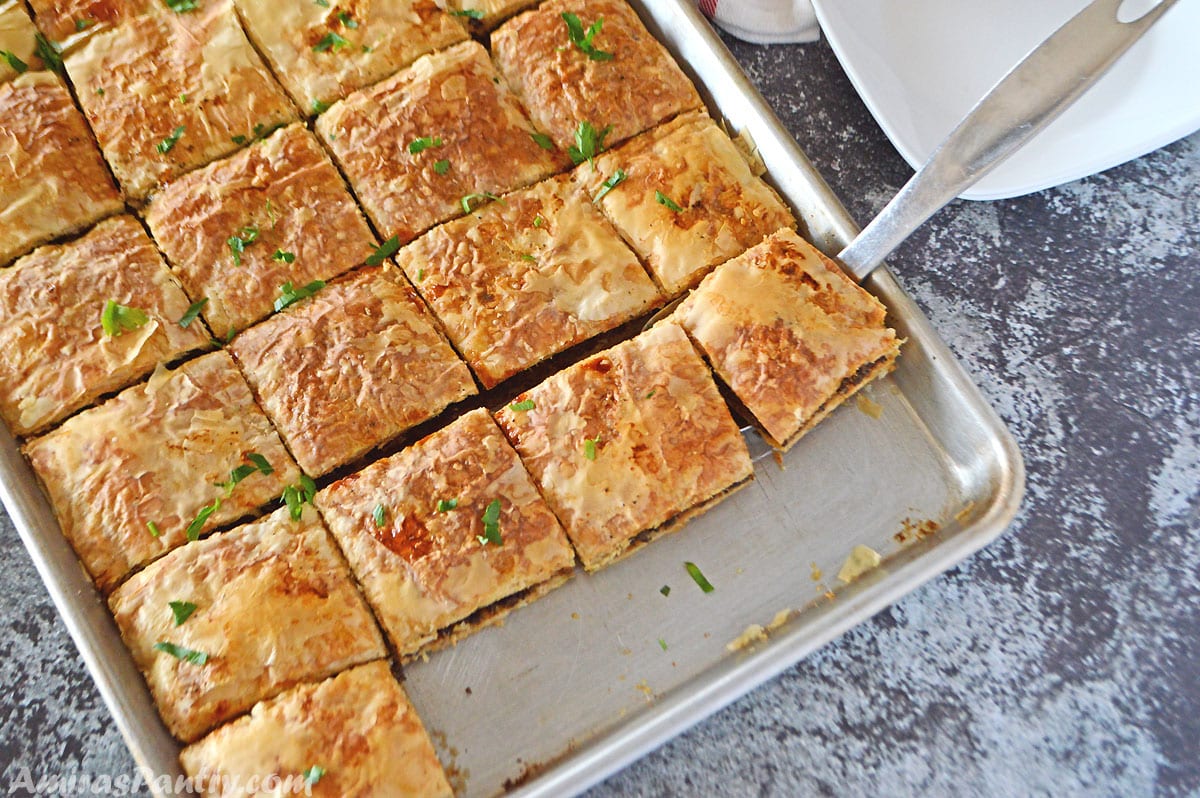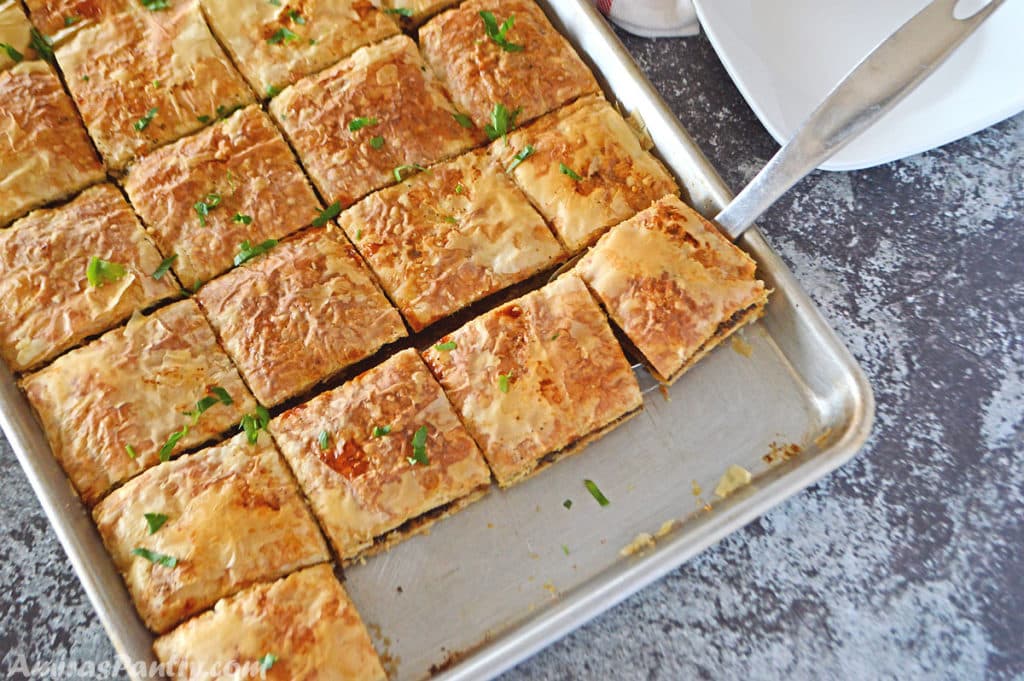 Phyllo dough pie variations
There are countless things you can stuff in the between these phyllo sheets. The most desirable one among my Egyptian community is one that is stuffed with Basterma and Parmesan or Romano cheese. I also like adding bell pepper and black olives.
Phyllo dough recipes on the blog
Finally, I just could not bring myself to delete this photo or story from the post back in 2015, when I was updating it. It is a personal thing that I loved sharing with you all back then and still love to share. If you do not like to read feel free and skip to the recipe part.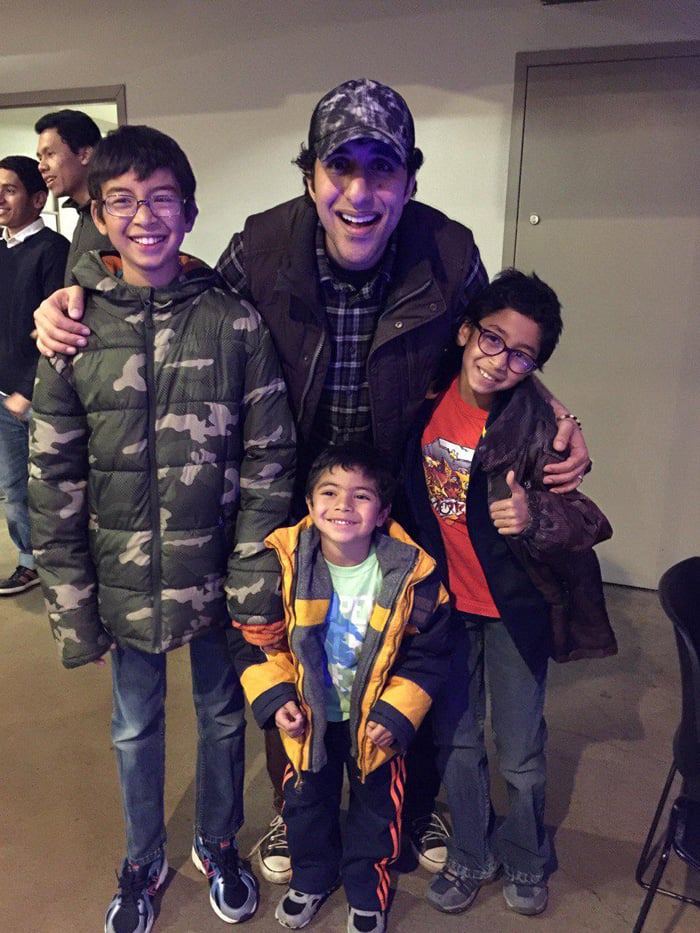 Almost 2 weeks ago, we took the kids to a concert organized by the Islamic Relief USA to help children around the world. My kids went there to see one of their favorite singers Raef. Raef is a singer who sings what i call "clean music" , I can totally leave my kids watching his videos without any worries of what they will see or hear. They were very thrilled to see him, specially my 5 year old.
He kept on asking about him for the whole concert as his part came last, and just when he was about to fall asleep, Raef showed up and you can never imagine the smile on his little face and the excitement that he felt.
There was this special song that my kid loved as we sing it almost everyday going to school in the morning, dream, so to my surprise, my little one found the courage to go up on the stage and ask him for that specific song. Unfortunately, the song was not on his schedule and he was really running late, so Raef was unable to sing it for him on stage, but he promised him to sing it after the concert ... and frankly I thought this will never happen and he will get caught up with all his fans.
But, he really did leave his fans, got his guitar and fulfilled this 5 years old fan's wish. He actually sang the song specially for my boy . My kid was so embarrassed that he could not sing along not even a single word, but really, imagine this little guy standing next to his beloved singer and with all these camera flashes, people looking at him and cheering for them both, poor thing his little heart must have raced as if he was running a marathon hahaha.
A BIG thank you to Raef, who did not turn his back to his little fan, now we wake up and sleep on his songs :). We really did enjoy the concert with all its parts specially Omar Regan who cracked us up with his hilarious jokes.
It was a fun night for the whole family with a noble cause. The only problem I have right now is that my home is, suddenly, filled with singers and they all want to take guitar lessons :/.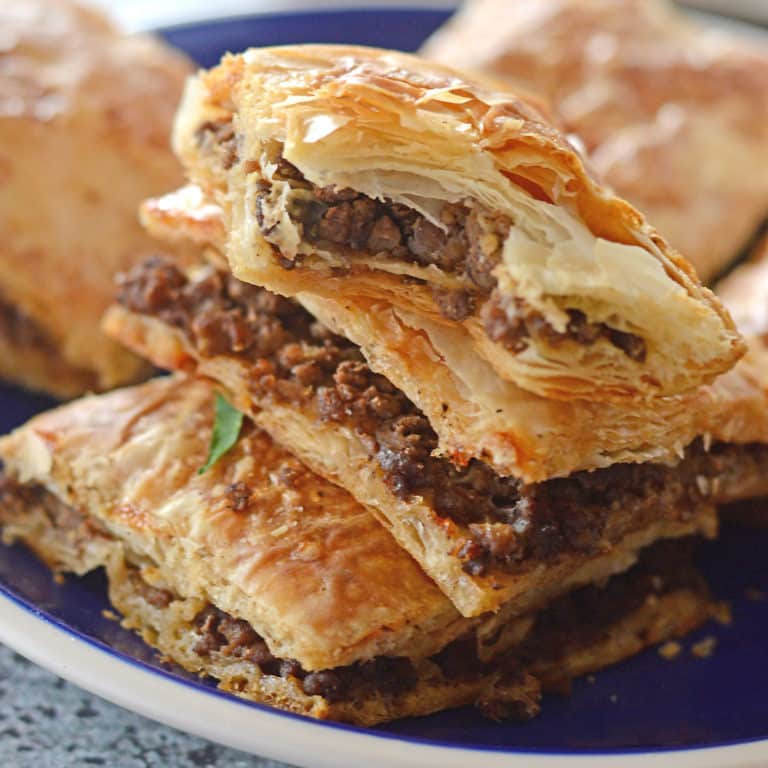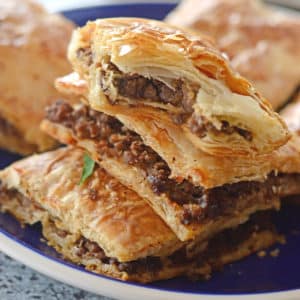 Phyllo Meat Pie (Egyptian Goulash)
A crunchy tasty side dish for your parties and gatherings with countless variations.
Print
Pin
Rate
Ingredients
For the ground beef filling: Note1
1

table spoon olive oil.

1

small onion.

1.5

pound

lean ground beef.

1

teaspoon

allspice.

½

teaspoon

ground black pepper

or to taste.

1

teaspoon

salt

or to taste. * used pink

¼

teaspoon

ground cinnamon.

¼

teaspoon

ground ginger.

1

Tablespoon

tomato paste.
For the phyllo:
A packet (16oz) phyllo dough

thawed.

½

cup

light tasting olive oil

Note2.

¼

cup

ghee or butter melted.

1

cup

milk.

1

large egg.

Salt and pepper to taste.
Instructions
Make the ground beef mixture:
In a large non-stick skillet over medium-high heat, add the olive oil then sauté onion for 2-3 minutes until tender.

Add the ground beef, breaking it apart then add all the other ingredients. Cook until browned with no pink spots, set aside.
Assemble the dish and bake:
Heat your oven to 400F.

Melt ghee in a small sauce pan or in the microwave. Mix in olive oil.

Brush- or spray- an oven safe dish with the oil, take 2-3 sheets of phyllo dough and lay them flat on your dish, then brush with oil mixture.

Continue layering the phyllo sheets 2-3 sheets at a time and brushing them until you are done with half the package.

Add the minced meat mixture and spread evenly.

Continue layering and brushing the remaining phyllo sheets until you are done with the package. Cut into squares or diamond shape.

In a measuring cup, beat the egg and add the milk, sprinkle some salt and pepper, then carefully pour into the dish, tilt the dish in all directions so the milk mixture will spread evenly.

Bake for 20-30 minutes or until golden brown.

Cool slightly, then serve warm.
Notes
Note1: If you want you can cook any desired vegetables with the meat for added benefits such as, celery, peas, corn, small cur green beans.... etc.

Note2: I'm used to using 1 cup of fat ( usually butter) when making this recipe. For some health issues lately I've starting using light tasting olive oil with a little ghee for the flavor. Here you'll notice I've used ¾ cup of fat but I've a feeling that I can make this with ⅓ cup of oil and 2 tablespoons ghee. I will try this next time and let you know.
Please check the nutrition disclaimer policy.
Nutrition
Calories:
131
kcal
|
Carbohydrates:
11.1
g
|
Protein:
1.8
g
|
Fat:
8.7
g
|
Saturated Fat:
2.8
g
|
Polyunsaturated Fat:
0.7
g
|
Monounsaturated Fat:
4.8
g
|
Cholesterol:
15.4
mg
|
Sodium:
128.9
mg
|
Potassium:
57.5
mg
|
Fiber:
0.5
g
|
Sugar:
0.9
g
|
Vitamin A:
1.1
IU
|
Vitamin C:
0.9
mg
|
Calcium:
1.7
mg
|
Iron:
4.3
mg
Sign up and learn more about Mediterranean flavors
TIME TO SHOW YOU OFF!