Bored of the good old pumpkin pie recipe? Why not try a spiced pumpkin phyllo Pie this year?! Creamy, silky pumpkin filling sandwiched between layers of buttery flaky phyllo and lightly drizzled with simple syrup.
[mv_video key="pbp3aievupnq285bquyg" title="PUMPKIN PIE WITH A PHYLLO CRUST" thumbnail="https://mediavine-res.cloudinary.com/v1569465813/tiqzqbiigl33lztqplla.jpg" volume="70" doNotOptimizePlacement="true" doNotAutoplayNorOptimizePlacement="false" ratio=""]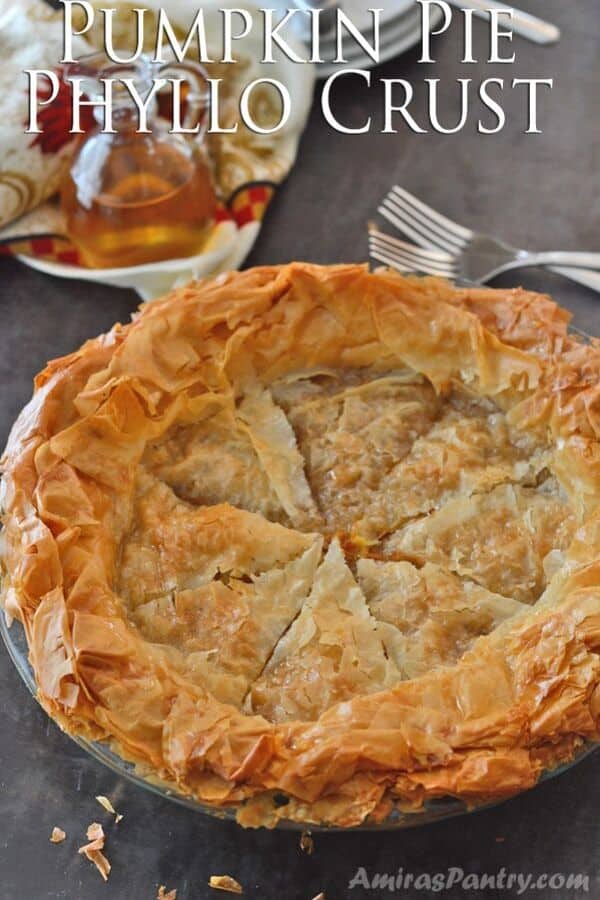 Pumpkin pie has never been my thing until this year. Playing with pumpkin puree, whether canned or fresh, has been a source of kitchen joy. I never stepped outside the traditional pumpkin bechamel recipe, until this year, when I decided to give the can a try. I liked it for convenience but I still prefer, if time allows, to use my own homemade puree. You may want to check my latest ventures into pumpkin puree with the browned butter cake or the dreamy latte.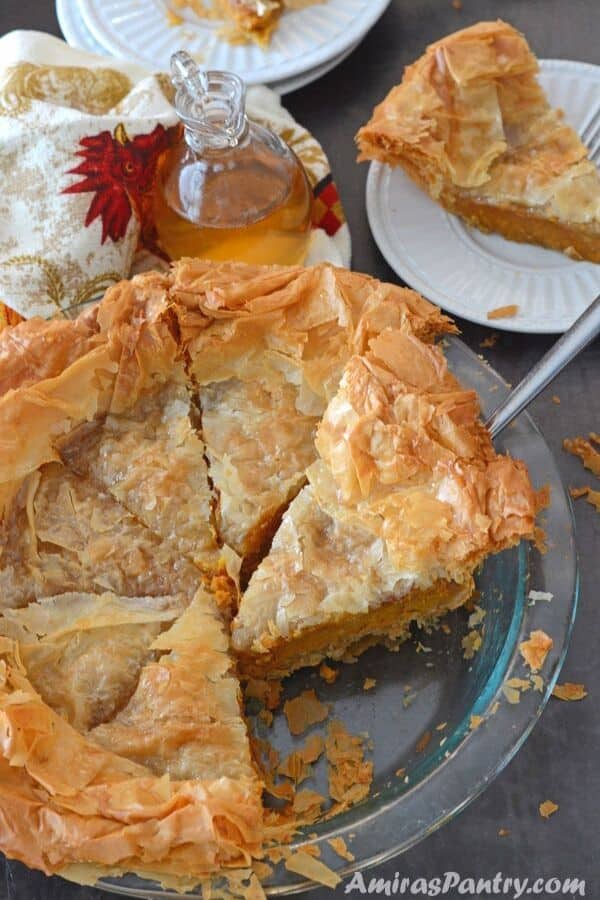 We gathered around our dessert table to try this new creation. My oldest, gave me that face of no way I am going to try a pumpkin thingy!!, he still does not know that the luscious cream that he went crazy about, in my chocolate pumpkin cake, contained pumpkin 😄. DO not judge me, a mom need to do what a mom need to do. My middle , went crazy over it and my youngest only ate the crunchy, buttery sweet edges
You may be wondering what is our dessert table?. Well, for years I was under the impression that "Good families eat dinner together Every Night". May be because this is because we used to do so in my family. You see, in Egypt we have three meals a day, Breakfast, Dinner then Supper. Breakfast, in the morning of course, around 6 or 7 a.m. Dinner, the big meal of the day, around 3, 4, or 5p.m. and Supper, what is called here in the U.S. before bed snack I guess, which is around 9 or 10 p.m. While we were at school, we used to have something like cheese sandwich, crackers, fruits,... etc. Something light but no mac and cheese, burgers, chicken and so on. Aaaand we were allowed to eat only ONCE in school at around 11 a.m.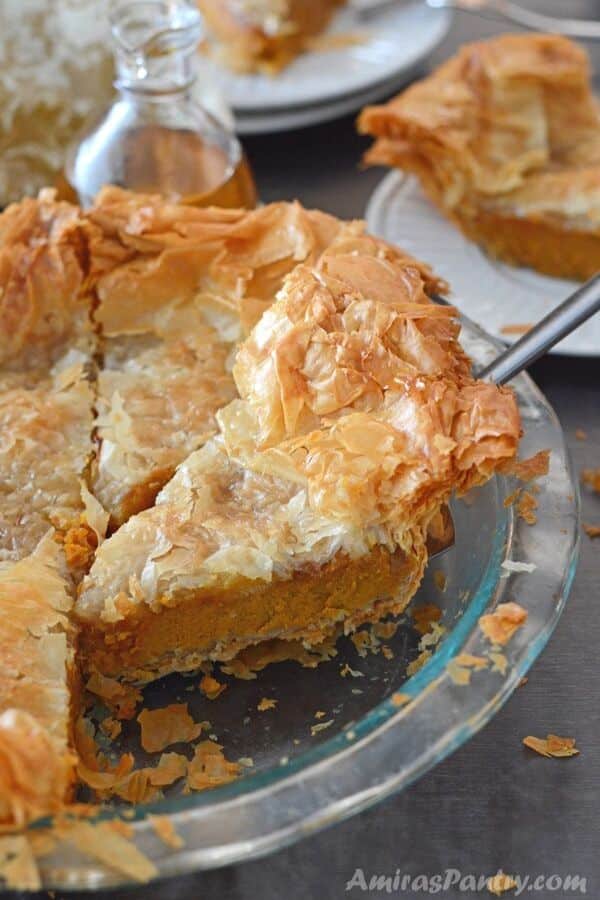 When I was growing up, many people had only one day off of school or work which was Friday, no Saturdays off. So, by 3 p.m. or at most 4, everybody is home and that's why we all used to have dinner together. Until, I went to college, and by then each one of us had her own schedule and we no longer was able to have dinner together.
When we came here, I strongly believed that we HAVE to have dinner each night together as a family. And, each day passes by without having a family dinner was making me feel guilty. I had guilt over that I did not seem to have my act together enough to make family dinners a priority in my day. I would beat myself up over it, and felt that I am not a good mom. With all the kids' activites and after school schedule for each one of them, it has been almost impossible to come up with a realistic fix for it.
One shiny day, I put my worries and guilt to rest. I focused on having family breakfast and this seemed to really ease the pain and actually did the job. What is the goal of family dinner?, I asked myself. Well, spending quality time with the kids, talking about our day, our thoughts, our dreams, planning something ... and so on. Does it have to be over dinner? of course not. If you can, that's awesome, as dinner it the longest meal, but having something is better than not having at all... right?
But of course life happens, mornings can be hectic, and that time together talking and being together as a family can sometimes fall by the wayside. In that case, dessert time comes to the rescue. We gather around a dessert table, chatting and sharing our hearts. Sometimes, we get way off track ending up having silly and funny conversations. No matter what, it is a time that we loved and cherished.
Aaaand that's another excuse for me to make desserts 💡.
Let's get excited...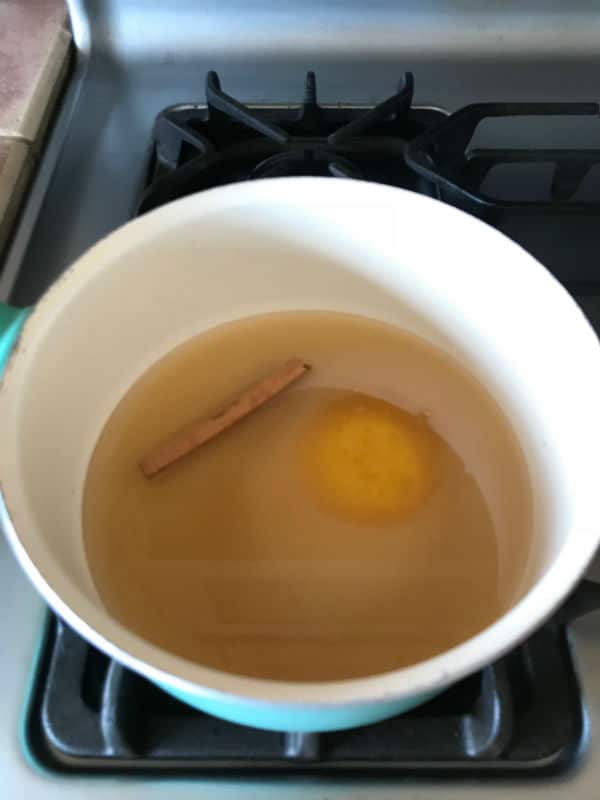 We'll need a completely cooled syrup, so we'll start with the end in mind. This time I've mixed the ingredients of the syrup together and dropped half a stick of cinnamon in. This is to flavor the recipe even more with cinnamon and the delicious fall smell. Put aside and let it cool completely, if you are in a hurry you can stick it in the fridge. Sometimes, when it is cold outside, I just put my pot out in the patio, but watch out for wildlife if you live near some.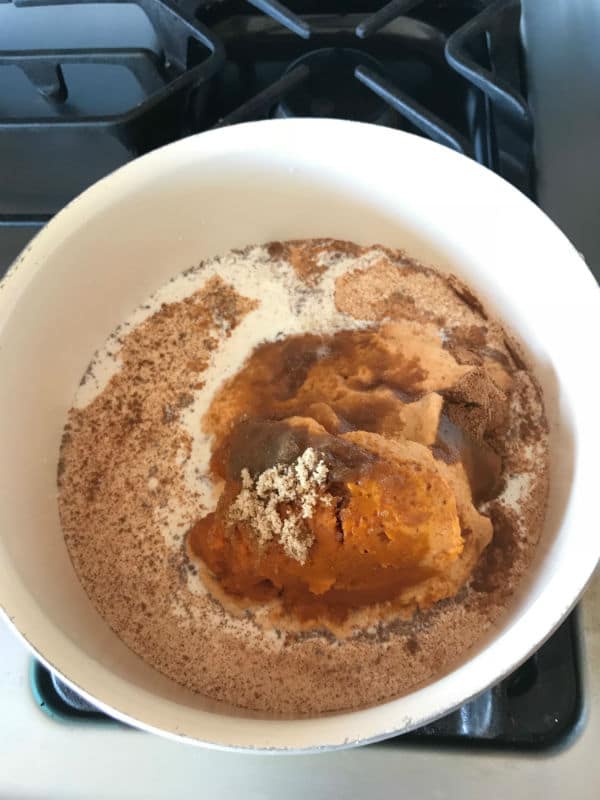 Now, time for filling, I normally like using homemade pumpkin puree. But out of convenience, I've used canned pumpkin puree. Stir on low flame for about 6 minutes then let it cool down for 10 minutes.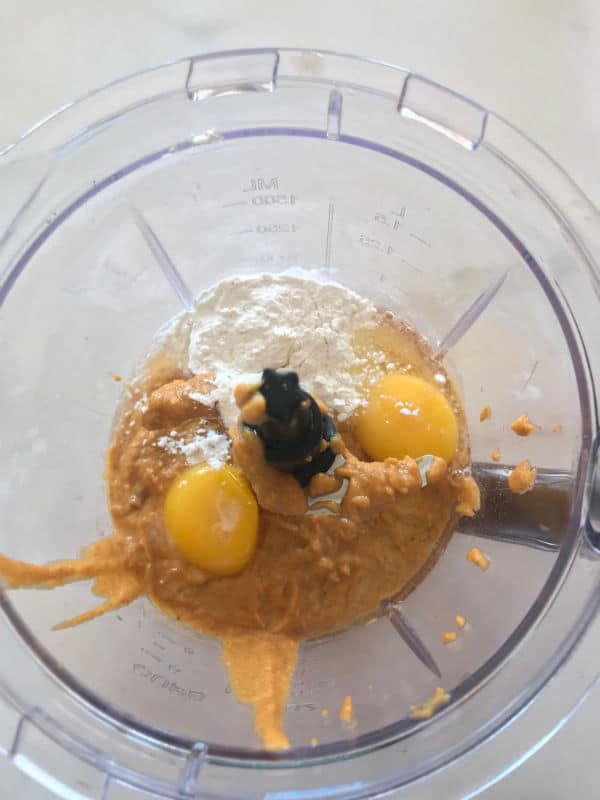 In your blender, mix the cooled puree mixture, eggs and a little bit of flour to thicken it even more and make your life easier when serving this dish. Mix, until everything is smooth and well incorporated.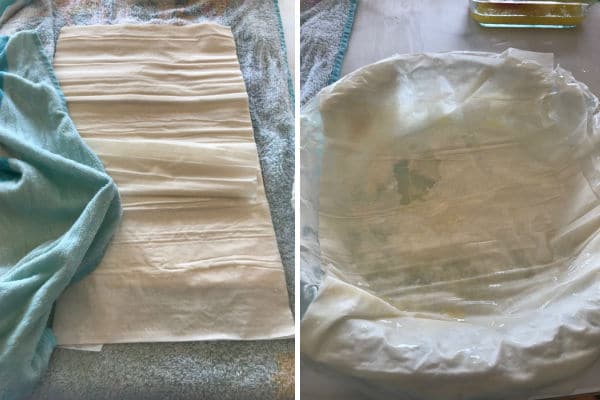 Make sure to cover the phyllo sheets with damp kitchen towel as it dries super quickly. We'll layer half of the phyllo sheets in the bottom of a 9 inch pie pan. Brushing with melted butter and turning the pan when layering the sheets, so it will cover sides of the pan as well.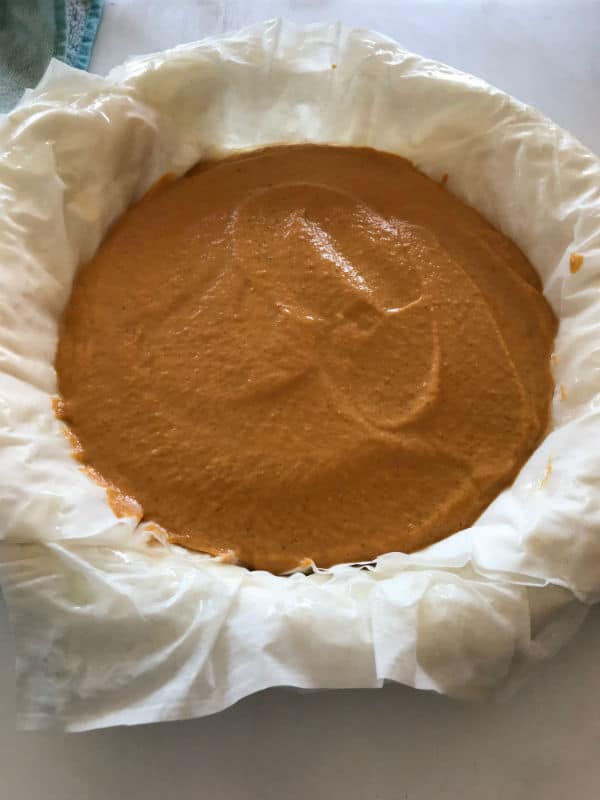 Pour in the pumpkin mixture and smooth the service. You'll also need to brush the hanging sheets well with melted butter.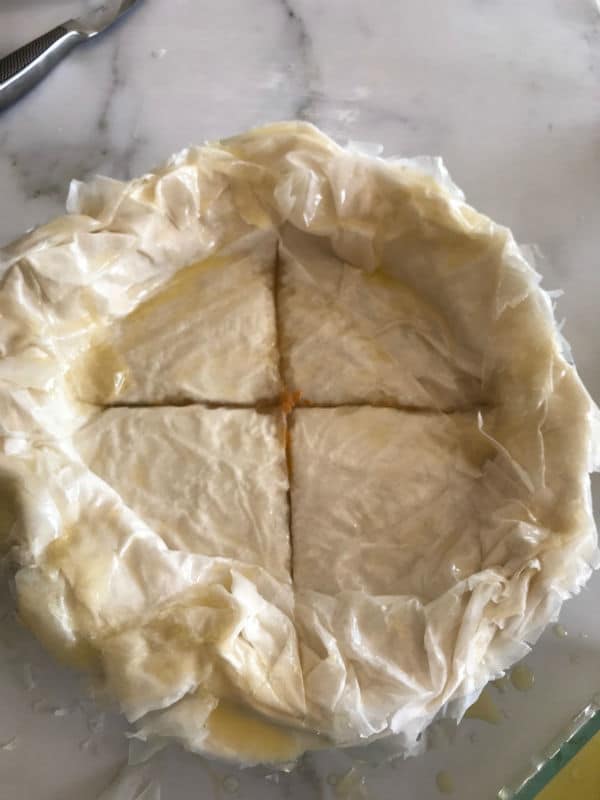 Cover with the remaining half of the sheets, brushing generously with butter. Fold the overhanging phyllo in a free style kind of way and brush even with more butter. Cut the phyllo in 8 pieces and pop in a 350F preheated oven.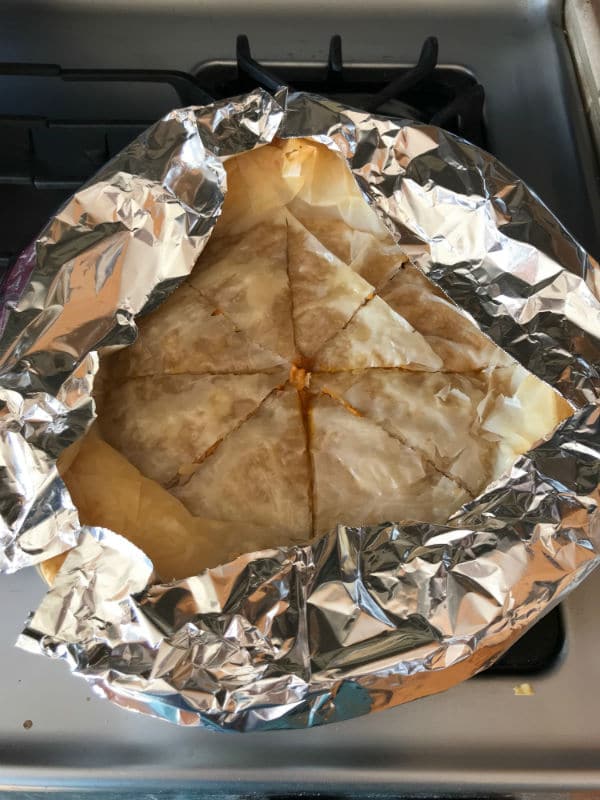 Now check the pie after 20 minutes, if you notice the edges are brown enough but still not in the middle, you might want to cover the edges with strips of foil. Pop again in the oven, until it is completely done. Drizzle while hot with cooled simple syrup.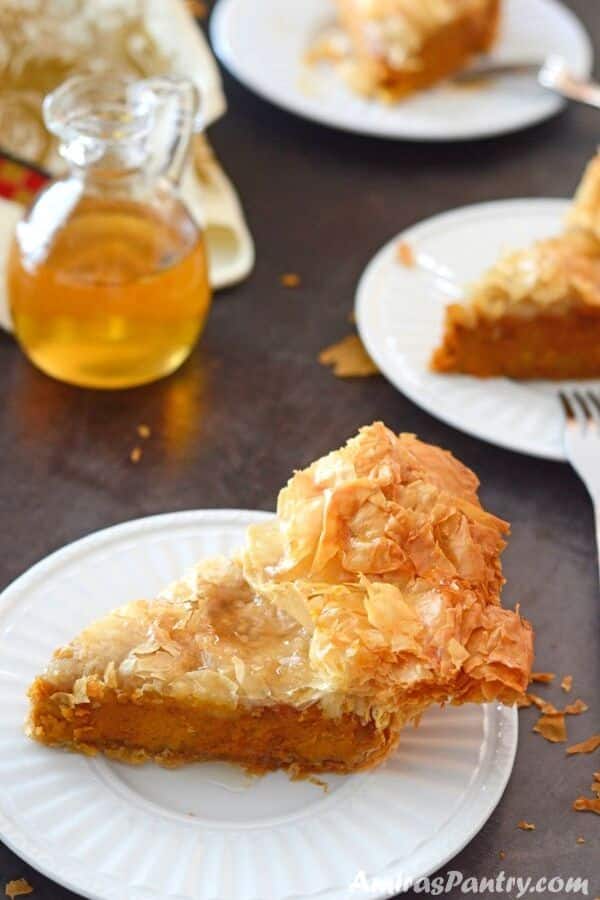 What I love about this recipe is:
It is heavenly textured, creamy soft in the middle and crunchy to the fullest on the edges.
Buttery, buttery, buttery.... I cannot say that enough😍.
Phyllo love ... I grew up on these guys.
Sweetened to your taste, drizzle with syrup or not.. it is your choice but I highly recommend lightly drizzling the edges.
A new way to share pumpkin love to your family this season.
I hope you'll like this recipe and please if you make this recipe, snap a pic and hashtag it #amiraspantry — I love to see your creations on Instagram, Facebook, Twitter!
Don't want to miss a recipe? Sign up for the FREE Amira's Pantry newsletter delivered to your inbox with lots of tips and surprises! And stay in touch with me on Facebook, Twitter, Pinterest, and Instagram for all the latest updates.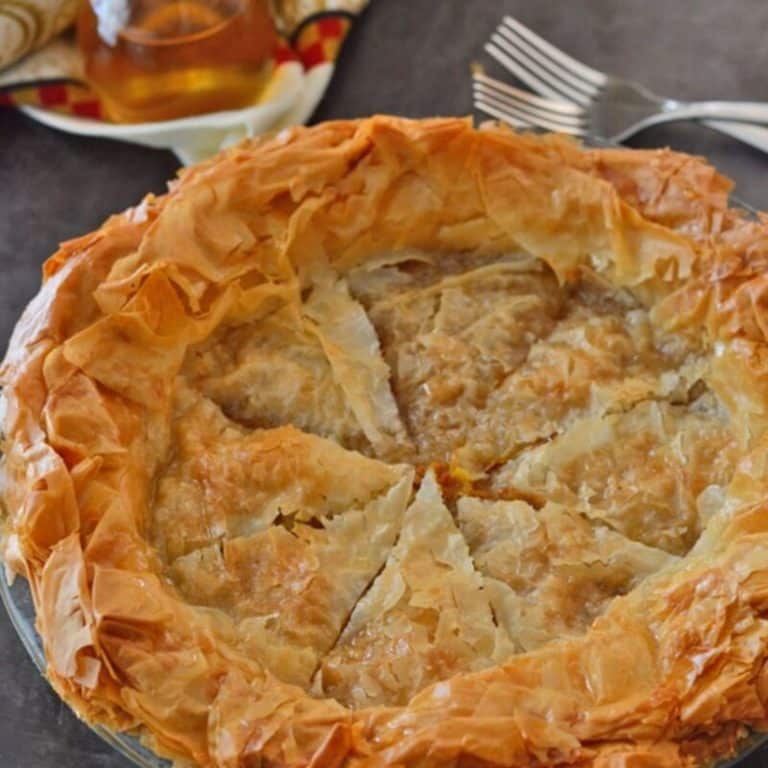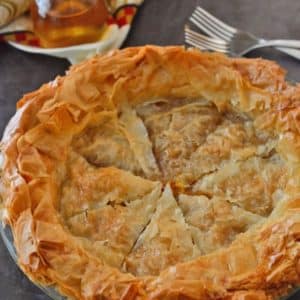 Ingredients
16

ounces

Pumpkin Puree

recipe follows

1

cup

half-and-half

1/2

teaspoon

pumpkin pie spice

1/4

teaspoon

ground cinnamon

1/4

teaspoon

kosher salt

3/4

cup

brown sugar

2

eggs

large.

1

egg yolk.

2

Tablespoons

flour.

1/2

16 0z packet of phyllo dough.

3/4

cup

unsalted butter

melted.
For the syrup:
1/2

cup

water.

1

cup

granulated sugar.

1/2

teaspoon

lime juice.

2

Tablespoons

honey.

1/2

a stick of cinnamon.
Instructions
Make the simple syrup:
In a saucepan over medium heat, add sugar, water, lime juice and honey. Stir and drop half a stick of cinnamon. Bring to a boil, reduce heat and simmer for 10 minutes.

Set aside and let it cool completely.
Make the pumpkin filling:
In a small saucepan, combine pumpkin puree, spices, salt,sugar and half and half. Stir well and simmer on low for about 6 minutes.

Turn heat off, take it out of heat and let it cool down for 10 minutes.

In your blender, combine puree mix with eggs, egg yolk and the flour, mix well until the whole mixture is smooth.
Prepare assemble the pie:
Adjust oven rack to lower middle position and preheat oven to 350F.

Prepare a 9 inch pie pan, by brushing it with some melted butter or use oil spray.

Unroll the thawed phyllo sheets and start layering the sheets 1-2 sheet at a time letting it overhang at the sides of the pan.*

Brush sheets with butter, then layer another sheet in a rotated position than the one underneath so we will cover all pan edges.

Work your way until you are done with half the sheets.

Pour the pumpkin mixture and layer the rest of the sheets above the pumpkin layer brushing in between with butter and rotating sheets every time.

Fold the overhanging phyllo sheets over creating a cool ruffle look. Brush with more butter if needed.

Cut into 8 pieces and pop in the oven for 45-50 minutes.**

Drizzle the pie with cooled syrup everywhere especially on the edges.

Let it set for a couple of hours before serving.
Notes
Notes:
* Phyllo dough sheets should be covered with a slightly damp kitchen towel at all times as it dries out very quickly.
** Check the pie after 20 minutes if you notice that the edges are starting to brown, cover loosely with aluminum foil.
Sign up and learn more about Mediterranean flavors