A crust-less Pumpkin pie with bechamel from the Egyptian cuisine.
Total time
1
hour
20
minutes
A crust-less pie that combines the sweetness, earthy aroma of the pumpkin along with the creaminess of a béchamel sauce and lots of nuts in between.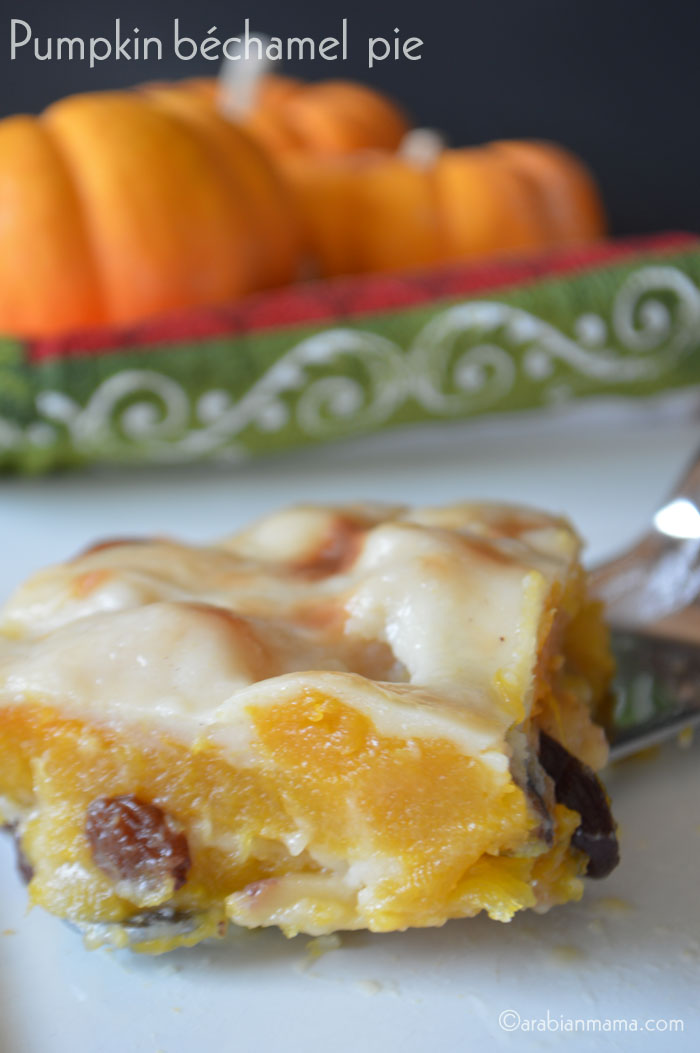 Egyptian pumpkin bechamel
I know it is not the season of pumpkins, and while everyone is posting recipes about some sort of cookies, I post about pumpkins !!! this is just how I like it sometimes, not going with the flow :).
I've posted about this recipe before and was hoping to make a video for it so you can see in details, I always feel videos or detailed photos are a must in any recipe before I dare to try it.
Then again may be you have some pumpkins waiting there alone in your kitchen, dying and need a new life. If this is your case these days then this Egyptian pumpkin crust-less pie comes handy and does not require things that are not already in your pantry .
This recipe is best made with fresh pumpkins as we will cook them on stove top and get the juice to make the bechamel, so this is really a crucial point in terms of taste. Of course you can use canned puree but it will not be as tasty.
I've made this recipe several time and it was always a hit, feel free to adjust the sugar content according to your liking, I always have sweet tooth guests so I use extra. For nut allergy, I've made a version of this skipping the nut layer and just adding some dried cranberries or raisins, and it still tasted wonderful.
Now, I 'll leave you with the recipe and I hope you'll get the chance to try this Egyptian version of pumpkin pies ;), and as always .... Enjoy!!
Egyptian Pumpkin Bechamel
If you like this recipe do not forget to give it a ⭐⭐⭐⭐⭐ star rating and attach a photo of your finished dish. It is always a pleasure of mine to see your photos and check your own take of the recipe. Thank you.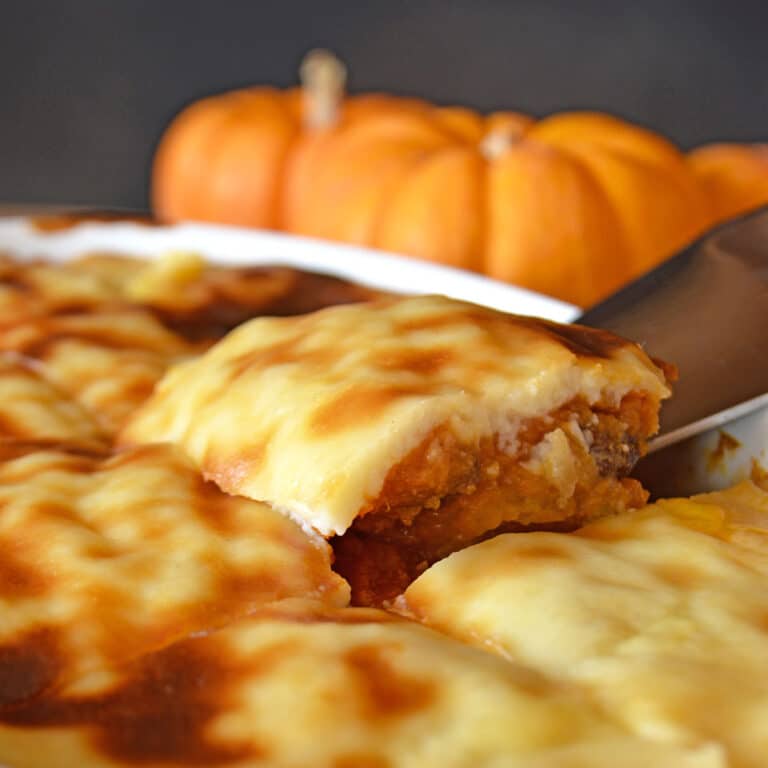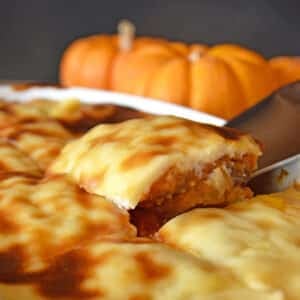 Pumpkin bechamel pie
A crust-less Pumpkin pie with bechamel from the Egyptian cuisine.
Print
Pin
Rate
Ingredients
2

lbs

fresh pumpkin

peeled and diced. Note1

2

cups

of granulated sugar, divided.

Note2

A pinch of both cinnamon and vanilla.

1

cup

Raisins and nuts for filling.
For the bَechamel you will need
4

Tbs

of flour.

4

Tbs

of unsalted butter.

1

cup

of milk
Instructions
In a large pot over medium heat, add the pumpkins along with the 1 ½ cups of sugar and a pinch of vanilla, bring to a boil stirring occasionally.

When the pumpkin pieces are soft, you'll notice the juices of the pumpkin at the bottom of your pot. Strain the pumpkins keeping the juices as we'll need it to make the bechamel sauce.

In a sauce pan over medium heat, melt the butter then add the flour stir until golden, add pumpkin juice and milk stirring vigorously, add the remaining half cup of sugar and a pinch of cinnamon,. Stir to combine, bring to a boil and reduce heat until thickened.

In a 9x9 oven dish cover the bottom with two spoonfuls of bَechamel then add half of the pumpkin cubes – you can mash them a bit, I like it as is – cover with a layer of nuts and raisins then the other half of pumpkin cubes and finally add the rest of the bَechamel on top.

Place the dish in a 350F preheated oven for almost 40 minutes or until top is golden brown.

Let it cool, serve and Enjoy !!.
Notes
Note1: You can use butternut squash as well.
Note2: I used to put 2 cups of sugar in this recipe but now I am putting 1 ½ and I feel I can go down to 1 ¼ so it is totally up to you.
Sign up and learn more about Mediterranean flavors