Pumpkins
in Egypt look more like
Squash
here in the US. It looks exactly like this.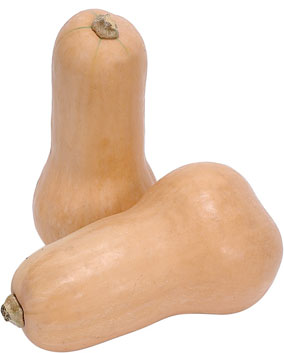 But they finally end up almost the same taste in this recipe. Pumpkin bَechamel pie is very popular in Egypt . It comes loaded with different kinds of nuts and so sweet that a piece can energize you for the whole day :).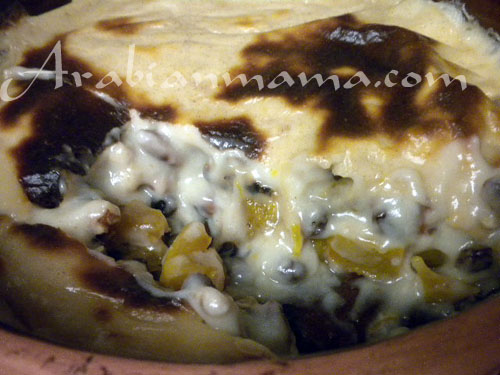 You will need:
7 cups of diced pumpkin.

2 cups of granulated sugar- you can use more or less we like our super sweet.

a dash of both cinnamon and vanilla.

Raisins and nuts for filling.
For the bَechamel you will need:
4 Tbs of flour.

4 Tbs of unsalted butter.

1 cup of milk
Here is what you will need to do:
First mix the diced pumpkin ,sugar , cinnamon and vanilla then put them on a low-medium heat stirring occasionally. You will notice that the pumpkin starts to get softer and juice is accumulating in the bottom.
When the pumpkin pieces are done put them in a colander preserving the water that comes out of it. You will end up with almost 2 cups of yellow sweet pumpkin juice.

In a sauce pan over medium heat, melt the butter then add the flour stir until golden, add the juice and milk stirring vigorously to make the bَechamel. You can taste the bَechamel to make sure it tastes good.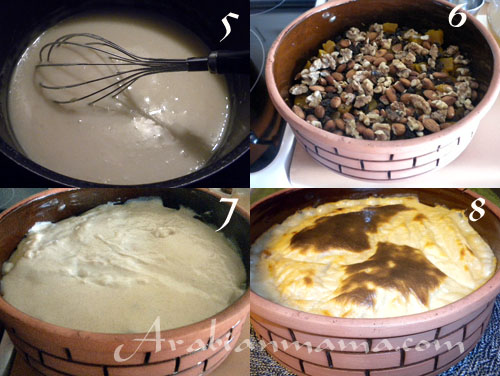 In a deep dish cover the bottom with two spoonfuls of bَechamel then add half of the pumpkin cubes – you can mash them bit I like it as is – cover with a layer of nuts and raisins then the other half of pumpkin cubes and finally add the rest of the bَechamel on top.

Place the dish in a 350F preheated oven for almost 30 minutes or until golden.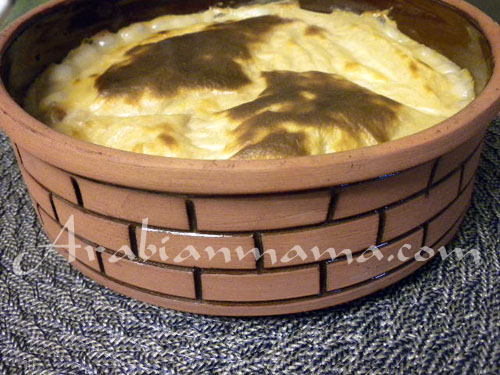 let it cool, serve and above all Enjoy :).