Molokhia, also Mulukhia is a green soup made from minced Jews/Jute mallow leaves and cooked in broth. This is the Egyptian Molokhia with all its tips and tricks from my grandma's kitchen.
First Published: May 2013 Last Updated: September 2019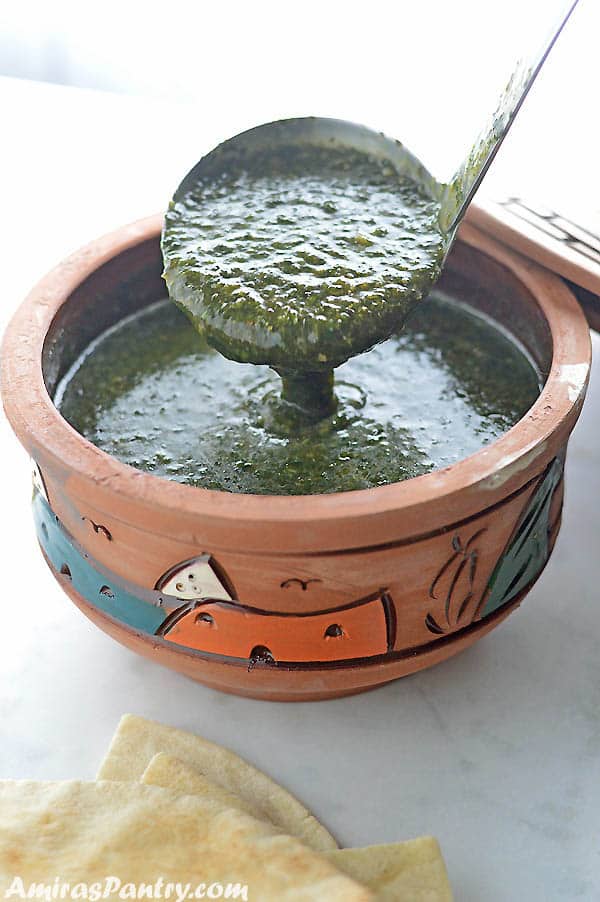 Molokhia
In our home Molokhia is indeed a love story when it is there on the table everyone gets excited about dinner. I make Molokhia almost weekly, it is my kids' favorite this to eat with rice.
Almost everyone I know loves Molokhia and it is a mother's secret in Egypt to feed little kids other vegetables too. You see when kids pass their first year, and some people even do it earlier, we introduce the famous rice and Molokhia combo to them. 99.9% of the kids love it, after they get used to it Egyptian moms start their tricks. Put a pile of rice with Molokhia and hide anything in there. Broccoli, peas, carrots, beans…. and so on. Just make sure to cut them into small pieces and the kids will gladly lick their plates. Of course when they get older they will start to object, but at least they got something and you'll feel good about their dinners :).
Mulukhiyah is cooked with lots of garlic and coriander and that's probably why I do not like to give it to my kiddos before they reach 13-14 months old as it might give them gases.
In Egypt we usually buy fresh green Molokhia leaves that looks like mint leaves but bigger, then we use a special curved sort of knife to mince it manually until it is very very fine like this one below.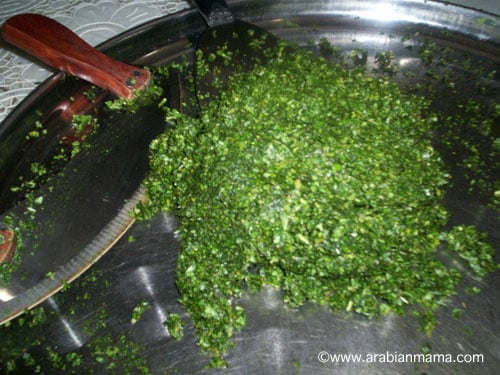 What is Molokhia?
Molokhia is a type of leafy plant called Corchorus, Jews mallow, Jute mallow or Nalta. It is said that Molokhia started from Egypt and then spread to the rest of the Middle East, North Africa and East Mediterranean regions. It can be found in different forms from fresh leaves, dried or frozen variety. Hence making its uses very versatile as well soups, curries, salads and many other uses. The most common use in Egypt is the green soup which I will show you shortly how to prepare. Read more about the plant here.
Where can I buy Molokhia?
Although it is very hectic and time consuming to mince Molokhia this was many people still prefers this method.Others would use their food processor to mince the leaves. Here in Colorado, I could only get a hold of the frozen Molokhia that can be found in any Middle Eastern stores. You can also find Molokhia online and I will give you a link at the end of the post.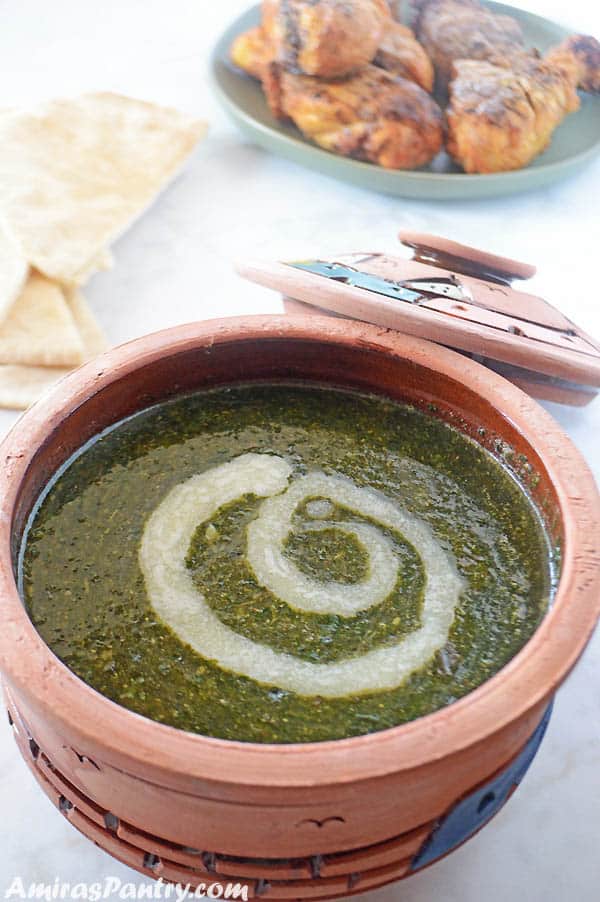 How to cook Egyptian Molokhia?
Almost every Middle Eastern and their mother have their own taste for Molokhia. I was surprised to find that some people do not use coriander at all. Some like to make it with onion, some add cumin, others like it leafy without mincing it. In Egypt alone some like making it with chicken broth others with rabbit broth and in some areas it is made with tomato sauce and others make it with shrimps. I am going to show you a new way of Molokhia recipe and why I love it more than the old way.
You will need:
Cooking liquid: usually chicken broth or rabbit broth is used. You can use any broth of your choice.
Frozen Molokhia: this recipe I have made with frozen Molokhia.
Dry coriander: preferably freshly roasted and ground coriander, the smell is more heavenly.
Garlic: lots and lots of garlic. Some people like to mince a whole head of garlic.
Ghee: I love using ghee in many recipes, butter is ok as well as oil if you prefer to.
Tomato sauce: This is one of the new things I've added to my recipe. It adds a hint of both tartness and sweetness. Some people add sugar some add tomato paste.
Baking soda: this one is to maintain a fresh green look for your Molokhia.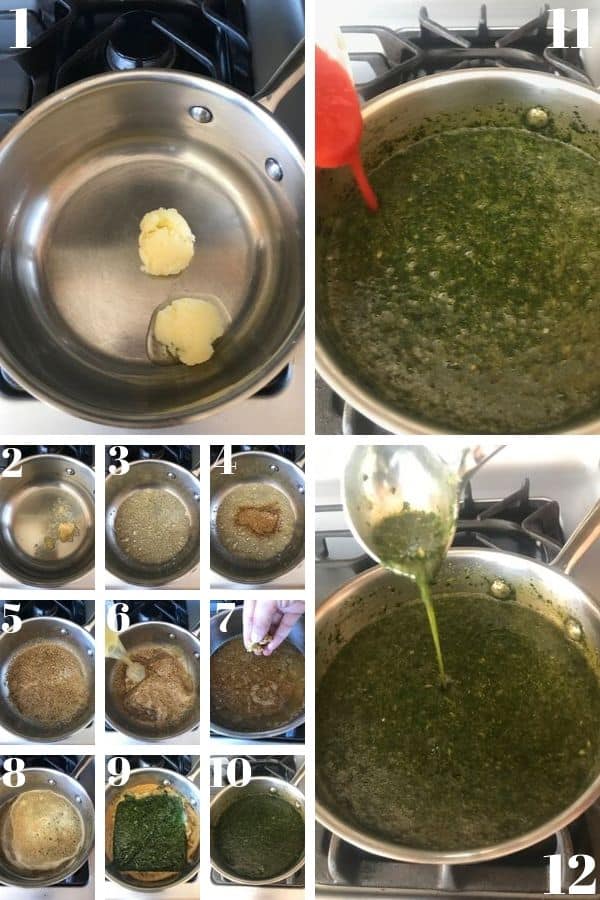 In a deep pot over medium-high heat melt ghee.
Sauté garlic for 15-30 seconds.
Until lightly golden and fragrant as shown in picture 3.
Add coriander and keep stirring for another 30 seconds.
The coriander will give its fragrance and turn a little more dark brown.
Pour in some of the broth keeping the rest after we check consistency at the end.
Sprinkle the bouillon cube. Stir until it is dissolved.
Add the baking soda, notice that the broth will foam.
Add the Molokhia, and turn down the heat to medium low, keep stirring every now and then.
Molokhia will slowly melt in the broth. Wait until it has completely melted.
Pour in 1/4 cup of the tomato sauce and still well.
Check consistency: if it is too thick add more broth.
Check the seasoning and sweetness: if you need salt or more tomato sauce.
Serve with rice and pita bread.
Traditional method of making Molokhia:

Here is how my mom, her mom and I used to make Molokhia in the past: First you heat up the broth with some of the garlic and dry coriander. When the broth is boiling reduce heat and add the frozen Molokhia until is melts. In another skillet melt the ghee, saute the rest of the garlic and coriander. Pour the mix into the lightly boiling Molokhia on the other pot and let it cook for 5 more minutes.
Why I like this new way of cooking Molokhia?
First of all one less thing to clean, everything is done in one pot and that's it. Second: I am used to cook something with tomato sauce when I made Molokhia, then eat them together. This is a tradition I got from my sweet mother. By adding some tomato sauce to the Molokhia I stopped doing that, so few items to cook :). I have tried adding the whole half cup of tomato sauce but really it was too much for us, so this is something you need to check for yourself. I have also tried adding sugar as recommended by many online recipe but my kiddos did not like it. SO a 1/4 cup of tomato sauce was just the right thing for us.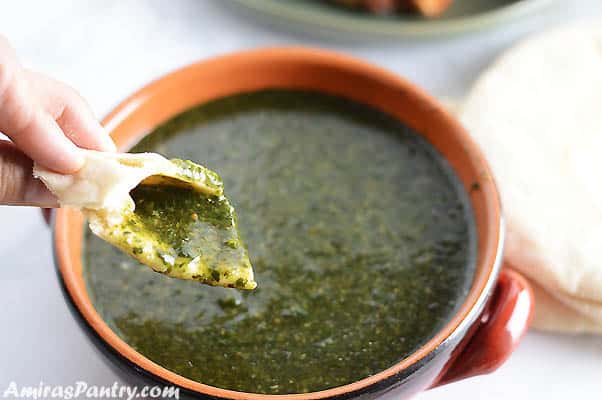 The following are affiliate links. We are a participant in the Amazon Services LLC Associates Program, an affiliate advertising program designed to provide a means for us to earn fees by linking to Amazon.com and affiliated sites.

If you want to buy frozen Molokhia online try the Ziyad brand . It is a reputable brand and their products are high quality.



Other Soup Recipes from the region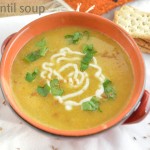 Freekeh Soup
Freekeh is an ancient grain from the Middle East that is so healthy and nutritious. Freekeh soup is great for those cold winter days. It's filling and flavorful, light and easy to prepare.
Check out this recipe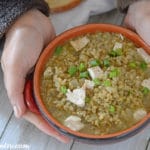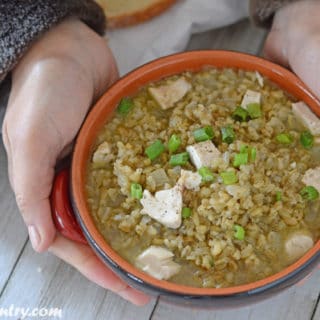 Persian Yogurt Soup: Asheh Mast
Persian Herb & Yogurt Soup that is hearty, flavored and easy to make. A fabulous filling soup recipe.
Check out this recipe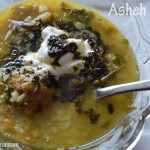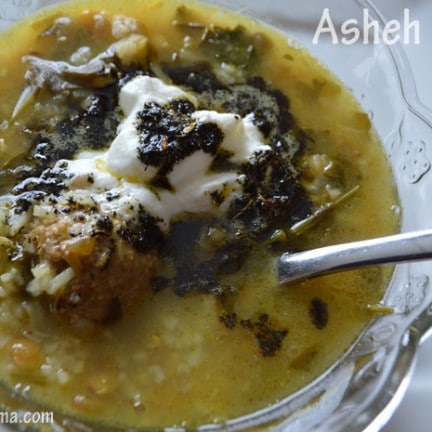 I hope you'll like this recipe and please if you make this recipe, snap a pic and hashtag it #amiraspantry — I love to see your creations on Instagram, Facebook, Twitter! Don't want to miss a recipe?
Sign up for the FREE Amira's Pantry newsletter delivered to your inbox with lots of tips and surprises! And stay in touch with me on Facebook, Twitter, Pinterest, and Instagram for all the latest updates.
Egyptian Molokhia Recipe
If you like this recipe do not forget to give it a ⭐⭐⭐⭐⭐ star rating and attach a photo of your finished dish. It is always a pleasure of mine to see your photos and check your own take of the recipe. Thank you.
Molokhia
A popular in Middle Easters green soup that can be made in many different ways but the most famous is the Egyptian Molokhia. Join me and I will show you all the tips and tricks for making the best Egyptian Molokhia ever.
Ingredients
2

Tablespoons

ghee. Note1

1/2

Tablespoon

crushed garlic.

1 1/2

Tablespoon

dry coriander.

1

cube chicken bouillon. Note2

2-3

cups

chicken broth

divided. Note2

1/2

teaspoon

baking soda.

1/4 -1/2

cup

tomato sauce.

1

(400package of frozen Molokhia.

Salt to taste
Instructions
In a deep pot over medium-high heat melt ghee then sauté garlic for 15-30 seconds until lightly golden and fragrant.

Add coriander and keep stirring for another 30 seconds.

Pour in one and half cups broth and sprinkle the bouillon cube.

Stir everything together until bouillon is dissolved. Stir in the baking soda.

Add the Molokhia, and turn down the heat to medium low, keep stirring until the Molokhia has melted completely in the broth.

Pour in 1/4 cup of the tomato sauce and still well.

Check consistency of the Molokhia, It is going to be thick. If you like it that way then do not add any more broth but if you want it thinner then add broth until you reach the consistency you love.

Now Check the taste if you need more sweetness and tartness add more tomato sauce. If it needs more salt add salt to your liking. Note3

Continue cooking Molokhia until the leaves are cooked and does not taste raw anymore.

Molokhia is usually done when it just starts boiling all over on low heat.

Do not cover Molokhia immediately, let it cool down completely before covering or serve directly with rice, chicken and pita bread.
Notes
Note1: I love using ghee when making Molokhia. You can use butter or olive oil as well.
Note2: For a complete vegan Molokhia, use olive oil, vegetable broth and bouillon.
Note3: I usually add 2 cups of broth total and 1/4 cup of tomato sauce for us.
Please check the nutrition disclaimer policy.
Nutrition
Calories:
106.6
kcal
|
Carbohydrates:
10.4
g
|
Protein:
3.6
g
|
Fat:
5.9
g
|
Cholesterol:
11.8
mg
|
Potassium:
215.5
mg
|
Sugar:
0.8
g
|
Vitamin A:
68.8
IU
|
Calcium:
20.8
mg
|
Iron:
28.3
mg
Sign up and learn more about Mediterranean flavors