Vegan black eyed peas recipe for the new year. Black eyed peas are so filling, hearty and rich especially on rice. Try this flavorful black eyed peas cooked in a Mediterranean style.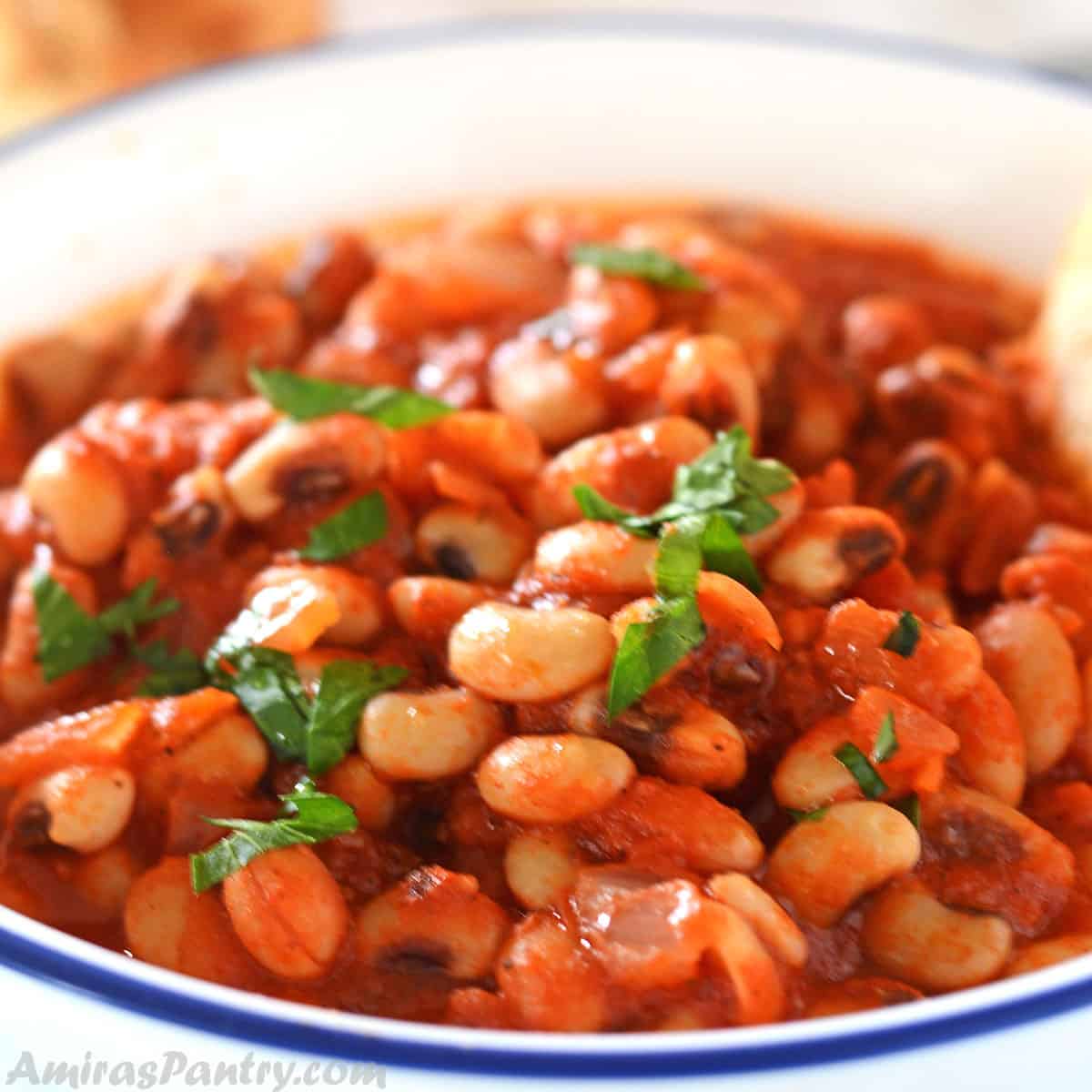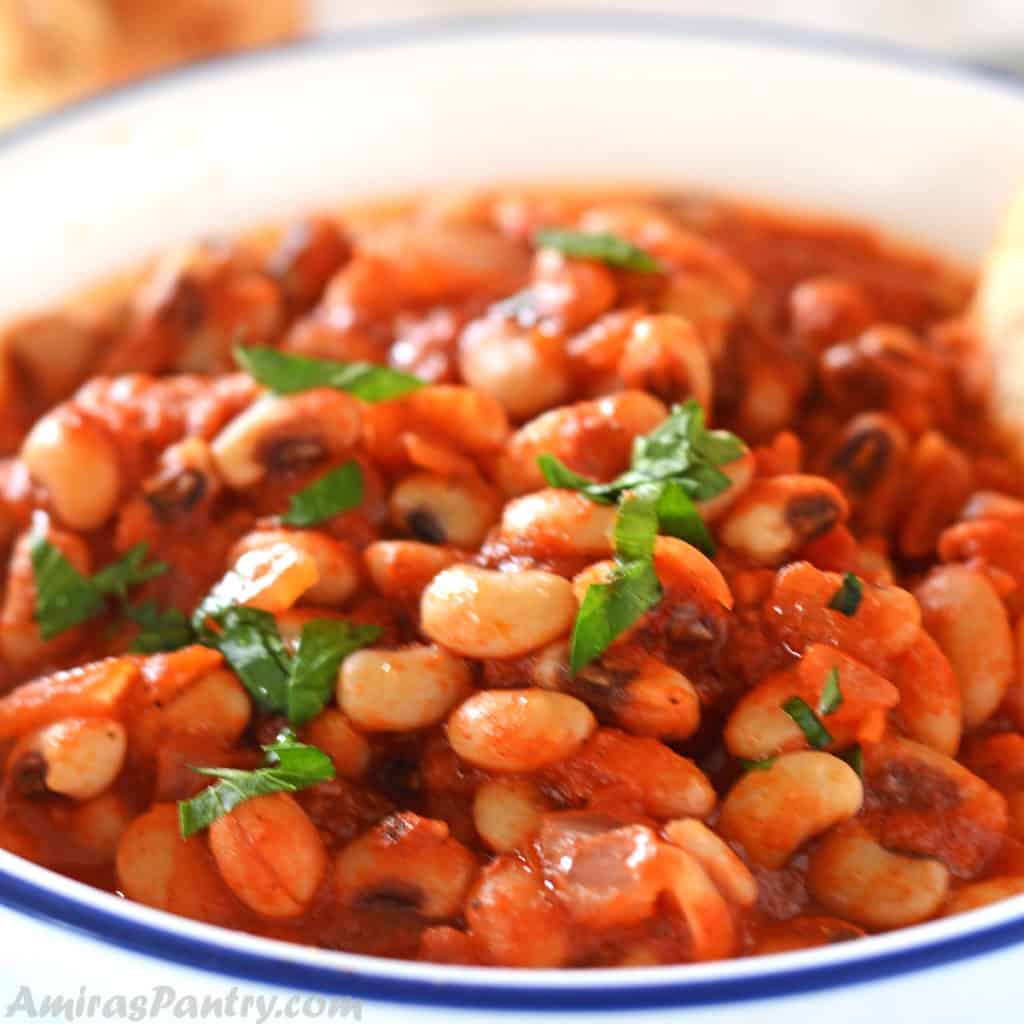 Black Eyed Peas
Black eyed peas and rice was one of the rare meals I liked when I was young. I did not like a lot of things and those beans were luckily not among them. My mom used to cook black eyed peas this way then throw some cooked beef cubes in there. I used to get the beans and leave the meat out as I liked the beans more.
My mom's cooking is simple but flavorful, she used onions, garlic, tomato sauce and salt and pepper. That was pretty much it. Today I've kicked it up a notch with some other flavors that I've been like adding to my beans stew.
I've been making this recipe for years now and I was surprised to know that black eyed peas is something eaten here in the US in the new year. You are supposed to eat black eyed peas in New Year's day for good luck and other great things. In Egypt though, it is a tradition in most homes to eat something green and something white for the new year… lunar or solar.
How to make Vegan black eyed peas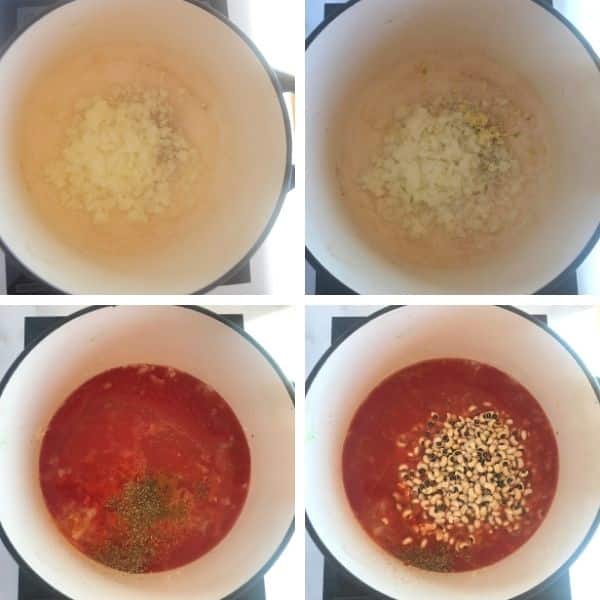 Before cooking, wash dry beans under cold water then place in a deep bowl and cover with cold water. Add baking soda and stir to combine. Soak beans for 2-3 hours.
In a deep pot over medium high heat add olive oil and saute onion and garlic until translucent, 2 -3 minutes.
Pour in tomato sauce, , tomato paste, water or stock if using and all the spice.
Add in the soaked beans and stir everything well together.
Reduce heat, cover and simmer until cooked.
Tips for making Black eyed peas
I've used olive oil in this recipe but you can use whatever oil you like.
For a smoky flavor, not traditional, add smoked paprika or liquid smoke.
I love mine with water but you can use vegetable stock instead.
I you want to add meat feel free to use it as my mom did. Ground beef works great for this recipe.
Cayenne pepper is optional and not traditional but it took the beans to a whole new level of deliciousness.
Taste the level of doneness yourself. I like mine soft but not mushy, you might want your to be more firm than mine.
To soak or not? Some people say it is not necessary to soak beans anymore. I soaked mine as this is how I am used it. If you did not soak them then they will take a little longer to cook.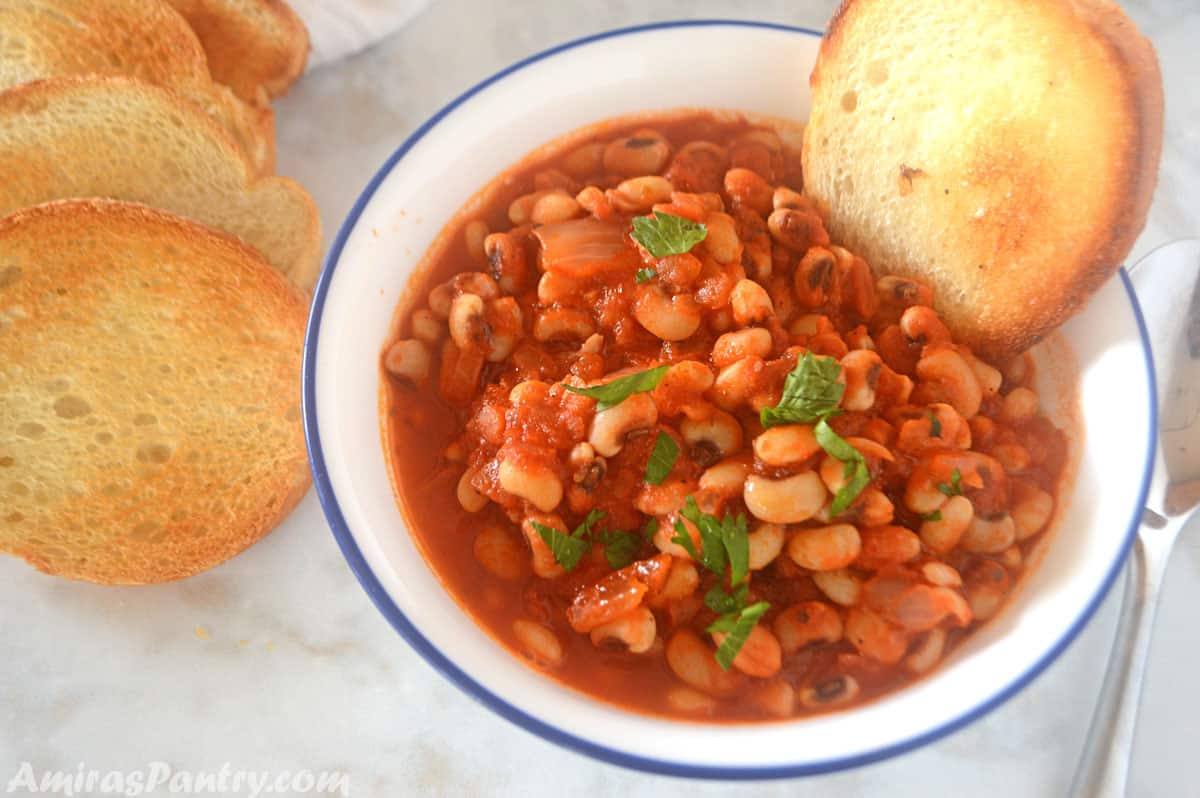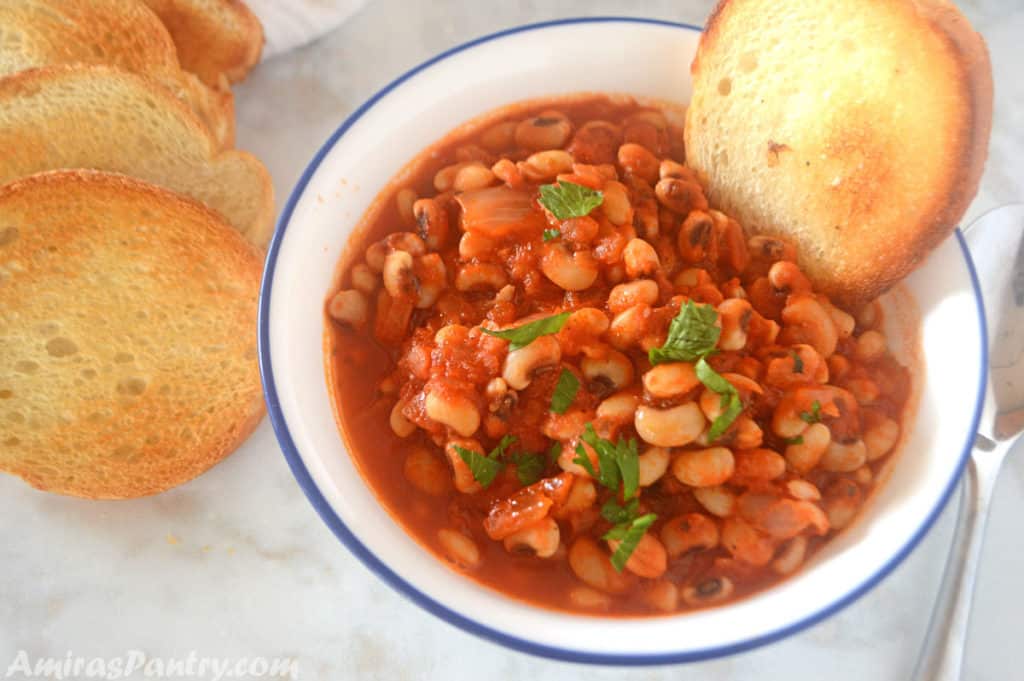 Tips for making quick black eyed peas:
Use canned beans: I would suggest that you simmer the sauce until thickened a bit for like 10 minutes then add the beans. Do not forget to drain and wash the black eyed beans.
Cook in an Instant Pot: saute onions and garlic on the saute setting of your IP. Add everything else and pressure cook on high for 15-16 minutes for dry beans. If you soaked yours then reduce time by almost half.
More vegetarian/vegan recipes
Vegan black eyed peas
Enjoy New Year's day with the Mediterranean vegan twist on the black eyed peas.
If you like this recipe do not forget to give it a ⭐⭐⭐⭐⭐ star rating and attach a photo of your finished dish. It is always a pleasure of mine to see your photos and check your own take of the recipe. Thank you.