Take the chill out of wintry days with this warming, super fast soup. Pair it with a whole grain roll, and you'll have a filling delicious lunch.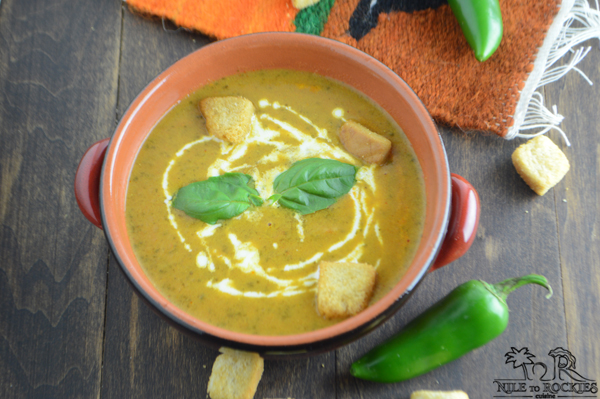 This is a very warming soup, filling and full of flavors, besides it is spicy which makes it more appealing to me. Easy to cook tomato, jalapeno, basil and cilantro soup :), this soup becomes ready in less than 30 minutes, which makes it perfect for winter busy days.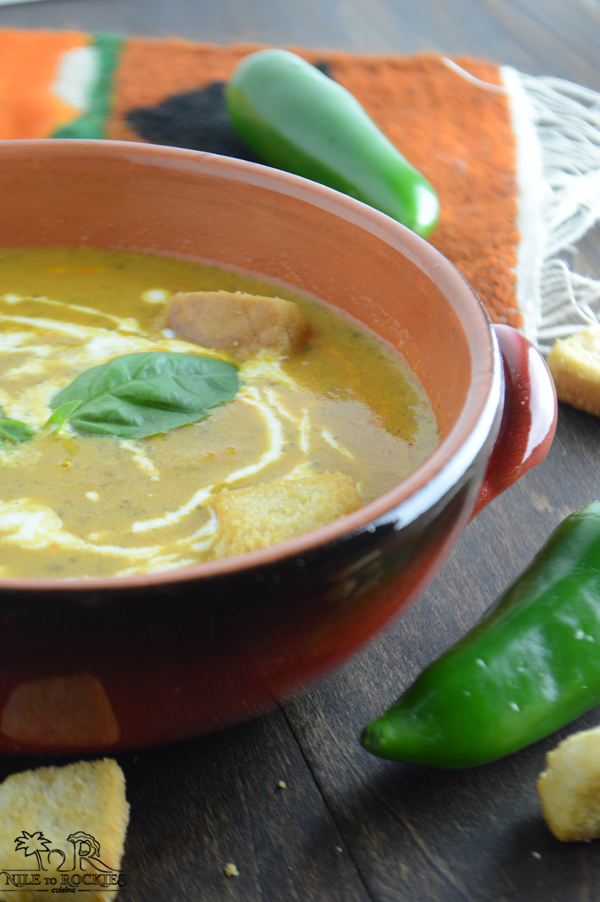 A couple of weeks ago, we were on our way to the kids' schools in the morning and I was listening to the radio for updates on news, you know these stuff that parents do in the morning, when all of a sudden we heard the announcer said, " today we will go to Egypt, where many women from poor families marry rich foreign men, and in a month or two they leave them and fly back to their countries!!!", I was like " WTH, where is that switch to turn the radio off" 😱.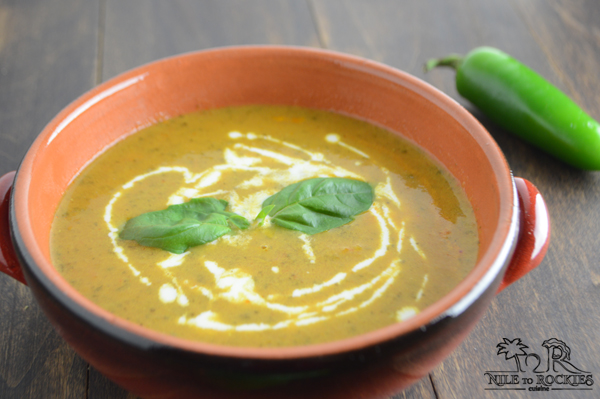 You can imagine of course the questions that I faced after the lady announced that. One of my kids looked at me with complete shock.. " Is this true?!!", and I was about to lie and say " I do not know honey😇". It is funny how we, expats, try to let our kids only see the good in our home countries and deny anything bad, I can understand that as we do not want them to hate the countries we originated from, but really!!, they reach an age when we cannot do this anymore and they have to face it. I felt so embarrassed when I told my kids, that yes these things happen, then came the questions.. why? and is this Haram - forbidden in our religion- or Halal? Why is it Haram and if it is so why people do it... and so many non- stoppable questions from their curious little minds, that needs to be answered in a way that will not make them despise the country, it is just how people are, it has nothing to do with the land itself. I love Egypt, but I just hate the way things are going on there, and that's why I am here and continue on living here. Simply put, it is the quality of life.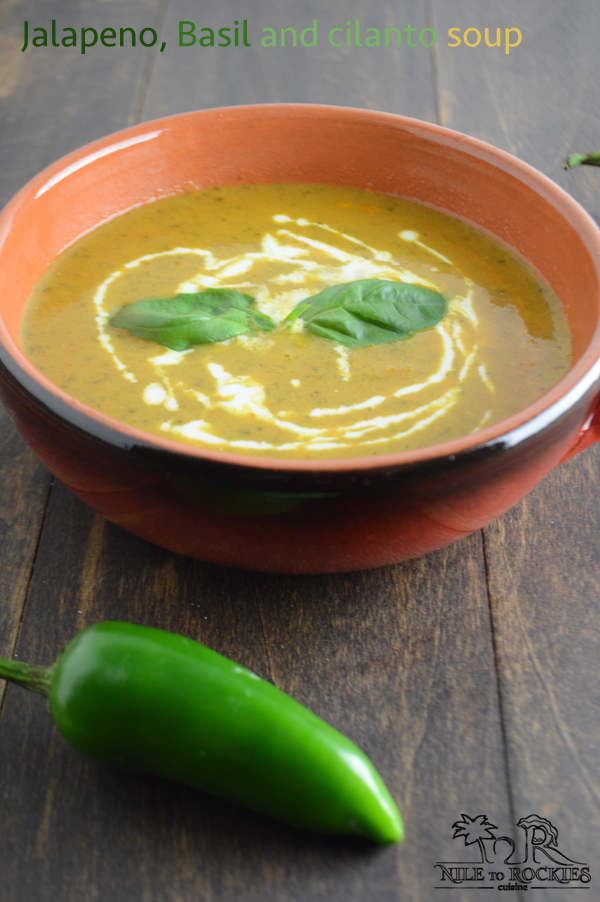 So after this confession, let's jump into today's recipe. It is perfect for snowy, winter days, it fills you up and with some bread it makes for a hearty lunch meal. The aroma of basil and cilantro is irresistible specially if you are a cilantro maniac like me 😅. Feel free to take out the Jalopeno - although for me it is a must- if you do not want your soup spicy, the addition of the cream is optional , it is just to give it some richness and thicken the soup a little, but it is totally fine on its own too.
Here is a short video on how to prepare this delicious soup, I hope you'll like it and as always.... Enjoy!!
Jalapeno, basil and cilantro soup
Ingredients
1

cup

fresh cilantro- chopped.

1/2

cup

basil.

4

roma tomatoes.

1

small yellow onion- quartered.

2

garlic cloves.

1-2

Jalapeno peppers- diced.

2

cups

of water + 2 Tbs of bouillon or 2 cups of broth.

Salt to taste.

1/4

teaspoon

turmeric.

1

Tbs

tomato paste.

Optional : 1/4 cup heavy cream.
Instructions
In a medium pot, all the ingredients except for the turmeric, tomato paste and the cream .

Bring to a boil and let it cook for 20 minutes or until all veggies are done.

Using a blender or a hand mixer, mix the cooked veggies, return the pot to medium heat.

Add the paste and turmeric, adjust the salt then add the cream and whisk quickly until everything is incorporated.

Pour hot in bowls and enjoy with bread.
Sign up and learn more about Mediterranean flavors