Mirepoix is used in many dishes like soups, stews and sauces. This simple and humble aromatic base provides a subtle flavor and enhances many dishes.
Mirepoix is the fancy French name for the aromatic combination of vegetables used to give a pleasing background flavor for many dishes such as soups and stews.
Here is all what you need to know about Mirepoix, how to make, freeze and recipes using Mirepoix.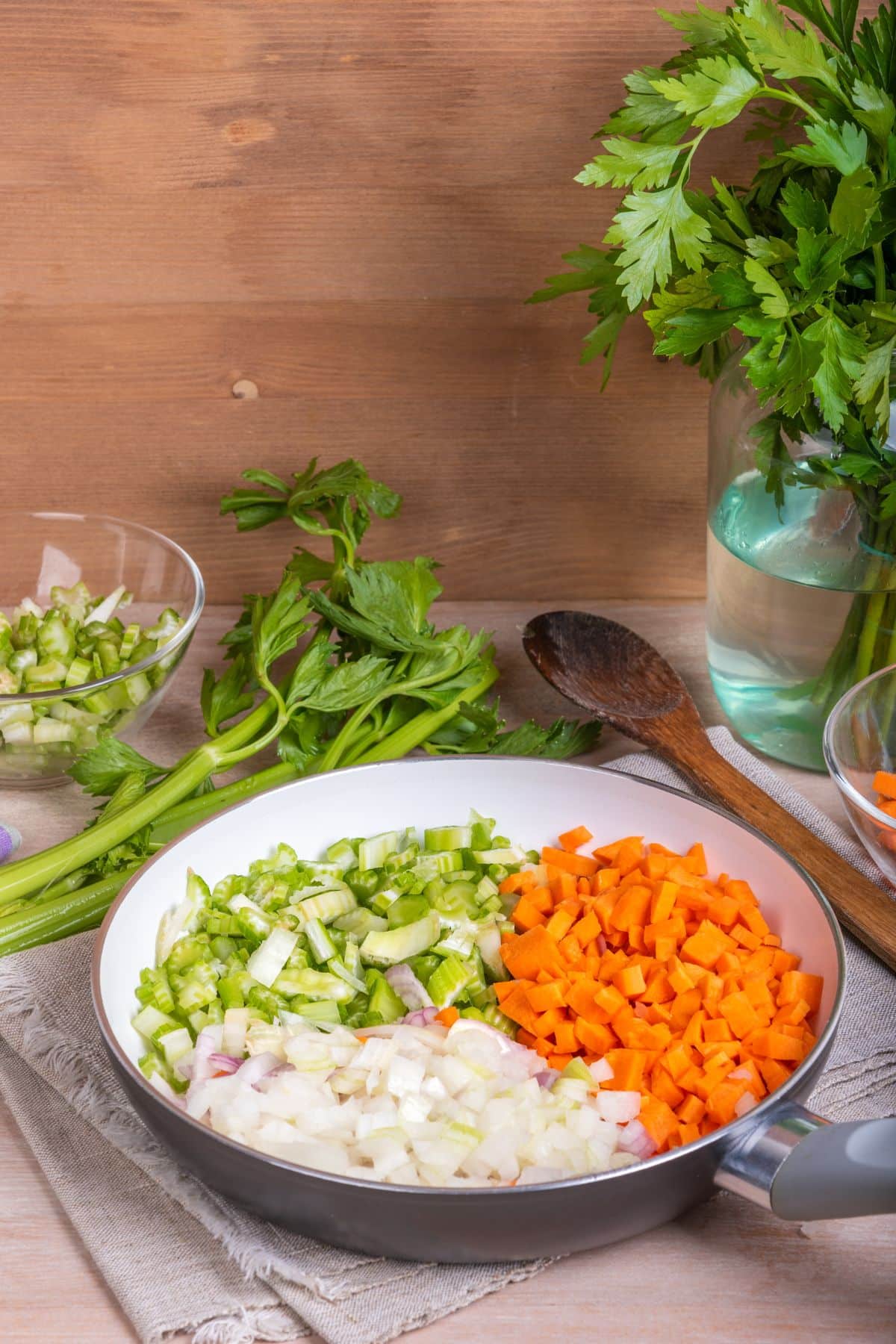 Jump to:
What is Mirepoix
Mirepoix is a French term and in the culinary definition, it is an aromatic combination of vegetables, that forms the flavor bases of many delicious soups and stews.
It is usually made of the famous trinity of French cuisine, onions, celery, and carrots. These vegetables are chopped and sauteed in fat. A simple technique that makes a significant contribution to many dishes.
How to pronounce Mirepoix
Mirepoix pronunciation is Mihr-PWAH, you will definitely feel like a skilled French cook pronouncing that!
How to make Mirepoix
Start by cooking onions in cooking fat that is enough to cover the bottom of the skillet you are using. Then add carrots and finally the celery, cook over medium-low heat until vegetables give off their moisture. This technique is called sweating.
Mirepoix Ratio
The standard Mirpoix ration is 2:1:1 onion: carrot: celery. Meaning two parts onion to one part celery and one part carrots.
Expert Tips
Peeling onions is recommended as onion skin will give the mixture a yellow or orange tint. So peel unless otherwise stated in the recipe.
Carefully washing and scrubbing carrots and not peeling them cuts back on prep time.
Some people like to peel all the vegetables used as this might make extracting flavors easier.
Try cutting the vegetables to relatively equal and uniform size so they cook evenly.
Cut vegetables large for long simmering dishes such as pot roast, cut them medium for uncooked marinades, or dishes that simmer less than 3 hours. Slice them thin for dishes that will cook for less than an hour.
Variations
The basic Mirepoix recipe is made as stated before with onions, celery and carrots but here are some common variations:
Asian Mirepoix
Used in many Asian dishes such as stir fries, sauces and such. Asian aromatics are used, use two parts garlic, one part green onion and two parts ginger. Cook until just fragrant as these ingredients can burn easily.
White Mirepoix
Used to mildly flavor white stocks and soups usually made with equal parts of onion, celery, leek and parsnip.
Cajun Trinity
Varies by region and traditional dishes, usually used in Cajun dishes such as gumbo. Made with two parts onion, one part celery and one part bell pepper.
Matignon
Used to garnish and flavor different dishes, this type of Mirepoix is made with diced ham, onion, celery and carrots then some herbs and spices are added such as thyme and bay leaves. Can also include mushrooms.
Recipes Using Mirepoix
Mirepoix can be used in a variety of ways, use it as a flavor base for rice, ground beef, soups, stocks, sauces, stews, Mirepoix pasta sauce or as a marinade.
Can You Freeze Mirepoix
Yes you can. Either chop the vegetables and freeze them raw or cook the Mirepoix and freeze. But take care as onions and celery usually do not freeze well, so it is better to use thawed Mirepoix in soups and gravy or dishes where you will eventually blend the ingredients or strain the Mirepoix out of the finished dish.
📣 Related Recipes
If you like this recipe do not forget to give it a ⭐⭐⭐⭐⭐ star rating and share your experience with us. It is always a good thing to take and also give to this lovely community. Thank you.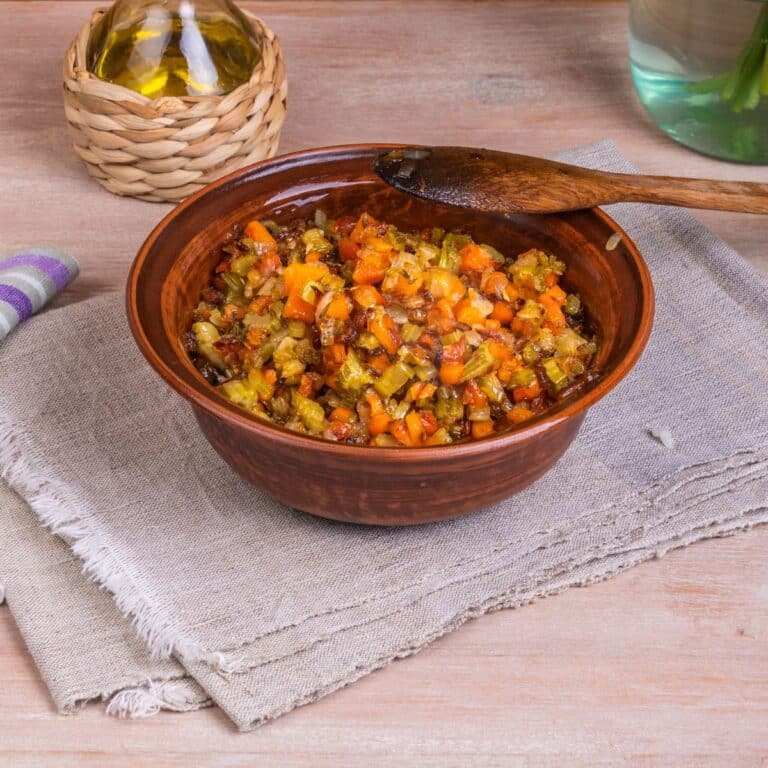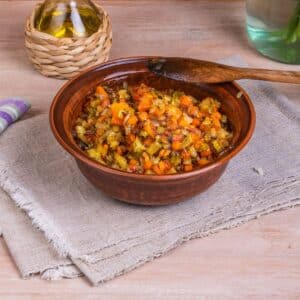 Mirepoix Recipe
Mirepoix is used in many dishes like soups, stews and sauces. This simple and humble aromatic base provides a subtle flavor and enhances many dishes.
Print
Pin
Rate
Ingredients
8

oz

onion

chopped

4

oz

carrots

chopped

4

oz

celery

chopped

2

Tablespoons

butter

or olive oil
Instructions
In a large skillet over medium heat pour oil and saute onions until translucent.

Sdd diced carrots and continue to cook for another 2 minutes.

Add celery and cook until softened.
Notes
Mirepoix can cook until it caramelized and turns deep brown color.
You can add tomato paste after the celery is cooked, turning the heat to medium low and carefully cook the Mirepoix until the paste turns rusty brown.
Mirepoix with tomato paste is usually used for brown stock and gravy to add deep color and flavor.
This amount is enough to flavor one gallon of stock or soup.
Nutrition
Calories:
156
kcal
|
Carbohydrates:
34
g
|
Protein:
5
g
|
Fat:
1
g
|
Saturated Fat:
1
g
|
Polyunsaturated Fat:
0.2
g
|
Monounsaturated Fat:
0.3
g
|
Cholesterol:
3
mg
|
Sodium:
44070
mg
|
Potassium:
744
mg
|
Fiber:
7
g
|
Sugar:
16
g
|
Vitamin A:
18998
IU
|
Vitamin C:
23
mg
|
Calcium:
151
mg
|
Iron:
1
mg
Sign up and learn more about Mediterranean flavors