I've so much longed to make cheese at home but was somehow scared to even think about it. I always fantasized that it will need many equipments, tools, materials and so on. Many recipes call for rennet, special starter cultures, cheesecloth, or buttermilk which I do not usually have at home. But when I saw this super easy recipe on YouTube by Ihab, I fell in love with it immediately and decided to give it  a try. I've tried this recipe on stove top many times - as he originally did -  and decided to go for a Crockpot version, it turned out even easier and better. So if you have a Crockpot you can try it or else go for the stove top version. I was very skeptical in the beginning so I've tried it on only 2 cups of milk then I made a whole patch and another and another..... I do not know what to call this cheese but it is a bit like a lighter version of FROMAGE BLANC. All you need for this recipe is milk and lemon juice or white vinegar and of course your crockpot or a stove and a sauce pan. It is a FOOLPROOF recipe and believe me when I say FOOLPROOF.
CrockPot Version:
You will need

3 Tbs of white vinegar

for every liter ( 4 cups) of whole milk- make sure to use

WHOLE MILK.
Salt to taste and herbs if you want to add some flavor.
What you will do:
Pour the milk in your crockpot, set it on low and leave it to heat the milk until it is almost boiling, It took mine about 2 hours and a half to boil 3 liter = 12 cups of whole milk.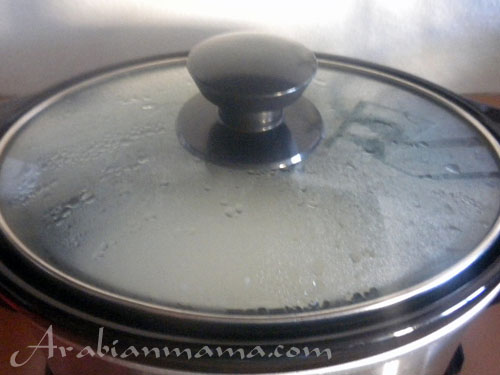 Do not unplug yet, just stir in the vinegar - in my case 9 Tbs -

one shot

and stir a little.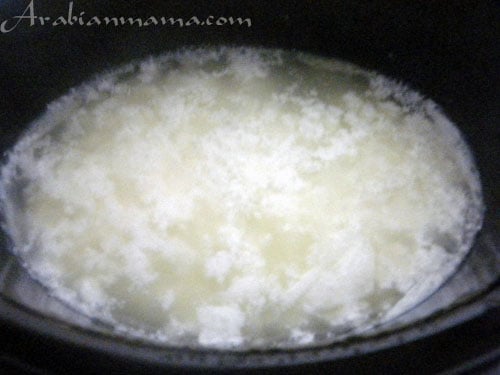 You will notice that the milk will quickly separate into curds and whey. Wait until you get clear whey this will take probably 5 minutes.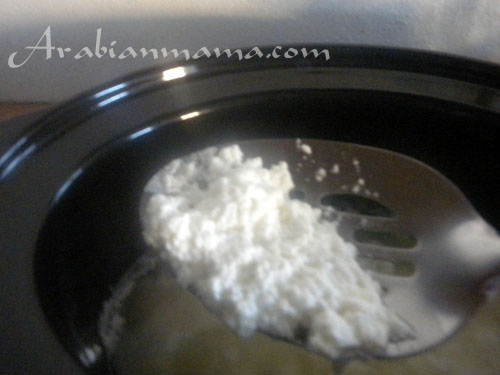 When you get the clear whey, unplug the crockpot. With a slotted spoon begin to remove the cheese from the crockpot then just

press lightly against the plate

to remove as much whey as possible. You can of course drain it in a colander or in a cheese cloth but really there is no need whatsoever to do so.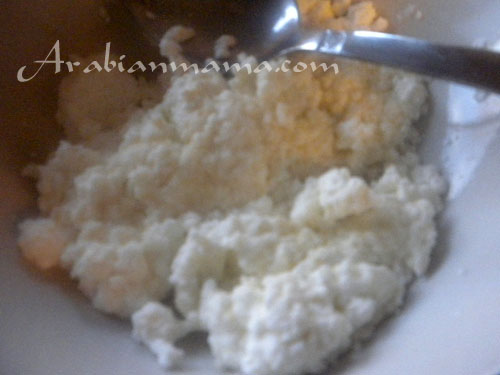 Add

salt/herbs/garlic powder/dried mint or oregano

just add any flavor you like or leave it as is ti use in desserts. Prepare a Pyrex container by lightly oil it with olive oil and put the cheese in, let it set in the fridge for 2-3 hours and voila you have your own homemade cheese with no preservatives whatsoever.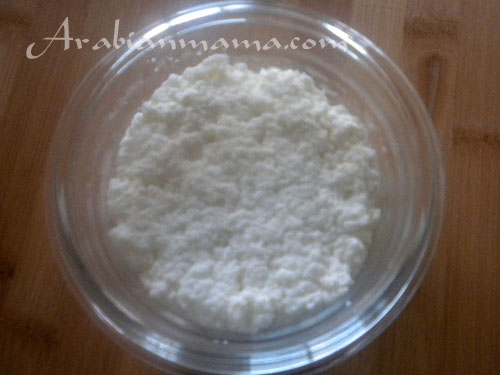 The stove top version is almost the same except you put the milk in a heavy sauce pan and stir occasionally over medium- low heat.

You really have to

use whole milk here

I've tried it with a 2% and it did not form a good curds.

Do not add salt

to the milk before adding the vinegar somehow it reacts with the vinegar and does not form good curds too.
Do

pour the vinegar all at once

.
Here is

Ihab's youtube link

, it is in Arabic though but I'd like to give him a big thank you and to give him the credit too. In his video he made another kinds of cheese but I haven't tried them yet.

I did not try it with lemon juice but it is said that it works just as the vinegar.

Many times I have slightly salted this cheese and crumbled it over salad instead of feta crumbs.
I hope you enjoyed this recipe ,please share with us your favorite cheese recipe in the comments below.