Chicken shawarma recipe with the best authentic marinade ever. You'll be amazed by the smell and the taste of this recipe. Finally, a shawarma recipe that is seriously shawarma and not just spiced grilled chicken.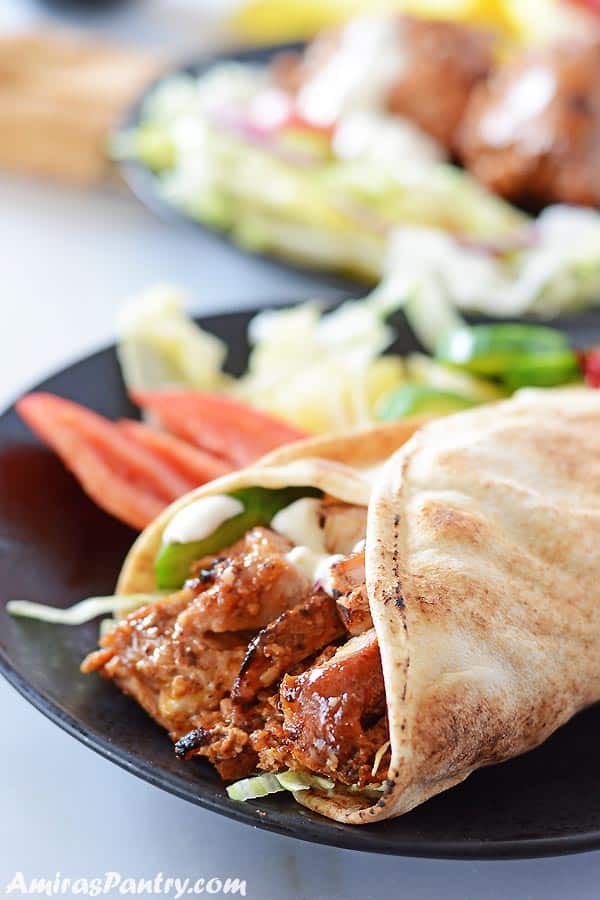 Chicken Shawarma
Shawarma is probably the second most popular Middle Eastern food in the whole world right after falafel. This is the best chicken shawarma recipe, trust me. I've tried many shawarma(s) before that I've lost count of and this is the ultimate spice mix and way of making shawarma as close as I can get to the one I remember from my childhood.
Chicken shawarma should be tangy with a slight sweetness all combined with a special spice blend and cooked slowly with an umbrella of fat. Almost all of the recipes you can find online does not give that taste that I grew up with. I've also tried many shawarma wraps in Egypt and they lacked that special taste as well. They all ended up for me under the category of very well spiced grilled chicken but unfortunately not my shawarma.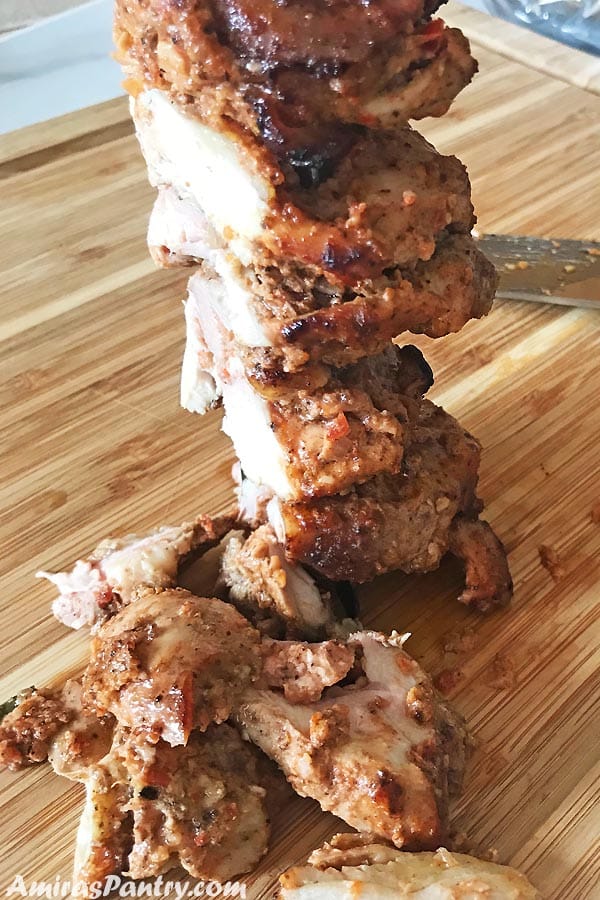 What type of food is chicken shawarma?
Chicken Shawarma is made of thin layers of marinated chicken stacked on top of each other on a spinning vertical broilers. Shawarma is usually topped with lamb fat which melts during the process of grilling giving shawarma this unique taste.
What nationality is chicken shawarma?
In Egypt, Shawarma is known to be a Syrian food. A simple search shows that chicken shawarma origin is actually the Levant area. Also some people says it is based off the Turkish doner kebab which is also the base of the famous Greek Gyros.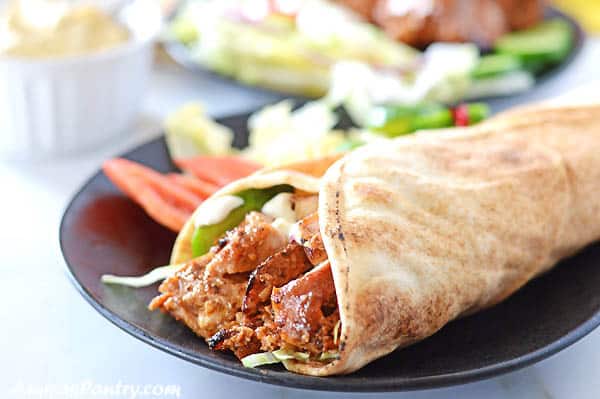 Chicken Shawarma tips
A couple of tips and tricks I picked up from many sources, including friends from an amateur cooking group has helped a lot in perfecting this recipe to the max.
1) Use Orange juice. The slight sweetness I told you about actually came from the use of orange juice and not sugar as I was thinking. I've heard a lot about this before but was hesitant to try.
2) Use zests. Orange and lemon zests helped also in flavoring the dish giving it the desirable tartness without the need for more vinegar or lemon juice.
3) Use chicken skin: This was genius guys. If you can find lamb fat then by all means use it. Or else do as I just did, use the fat dripping from chicken thigh skin.
How to make authentic chicken shawarma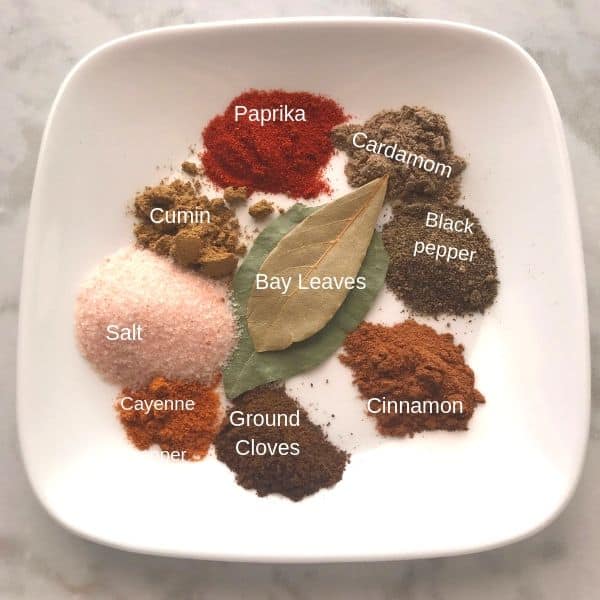 Here are the spices that you are going to need. I do not want you to be intimidated by the long list as they are all most probably there in your spice rack anyways. So get your spices ready and let's dive in.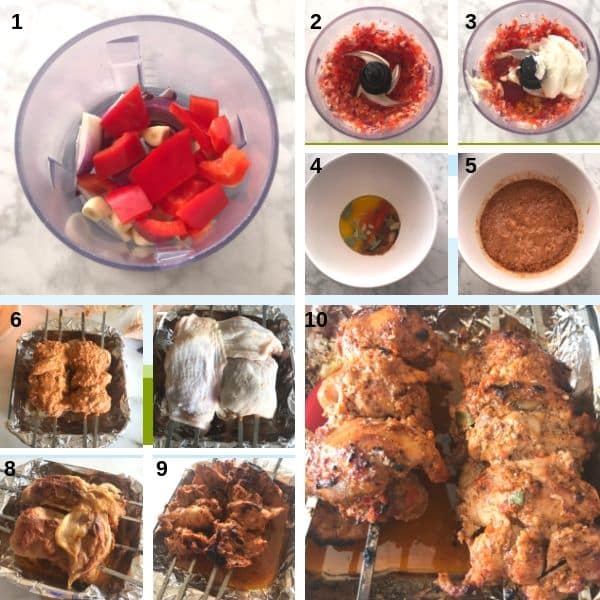 In a food processor combine red pepper, onion and garlic.
Pulse twice until roughly chopped.
Add mayonnaise, tomato paste lemon zest, orange zest and yogurt then pulse until combined.
In a deep bowl, combine dry spices, lemon juice, orange juice and olive oil.
Add the onion mixture to the bowl and mix well. Add chicken thighs and toss well to coat.
Fold chicken pieces in half and thread it into two metal skewers. Arrange the metal skewers over the pan as shown above in number 6.
Place chicken skin over the skewers to cover chicken.
Bake in the oven for about 40 minutes.
Remove skin and brown the chicken for about 10 minutes each side.
Let it rest for 10 minutes then cur into thin slices. Serve as a wrap or with rice and white sauce (recipe below).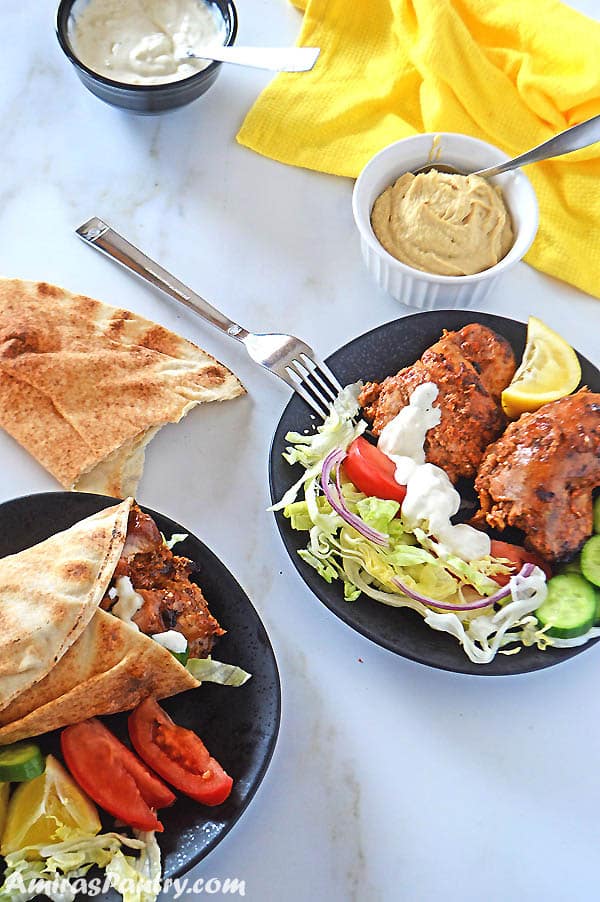 Shawarma's white sauce
Make this white sauce if you have time but if you are in a hurry, try my version of quick white sauce below.. it is so delish. Serve chicken shawarma as a wrap or over a bed of rice.
You may need
The following are affiliate links. We are a participant in the Amazon Services LLC Associates Program, an affiliate advertising program designed to provide a means for us to earn fees by linking to Amazon.com and affiliated sites. Thank you so much for being a part of Amira'sPantry!
I like using metal skewers for my shish kabob they help in cooking the chunks of meat better.

Other skewers recipes we love
I hope you'll like this recipe and please if you make this recipe, snap a pic and hashtag it #amiraspantry — I love to see your creations on Instagram, Facebook, Twitter! Don't want to miss a recipe?
Sign up for the FREE Amira's Pantry newsletter delivered to your inbox with lots of tips and surprises! And stay in touch with me on Facebook, Twitter, Pinterest, and Instagram for all the latest updates.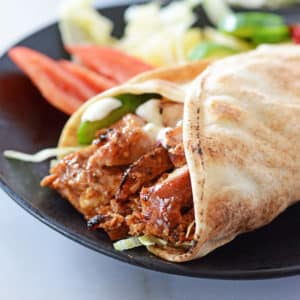 Chicken Shawarma
Authentically spiced Middle Eastern chicken shawarma with all the tips and tricks for the perfect shawarma recipe.
Print
Pin
Rate
Ingredients
1

(100g)

Small onion, quartered.

5

(12g)

Large garlic cloves.

1/2

(70g)

Large red bell pepper

.

1

Tablespoon

mayonnaise.

1

Tablespoon

tomato paste.

1/2

cup

(120g) plain yogurt.

1

teaspoon

orange zest.

1

teaspoon

lemon zest.

1/4

cup

Orange juice

freshly squeezed no sugar added.

2

Lemons

juiced about 6 Tablespoons.

1

Tablespoon

white vinegar

1/3

cup

olive oil.

1/2

teaspoon

ground cardamom.

1/2

teaspoon

ground cinnamon.

1/2

teaspoon

ground cloves.

1/2

teaspoon

freshly ground black pepper.

1/2

teaspoon

paprika.

1/2

teaspoon

cumin.

1/2

teaspoon

Cayenne pepper

optional or add to your liking.

2

teaspoon

salt

or to taste.

2

bay leaves.

2

pounds

boneless, skinless chicken thighs.

3-4

chicken thighs skin.
Quick shawarma white sauce
⅓

cup

mayonnaise.

⅓

cup

plain full fat yogurt.

1

Large

garlic clove,

minced.

Salt and pepper to taste.
Instructions
In the food processor add onion, garlic and red bell pepper. Pulse twice.

Add mayonnaise, tomato paste lemon zest, orange zest and yogurt then pulse until combined.

In a deep bowl, pour lemon juice, orange juice, olive oil and all the spices crumble bay leaves on top and mix.

Add the ingredients in the food processor and mix well.

Add thighs and toss to coat well.

Refrigerate for at least 6 hours or better overnight.

Preheat oven to 430F.

Divide chicken into two equal piles.

Fold one piece of chicken in half and thread it into two metal skewers. Repeat with the remaining chicken until you are done with one pile. Note1

Repeat with the second pile of chicken.

Choose a pan that is smaller than the skewers but can contain the drippings from the chicken while being cooked. Line with tin foil.

Arrange the metal skewers over the pan as shown above.

Place chicken skin over the skewers to cover chicken.

Bake in the oven for about 40 minutes.

Remove skin and brown the chicken for about 10 minutes each side.

Remove pan from oven, cover with foil, make a vent and let it set for 5-10 minutes.

Remove skewers and cut chicken into thin slices. Note2

In a small bowl. mix the sauce ingredients well

Serve with rice or as a wrap with white sauce, cucumber slices, thinly sliced ice berg lettuce, pickles, onion rings, hummus and much more.
Notes
Note1:You can also try layering chicken on wooden skewers that has been deeply inserted into a large onion ( or potato) with a flat side set on a baking dish. I saw this on a facebook video before that I could not find unfortunately. Worth noting that I've tried this method several times and it did not work for me.
Note2: You can also brown the sliced chicken more in a pan on stove top for more color.
Nutrition Facts
Chicken Shawarma
Amount Per Serving
Calories 402
Calories from Fat 253
% Daily Value*
Fat 28.1g43%
Monounsaturated Fat 15.4g
Potassium 258.5mg7%
Carbohydrates 12.5g4%
Protein 28.3g57%
Vitamin A 770IU15%
Vitamin C 91.4mg111%
Calcium 86mg9%
Iron 0.9mg5%
* Percent Daily Values are based on a 2000 calorie diet.
Nutrition
Calories:
402
kcal
|
Carbohydrates:
12.5
g
|
Protein:
28.3
g
|
Fat:
28.1
g
|
Saturated Fat:
5.7
g
|
Polyunsaturated Fat:
3.7
g
|
Monounsaturated Fat:
15.4
g
|
Potassium:
258.5
mg
|
Fiber:
3.3
g
|
Sugar:
4.8
g
|
Vitamin A:
770
IU
|
Vitamin C:
91.4
mg
|
Calcium:
86
mg
|
Iron:
0.9
mg
Sign up and learn more about Mediterranean flavors
Time to show you off!!