Learn how to make Middle Eastern beef shawarma the authentic way. Perfectly spiced lean beef strips rolled up with shawarma garlic sauce, onions and lettuce for the best homemade shawarma wrap ever.
Beef Shawarma
Middle Eastern shawarma is one of the many popular Middle Eastern dishes around the world. I've grown up to eating shawarma since I was a little girl and it is one of my favorite dishes that reminds me of home. Although shawarma is not an Egyptian dish, there is no neighborhood in Egypt that does not have at least one shawarma restaurant/stand.
I've experimented with this recipe for the last two months until I can safely say this is the best beef shawarma marinade. It gives you the authentic flavors and my guess is if you mix it with lamb fat it is going to give you an authentic aroma as well.
Beef shawarma has been in our weekly menu for the last two months or so, I just marinate the beef and keep it in fridge until cooking day. This recipe keeps very well in the fridge for up to 5 days, I haven't tried more yet.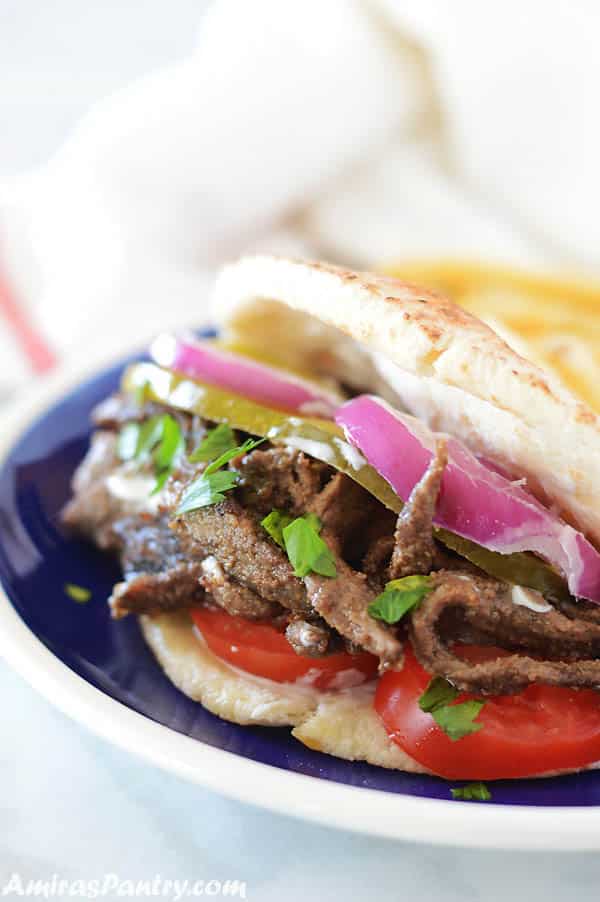 What kind of meat is shawarma?
Shawarma is thinly sliced meat that is ,arinated then cooked on a large rotating spit then shaved off into pita sandwiches with so many good things. In homemade shawarma lean beef works very well. Tougher steak cuts like flank, skirt, sirloin and round are best for marinating long hours.
What is Shawarma spice made of?
I have a magical shawarma spice blend for you, just mix it and keep it in a jar to use for your shawarma. It has all the great flavors of paprika, cumin, ginger, coriander, cloves, black pepper, sumac, allspice, cinnamon, cardamom and turmeric. This blend of warm spices works so well in shawarma.
Shawarma vs Gyro
They are both delicious. While every chef has his own slightly different opinion but everyone agrees that they are both delicious. Gyro is made with lamb and/or beef topped with tomato, onion and tzatziki. Shawarma on the other hand can be made with chicken, beef, lamb or even goat. It is usually topped with hummus, onion, tomato and garlic dip. Shawarma also is made with meat that should be marinated for long hours to ensure deep flavors.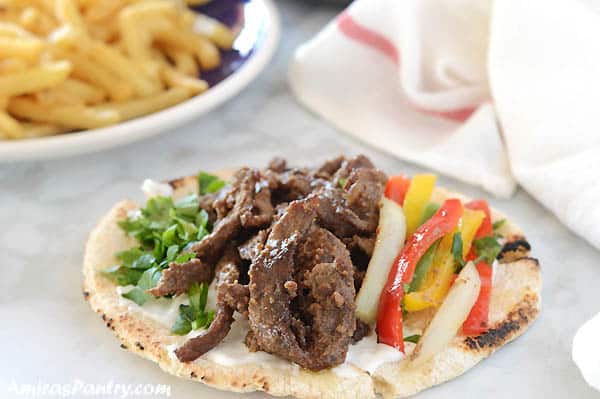 Shawarma ingredients: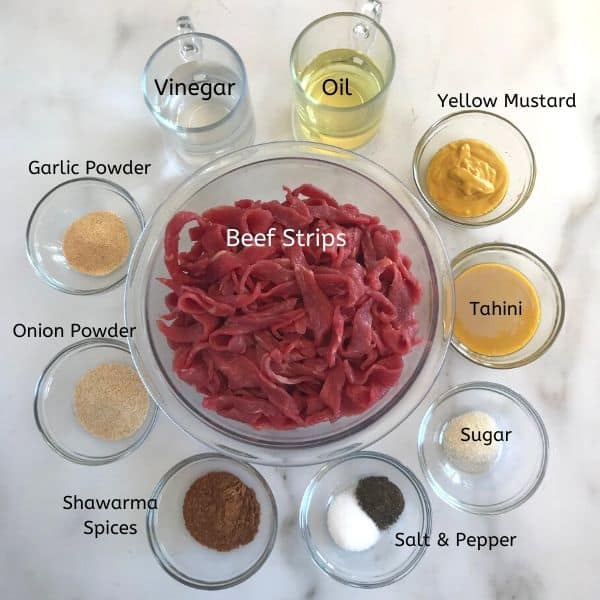 How to make the best beef shawarma: step by step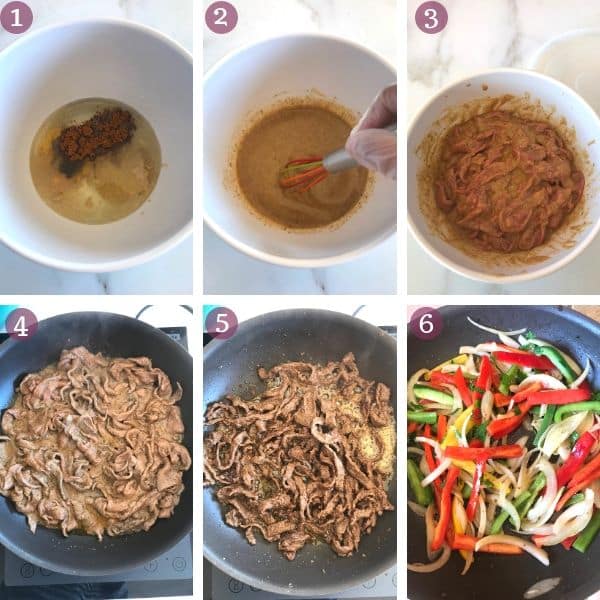 In a deep bowl add all the ingredients including the shawarma spice mix. Just take 1 tablespoon of the spice mix and leave the rest in a jar for further use. The shawarma spice mix I listed below makes about 7 tablespoons.
Mix all the ingredients well together, the marinade includes tahini paste which might cause allergy so be aware of that. You can still make it without the paste but it is highly recommended.
Add the beef strips and mix with your hands making sure to coat all the strips well. Cover and refrigerate at least 8 hours for up to 5 days.
In a non stick skillet, cook beef strips in batches and do not cram the skillet.
Keep cooking until all the liquids evaporates from the pan and the strips start to brown a little.
If you are making the lightly sauteed veggies, then add the onions and sautee for a minute then add the peppers and continue for another minute. Turn heat off and add the parsley, do not let the veggies cook all the way through as we want them crisp.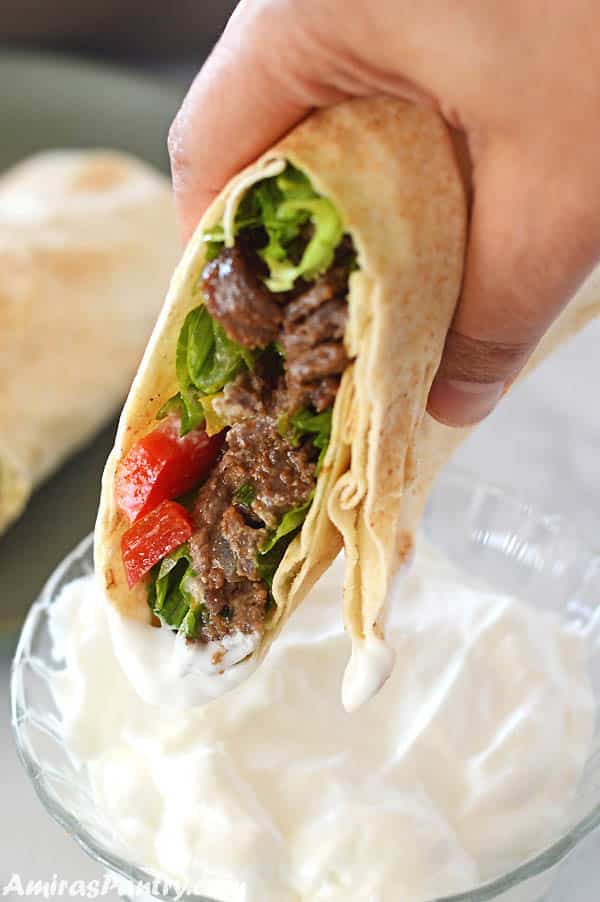 Now make a wrap and scoop a nice big dollop of garlic white sauce or tahini sauce or hummus then top that with fresh or sauteed veggies and meat. Take a bite and pretend you are relaxing on the beaches of the Mediterranean... sooo goood. I bet this will show up on your dinner table frequently as it does on ours.
Other shawarma recipes
Beef Shawarma Recipe
If you like this recipe do not forget to give it a ⭐⭐⭐⭐⭐ star rating and attach a photo of your finished dish. It is always a pleasure of mine to see your photos and check your own take of the recipe. Thank you.