A delicious garlic dip that is specially great with grilled meat.
Toum is a popular ِLebanese garlic sauce used in shawarma wraps, falafel, and grilled meats. I've tried several recipes for this garlic dip but nothing satisfied me as this recipe. Easy, creamy with no raw eggs.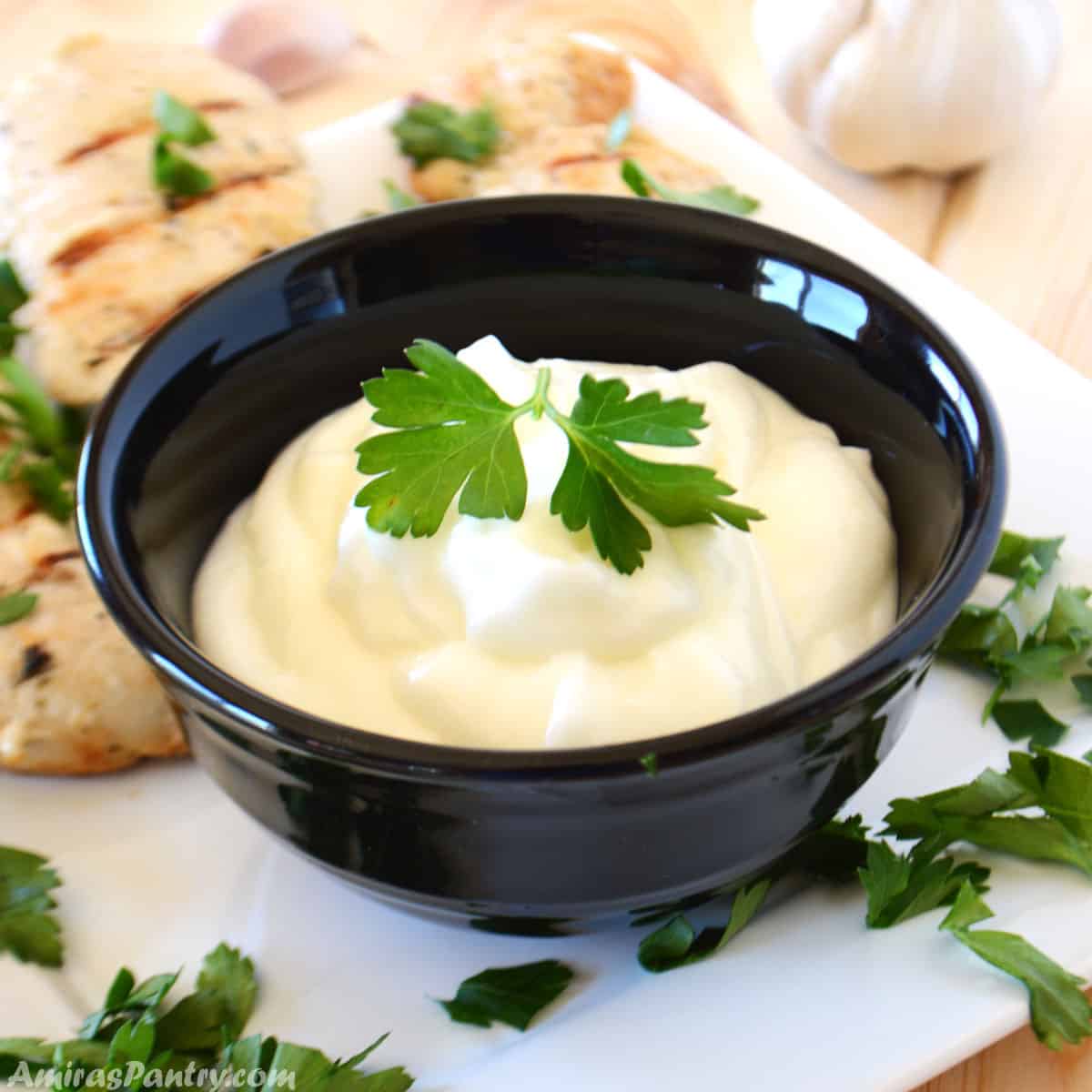 Toum (toummeyah)
Toum is a delicious garlic dip sometimes called toummeyeh as well. This garlic sauce is famous for being Lebanese, I am not sure about the origin though. It is a fabulous, garlicky dip with a texture like yogurt. Smooth and sleek to be served with almost anything.
Back then, in October 1997, I got my first salary. I was thrilled and so excited, my salary was big compared to others at this time as the IT industry was fairly new and booming in Egypt.
So, what to do with my first salary? I bought some stuff for myself as a way of thanking me for my hard work the last 6 years in college and after college studies, and I gave my family a big surprise by inviting them to this super expensive, super elegant restaurant in Egypt. It was a restaurant specialized in grilled meat.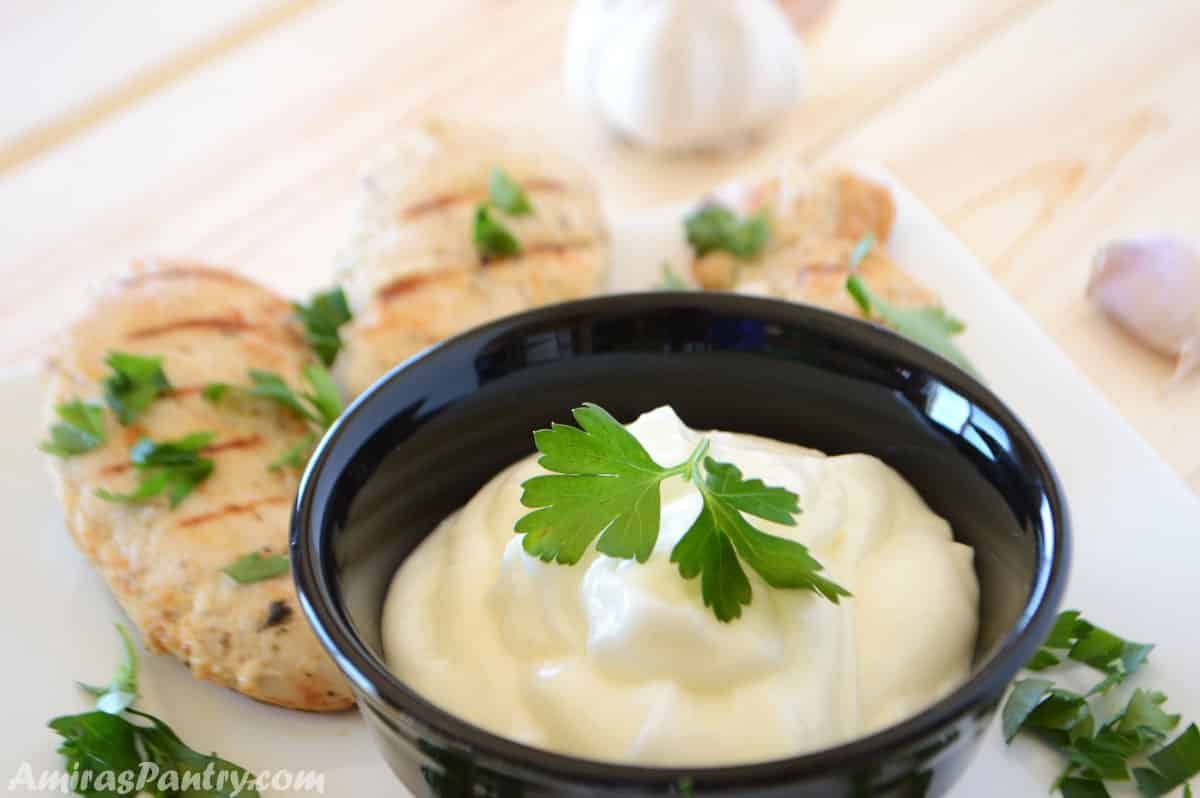 And there, I was first introduced to this delicious garlic sauce. It is white, fluffy, garlicky, and super delicious with grilled meat. I was immediately hooked, I searched for the recipe and I found one that I have been using for years, it was an easy recipe and the outcome was very good, the only downside to this recipe is that it uses raw egg whites, which made me kind of uncomfortable at the time, add to that, this recipe would not last 6 hours even in a fridge so it cannot be prepared in big quantities.
Recently, we had a dear friend with severe egg allergy and although I knew that he will not touch it, I did not want to jeopardize his health or put him in danger in any way. So I had to come up with an egg-less recipe.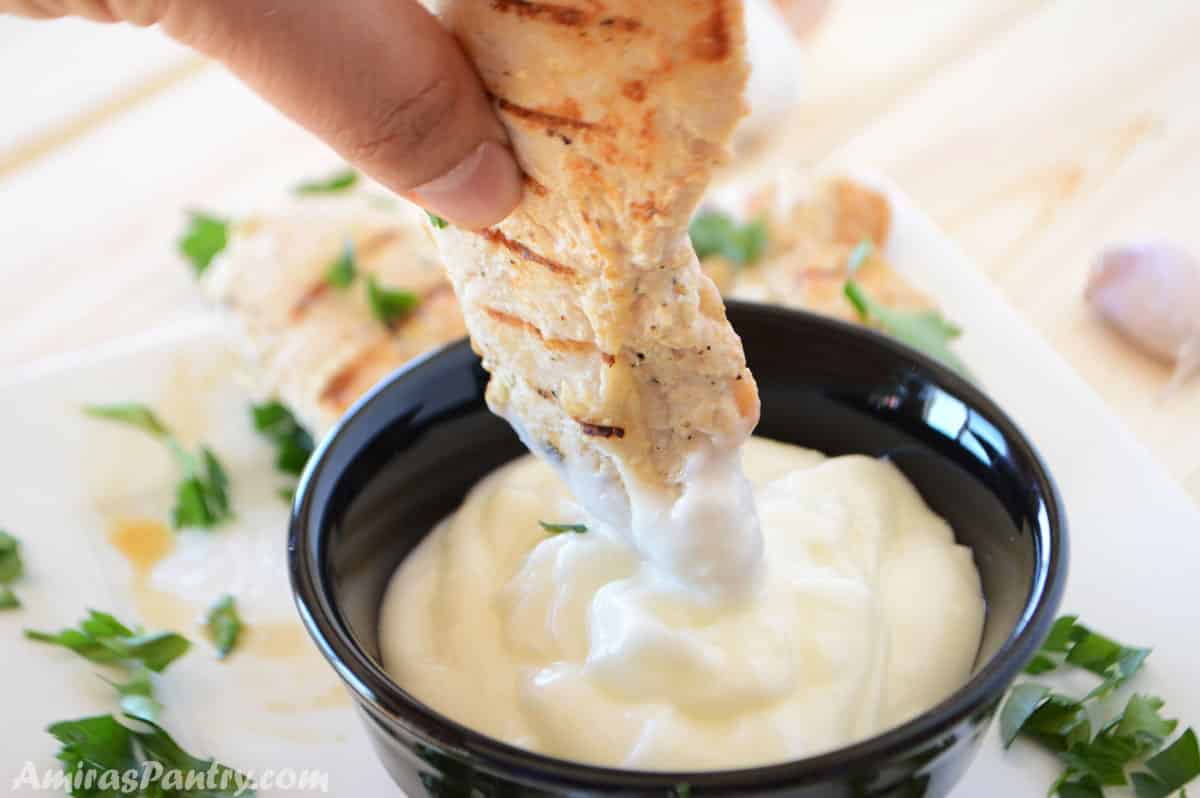 I've found a Lebanese recipe for toum that did not include raw eggs but it takes time to master as it was not easy to emulsify oil in a little amount of lime juice. Suddenly I remembered a recipe that my late father had told me about for this sauce using some kind of starch mixture. Finally I've reached the recipe that my dad was talking to me about. Here is a foolproof recipe -for lazy people like me - that is quick and easy but still delivers a nice delicious taste of toum.
The idea is simply to cook a soft paste of starch and water then in the blender add it to all the goodies that toum requires.. fair enough?
Try this one, I'm positive that you are going to love it.
Related Recipes
More Sauces/Dips
This is my go to Greek yogurt dill sauce to be served with gyros, stuffed grape leaves and also moussaka. Salty, garlicky and above all very easy to make.
The copycat Big Mac Sauce recipe is everything you love about the iconic Mcdonalds Big Mac but in a jar. This is absolutely one you'll want to save that works great as a dip too.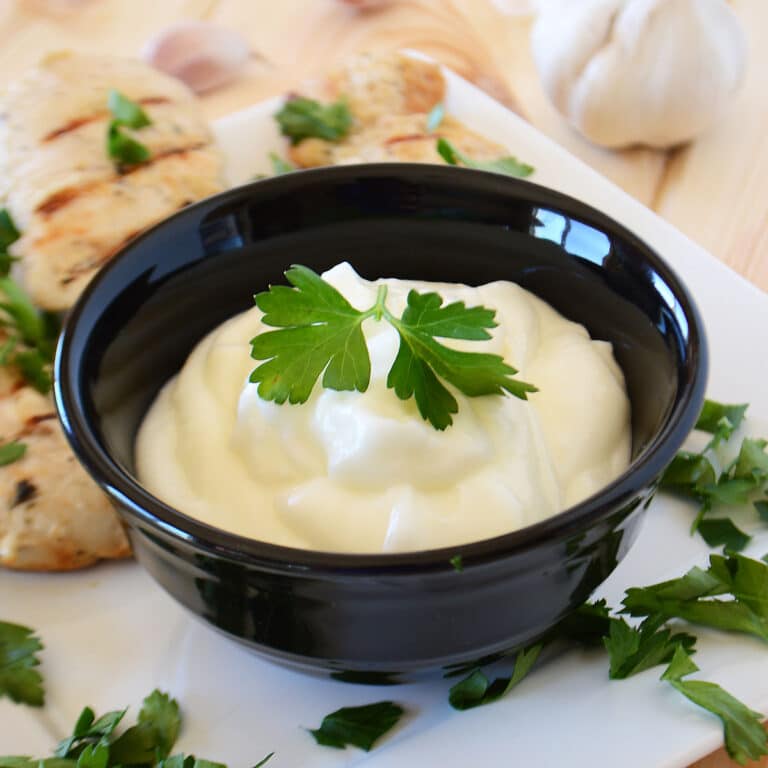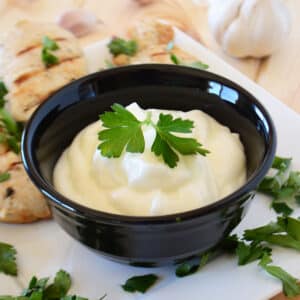 Garlic dip - Toomeyah
A delicious garlic dip that is specially great with grilled meat.
Print
Pin
Rate
Ingredients
4

large garlic cloves.

¼

c

oil.

2

teaspoon

lime juice.

½

teaspoon

salt - or to your liking.

2

Tbs

corn starch.

1

c

water.
Instructions
In a pot over medium heat, add water and corn starch, stir vigorously until no lumps is there, keep stirring until the mixture is thick and creamy. Remove from heat and let it cool down.

In a blender, add garlic,lime juice, salt and blend for a minute.

Add the cornstarch mixture and blend until well combined. Slowly add the oil while the blender is running until until it is emulsified and smooth..


You may serve immediately or chill until needed.*
Notes
* This dip might thicken when chilled, stir in a teaspoon of water at a time until you get the desired thickness then adjust the seasoning.
Nutrition
Calories:
141
kcal
|
Carbohydrates:
5
g
|
Fat:
13.6
g
|
Saturated Fat:
1
g
|
Polyunsaturated Fat:
4
g
|
Monounsaturated Fat:
8
g
|
Sodium:
39.9
mg
|
Potassium:
18.4
mg
|
Fiber:
0.1
g
Sign up and learn more about Mediterranean flavors