Homemade easy tzatziki sauce recipe is the perfect condiment for just about everything. This Greek gyro sauce is refreshing, creamy and tangy!
Satisfy your craving for Greek food with this tzatziki sauce. An easy to make sauce that is perfect condiment for just about everything. This sauce is so good that you will spend the rest of the evening scouring your pantry and fridge for things to dip into it!
First Published: September 2018 Last Updated: September 2019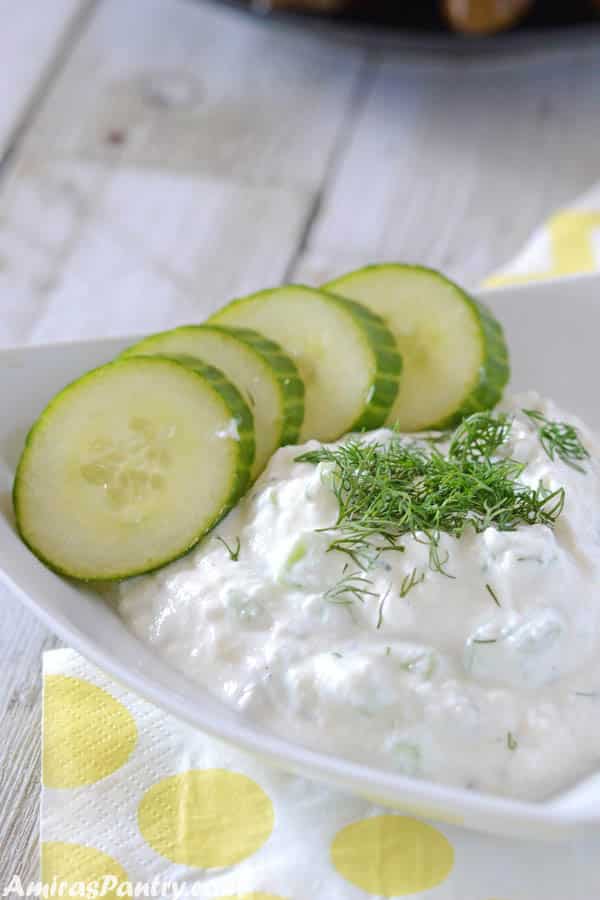 Tzatziki Sauce Recipe
Tzatziki sauce falls into the "well worth the effort!" category and by effort here I mean the dicing or shredding effort because this is really all you the work you need in this recipe. This sauce was BETTER than many I've had out!
This cucumber dip recipe that I recently knew as the gyro tzatziki sauce was a big hit in my home. I've had the pleasure of having my first gyro two weeks ago in a local Greek restaurant, and it had this little bowl filled up with gyro white sauce.Unfortunately, it was a little to the bland side. You see, I do not like plain yogurt and this yogurt cucumber recipe is the only way I used to have it. Loaded with garlic,mint, salty and with lots of cucumber in it.
I've had a friend who always encouraged me to make this dip with Greek yogurt, but I preferred the normal plain one until.... I've made this recipe. I need to admit she was right.In my old recipe I did not take the pulp out of the cucumbers. This is how I watched my mom make it and this is how I have been making it. To overcome the problem of water seeping out of the cucumbers, I used to make this dip in small amounts so I do not have leftovers.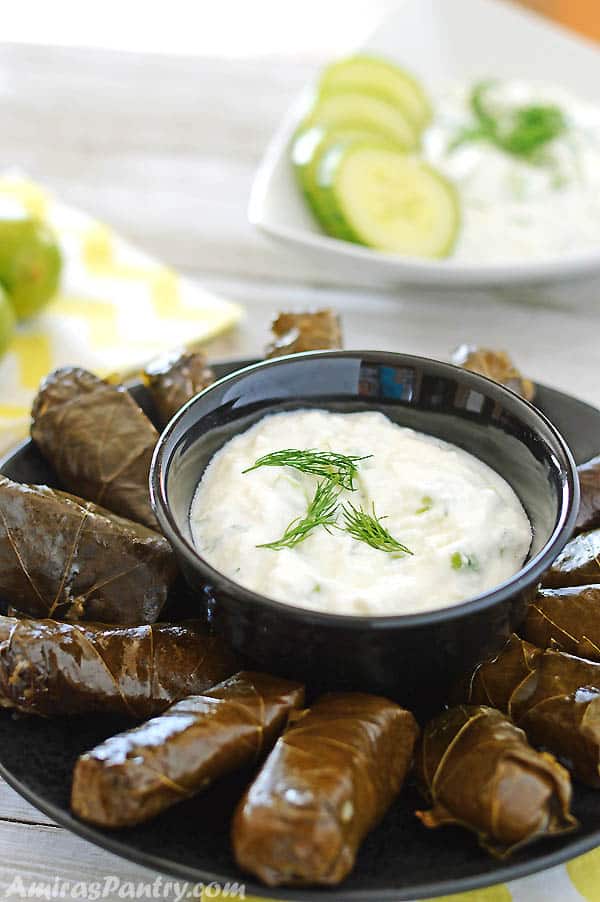 Tzatziki pronunciation
I admit, sometimes food recipes have weird names that we cannot even pronounce. Tzatziki is commonly pronounced as "Tsah-tzee-kee". Click here to listen. When in doubt, just say Greek gyro sauce, this will do the trick.
How healthy is tzatziki?
Well, in my book it is. Others, who are watching their weight, are saying it might not. Some people add sour cream or cream to the sauce which of course increases its fat content and also calories. Personally, I do not see something bad in yogurt, cucumber, garlic and some seasonings!🤷
Tips for the best tzatziki sauce
The yogurt: Use authentic Greek yogurt for the best result. If you do not have Greek yogurt you can use regular yogurt and let it strain in the fridge overnight. If you are overwhelmed with the Greek yogurt taste, you can combine part sour cream (90-95%) and part Greek (10-5%) yogurt, some people even prefer it with 100% sour cream.
Use a lot of garlic: for that incredible, spicy garlicky kick! I love garlic so personally I double the garlic in the recipe. I have just put 2 garlic cloves to suite most palates.
Get water out of the cucumber: there are two approaches to this either to place seeded and shredded cucumber with a sprinkle of salt in a colander or squeeze it by hand. I prefer the first method as my grip is not that tight. If you are pressed in time then do the latter.
Dice or shred the cucumber it is really up to you. I love mine diced for more texture.
Do not use a food processor: I have seen recipes mixing the ingredients in a food processor. This step clearly will break down your yogurt so instead gently fold everything together you do not really need that much force after all.
Mix the dill before serving if you are overwhelmed with its flavor. Personally I love fresh dill so I mix it with the other ingredients and I usually increase it in my recipes.
Add a tablespoon or two of olive oil as a garnish before serving. I do not do that but it is an option you might want to consider.
For a creamier and a smoother texture add a couple of tablespoons of sour cream. I am just used to it without the sour cream so I did not include that in the recipe.
If you have time, it is helpful to leave the sauce in the fridge for a couple of hours for the flavors to develop. Some people even leave it overnight.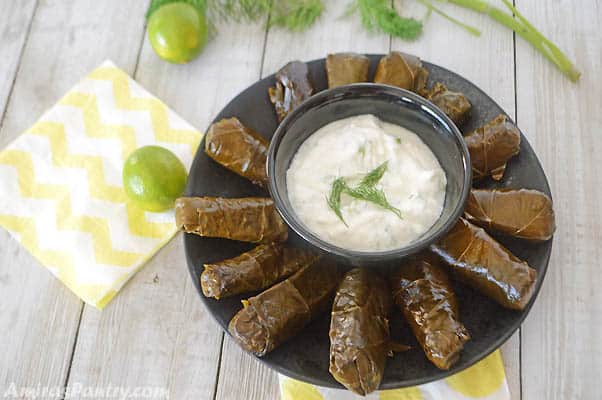 How do you make tzatziki sauce?
IMAO, this is the best tzatziki sauce recipe. I need to say that I liked it also with mint rather than dill. May be because I am a mint-aholic!. Next time I will add both to get the best of both world.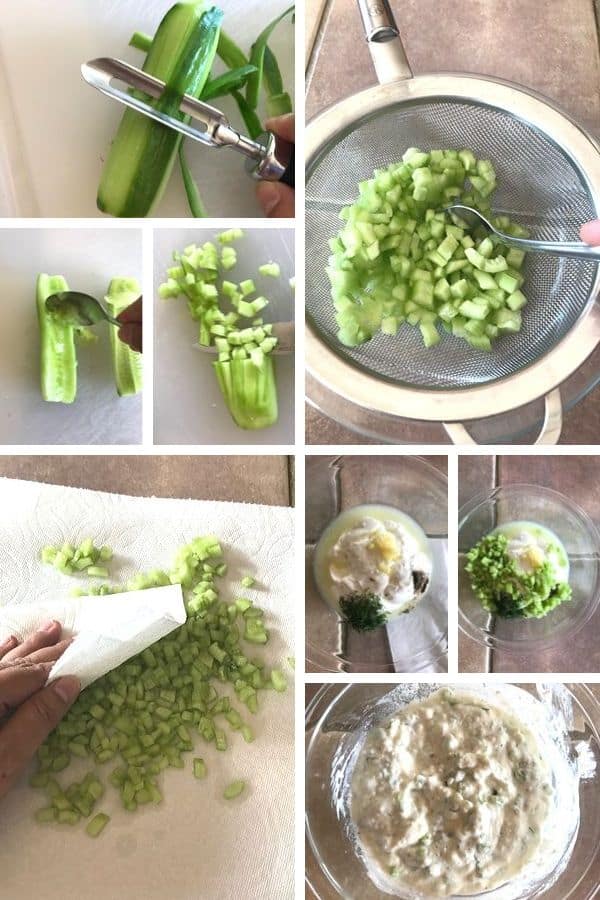 We'll peel the cucumber and then cut it in half lengthwise.
Scrape the seeds with a metal spoon, I ate those seeds I just love them :). I added them to some feta cheese along with tomatoes from my little veggie garden.
Dice cucumbers finely, I personally do not like placing them in a food processor as I love some chunks in the yogurt sauce so it is something personal.
Place cucumbers in a colander and sprinkle salt over it, leave for 30 minutes to draw out the water.
Now take the cucumber out on a kitchen towel and dry them as much as you can.
Add all other ingredients in a bowl then cucumber and mix well to combine.
Refrigerate for a couple of hours before serving.
This was absolutely divine with stuffed grapes. I've also made it to accompany my latest grilled shrimps. So tasty with anything.. seriously.
Mediterranean dips to enjoy
Baba Ghanoush
Eggplants roasted over open flame, scooped and then mashed wuth tahini, garlic, lemon juice, oil and a handful of spices. Serve chilled, warm or room temperature.
Check out this recipe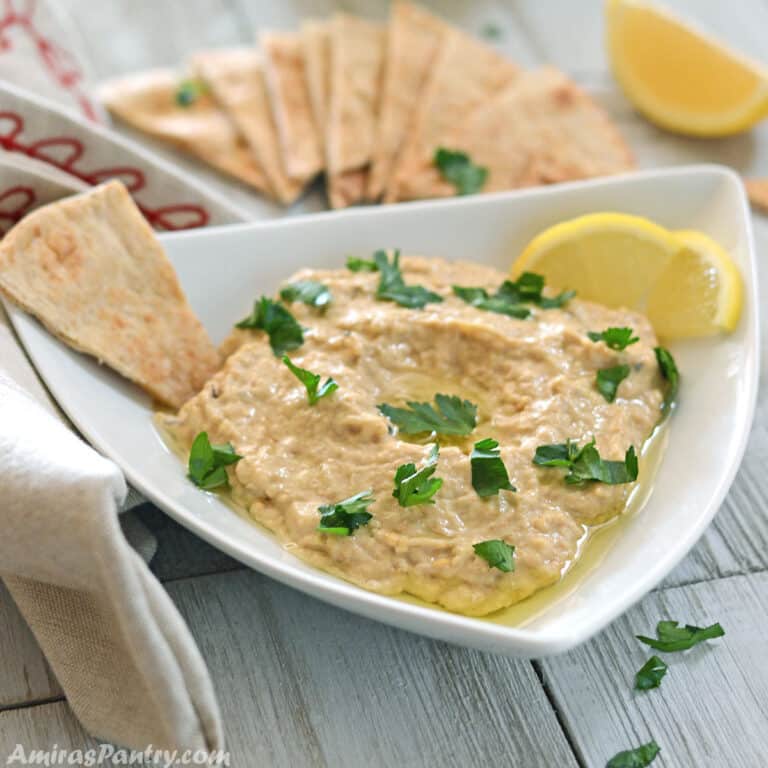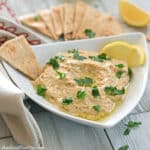 Chermoula Sauce
Chermoula is a really flavorful sauce with lots of fresh herbs, earthy spices, and just the right amount of flavor. It's also really easy to make and extremely versatile.
Check out this recipe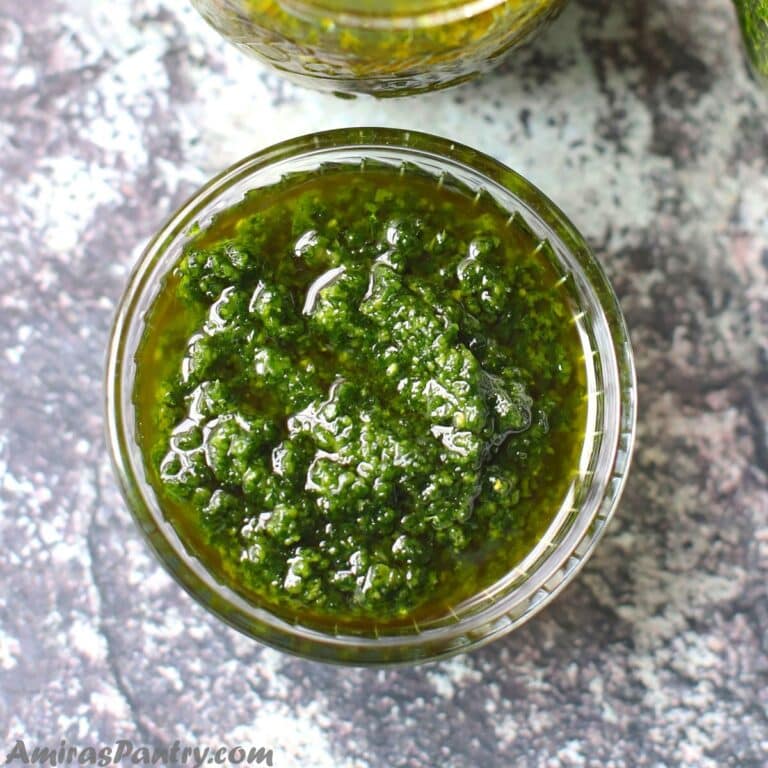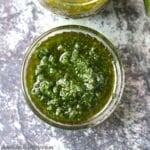 Authentic recipe for hummus
Garbanzo bean hummus, one of the epic Middle Eastern recipes. Homemade hummus recipe from scratch, you'll never go back to the store bought tubs.
Check out this recipe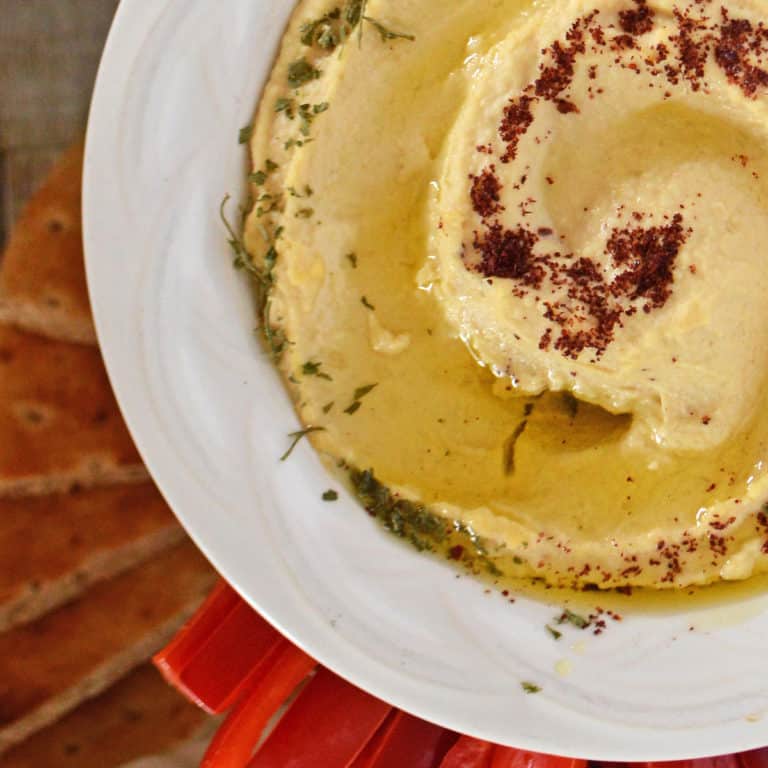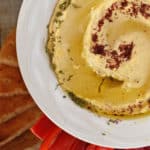 Muhammara Recipe
This Muhammara recipe brings out the best of dishes that are rich and full of flavor. A traditional Middle Eastern dip, Muhammara is a sweet, sour and spicy dip made from walnuts and roasted red peppers.
Check out this recipe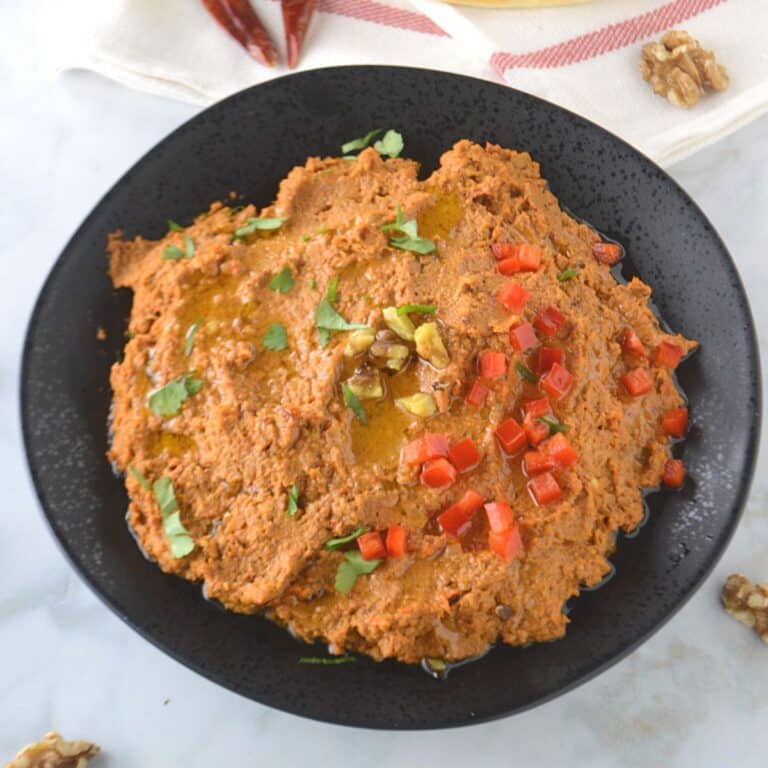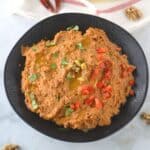 Tahini sauce/dip
An easy homemade tahini sauce made with simple ingredients. This creamy sauce is a staple in all Middle Eastern cuisines
Check out this recipe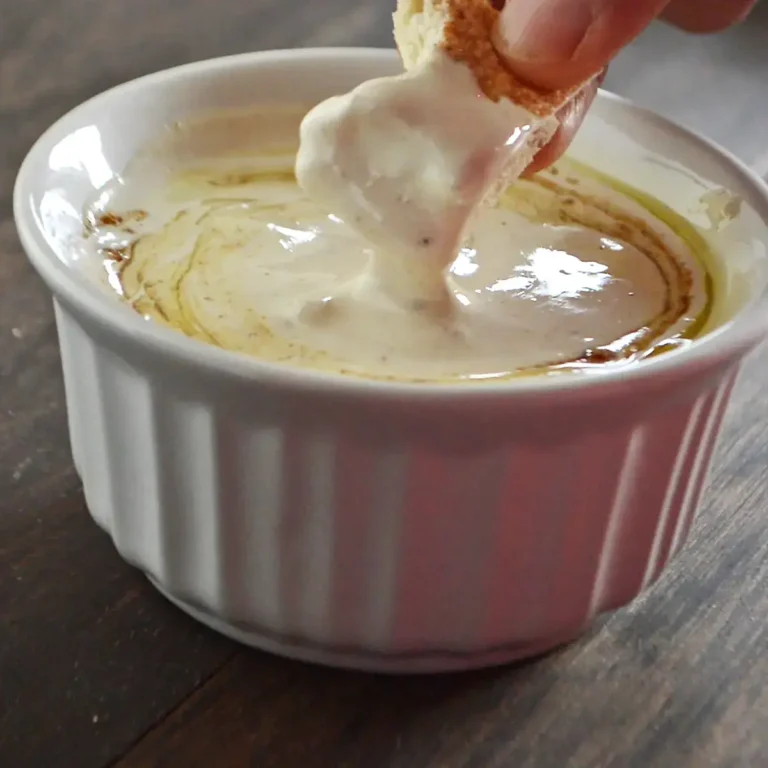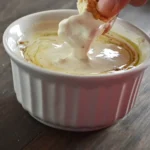 I hope you'll like this recipe and please if you make this recipe, snap a pic and hashtag it #amiraspantry — I love to see your creations on Instagram, Facebook, Twitter!
Don't want to miss a recipe? Sign up for the FREE Amira's Pantry newsletter delivered to your inbox with lots of tips and surprises! And stay in touch with me on Facebook, Twitter, Pinterest, and Instagram for all the latest updates.
Tzatziki sauce recipe
If you like this recipe do not forget to give it a ⭐⭐⭐⭐⭐ star rating and attach a photo of your finished dish. It is always a pleasure of mine to see your photos and check your own take of the recipe. Thank you.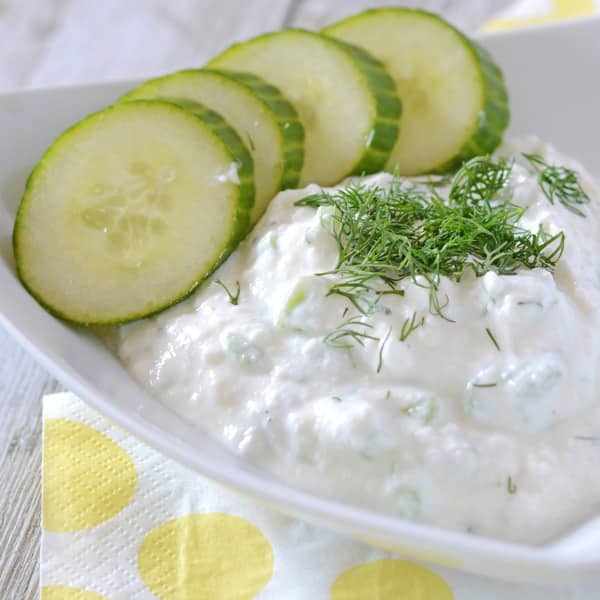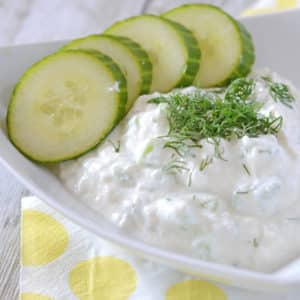 Tzatziki Sauce Recipe Easy
Homemade easy tzatziki sauce recipe is the perfect condiment for just about everything. This Greek gyro sauce is refreshing, creamy and tangy!
Print
Pin
Rate
Ingredients
2

medium cucumbers.

½

teaspoon

salt.

2

cups

plain Greek yogurt.

2

Tablespoons

fresh dill

chopped.

2

Garlic cloves

minced.

3

Tablespoons

lemon juice.

⅛

teaspoon

black pepper.
Instructions
Peel cucumbers, cut in half lengthwise and scrape out the seeds with a spoon.

Dice cucumber finely then place in a a colander and sprinkle salt . Let stand for 30 minutes to get excess water out.

Drain and pat dry with a paper towel.

In a bowl, add cucumber, yogurt, dill, garlic, lemon juice and black pepper then mix well to combine.

Cover and refrigerate for a couple of hours or overnight.
Notes
If you do not have Greek yogurt, just strain normal one in cheese cloth for an hour or overnight.
You can also use mint instead of dill.
Nutrition Facts
Tzatziki Sauce Recipe Easy
Amount Per Serving
Calories 168.8
Calories from Fat 86
% Daily Value*
Fat 9.6g15%
Cholesterol 33.3mg11%
Carbohydrates 14.6g5%
Vitamin A 480IU10%
Calcium 254mg25%
* Percent Daily Values are based on a 2000 calorie diet.
Nutrition
Calories:
168.8
kcal
|
Carbohydrates:
14.6
g
|
Fat:
9.6
g
|
Cholesterol:
33.3
mg
|
Fiber:
1.5
g
|
Sugar:
11.8
g
|
Vitamin A:
480
IU
|
Calcium:
254
mg
Sign up and learn more about Mediterranean flavors