A feast in your mouth, lots of flavors from different vegetables, the unique aroma of basmati rice topped with pieces of lamb,beef or chicken. This one dish meal will feed a crowd.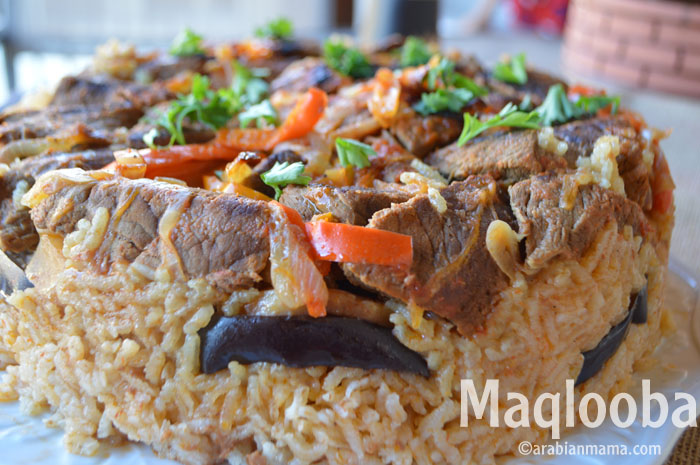 We are back from Egypt yaaay, actually not so happy leaving my mom and sisters behind, but I really enjoy going back to my usual routine and getting the kids ready for their school.
Speaking of the family and my never ending longing to my late father, I've decided to make one of his favorite dishes ,Maqlooba . Being an eggplant lover, he liked almost anything that has eggplants. I never perfected the flipping of this dish, it always fell apart and everything is mixed up. Still tastes delicious but the look was not what it should be.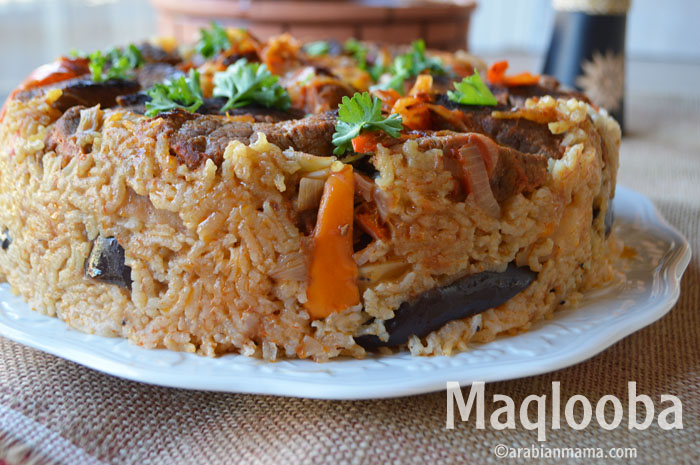 I have always known this dish as a Palestinian one, but to my surprise it seemed that it also a popular one in Iraq. This dish consists of eggplants, potatoes and cauliflowers florets that should be fried. I did not use cauliflower in my version and only fried the eggplants and potatoes. For a lighter version I suggest that you roast the eggplants and potatoes in the oven and you can use chicken instead of dark meat.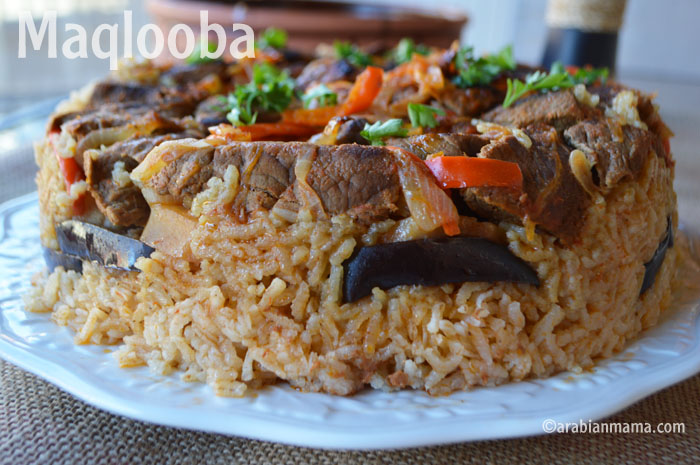 Here is a short video showing you how to make Maqlooba. I hope you'll like this dish. Enjoy!!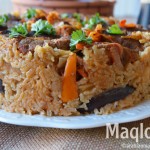 Maqlooba
A one dish meal the will please a crowd.
Ingredients
2

c

basmati rice soaked for 30 minutes.

2

lb

beef stew/ lamb or chicken

boiled and cooked make sure to keep the broth

1

medium eggplant.

2

medium potatoes.

1

large yellow onion.

1

large green/red/yellow bell pepper

or any kind of pepper you like

2

Tbs

tomato paste.

2

Tbsp

olive oil.

salt and pepper.

Oil for frying.
Instructions
Slice the eggplant and the potatoes, sprinkle with some salt and fry.

In a large pot, heat 2 tbsp of olive oil. Saute the diced onion until translucent, add the meat, tomato paste and season, stir very well and cook for 5 - 10 minutes. Turn off the heat.

In a deep pot arrange the meat in the bottom, then top with fried potatoes, then the eggplant rings.

Top that with the rice, then add enough broth/water to cook the rice according to the package directions. I've added broth just enough to cover the rice.

On a medium- high heat bring your pot to a boil, then reduce heat and cover for about 20-10 minutes until the rice is done.

In a large platter that is wider than your pot, flip over the pot and tap the bottom of the pot to loosen the dish. It should fall out easily.

Serve with green salad or yogurt dip. Enjoy!!