Maqluba or Maqlooba is an upside down rice dish that is very versatile. Maqluba recipe is basically layers of vegetables, flavored rice and meat stacked on top of each other and cooked to perfection.
Maqluba is a one dish meal made traditionally with cauliflower or eggplants. There are as many variations to this dish as there are families in the region, but the method is the same. Here is a step by step guide to make the easiest worry free maqluba recipe to grantee success each time
First Published: August 2015 Last Updated: April 2019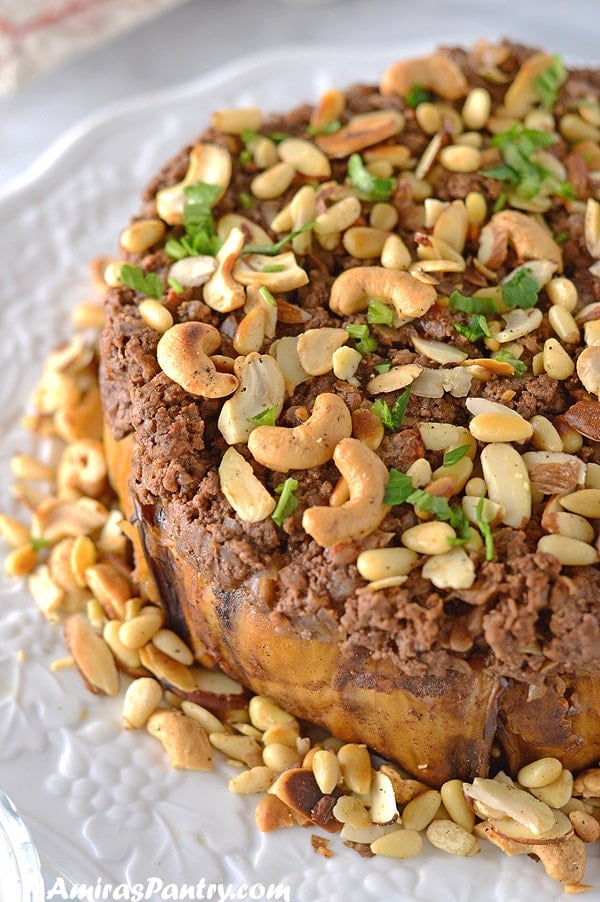 Maqluba
If you have been following me long enough you probably by now know that I had lots of Palestinian friends when I was growing up. My dad used to work in KSA and when we visited over the summer, we had gatherings of friends every week and sometimes even twice a week.

I was introduced to this dish in one of these gatherings. As a kid,I ate the rice, ditched the vegetables and when it was made with chicken , I ate the chicken as well. The flavors and textures in this dish is heavenly good.
My late father was a huge fan of eggplants, and I used to hate it as a kid. Now I appreciate it more and I love it, but for the kiddos.. naah, they are not there yet. He used to like maqluba a lot, I've tried so many times making maqlooba but it was very hard for me to manage flipping it over without making a mess. It used to fell apart and did not hold its shape. Still tasted delicious but the look was not what I hoped for. This time I have perfected the recipe and bringing you some tips and tricks along the way for a perfect flip each time.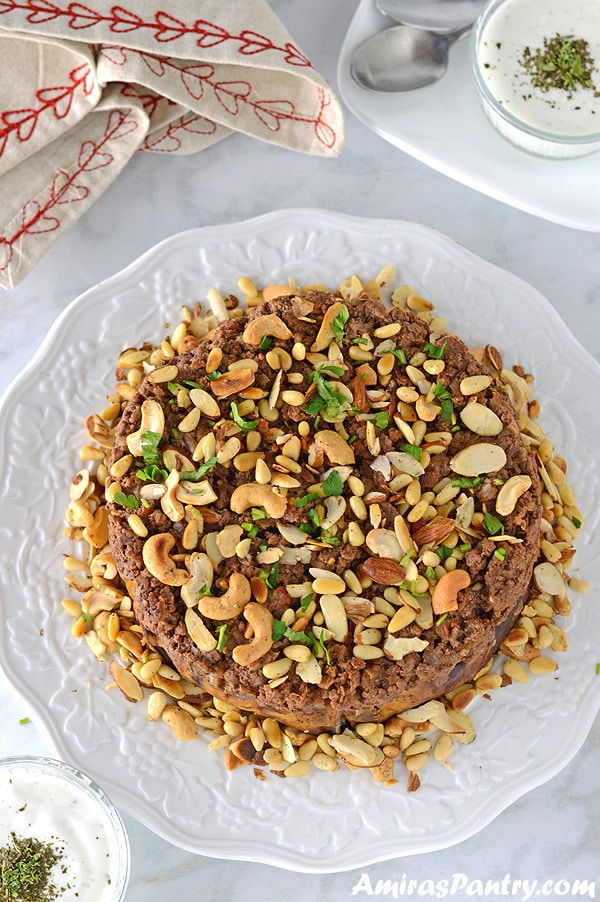 Maqluba Recipe FAQS
What type of rice to use in maqluba?
Maqluba traditionally is made with Egyptian rice, but nowadays it is very common to be made with basmati or any other kind of rice.
What vegetables used in maqluba?
The main vegetable is either eggplant or cauliflower. You can add bell peppers, chili peppers, onions, potato, diced tomato or any other variety of vegetables you like.
What other types of meat to use in maqluba?
Use whatever you have. You can make maqluba with chicken, beef cubes, ground turkey, ground beef… etc.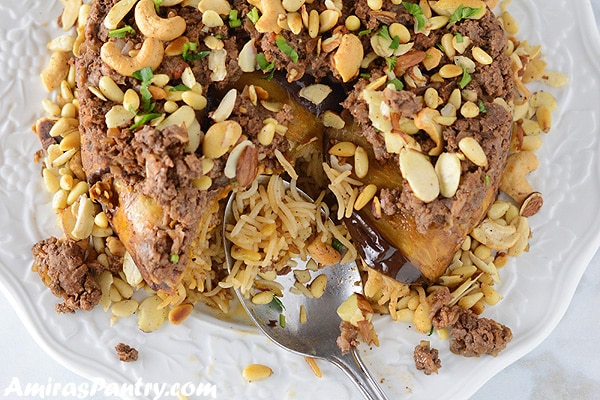 Tips for making perfect maqluba
I used to make maqluba with cubed beef stew. Filling a pot with water, adding a whole onion, bay leaf, some salt and pepper then drop the meat in until it is halfway done. Place them at the bottom of the oven dish and it will continue to cook with the rice. I've found that ground meat is easier but of course it is your choice.
The hardest part of making maqluba is flipping it in the end. To ensure that it is not stuck to the bottom of the baking dish, I lined the dish with parchment paper.
Before, I used to just put the eggplant on the bottom of the baking dish, this time I have wrapped eggplants around the rice. This also ensure that the rice will not fly everywhere when you flip the dish.
How to make maqluba: A step by step guide.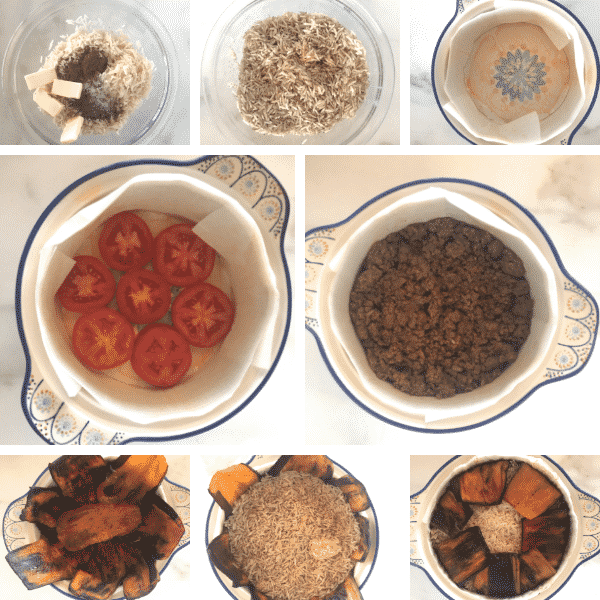 Spice up the rice: in a bowl, add washed rice, butter and spices. Mix them well.
Prepare your baking dish: line the bottom and the sides of your baking dish with parchment paper.
Add tomato and meat: add tomato slices to the bottom of the pan then top that with the browned ground meat.
Arrange eggplant: arrange eggplant slices so they are overlapping and hanging on the sides of the dish. Make sure to cover the bottom well.
Adding rice: add the rice mixture, pour boiling cooking liquid ( water or broth), then flip the hanging eggplant slices over to close.
Bake: bake the rice dish in a 400F preheated oven until rice is totally cooked.
Cool and flip: let it cool down for 15 minutes then flip it over your serving dish. Garnish with toasted nuts and parsley.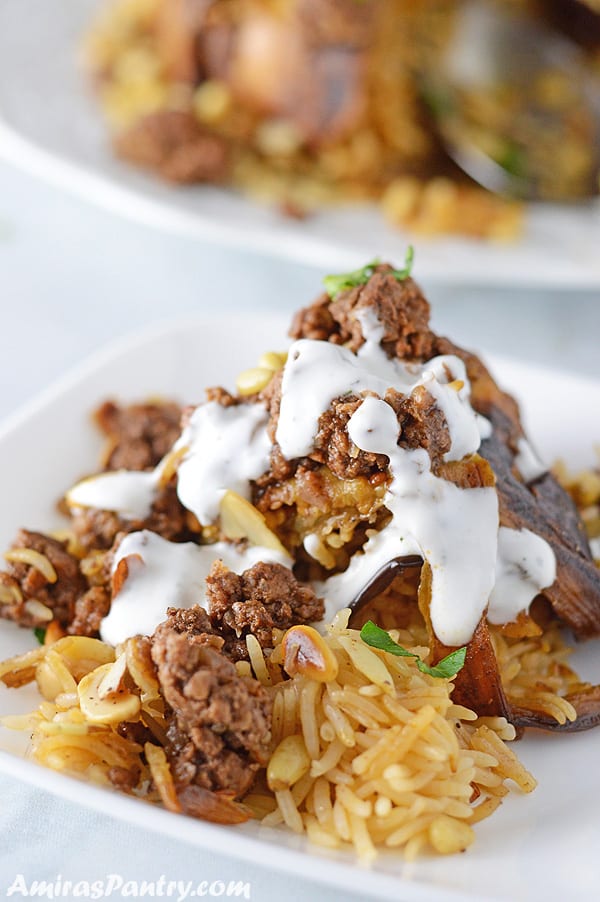 You may need
The following are affiliate links. We are a participant in the Amazon Services LLC Associates Program, an affiliate advertising program designed to provide a means for us to earn fees by linking to Amazon.com and affiliated sites.
For this recipe I've used Aahu Barah basmati rice. It was recommended by a friend and I could easily find it here in the Middle Eastern store.
More Mediterranean eggplant recipes:
Baba Ghanoush
Eggplants roasted over open flame, scooped and then mashed wuth tahini, garlic, lemon juice, oil and a handful of spices. Serve chilled, warm or room temperature.
Check out this recipe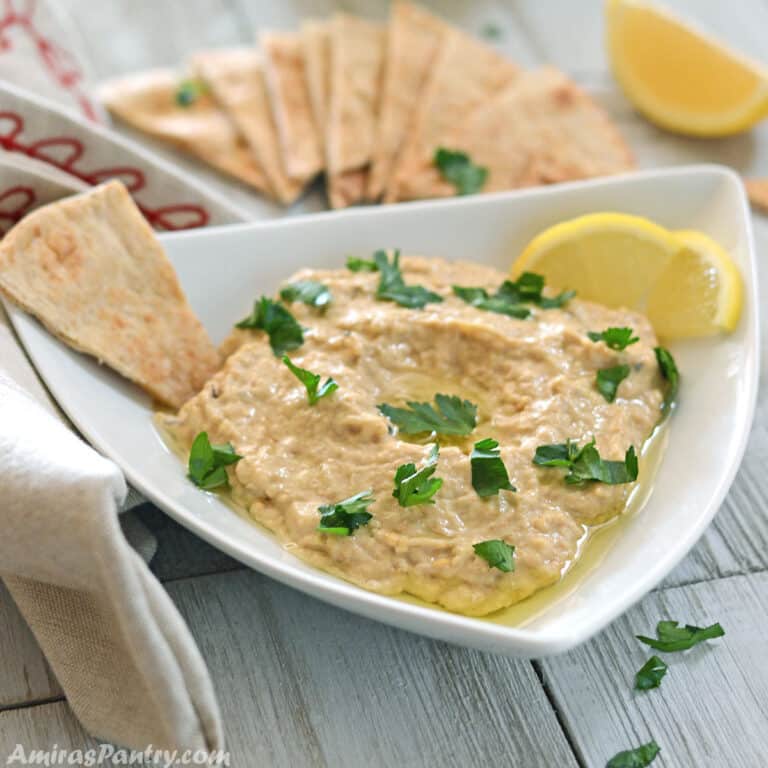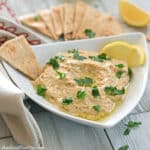 Easy aubergine salad
Eggplant salad is a relatively easy and filling vegan recipe. A deeply flavored salad that will always leave you craving for more.

Check out this recipe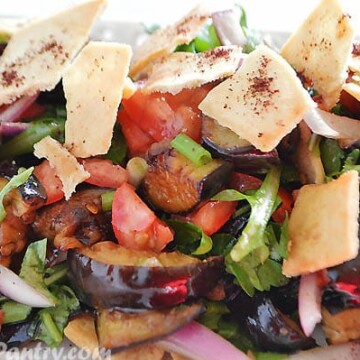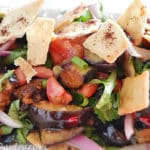 Eggplant tahini salad
Roasted eggplant salad with tomato and parsley with a delicious yogurt tahini dressing.
Check out this recipe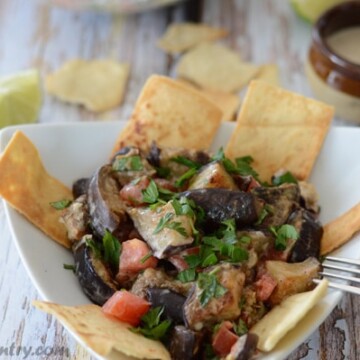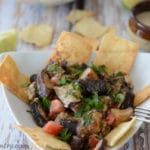 Fattet al makdous
Syrian eggplant fatteh. Roasted Eggplant dish with ground beef, pita chips and yogurt sauce bursting with flavors and textures.
Check out this recipe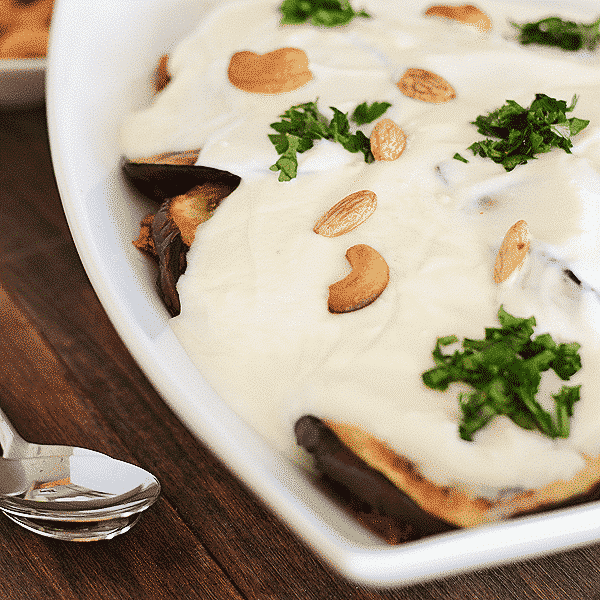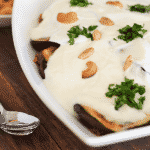 I want so badly to try this eggplant recipe from recipetineats.
Maqluba Recipe
A feast in your mouth, lots of flavors from different vegetables, the unique aroma of basmati rice topped with pieces of lamb,beef or chicken. This one dish meal will feed a crowd.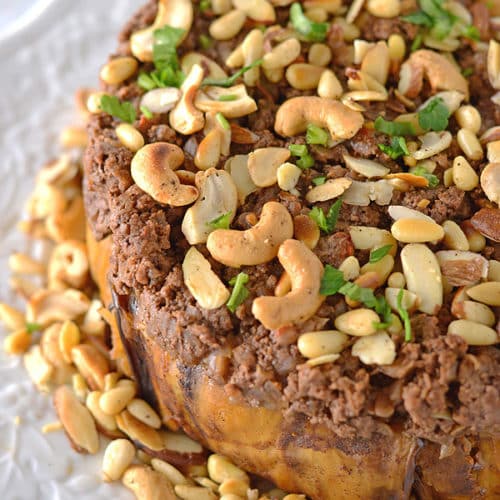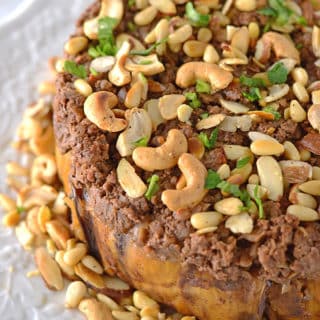 Maqluba
A delicious upside down rice meal for a flavorful dinner. A feast in your mouth, lots of flavors from different vegetables, the unique aroma of basmati rice topped with pieces of lamb,beef or chicken. This one dish meal will feed a crowd.

Print
Pin
Rate
Ingredients
1

cup

(198g) Basmati rice. Note1

1

Tablespoon

butter. Note2

1

teaspoon

7 spices. Note3

1/2

teaspoon

salt.

1/2

teaspoon

black pepper.

1 1/4

cup

water or broth

boiled.
For the ground beef mixture:
1/2

pound

(230g) ground beef.

1

small onion. Chopped.

1/2

teaspoon

all spice.

1

teaspoon

tomato paste.

1/4

teaspoon

black pepper.

Salt to taste.

1

(450g) medium firm eggplant

cut into 1/2 inch slices lengthwise and fried or grilled in the oven. Note4

1

medium tomato, sliced.

Optional: Chopped parsley

roasted nuts for garnishing.
Instructions
Wash rice twice or 3 times, drain then place in a deep bowl, cover with cold rice and soak for 30 minutes.

Meanwhile fry or oven bae the eggplants.
Brown the ground meat:
In a skillet over medium heat, sauté onions in oil then add ground beef and spices, mix well. Add the tomato paste and mix everything well, cook until browned all around. Set aside.

Preheat oven to 400F.

Line an oven safe dish with parchment paper.

Arrange tomato slice at the bottom of the dish.

Top that with a layer of the browned ground beef.

Arrange eggplant slices over the ground beef.

Add rice, then pour boiled water or broth over.

Fold the egg plants over the rice.

Cover and cook in the oven for 40 minutes.

Take the dish out fluff the rice on top and taste to make sure it is completely cooked.

If you feel it needs more water or broth add a quarter cup, cover then return to oven for another 10-15 minutes.

Let it cool down for 10 -15 minutes before flipping over the serving dish.

Remove parchment papers and tomatoes on top, you can eat them if you want.

Garnish top with chopped parsley and roasted nuts.
Notes
Note1: Traditionally short grain rice is used but it is common nowadays to use the Basmati.
Note2: If you deep fry your eggplants they will have enough oil so no need for the butter.
Note3: 7 spices are a combination of cumin, cardamom, black pepper, nutmeg, cloves, cinnamon and sometimes paprika and cloves as well. You can use allspice instead if you do not have it.
Note4: I used to fry the eggplants in the past, but if you want you can roast in the oven with some oil and salt.


Nutrition Facts

Maqluba

Amount Per Serving

Calories 280

Calories from Fat 113

% Daily Value*

Fat 12.5g19%

Cholesterol 27.4mg9%

Sodium 197.2mg9%

Potassium 121.6mg3%

Carbohydrates 32.1g11%

Protein 11.1g22%

Vitamin A 100IU2%

Vitamin C 3mg4%

Iron 2.1mg12%

* Percent Daily Values are based on a 2000 calorie diet.
Nutrition
Calories:
280
kcal
|
Carbohydrates:
32.1
g
|
Protein:
11.1
g
|
Fat:
12.5
g
|
Saturated Fat:
3
g
|
Cholesterol:
27.4
mg
|
Sodium:
197.2
mg
|
Potassium:
121.6
mg
|
Fiber:
2.2
g
|
Sugar:
3.2
g
|
Vitamin A:
100
IU
|
Vitamin C:
3
mg
|
Iron:
2.1
mg
Sign up and learn more about Mediterranean flavors