A great make-ahead party pleaser Mediterranean dish of eggplant and flavored ground meat topped with béchamel layer.
Moussaka is a dish I did not appreciate until I was older, I've mentioned before why was that. The Egyptian version of Moussaka usually does not have that bechamel layer. This is what we call in Egypt Moussaka bel bechamel.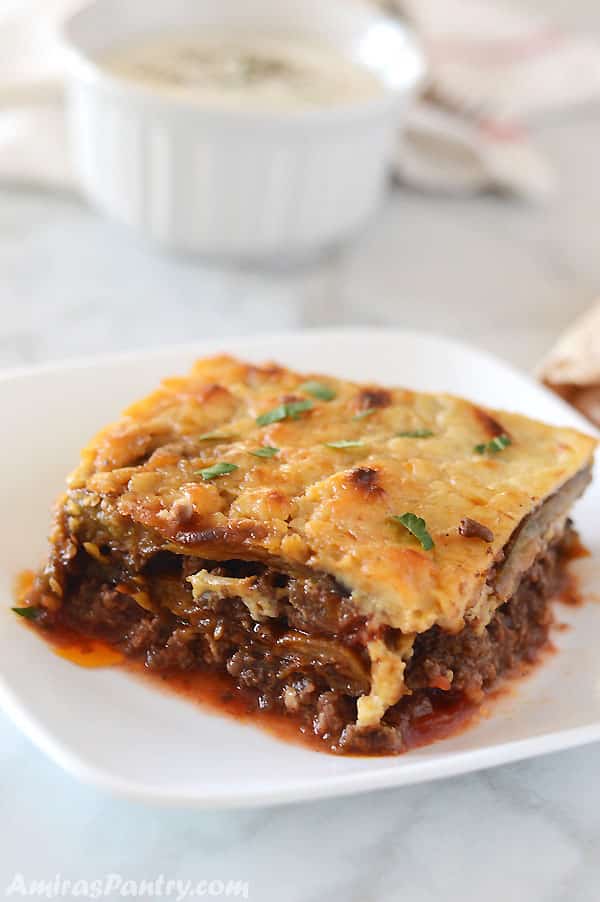 Moussaka
As you might know already, I grew up to a dad who is moussaka-holic!! Seriously, this man was addicted to eggplant dishes especially moussaka. Whenever you open our fridge at any given day of the week you'll find either moussaka or this garlic loaded eggplant dish or leftovers of both. For my late father, I am making this moussaka way healthier with the oven baked eggplant recipe I showed you earlier.
He also loved maqluba, which reminded him of his time in the gulf area back in the 90s and 80s.
Moussaka is a recipe that is widely spread in the Mediterranean and almost everyone has his own recipe for it. I grew up to a simpler version without the creamy béchamel sauce. Being a carbaholic, I loved the idea of adding the bechamel layer. It made it richer and firmer, but if you want a seriously low carb Moussaka, omit the bechamel layer.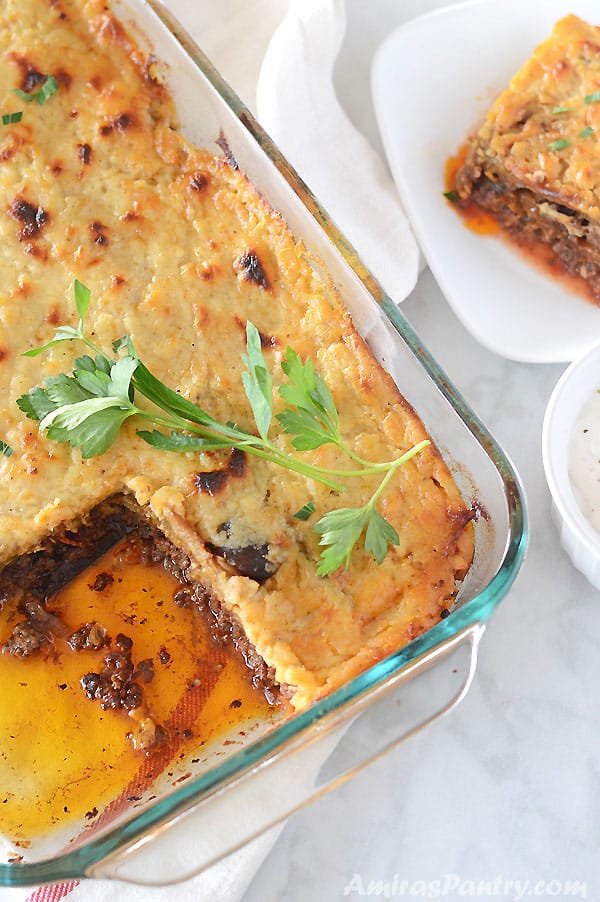 What Moussaka Eggplant is made of
Moussaka is a recipe that requires many steps. It is an easy one none of the steps is really complicated. May be making the bechamel layer sound like a daunting process especially for beginners but you can make it easier by omitting the bechamel layer if you would like to.
Ingredients
Full list of ingredients can be found in the printable recipe card below.
Moussaka Meat Sauce Ingredients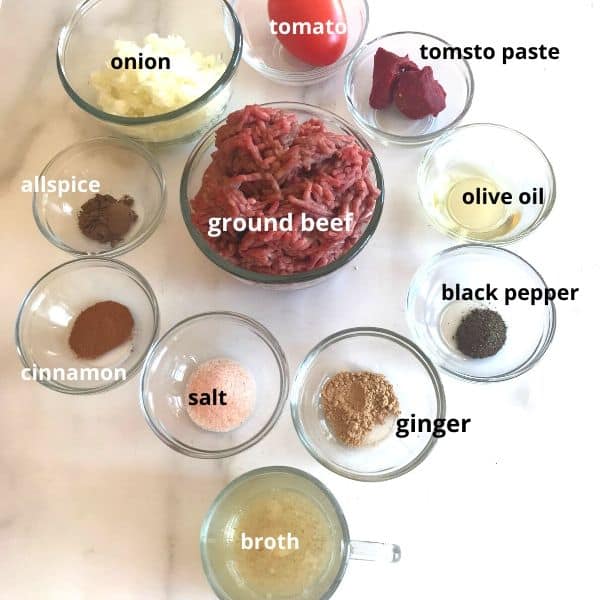 Ground meat: Use beef, lamb or a mixture. In my home, my mom always used beef.
Onion: for the base flavor and sometimes people also use garlic alone or with the onion.
Olive oil: for the main fat for browning.
Spices: cinnamon, ginger and allspice are the main flavor boosters here, but you can use other spices as well. Bay leaves, cardamom, cloves, oregano, Italian seasoning,... etc.
Broth: as a cooking liquid.
Tomato and tomato paste: for color, taste and texture.
Ingredients for the bechamel sauce: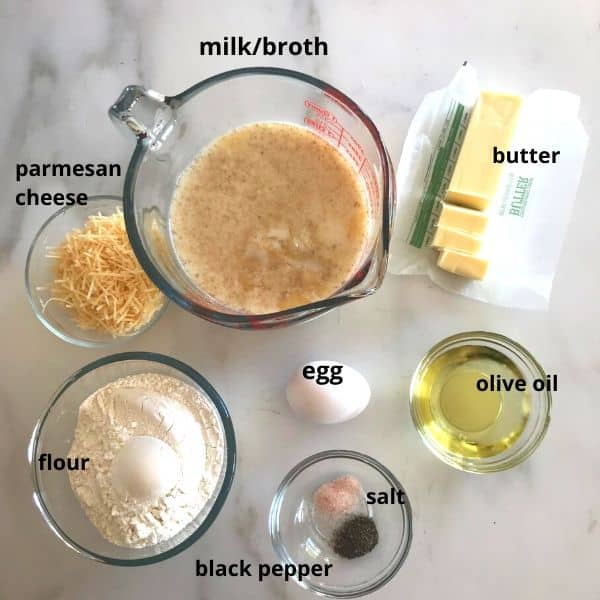 Butter and olive oil: combined for cooking the flour.
Salt and pepper: you can use white pepper but I always like black pepper more.
Flour: of course for making the sauce and thickening it.
Parmesan cheese: for extra flavor, you can use Romano as well. I've seen people even use feta.
Egg: for richness and color.
Broth/Milk: use any or both. I've used a mixture of ⅔ milk and ⅓ homemade beef broth.
How to make Moussaka: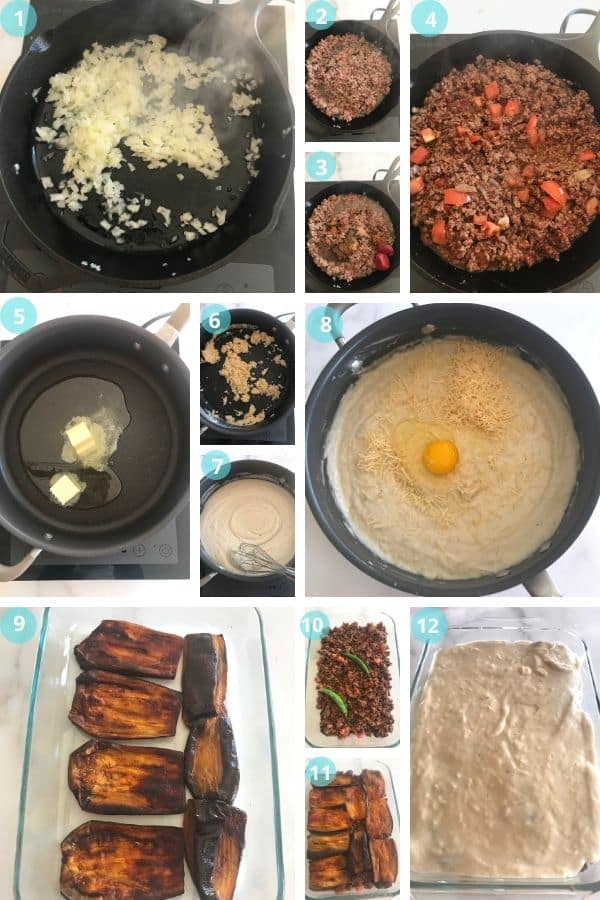 Add olive oil to a large saucepan over high heat and sautee onion for a couple of minutes.
Add the ground meat, break it apart and brown until no longer pink.
Add the spices and mix well. Pour in the broth and the tomato sauce and mix.
Add the diced tomato and lower the heat and simmer for about 10-15 minutes. Set aside.
Make the Bechamel sauce by first melting butter with oil in a skillet large enough to hold the sauce.
Add the flour and cook for a couple of minutes, stirring occasionally.
Now slowly pour the milk or broth and whisking continuously until sauce thickens. Season with salt and pepper then set aside to cool down for 5 minutes so we can add the egg without cooking it right away.
Crack an egg and add the Parmesan cheese. Stir well.
Now it is time to layer the dish. In a casserole dish arrange half of the eggplant at the bottom of your dish.
Top that with the meat mixture and add the jalapeño pepper if using.
Arrange the remaining eggplant slices in an even layer.
Pour bechamel sauce over, tilt the pan or level the top with a spatula. Bake in the oven until the bechamel layer is lightly browned and the dish is bubbly.
Amira's Tips
Some people like adding a layer of potatoes in their moussaka.
Store leftover in an airtight container or wrapped with plastic wrap and refrigerate for up to 3-4 days.
Cook ahead and freezing tips
I've lived enough and consumed enough moussaka in my life to tell you Moussaka is a very freezer friendly recipe and this can be done at any stage.
Freeze your cooked eggplant: my mom's freezer is always stacked with batches of cooked eggplant so your freezer is your friend here. Pull them out when you want to make the Moussaka and let them thaw and proceed with the recipe.
Ground beef mixture can also be frozen in containers or bags. You can even freeze it in a vertical thin layer and just place it in the dish, no need for thawing.
Assemble the dish then freeze: I've done this several time with my pasta with bechamel sauce. Now here is a couple of things to note, first you can assemble the dish, bake, let it cool completely then freeze. Or you can assemble the dish, then freeze then finish baking later on the day you'll serve it. The latter produces a more fresh looking dish but both will be equally delicious. You can also assemble the dish and place in the fridge for up to 3 days in advance.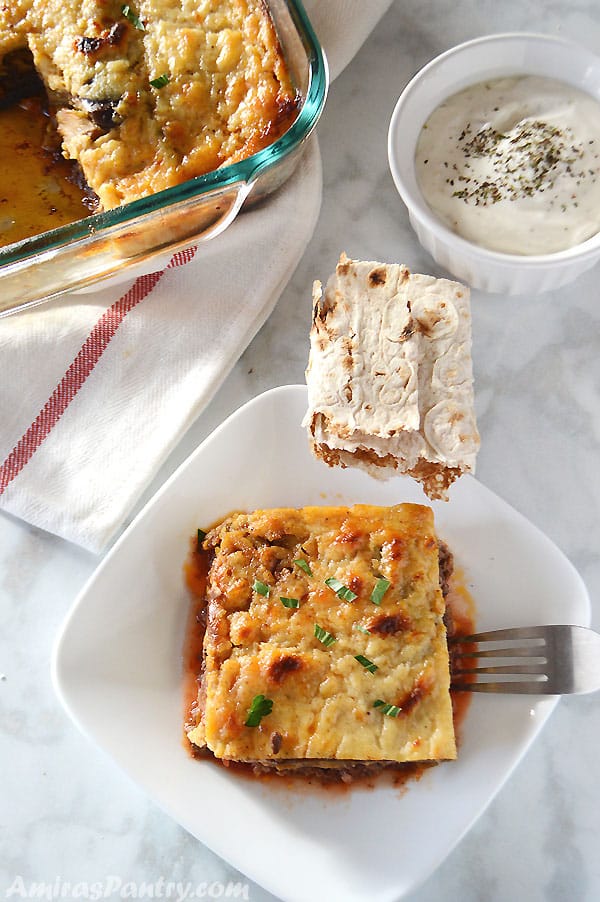 Tips for making lighter Moussaka
Oven bake you eggplant slices, and this is what I've done here. You know already how to do it right? This reduces the fat so much and you'll not miss it, I promise.
Skip the bechamel sauce for a low carb Moussaka dish. You can sprinkle the top with Parmesan cheese if you miss the color. When you do so, you will need to add about half a cup of tomato sauce to the whole dish before popping it in the oven. It will need to be a little saucy.
Use lean ground beef for a lighter dish.
Use low fat milk when making the bechamel sauce.
Use more broth than milk when making the bechamel sauce.
Another way to make a lighter bechamel sauce is to skip cooking the flour in butter. In you blender mix flour, liquid until no lumps exist then pout into a pot and bring to a boil to thicken.
Or roast the flour without any fat: my sister used to roast the flour without any butter in a skillet then gradually add the milk or broth.
Phew, that was sure long, thank you for reading so far.
Moussaka Recipe
If you like this recipe do not forget to give it a ⭐⭐⭐⭐⭐ star rating and attach a photo of your finished dish. It is always a pleasure of mine to see your photos and check your own take of the recipe. Thank you.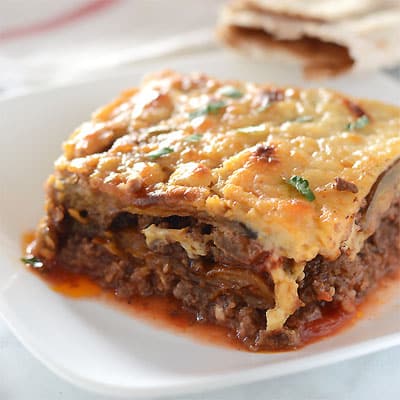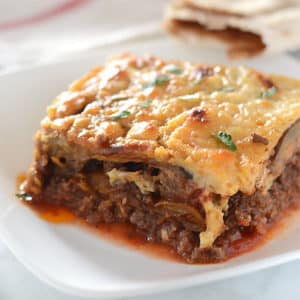 Moussaka
A great make-ahead party pleaser Mediterranean dish of eggplant and flavored ground meat topped with béchamel layer.
Print
Pin
Rate
Ingredients
2

jalapeño peppers

optional, I cook them in the oven with the eggplant. Note1
For Ground meat mixture: Note2
1

Tablespoon

olive oil.

1

small (100g) onion

diced.

1

small (100g) tomato

diced

¾

teaspoon

ground cinnamon.

¾

teaspoon

ground ginger.

¾

teaspoon

allspice.

¾

teaspoon

freshly ground black pepper.

1 ½

teaspoon

salt

or to taste.

3

Tablespoons

tomato paste.

⅓

cup

beef broth/stock or water.

2

pounds

(1kg) ground lamb/beef.
Bechamel Sauce:
3

cups

(710 ml) milk or a mixture of milk and broth.

½

cup

+ 1 Tablespoon (138g) All Purpose flour.

3

Tablespoons

unsalted butter.

¼

cup

olive oil.

½

cup

(38g) grated Parmesan cheese.

¼

teaspoon

pepper.

¼

Salt to taste

1

large egg.
Instructions
Cook ground meat:
In a skillet over high heat, add oil then onion and sauté until translucent and fragrant, about 2 minutes.

Add ground meat, breaking it up and brown.

Add the spices and broth mix everything well together. Reduce heat and cook for about 10 more minutes.

Remove from heat and set aside.
Make the Béchamel sauce:
In a pan over medium heat, add oil then butter and wait for it to melt.

Add flour and stir to cook for about 1 minute.

Gradually add milk/broth whisking regularly until no lumps are visible.

Continue to whisk until the sauce thickens, season with salt and pepper then set aside to cool for 5 minutes.

Add the egg and Parmesan cheese and mix everything well.
To assemble:
Preheat oven to 350F.

Put half the eggplants in the bottom of a 9x13 oven safe dish then top with the meat mixture. Add the jalapeño if using.

Top that with the remaining eggplant then pour the béchamel sauce over and spread evenly. Note3

Bake in the oven for 30 minutes or until bubbly and browned on top.
Notes
Note1: I love my moussaka hot, so I use jalapeño peppers for that. You can spice up the meat sauce instead with some cayenne peppers. I put my jalapeño whole because it is only me who eat it and I do not want other members of the family to get it under their bite by accident. If all your guests love spicy food, you can dice the jalapeño and mix in the meat sauce.
Note2: Some people add other spices as well. Oregano, cloves, cardamom, bay leaves…etc.
Note3: Some people spread Parmesan cheese, panko or original breadcrumbs on top for more crunch.
Please check the nutrition disclaimer policy.
Nutrition
Calories:
413.3
kcal
|
Carbohydrates:
20.7
g
|
Protein:
20.2
g
|
Fat:
27.9
g
|
Saturated Fat:
10.5
g
|
Polyunsaturated Fat:
1.5
g
|
Monounsaturated Fat:
12.7
g
|
Cholesterol:
91.6
mg
|
Sodium:
255.7
mg
|
Potassium:
654.6
mg
|
Fiber:
3.9
g
|
Sugar:
7
g
|
Vitamin A:
9
IU
|
Vitamin C:
10.3
mg
|
Calcium:
7.7
mg
|
Iron:
15.4
mg
Sign up and learn more about Mediterranean flavors