This is a terrific way to roast eggplants in the oven with way more less oil than the frying technique yet still has this deep golden color. The skin is chewy and the flesh is creamy. this roasted eggplant recipe works great for any eggplant recipes you have.
Juicy eggplant slices with caramelized edges this is how roasted eggplants should taste like. This is how to roast eggplant slices perfectly, no more pale and ugly, no more cardboard eggplant slices
Next try this keto carb eggplant parmesan recipe.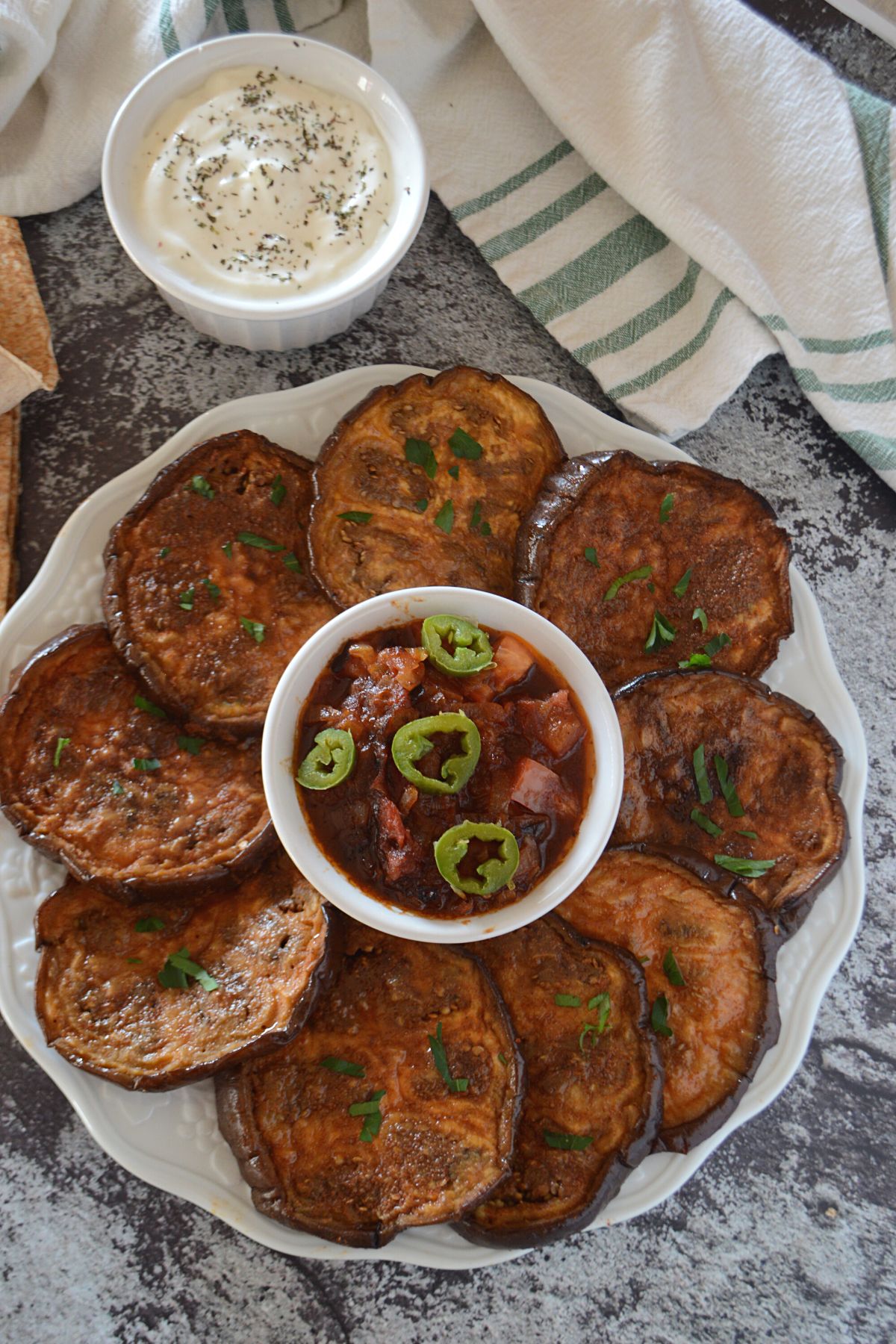 Have you ever tried to oven roast eggplants only to end up with cardboard like eggplants that looked pale and tasted nothing like eggplants should? Or may be wanted to try an amazing eggplant dish but panicked at the amount of oil needed for deep frying the eggplants? Here is the solution. Oven roasted eggplants with beautiful color, texture and way less oil.
Jump to:
❤️ Why You'll Love It
Plump roasted eggplants with caramelized edges.
No more pale pathetic oven roasted eggplants, the color is beautiful which is really a problem for eggplant lovers.
Deliciously flavored you do not need any extra flavors.
📝 Ingredients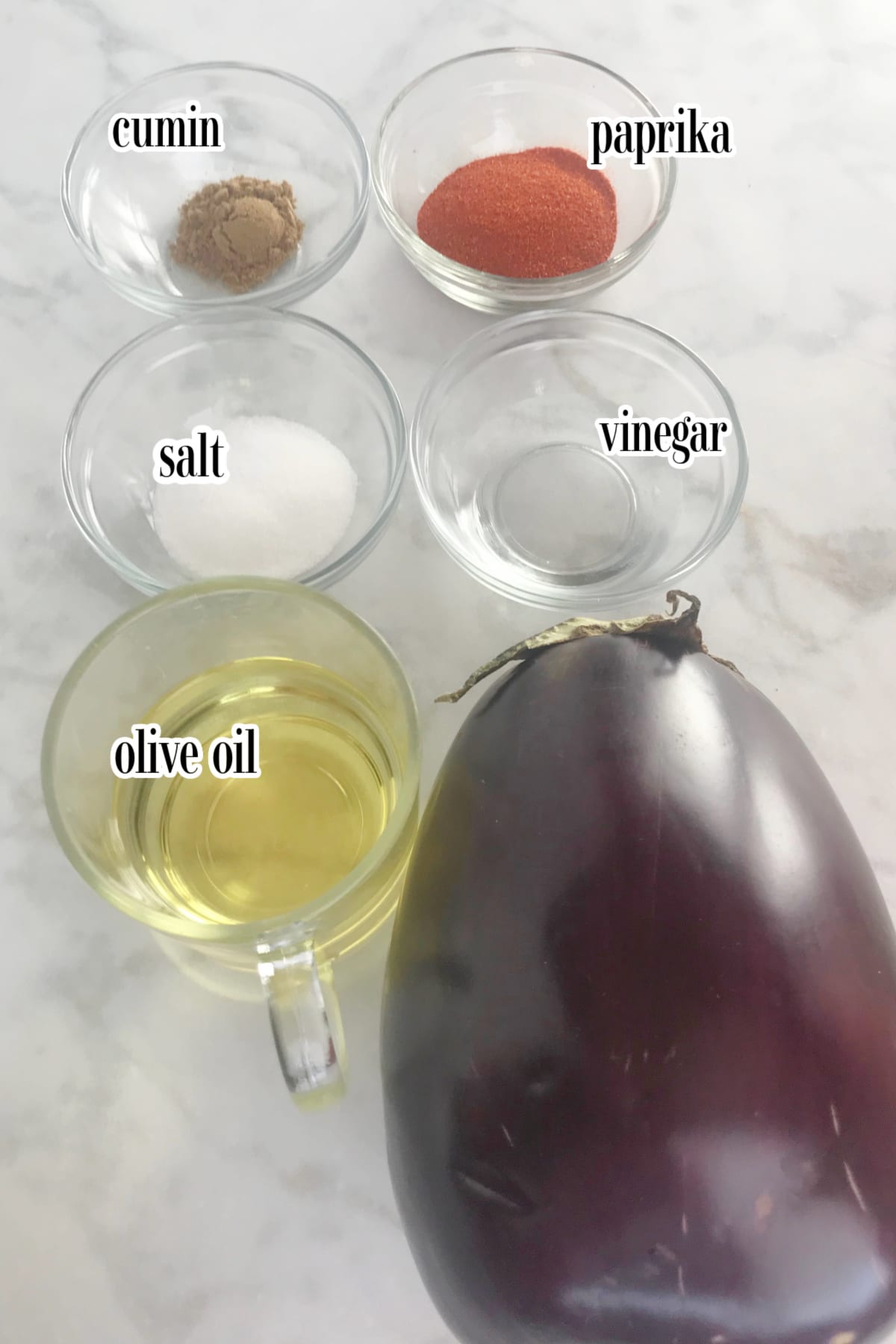 📋 Ingredient Notes
Eggplant, choose firm eggplants with a little give and make sure to choose ones that are heavy.
Salt: we'll need salt in two stages first for soaking and then a little more for seasoning.
Vinegar: to add to the soaking water for texture and bitterness.
Oil: our cooking fat here. Use whatever you like, I like using light olive oil or avocado oil.
Paprika: my secret ingredient for a gorgeous color.
Cumin: for flavoring.
🥄 Instructions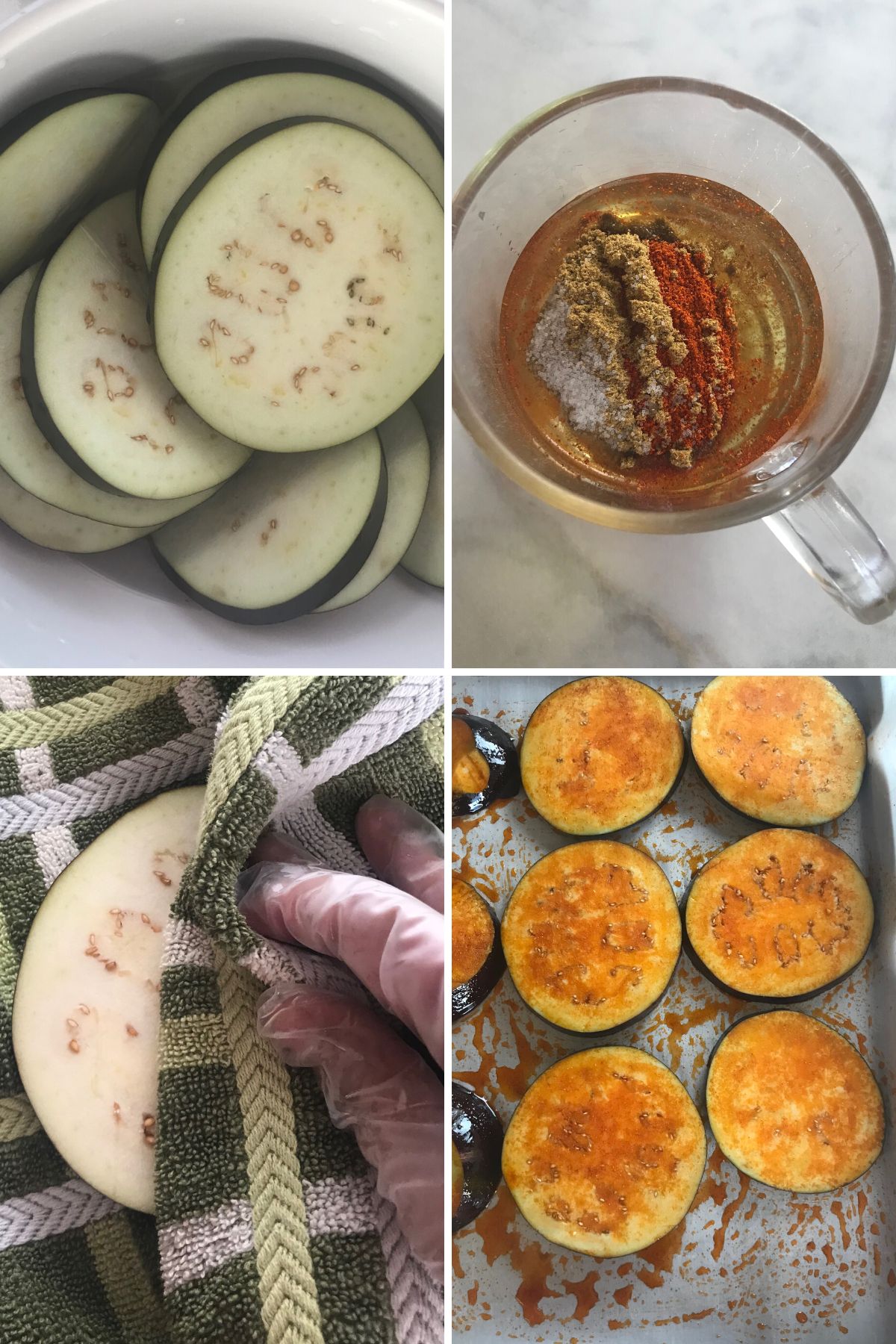 Cut eggplants into thick slices about ½ to ¾ inch. Mix salt, vinegar and cold water in a large bowl and immerse your eggplant pieces for 10-15 minutes.
In another small bowl or cup mix the oil with all the spices you are using. Do not forget to season with salt and taste for your liking.
Take the eggplant slices out of the water and press with a clean kitchen towel or paper towels to squeeze water out and absorb excess moisture. A salad spinner will be handy in this as well.
Arrange slices on a parchment paper lined sheet pan, brushed with the oil mixture, and lightly brush with the oil mixture. Make sure they are all in a single layer.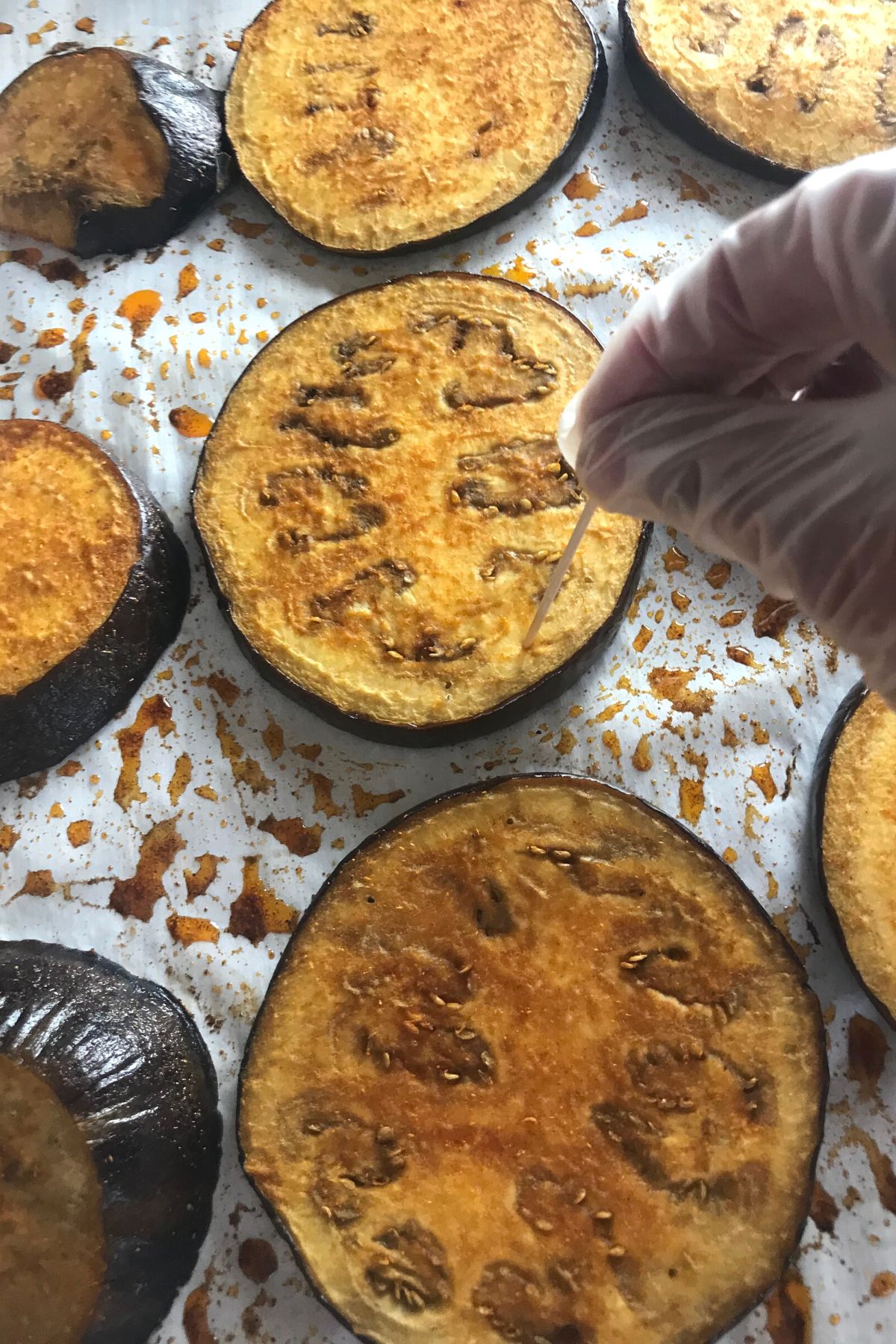 Bake in the preheated oven for 20 minutes, flip and brush the other side then bake for 10 more minutes.
Check for your desired level of doneness using a toothpick.
💡 Expert Tips
Why do I soak in water rather than just salting? Well I've noticed that directly salting the eggplant might yield a saltier finished recipe for some although it is rinsed and dried. So I feel soaking is safer and then salting the oil to your liking.
Why vinegar and salt? soaking with vinegar and salt is done for many reasons. To prevent eggplant slices from browning, improve the texture and also cuts the bitterness of the eggplant.
Drying the eggplant beforehand gives a tastier and better textured end eggplant.
I prefer keeping the eggplant skin on to keep the slices intact.
This recipe yields eggplant slices with a chewy skin and creamy flesh. If you like the crispy outer texture that roasted vegetables can sometimes get, cut the eggplant into smaller pieces.
Cooking time is very much dependable on what your needs are. If you like a chewy texture of the flesh cut back on the cooking time. For more crispy skin leave it a little longer but watch out as this can burn or turn into eggplant chips. So better experiment with a couple of slices first.
👩‍🍳 Variations
You can pretty much change the seasonings as well to match whatever you may wish to eat the eggplant with. Add garlic powder, fresh basil, oregano, lemon pepper, thyme, garlic seasoning, Montreal chicken seasoning, or fresh herbs… fresh and healthy every time.
If you want a little kick to it you can add red pepper flakes before putting in the oven.
Use this recipe with eggplant cubes as well, just toss them with the oil mixture.
🧺 Storage
Refrigerate leftovers in an airtight container for up to 4 days, reheat in a 300F oven.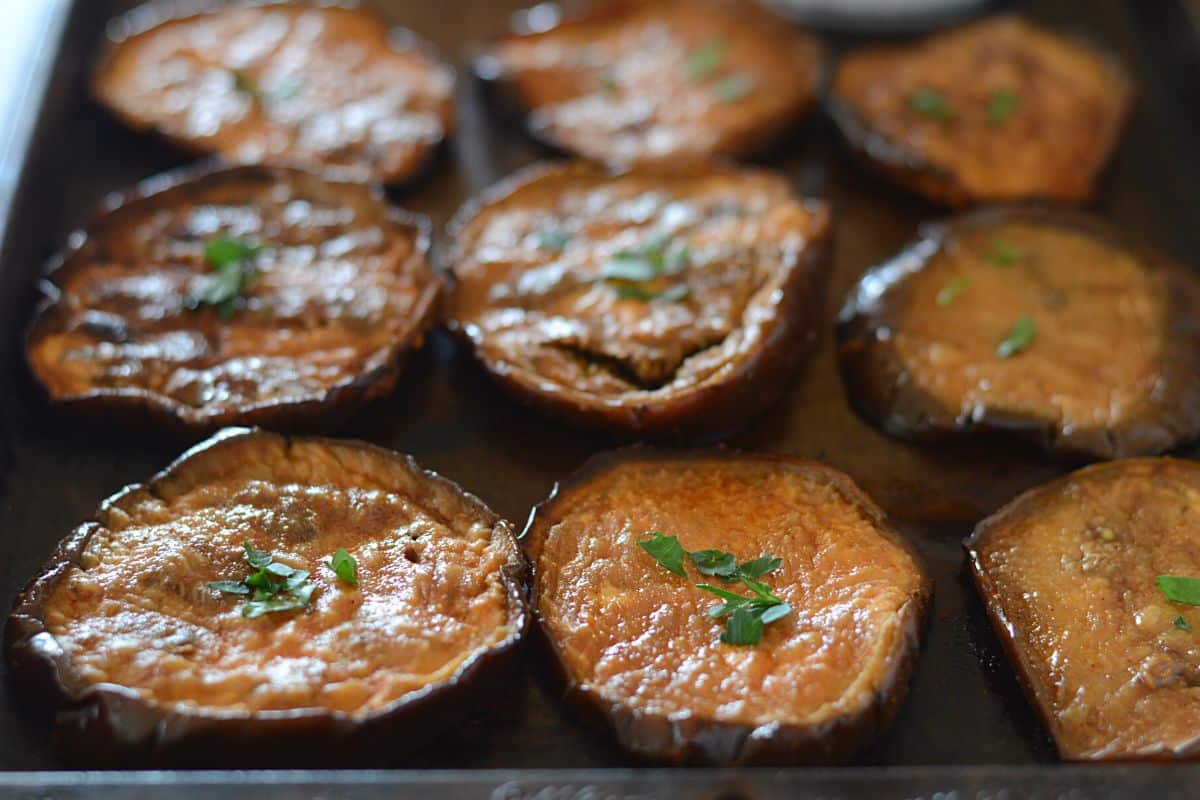 💬 FAQs
Do you have to peel eggplant before you cook it?
My mom always peeled hers, and so I did. Until I think it was 2015 when one of my fellow bloggers convinced me not to. So sometimes I peel it into strips and other times I do not peel at all. From my experience, peeling completely will result in a collapsed and mushy eggplants.
How do you know when an eggplant is cooked?
Well it depends on you. Some people like it mushy while others don't. So I would suggest testing it with a toothpick, you'll feel the texture of the eggplant and sense it yourself.
🍽️ Serve With
I served mine in wraps with Halloumi cheese, greens and sauce.
Serve it on some ciabatta, with feta cheese and some marinara sauce. Or maybe goat cheese and pita chips.
Slather some pasta sauce and Parmesan on top for a low carb meal.
Make eggplant parmesan, it is so delicious.
Use it in a Maqluba dish and surprise the whole family.
Cut your eggplants in cubes and roast the same way to make eggplant salad or this garlicky eggplant side dish.
Make a simple meatless dinner with this eggplant grilled cheese sandwich.
Related Recipes
If you like this recipe do not forget to give it a ⭐⭐⭐⭐⭐ star rating and attach a photo of your finished dish. It is always a pleasure of mine to see your photos and check your own take of the recipe. Thank you.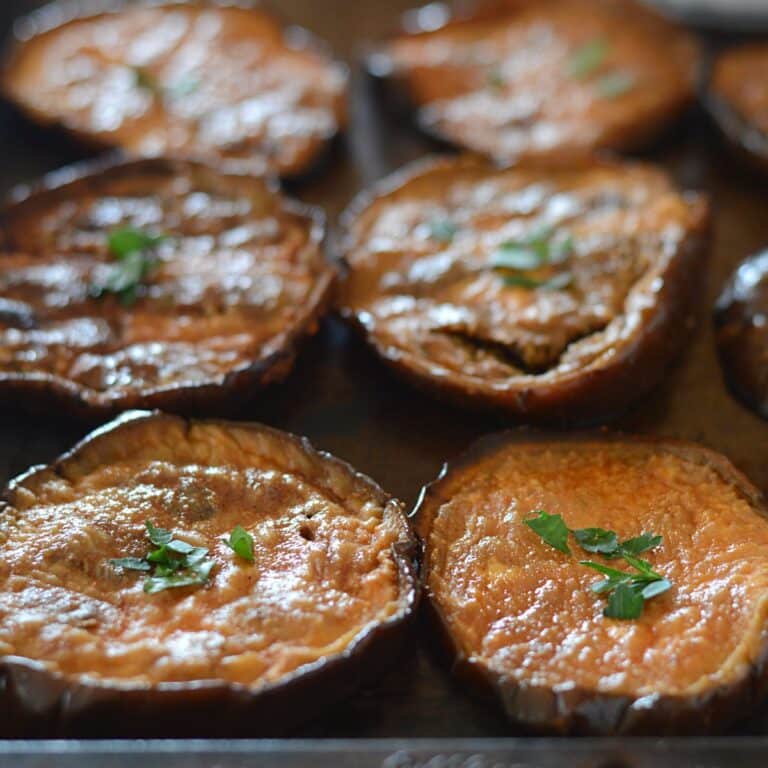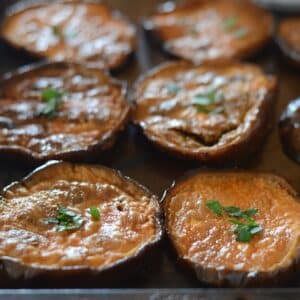 Oven Roasted Eggplant Slices
This is a terrific way to roast eggplants in the oven with way more less oil than the frying technique yet still has this deep golden color. The skin is chewy and the flesh is creamy. this roasted eggplant recipe works great for any eggplant recipes you have.
Print
Pin
Rate
Ingredients
2

lb

eggplant

1

Tablespoon

salt

1

Tablespoon

white vinegar

2

liter

cold water
Cooking mixture:
⅓

cup

oil

1

teaspoon

ground cumin

2

Tablespoons

paprika.

½

teaspoon

salt

or to taste
Instructions
In a bowl big enough to hold the water and eggplant slices, add cold water, salt and vinegar stir to dissolve.

Cut eggplants into 1 /2 inch slices and immerse in the water.

Leave the eggplant in this soaking mixture for 15 minutes. Press on them to immerse a couple of times in between as they will tend to float.

Preheat oven to 400F.

Line two baking sheets with parchment paper.

In a small bowl or cup mix the cooking mixture ingredients together.

Brush the surface of the parchment paper lightly with the cooking mixture.

Take the eggplant slices out and place on a clean kitchen towel. Press with your hand to squeeze as much water out as you can.

Arrange eggplant slices on the baking sheet and brush them lightly with the oil mixture make sure to leave about 2-3 tablespoons of the mixture for later.

Bake in the oven for 20 minutes until almost done.

Take the baking sheet out, flip slices to the other side and brush again with the remaining oil mixture.

Pop in the oven again for another 10 minutes or until done to your liking.
Notes
 I like using light tasting olive oil or avocado oil.
Eggplant slices will float to the surface so every now and then try to press on them a little.
Check this by inserting a toothpick in the eggplant slices.
Please check the nutrition disclaimer policy.
Nutrition
Calories:
118
kcal
|
Carbohydrates:
8
g
|
Protein:
1
g
|
Fat:
10
g
|
Saturated Fat:
1
g
|
Polyunsaturated Fat:
3
g
|
Monounsaturated Fat:
6
g
|
Trans Fat:
0.04
g
|
Sodium:
1034
mg
|
Potassium:
304
mg
|
Fiber:
4
g
|
Sugar:
4
g
|
Vitamin A:
891
IU
|
Vitamin C:
3
mg
|
Calcium:
25
mg
|
Iron:
1
mg
Sign up and learn more about Mediterranean flavors
First published Nov 15, 2019 . Last updated October 27, 2022 with important tips, clear step by step instructions and readability.
👩‍🏫 My Experience
I grew up with deep fried eggplants, my late father was a huge fan of eggplants and he was totally against oven roasted or even pan roasted eggplants. But he had a point, it looked so pale and boring let alone the texture. My mom has her way of frying eggplants that is crunchy outside with an inside texture than it not mushy. But no matter how hard she tried, eggplant still soaks a lot of oil!!
I hated eggplants when I was young, for the fact that when I bite into them they usually ooze with oil and this was seriously disgusting. I've tried oven roasting eggplants too but there was something missing every time.
I also did not like standing in front of the stove all this time waiting for the eggplants to fry properly. This took a lot of time and effort. So I really liked roasting in the oven as it saved me time.