Roasted eggplant salad with tomato and parsley with a delicious yogurt tahini dressing.
A cold eggplant salad recipe with yogurt and tahini dressing, full of flavors and textures.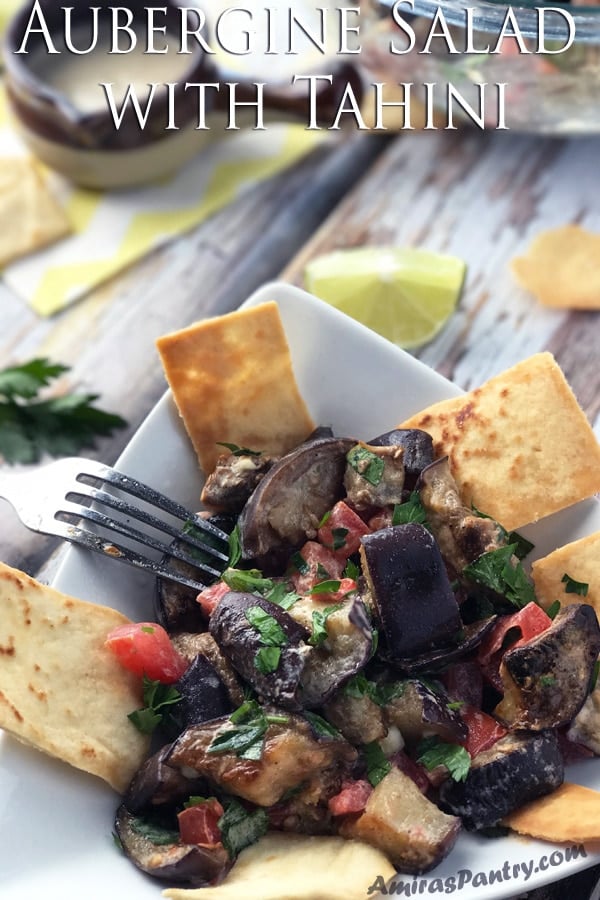 Summer is just about to end :(, we'll soon say our goodbyes to the beautiful sunny skies and hot weather. But this is the beauty of life, if it was always summer we will all get bored in a couple of years :). Fall means school starting with all its fuss but this year it is different. We have a new experience.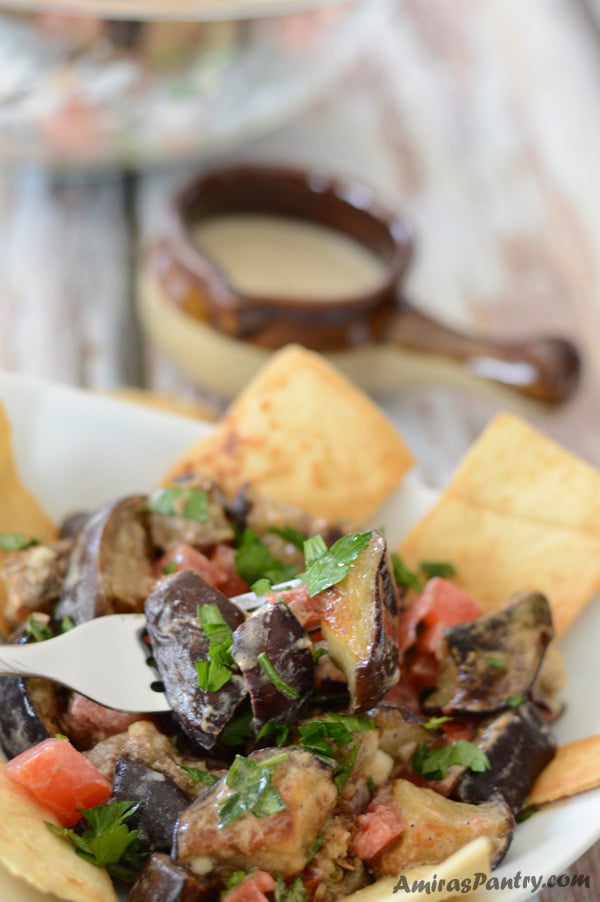 This year my oldest is stepping into high school and I feel I am the one who is going through this experience more than he is. Even the thought is giving me chills and I keep thinking of a zillion what ifs. We got a lot of warnings lately from the district and the school as well to watch what the kiddos are watching on TV this summer and prevent them from watching the Netflix series " 13 reasons why".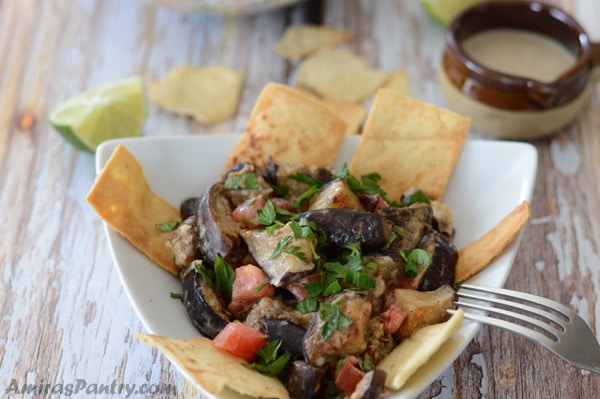 For some silly reason(s), I decided to watch it and judge for myself and now let me tell you I wish I did not. It scared me a lot and made me freak out even more. I could not believe that such things can happen in a school. Of course it is drama and they had to gather all the bad scenarios in one school, but I felt that even one of those incidents can make a kid's life dark.
I never experienced or even heard about such stories when I was in High school,  but many friends in Egypt told me that these things happened and even more these days!!. Maybe I was very much occupied by studying and passing exams with the highest grades that I did not even notice what is going on around me. After what happened last April and  now this drama, I felt that these young beings can go through a very difficult time without us noticing and the result can be ..... suicide.
You see I came from a culture that suicide is something rare to happen. Only famous people like actors and actresses or maybe those who have mental issues can be heard of committing suicide. But one can live his whole life never know or hear of someone doing such thing. It is something that hardly crosses  minds there whatever their religion is. So this is why it is hard for me to digest these kinds of news.
I just hope for the right guidance....wish me luck.
Well, back to today's recipe which will make your taste buds happy after this sad confession of my fears and worries :). It is easy to make and you probably have all the ingredients handy. The dressing in this recipe is so tasty and delicious. Let me show you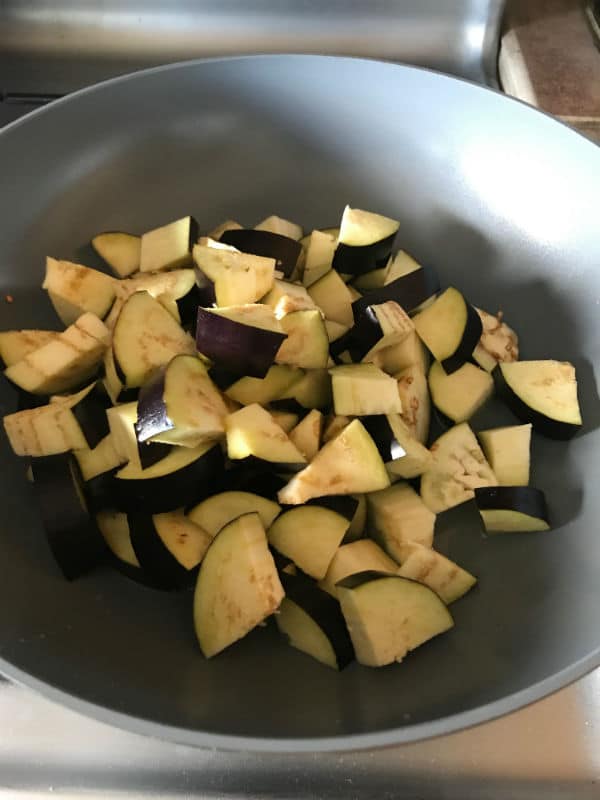 First we dice 1 pound of eggplants and sautee in olive oil. I did not fry mine but if frying is your thing then go for it. My late dad was obsessed bu deep frying the eggplants and he would not eat them lightly browned at all.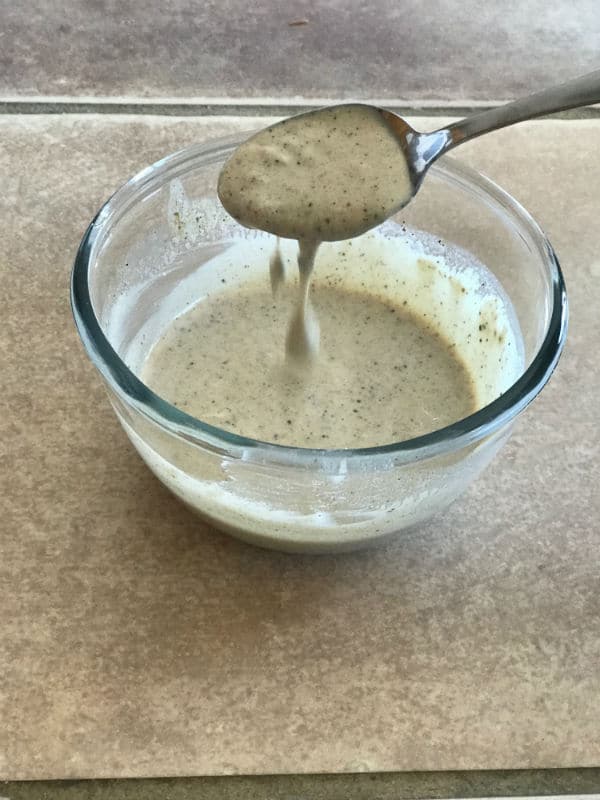 Mix the sauce ingredients together and whisk until smooth and creamy.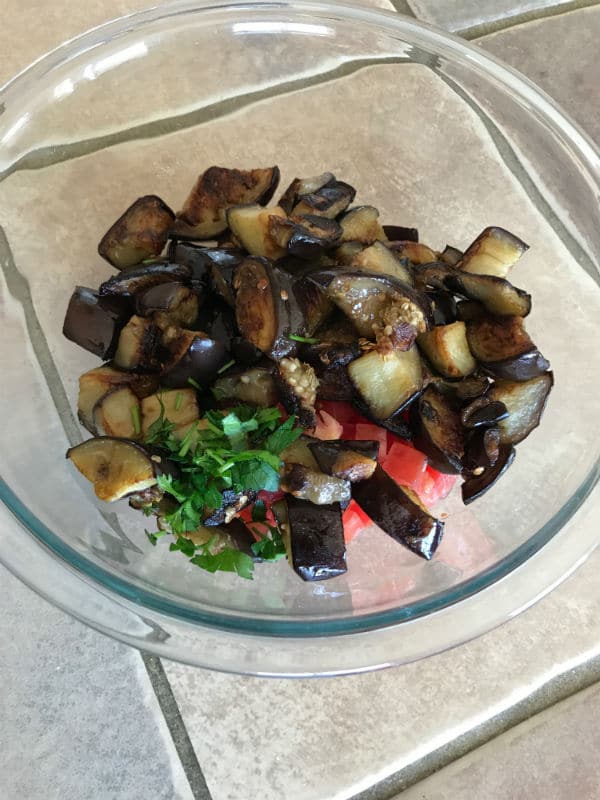 In a deep salad bowl, add fresh parsley, tomatoes and the eggplants. Add some of the dressing, leaving the rest to serve on the side. Toss everything together and serve.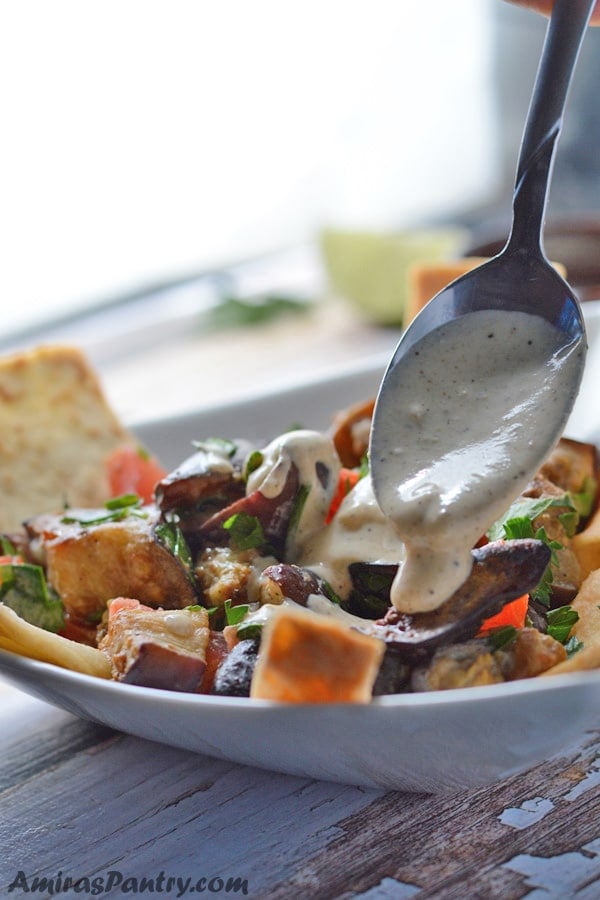 We liked it cold, but it can be served warm as well to go with colder weather when it is here.
I hope you'll like this recipe and please if you make this recipe, snap a pic and hashtag it #amiraspantry — I love to see your creations on Instagram, Facebook, Twitter!
Don't want to miss a recipe? Sign up for the FREE Amira's Pantry newsletter delivered to your inbox with lots of tips and surprises! And stay in touch with me on Facebook, Twitter, Pinterest, and Instagram for all the latest updates.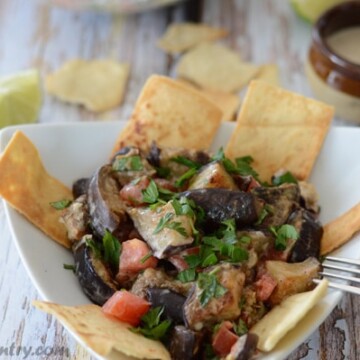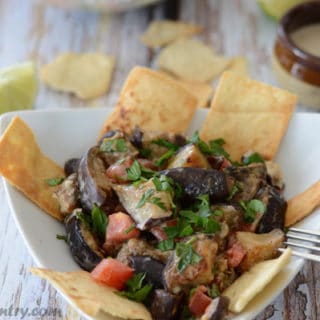 Eggplant tahini salad
Roasted eggplant salad with tomato and parsley with a delicious yogurt tahini dressing.
Print
Pin
Rate
Ingredients
1

lb

eggplant

diced.

¼

cup

oil.

1

cup

tomato

diced.

⅓

cup

parsley

chopped.
For the dressing:
2

large garlic cloves

crushed.

2

Tablespoons

yogurt.

2

Tablespoons

tahini paste.

2-3

Tablespoons

lime juice.

1

Tablespoon

water.

½

teaspoon

freshly ground black pepper.

¼

teaspoon

ground cumin.

salt to taste.
Instructions
In a skillet over medium-high heat, add eggplant and oil, cook for 10-15 minutes until eggplant are nicely browned.

Meanwhile combine the ingredients of the dressing and mix well.

In a deep bowl, combine cooked eggplants, tomato and parsley, missing well.

Add ½ - ¾ of the dressing and toss well to combine.

Serve with the rest of the dressing on the side with some pita chips.

Enjoy!!
Sign up and learn more about Mediterranean flavors